MEET OUR UNITED NATIONS OF CREATIVITY
With thousands of artists, stylists and designers soaring into our halls from around the world each year, our classrooms have become dynamic global communities under the unitedly diverse banner of our Blanche World – a United Nations of creativity! In a glorious culture clash, our International students import a vibrant collection of new customs, insights and inspiration that colour our world in exciting new ways. The leap from their home countries to our corner of Canada comes with big change, courage and incredible journeys. Speaking in the international language of passion, we sit down with our global talent to talk the dreams that brought them here, the challenges they overcame, and all about the power of being an artistic representative in a new country. Meet the burgeoning stars that have joined us from around the globe in our UN storytelling!
Jake Jang
Meet Jake Jang from South Korea
Get to know this Blanche Macdonald Fashion Marketing Co-op student from Seoul, South Korea!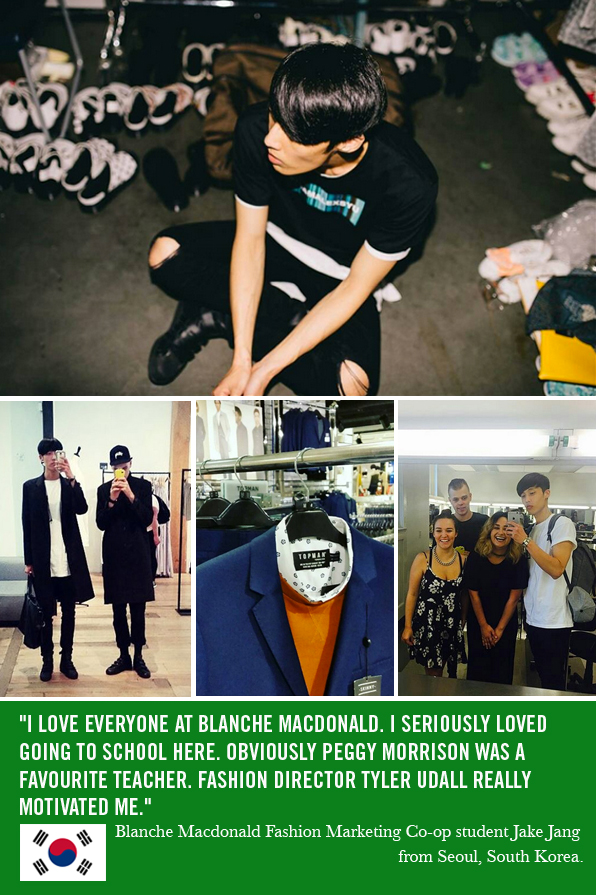 Fashion Marketing Co-op graduate Jake Jang may just be the friendliest head-to-toe-black-clad cool kid you have ever met. He lopes in, a towering silhouette wearing a self-possessed smile and a soft leather jacket that slips down the wide span of his shoulders. His manner is warm and easy (you can practically hear the lean-back in his speech), and he is liable to peel into bright bolts of laughter at any given turn of the conversation.
He cuts a distinct figure against Atelier Campus' expanse of white, where we sit huddled over an iPhone, sifting through a bright miscellany of squares.
"I spend a lot of time looking through street photos on Instagram's Discover section. Not this naked guy," he snorts, flicking away a particularly brazen bit of feed, "but a lot of these great fashion accounts will just randomly show up. I find new people to follow all the time. Like @GRINDmagazine! I know right? I didn't know about that one either, it just popped up one day. You gotta follow that one."
The army is that last place you would envision a character such as Jake, but in his home country of Korea, serving is simply run of the mill.
"Serving in the Republic of Korea Army is our national duty for two years; I was there because I had to be but it actually changed my life. Before that I was just wasting my time, drinking and partying, and I didn't know what I was doing. For those two years, I could think about my life, about what I wanted to do in the future. It played a big part in my decision to come to North America.
"Some time later, I applied for an internship with a Korean brand in New York but first stopped by Vancouver to study English. I met my girlfriend, decided to stay, enrolled in Fashion School at Blanche Macdonald and now – here I am," Jake grins.
Read the rest of Jake's story here!
Win Ariyanankul
Meet Win Ariyanankul from Thailand
Get to know this Blanche Macdonald Global Makeup student from Bangkok, Thailand!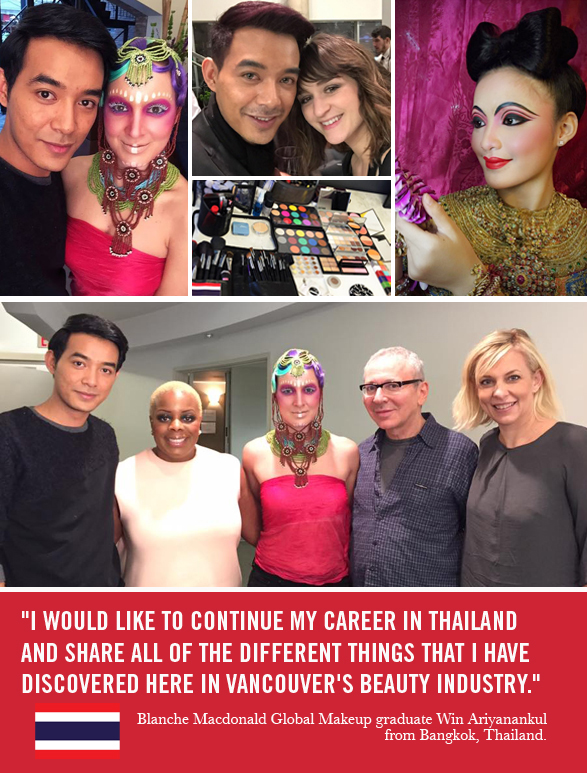 We are every bit as enthusiastic as Win. Everyone who has since had the pleasure of meeting him has been blown away by his artistic grace and gratitude in learning, and that's to say nothing of his makeup. A novice, Win certainly was not when he joined us in the International Co-op Makeup program at Blanche Macdonald; he left Bangkok as one of his city's most renowned emerging artists. He came here to humble himself in the face of new knowledge, to learn the planes of the Western face, and continue to strengthen his professional clout.
Win had always been artistic, spending much of his free time drawing, but it was one bit of artistry in particular that caught his eye and kept it still; tagging along on a job with one of his Makeup Artist friends, he was mesmerized by her brushstrokes, by the transformation that followed the bristles' dance. He wanted to create beauty like this.
Win enrolled in the Makeup Technique International School (MTI) in Bangkok, where his innate talent attracted the eye of the Headmaster, Mr. Montri Wadlaiad. When Win graduated, Mr. Montri, a highly-reputed artist in Thailand, took Win under his wing and straight out onto the sets of the local TV & Film industry as his Assistant Makeup Artist. It wasn't long before Win won over the hearts of Thailand's premiere starlets, becoming the glam go-to for Maythavee Weiss (Miss Supranational Thailand 2010), Parnlekha Wanmuong (Miss Thailand World 1985) and singer/actress Thunyarat Trisuttiwong. Montri became more and more impressed with Win, and soon decided he was ready for the prestigious world of Khon.
"Khon is a Thai traditional performance art which, in the past, was limited to palace presentations. Currently, the Khon makeup is designed by my mentor, Lecturer Montri Wadlaiad. He has consulted with performance art specialists in the creation of the most appropriate design. He took inspiration from Thai paintings.
"The Royal Khon makeup shown here was from the performance sponsored by the Foundation of Her Majesty the Queen Sirikit of Thailand. It is organized once a year and lasts almost a whole month! I had the chance to join the team as a Makeup Artist for the past two years. I am very proud of myself to have had such an opportunity, to participate in one of the greatest performances that exists in Thailand."
Read the rest of Win's story here!
Evelina Helgesson
Meet Evelina Helgesson from Sweden
Get to know this Blanche Macdonald Global Makeup student from small town Gothenburg, Sweden!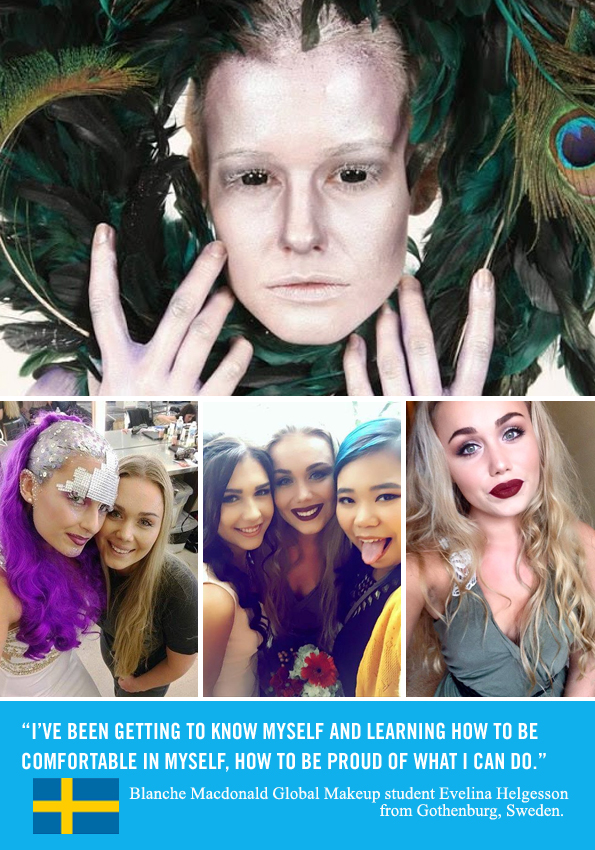 "Italy, Paris… the big Fashion cities! I want to get to that point when I'm the one that people call when they need a look for the runway, for photo shoots – all of that High Fashion work."
Blanche Macdonald Global Makeup student Evelina Helgesson is not one to mince words when it comes to voicing her goals. After all, she's made big moves to be here in Vancouver, studying at Canada's #1 Makeup School. Growing up in small town Gothenburg, Sweden, Makeup was a distant, but eager dream for Evelina ever since her pre-teens.
"My mom gave me this blue eyeliner when I was twelve, and I put it all over my eyes," Evelina laughs. "People kept saying that it was good and even though I knew it was probably bad, I thought, 'Oh, maybe this is my thing.' You go through that period where you're just trying it out and it looks like hell but you do it anyways. After a while, I started doing Makeup on other people and really enjoyed it."
It was a visit from an international agent at her high school that planted the idea that she could study beauty as a career – she'd just have to be willing to leave her Gothenberg nook.
"I asked what the best program would be, and they were like, "Blanche Macdonald – no question. Go there.' "
Click here to read Evelina's full story!
Darlene Grace Cook
Meet Darlene Grace from Australia
Get to know this Blanche Macdonald Global Makeup student from small town Humpty Doo, Australia!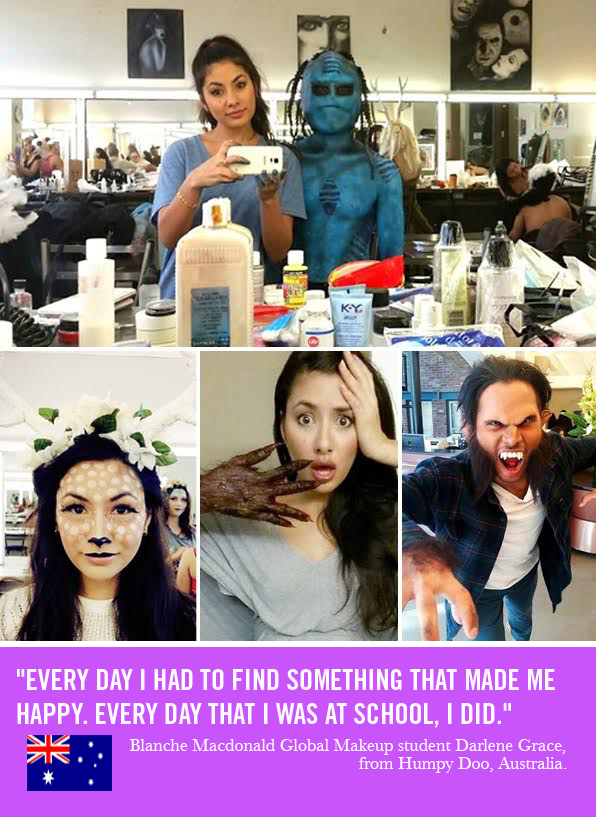 Hi Darlene! Where in Australia did you grow up?
I grew up in a small country town called Humpty Doo.
...You're not serious...?
I'm so serious. Population of 5,000, minus one! It's a very small beautiful country town that I call home. It's up north so it's really really country, in the middle of whoop-whoop-nowhere. There are kangaroos, there are crocodiles, snakes and spiders everywhere!!
So what brought you here?
The real reason I moved here is really crazy. I was raised as a farmer's daughter in (like I said) a small country town with my brothers, so I'm the biggest tomboy. I never considered a career in Makeup until I realised my love for gore and FX! One day my life took a huge flip: I lost something extremely important to me. That night I dropped to my knees and cried myself to sleep for the first time as an adult. And I had the most random dream, so real, with a voice that said, 'You need to book a one-way ticket to Vancouver, Canada to study Makeup Artistry, to one day head a feature film. I promise you that you will be the happiest you could ever be!' I woke up, my eyes stuck together from my tears, thinking, 'Why the bloody heck would I move to Canada when I've never met a Canadian, I've never seen snow. I'm from the other side of the world.' But the next day I googled '#1 Makeup School in North America' and Blanche Macdonald came up.
[Blanche Macdonald Admissions Director] Chaline Hird's the reason why I ended up choosing Blanche. I looked into other schools, but Chaline and the connection that I had with her made me come to Blanche Macdonald. She's amazing. Now that I've come here, I know it was the best decision of my life, and I've honestly never been so happy!