Fashion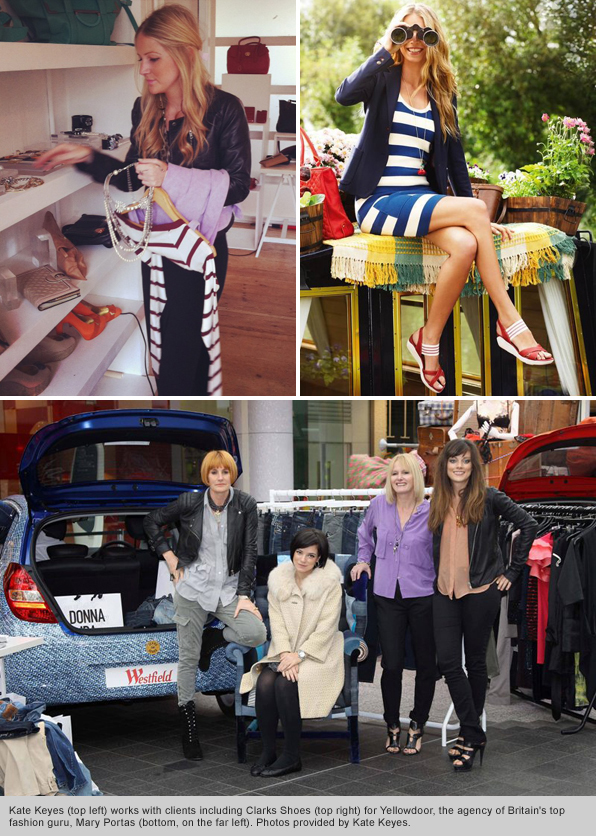 Is moving to London, England to begin an exhilarating career in Fashion PR as glamorous as it sounds?
According to Kate Keyes, Blanche Macdonald Fashion Merchandising graduate and Junior Account Executive at Yellowdoor, the Agency of British retail icon and TV star Mary Portas, the answer is a resounding yes. Even if there were initially some cultural differences that needed ironing out.
"I ate Black Pudding the first night I was in London and loved it," recalls Kate. "The next day I googled what it was and was horrified. I completely lost my appetite for two weeks."
Britain's more robust cuisines may have come as a shock. But they're easily outweighed by the benefits that come with working in a high profile PR Agency in one of the fashion capitals of the world.
"I love the fast-paced environment," continues Kate. "I'm always on my feet and running on adrenaline. It sounds scary being under pressure to get things done, but you're never bored and you're always socialising with people. It's so much fun being able to interact with all these people in the industry. Although there's a lot more business than fashion – more reports and maths than I expected. And I work pretty late. I've been in the office at two in the morning and needed to be back at six."
Late nights and early mornings have become routine for Kate. Big name clients have big demands and she's perpetually busy with Yellowdoor, whose clients have included Mercedes-Benz, Clarks, Swarovski, Havaianas, Mimco, Republic, Matalan and West London's Westfield Centre, the largest shopping mall in Europe. That's the pull of Yellowdoor's founder, Britain's famous Mary 'Queen of Shops' Portas, whose work as the Creative Director of Harvey Nichols launched her into public consciousness and transformed the Company into the world renowned brand it is today. Her retail expertise has led to a string of TV hits and a request from the government to write a report about the future of the country's high streets.
"Working for Mary is really a blessing," smiles Kate. "She's exactly like she appears on TV – she knows exactly what she wants and she's very inspiring."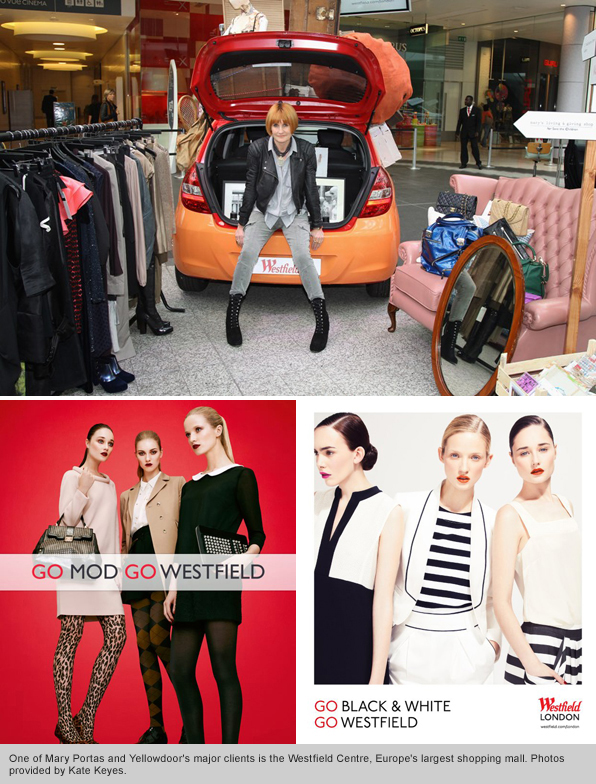 Kate's pretty inspirational too. She's proof that a genuine love for the industry, combined with plenty of hard work, can take someone from Burlington, Ontario to Vancouver to the heart of London's fashion scene.
"Ever since I was really little I'd always dress myself. I didn't want my Mum to do it. I developed my own fashion style, even though it probably wasn't very fashionable when I was five years old. I always knew I would get involved in fashion. It just took me a while to realise it."
Kate was a year into a Psychology degree at UBC when she came to the conclusion that she should be focussing her energy on her true passions.
"I looked at a bunch of different fashion schools before deciding on Blanche Macdonald. A lot of people asked me why I didn't go back to Toronto. It's true that the fashion scene is blossoming there. But in Vancouver there's still a big fashion scene, there's less competition and more room to be yourself. It's a great place to start in fashion because you can gain work experience and develop connections within the industry. Once I had the experience I knew I could take that to Toronto or London.
"I made a lot of good friends and had a lot of fun at Fashion School. All the different classes turned out to be so important, whether it was textiles or learning about designers. I really liked Donna Baldock and Peggy Morrison's classes. Donna was so passionate about what she did, which made her easy to learn from. Peggy's Fashion Awareness – with all the history of fashion – is always being referenced. It's important to be able to have that knowledge of history's fashion icons. And of course Lyndi Barrett's PR classes helped. That's where I learned to write press releases. Now I'm writing press releases 24-7."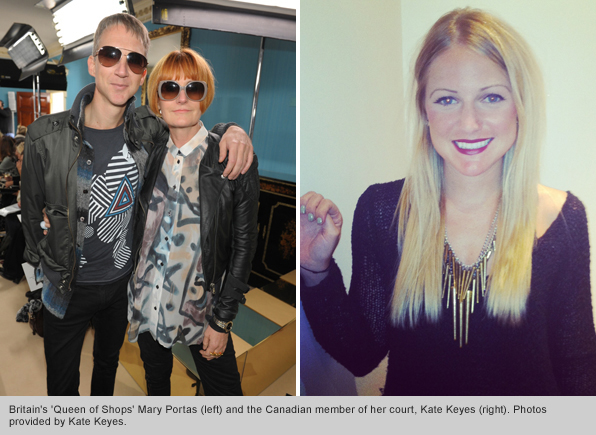 Kate took more than knowledge from Blanche Macdonald. She wisely used the Fashion School's connections to start making contacts of her own.
"Lyndi spoke to us before we started classes and her biggest advice was to start interning as soon as possible. I took that advice and it was so true. You have to make use of everyone at Blanche Macdonald. I would pick their brains constantly. I scheduled a lot of meetings with Mel Watts. She's a great go-to person if you want to get anywhere. She has all the contacts. I would go to see her even after I graduated and she delivered for me every time."
Kate had volunteered for Vancouver Fashion Week while she was still a psychology student, but her Blanche connections landed her a genuine intern position at wholesale agency Skout.
"I was coming up to graduation and my internship was well completed with Skout, but basically continued interning until I got hired. They took me on as a Junior Sales Rep. After Skout I took on a new role with a company called Moulé, they needed extra help in their head office during their busy season. They introduced me to their buyer and I started working as her assistant in the office. I was eventually asked to become a store manager in Park Royal in West Vancouver. I loved the company and thought I'd give it a shot. It was great experience and I learned so much.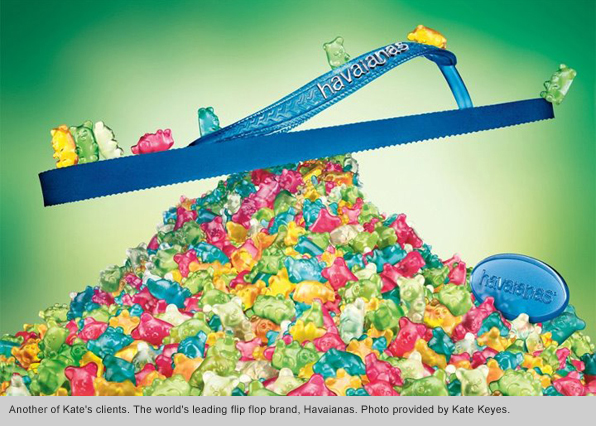 Kate spent a year at Moulé before the lure of the wider fashion world proved too strong to resist. It would either be New York or London. The ability to get a work visa for the latter made that decision easy.
"I wanted to gain more experience in the industry," she explains. "There's a lot of opportunity in London. And I have two cousins here so I was able to crash with them for a while, which was very helpful. For the first month here my days consisted of sitting on the computer applying for thousands and thousands of jobs. I knew I wanted to get into PR. I remembered Lyndi's PR course at Fashion School and I really admired her lifestyle. I enjoy connecting with people and working my ass off. That's the kind of industry it is.
"I knew about a Public Relations and Creative agency called Yellowdoor before I moved to London and made it my goal to work there. It isn't just a PR company; they have a creative team that develops campaigns and events as well as retail and brand strategies. I eventually heard back and started interning there. They could tell I was really passionate. They knew I wanted a career in public relations. I was glad I was able to intern before I got hired because I learned a lot more about the company and all the 'dos' and 'don'ts'.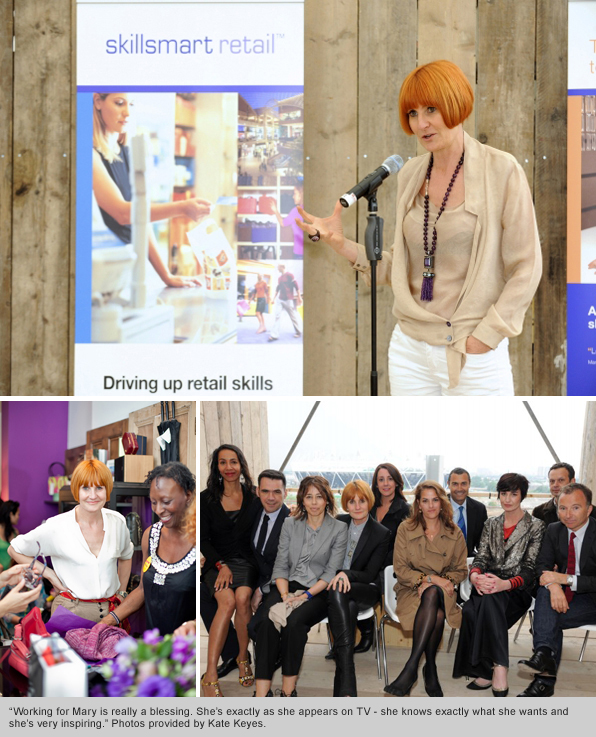 Three months into Kate's internship a position for Junior Account Executive opened up. She'd served her apprenticeship. It was time to become a full-time part of the team.
"There are about 45 people here and one Canadian. Just me. I start work at 9.30, but tend to go in early to catch up on my emails. I have to read every single magazine and newspaper to stay up to date on all the news and see if any of our clients have been covered in any way. That takes up my first hour of my morning. After that I'm sending out samples to multiple UK fashion publications such as Elle, Marie Claire, Vogue, and Glamour. My job role changes day-to-day, hour-to-hour really – consistently interacting with my team members, the press, and my clients.
Sure, it's hard work. But that's not something Kate has ever been afraid of. She's working with incredible clients and Britain's most famous retail expert while loving life in one of the most exciting cities in the world.
"I'm still learning so much every day and growing through the company. One day I'd like to come back to Canada," she smiles. "Just not right now."