Midtown Campus - Atelier, Fall 2011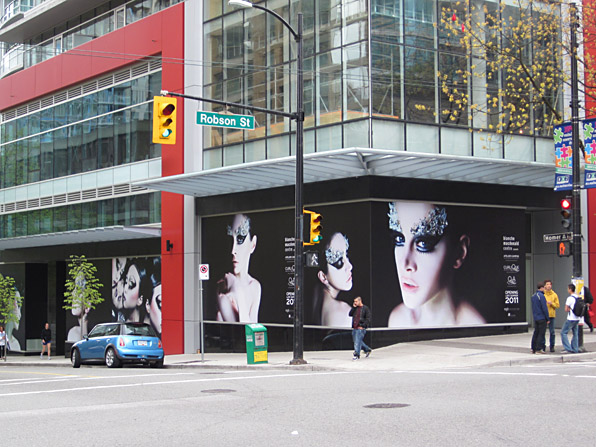 My, how things have changed. Just a few months ago, we were ramping up to do our anticipated renovations of our Uptown City Square Campus and lo and behold, like the law of attraction, some gifts came in really BIG packages. Who would've thought that we would be taking over our own Robson block? The Blanche Macdonald Block. Now, that sure does have a nice ring to it, doesn't it?
Right beside our Downtown Robson Campus, we've landed the deal of the century or dare we say, millennium? Blanche Macdonald has started the build-out of our third campus, Atelier, including our first ever student-operated Hair Salon - Q & A, and our own beauty boutique - CurliQue. Racking up over 25,000 square feet with a huge retail presence on the ground floor, flagship corner space and the entire second floor, watch for the launch in the late summer, early fall!
Already, the celebrity line up of brands has left us breathless.
Outside of Sephora, the LVMH (Louis Vuitton Moet Hennessey)-owned brand Make Up For Ever is being reintroduced to Blanche Macdonald, not only as part of our Student Makeup kits but also as a major presence in our store. Did you know that one of the first cult makeup lines, Kevyn Aucoin, has gotten a little brush up with the stellar Jeanine Lobell, founder of Stila and Celebrity Makeup Artist, as its new Chief Creative Director? Keep an eye out for this prestige line at CurliQue and a Signature Series event with the absolutely fab Ms. Lobell. (Wonder if she will bring her Top Gun/ER hubby Anthony Edwards along for a visit?)
And Bumble & bumble. B&B University + Blanche Macdonald = World Domination of Hair.
Let's not forget our whole Hollywood North connection and the proliferation of Blanche Macdonald grads with IATSE local 891, ACFC and beyond. Yes. We will also carry Film, TV and FX products for all your gooey gore.
Uptown, we have City Square. Downtown, there's Robson. Now Midtown, we will have our new Atelier Campus and its stores. As for the next incarnation, rumour has it that things could be blowing East. Hogtown? Now, we'll have to come up with a better name than that!
In the meantime, check out the rest of the temporary window wraps going up at Robson and Homer! Makeup created by our own BMC Makeup luminary, Timothy Hung.
Before: a glossy new building on the corner of Robson and Homer in need of some love.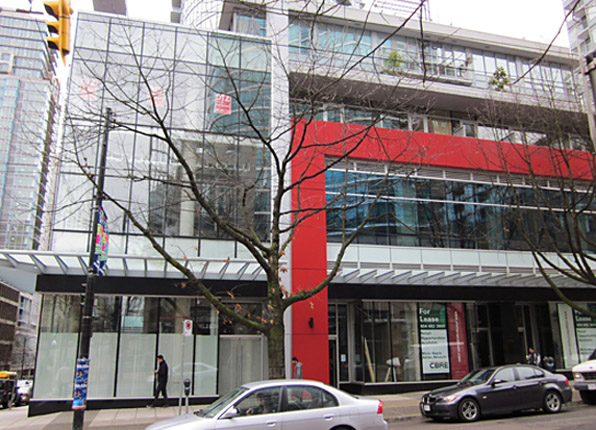 Installing the first of the window wraps!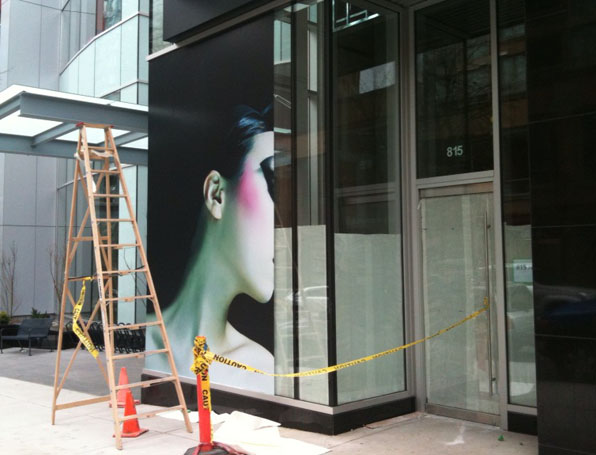 Finishing touches!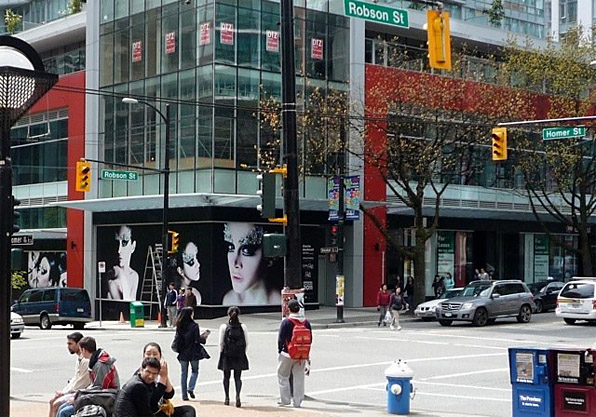 The Blanche Macdonald Atelier Campus is almost all wrapped up.
No peeking until late summer/early fall!