MEET OUR UNITED NATIONS OF CREATIVITY
With thousands of artists, stylists and designers soaring into our halls from around the world each year, our classrooms have become dynamic global communities under the unitedly diverse banner of our Blanche World – a United Nations of creativity! In a glorious celebration of culture, our International students import a vibrant collection of new customs, insights and inspiration that colour our world in exciting new ways. The leap from their home countries to our corner of Canada comes with big change, courage and incredible journeys. Speaking in the international language of passion, we sit down with our global talent to talk the dreams that brought them here, the challenges they overcame, and all about the power of being an artistic representative in a new country. Meet the burgeoning stars that have joined us from around the globe in our UN storytelling!
Anahita Monzavi
Meet Anahita Monzavi from Iran
Get to know this Blanche Macdonald Fashion Design graduate-turned-Instructor from Esfahan, Iran!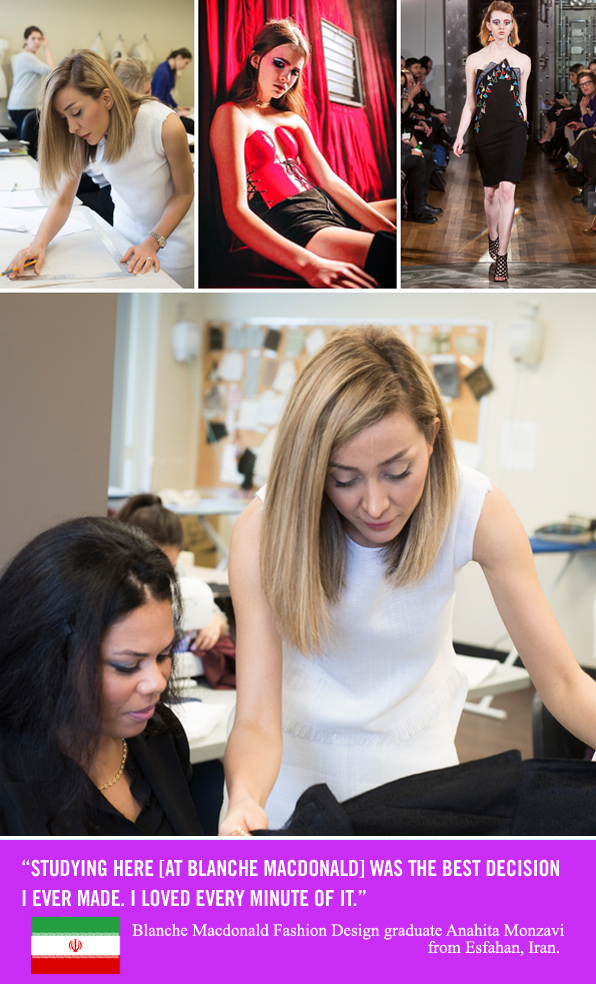 "Fashion Design is my passion. I never get tired of what I do. It's hard to put in words, but I never imagined I would love fashion and design the way I do. It's just the right thing for me."
Though Anahita Monzavi graduated from Canada's Top Fashion School in the spring of 2015, she was immersed in the world of Fashion Design well before that. Originally from Esfahan, Iran, Anahita worked for over eight years in fashion before moving to Canada, with five of those years spent running a showroom and designing custom evening and bridal gowns for a myriad of A-list clients. With an inherent knack for design, Anahita is proof that talent and fate so often fall hand-in-hand. When she walked through our doors on her first day at Blanche Macdonald, we knew she was exactly where she was meant to be.
"When I first came to Canada," she says, "I spent a lot of time researching and talking to people about which school I should go to. I already had experience so I didn't want to go back to Fashion Design school for four years. My friends and family who are from Vancouver said that I must go to Blanche Macdonald, that it was the best school. After that I did not look anywhere else."
After spending a mere two years in Vancouver, Anahita has gone from excelling as a student to shining as a mentor and instructor for budding designers. She's been impressing the fashion community since she first enrolled at Blanche Macdonald, so her accomplishments have come as no surprise. Investing the same attentiveness in fashion instruction as she does with her professional career, Anahita credits the mentorship of Senior Pattern Making and Construction Instructor Brenda Swinglehurst as well as Program Directors Peggy Morrison and Donna Baldock for her academic successes.
"Studying here [at Blanche Macdonald] was the best decision I ever made," Anahita says. "I loved every minute of it and appreciated all of my teachers so much. I'd have to say that Pattern Drafting and Garment Construction with Brenda were two of my favourite classes. I also loved Fashion Awareness with Peggy and Fashion History with Donna. I wanted to absorb everything they had to say."
Read the rest of Anahita's story here!
Jake Jang
Meet Jake Jang from South Korea
Get to know this Blanche Macdonald Fashion Marketing Co-op student from Seoul, South Korea!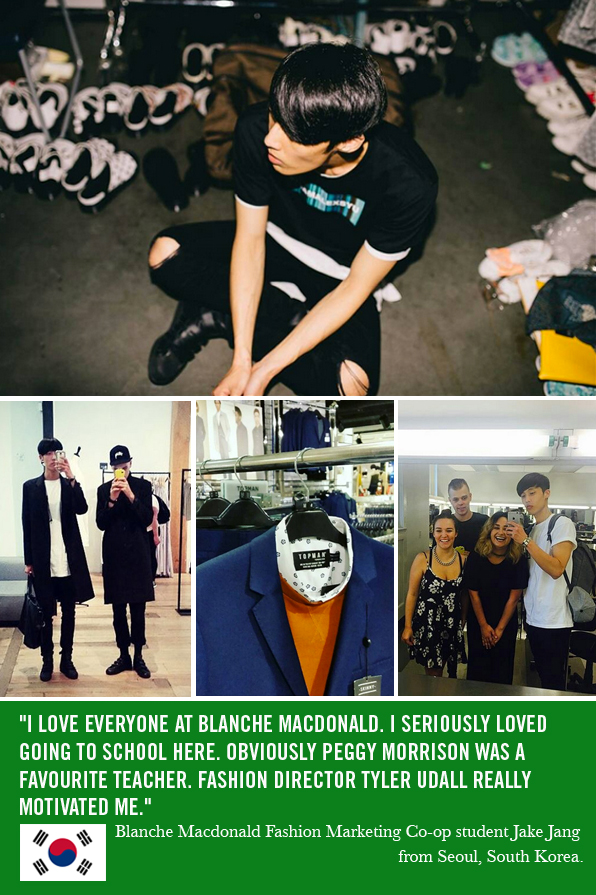 Fashion Marketing Co-op graduate Jake Jang may just be the friendliest head-to-toe-black-clad cool kid you have ever met. He lopes in, a towering silhouette wearing a self-possessed smile and a soft leather jacket that slips down the wide span of his shoulders. His manner is warm and easy (you can practically hear the lean-back in his speech), and he is liable to peel into bright bolts of laughter at any given turn of the conversation.
He cuts a distinct figure against Atelier Campus' expanse of white, where we sit huddled over an iPhone, sifting through a bright miscellany of squares.
"I spend a lot of time looking through street photos on Instagram's Discover section. Not this naked guy," he snorts, flicking away a particularly brazen bit of feed, "but a lot of these great fashion accounts will just randomly show up. I find new people to follow all the time. Like @GRINDmagazine! I know right? I didn't know about that one either, it just popped up one day. You gotta follow that one."
The army is that last place you would envision a character such as Jake, but in his home country of Korea, serving is simply run of the mill.
"Serving in the Republic of Korea Army is our national duty for two years; I was there because I had to be but it actually changed my life. Before that I was just wasting my time, drinking and partying, and I didn't know what I was doing. For those two years, I could think about my life, about what I wanted to do in the future. It played a big part in my decision to come to North America.
"Some time later, I applied for an internship with a Korean brand in New York but first stopped by Vancouver to study English. I met my girlfriend, decided to stay, enrolled in Fashion School at Blanche Macdonald and now – here I am," Jake grins.
Read the rest of Jake's story here!
Yupin Tsai
Meet Yupin Tsai from Taiwan
Get to know this Blanche Macdonald Fashion Marketing Co-op student from Taipei, Taiwan!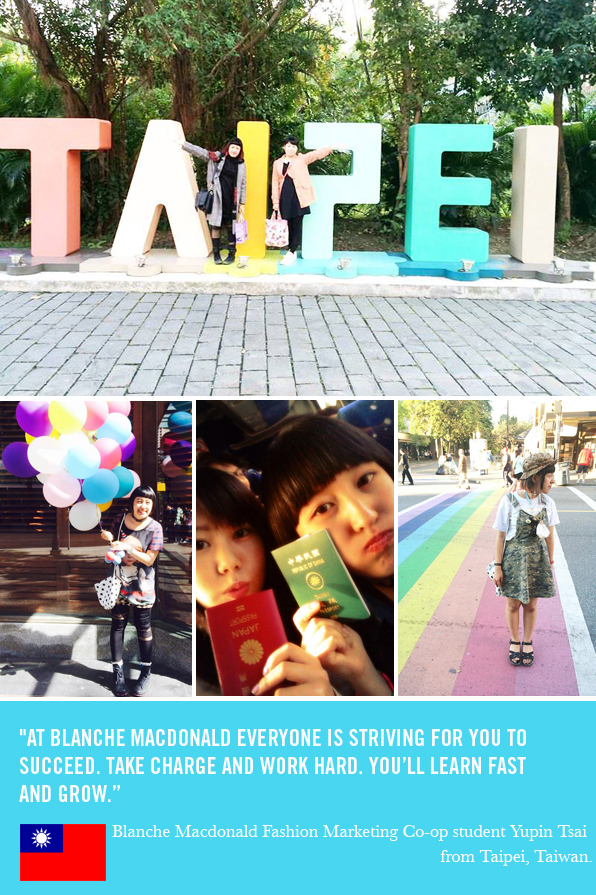 Anyone meeting Yupin Tsai is immediately drawn into her gentle soft spoken shyness. Her personality is tucked away underneath expertly clashed prints, with a touch of dipped fuchsia red hair tickling her shoulders. With her straight cut bangs landing just-so above her brow, Yupin is self-composed with an insatiable heart for adventure. Her simple matter-of-fact attitude landed her in the hearts of our instructors, where she became a cherished student.
"At Blanche Macdonald everyone is striving for you to succeed."

With a dream of retail buying on her mind, Yupin chose a fashion school to set her course. With her heart seeking a new city and her desire to develop her independence, the decision was clear.

"I decided to choose Blanche Macdonald after hearing about the school through a friend who also took theInternational Fashion Marketing program. Actually Blanche Macdonald is quite well known in Taiwan!"

While settling into a new city, the greatest challenge as an international student was language. Each day Yupin would stay after class to review the class material with Fashion Program Directors and Instructors, Peggy and Donna. This allowed her to see the deep care and responsibility the instructors invested in their students.

"I felt so appreciative and touched at the number of hours Peggy and Donna sat down with me after class just to make sure they had all my questions answered so I was able to keep up with the class."