HAIR: COURSE DESCRIPTIONS
Please note: The following course descriptions are for the Pro Hair Full Time Diploma Program. To view course descriptions for our Pro Hair Part Time Foundations Diploma Program, please click here.
LEVEL 1
BASICS
Students begin with a complete immersion in the practical and hands-on aspects of cutting hair. Emphasis will be placed on mastering the structure of four basic hair cutting techniques and combinations of the four, giving a total of fifteen different haircuts and hairstyles. Beginning with in class demonstrations and mannequin work, you will then acquire confidence and expertise and advance to working with live models. Comprehensive introduction to fundamentals include shampooing, draping, wet setting and thermal styling. Other related theoretical subject matter includes trichology, bacteriology and sanitation.
LEVEL 2
COLOUR
Shifting from cut to colour. Emphasis is now placed on the practical application and theoretical knowledge of all aspects of hair colouring: Colour consultation, colour theory, colour classification, special problem colouring, colour correction, safety precautions and enhancing a haircut with the use of color. Additionally, you will gain further practical experience and begin to develop your creative talents by learning how to create texture with foils, special effects placement and zoning, and the use of freehand colour.
LEVEL 3
CHEMICAL TECHNICIAN
Advancing into the third level, you are now ready to delve into the principles and processes of chemical composition, chemical hair texturing and chemical hair relaxing commonly known as perming. Examine new chemical formulations of the several different texturizing products offered on the market today. While product knowledge is expanded upon, thermal straightening techniques and the variety of perming and wrapping techniques are also explored. As a Chemical Technician, it is essential that you understand the chemical hair structure of your client, how to work with ethnic hair, safety measures involved with using chemical products and allergic reactions.

LEVEL 4
WIGS & HAIR EXTENSIONS
Imagine transforming short hair to long hair in a few short hours. You will...

Learn the complete theory and practical application of hair extensions. Learn how to cornrow hair for single braids and full head braids. From this point you will apply artificial hair to each single braid as well as learning to attach wefts of hair to a single-track row, a double track row and full head placement while using several different systems of individual strand applications (eg. Fusions, Paris hair and Euro clamp systems).
LEVEL 5
FACIAL ANATOMY & Makeup
Foundational studies in cells anatomy and physiology are reviewed. You will follow a comprehensive study of the cell tissues and organs, with a complete understanding of the systems of the human body and how it works - Skeletal, Muscular, Circulatory, Nervous, Endocrine, Excretory, Respiratory, & Digestive systems.

You will also be learning the fundamentals of makeup application for Daytime, Evening, Bridal and Fashion Makeup as well as lighting for photography in black & white and colour.
LEVEL 6
HAIR FOR VISUAL MEDIA: FASHION, TELEVISION AND FILM
Working in Visual Media, Professional Hairstylists can expand their career opportunities with freelance projects and assignments in Fashion, Television and Film. Learn how to conduct yourself within an artistic team, work as a Platform artist, visualize and execute a creative concept on a fashion editorial photo-shoot or juggle the pressured time constraints of a backstage runway show.

Or if you are on a Television or Film set, learn how to do character study, script breakdown for hair, or work with wigs and extensions. This level also teaches you how to navigate the complex world of Film unions (i.e. IATSE and ACFC) with its vast array of standards, requirements and industry etiquette.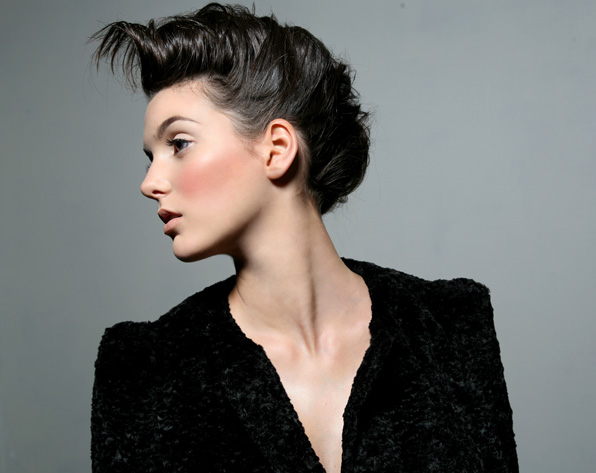 LEVEL 7
Professional development (Fashion Photo Shoot)
During this level, students will have the opportunity to take what they have learned thus far in the program and create three signature looks designed to fit their live models complete with a blueprint formulation and structure of the cut and color for each model. You will then cut and color on your models, take before and after pictures which will be applied to your professional portfolio at the completion of Level 10.
LEVEL 8
Design FORUM
Students will be learning about the latest hairstyling trends and techniques for runway and professional photo shoots, coordinating the hairstyle with a makeup artist, fashion stylist and photographer's artistic vision as well as set etiquette. You will also be creating styles for avant-garde, editorial, bridal, elegant long hair evening and fantasy looks for a professional photo shoot in order to build your professional portfolio.
LEVEL 9
BUSINESS DEVELOPMENT
Making a fluid transition from the classroom to the workplace is essential. Develop the skills and confidence that you need, in your emerging role as a Hair professional. Fundamental career skills in resumé building, interview skills, networking and job search techniques are reviewed. Furthering your career development, you acquire much needed business skills as a salon manager or entrepreneur. From accessing government resources, essential accounting practices, retail and merchandising strategies, inventory control, salon operations and policies and more, ultimately, you will be prepared to succeed in a competitive environment.

LEVEL 10
ART & TECHNOLOGY
It is so essential in today's wired world that you are able to market your services and business via the web. The Blanche Macdonald Centre is the first college in Canada to integrate Art & Technology into an advanced and progressive Hair curriculum.

Within a state-of-the-art Apple Macintosh computer lab, students design, plan and create a personal Digital Portfolio. Learning the fundamentals of Adobe Photoshop and Microsoft Power Point, students will download and scan digital images, develop various image editing skills and then advance into digital production. At the completion of this level, students will have created their own e-portfolios on a CD, DVD and have built their own professional website showcasing their photo gallery.



GRADUATION
Our Expectations of You– At the college, you will become immersed in a collaborative and motivating environment. To make the most of your educational experience, we can provide you with all the necessary knowledge, means, and connections, but the key ingredients to your success lie with you. If you can demonstrate a constant discipline to your studies, a respectful, open attitude and approach to your peers and instructors, and an absolute commitment to be your best, you will succeed. Learn to reach our expectations and to exceed your own.

The Blanche Macdonald Diploma – After successfully completing the academic criteria and fulfilling your financial obligations and requisite hours of attendance, you will receive a Blanche Macdonald Diploma. This Diploma is recognized as a first class standard of excellence in education and training.



Note: The college reserves the right to change course offerings, course content, kit contents, facilities, faculty, tuition fees, and course schedules without notice.