International Fashion Marketing
This program has been approved by the Registrar
Blanche Macdonald Centre has established a renowned reputation as a worldwide leader with our innovative and outstanding educational Diploma programs. Students have the option of applying for our core one year Diploma programs that are fast paced, dynamic and challenging or our International Diploma six month programs that are specifically designed with the same standards, quality and care and are better suited to those students with Intermediate English language skills.

The International Fashion Marketing program provides an excellent academic foundation that is designed to develop each student's English communication skills while introducing you to a rich curriculum of fashion focused education.

Upon graduation, students earn a Canadian Diploma in Fashion and will have the knowledge and skills to gain entry level career employment in the fashion industry. Graduates may also choose to build on their Canadian Diploma with further education in the field of fashion.
VANCOUVER'S FASHION INDUSTRY

Given our robust economy, ethnic diversity and our unique footprint on the edge of the Pacific Rim, in this past decade, almost every major retailer and fashion brand has found its way onto Vancouver's retail landscape. From the high brow and high end brands of Hermès, Tiffany and Holt Renfrew to the cheap and cheerful labels of Forever 21 and Zara, the shopping experience here is world class.

Vancouver has also also given birth to its own fashion juggernauts - lululemon, the billion dollar enterprise for yoga wear and Aritzia, the store of choice for the style savvy set that is rapidly expanding its retail presence throughout North America.

Adding to Vancouver's fashion industry is the influence of notable First Nation designers who have adapted aboriginal design to contemporary fashion. Drawing international media attention and accolades, prominent designers include Haida artist Dorothy Grant and Denise Williams, of the House of Winchee.

Staying true to our Westcoast roots and our love of nature, consumers will also find a healthy movement towards "eco fashion". Whether it's recycling or repurposing materials and garments or working with manufacturing and retailing methods that are safe and friendly for the environment, many local designers and stores are adopting an eco consciousness.
WHAT CAN THE STUDENT EXPECT FROM THIS PROGRAM?

You can expect to receive a curriculum and educational experience that balances an effective academic environment with high industry exposure, practical hands on experience, relevant industry guest speakers, valuable internship opportunities, small class sizes and a caring, supportive environment that is filled with creativity, fun and a rewarding sense of personal achievement.
Enjoy the opportunity to greatly improve your written and verbal English language skills within a friendly and multicultural environment.
Learn specialized vocabulary and terminology related to the industry. Be able to converse knowledgeably and confidently with others in the world of Fashion.
Coordinate a Fashion photo shoot, choosing the clothing and accessories that will create a visually compelling image that meets the industry's criteria.
Study and critique Fashion editorials to better understand techniques, processes and aesthetic elements relating to brand statements, artistic direction, fashion standards and graphic layouts and design.
Develop your social media skills in relation to business and branding. Learn how to create an integrated social media strategy that has a unified voice and vision.
Participate in valuable Fashion Internships that will boost your self confidence, help you develop essential working skills and experience, and build your industry network.
Acquire essential skills and experience with Photoshop and Illustrator, learn about graphic layout elements and develop a graduate project with your own E-portfolio.
Become integrated in North American culture: at the College, we have the privilege of learning about our International students, their personal stories and their respective cultural heritage. In turn, we have the opportunity to help our students refine their English language skills and to gain valuable insight, experience and confidence with North American business protocols and procedures, cultural traditions and general etiquette.
COURSE OUTLINES

TERM I
Fashion Marketing
Visual Merchandising & Store Concepts
Current Fashion Designers (Fashion Awareness II)
Fashion Elements & Vocabulary
Art & Technology

TERM II
Fashion Styling
Social Media Marketing
Fashion Buying
Fashion Promotions & Public Relations
Professional Practices
THE FACTS

DIPLOMA PROGRAM
PROGRAM LENGTH: SIX MONTHS
PROGRAM SCHEDULE: THREE DAYS PER WEEK

INTERNATIONAL STUDENTS - WORK EXPERIENCE IN CANADA

For those students who are on a valid Canadian Study Visa, under the new Canadian Immigration Commission rules and regulations, International students have the ability to work legally in Canada for the duration of their educational program, up to 20 hours per week off campus. This can include paid work, volunteer work or Industry Internships.
Note: Students need to hold valid Study Permits and apply for a Social Insurance Number at Service Canada to work off campus.

INTERNATIONAL STUDENTS - CO-OP WORK EXPERIENCE

The College also offers International students the opportunity to expand on their Canadian studies by adding on an International Co-op Work Experience segment. Upon enrolling, International students can register for the International Fashion Marketing + a six month International Co-op Work Experience. The Blanche Macdonald Centre has a dedicated Fashion Career Department that helps our International Co-op students secure a relevant Fashion Co-op Work experience.
SCHEDULES, CREDITS AND WORK EXPERIENCE

International Fashion Marketing students must successfully complete ten course subjects of three credits each in order to earn their Diploma. The program is divided into two semesters of five courses each. The total academic program length is six months. There is an additional six month International Co-op Work experience for those who have registered for that additional option.
Classes are scheduled for 3 days per week. Upon enrollment, students select either a Mon-Wed schedule or a Wed-Friday schedule. This allows students with greater flexibility to study and to work part time.

PROGRAM ADMISSION REQUIREMENTS
International Student applicants must demonstrate in interest and aptitude for the Fashion industry and possess Intermediate English skills. An internal English Assessment test may be required.


INTERNATIONAL FASHION MARKETING PROGRAM TUITION
Canadian Students: the lowest payment plan option is $9,600 for the entire program length.

International Students: please refer to the International Section for Tuition information.
Tuition Grants:
Full-time programs: there are up to $4,000 in tuition grants for some Full-time programs and start dates.
Part-time programs: there are up to $1,500 in tuition grants for some Part-time programs and start dates.

Admission and Refund Policies: Blanche Macdonald Centre Admission and Refund Policies
Our Admission Directors can guide you through the variety of flexible payment plans, financing options and potential tuition grants that are available.
Please complete our Information Request Form online and one of our Admission Directors can assist you.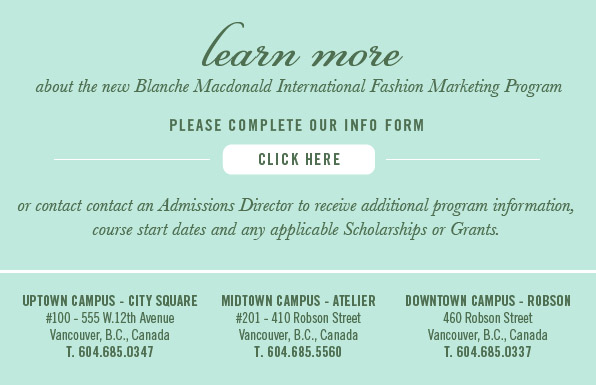 Note: The college reserves the right to change course offerings, course content, kit contents, facilities, faculty, tuition fees, and course schedules without notice.