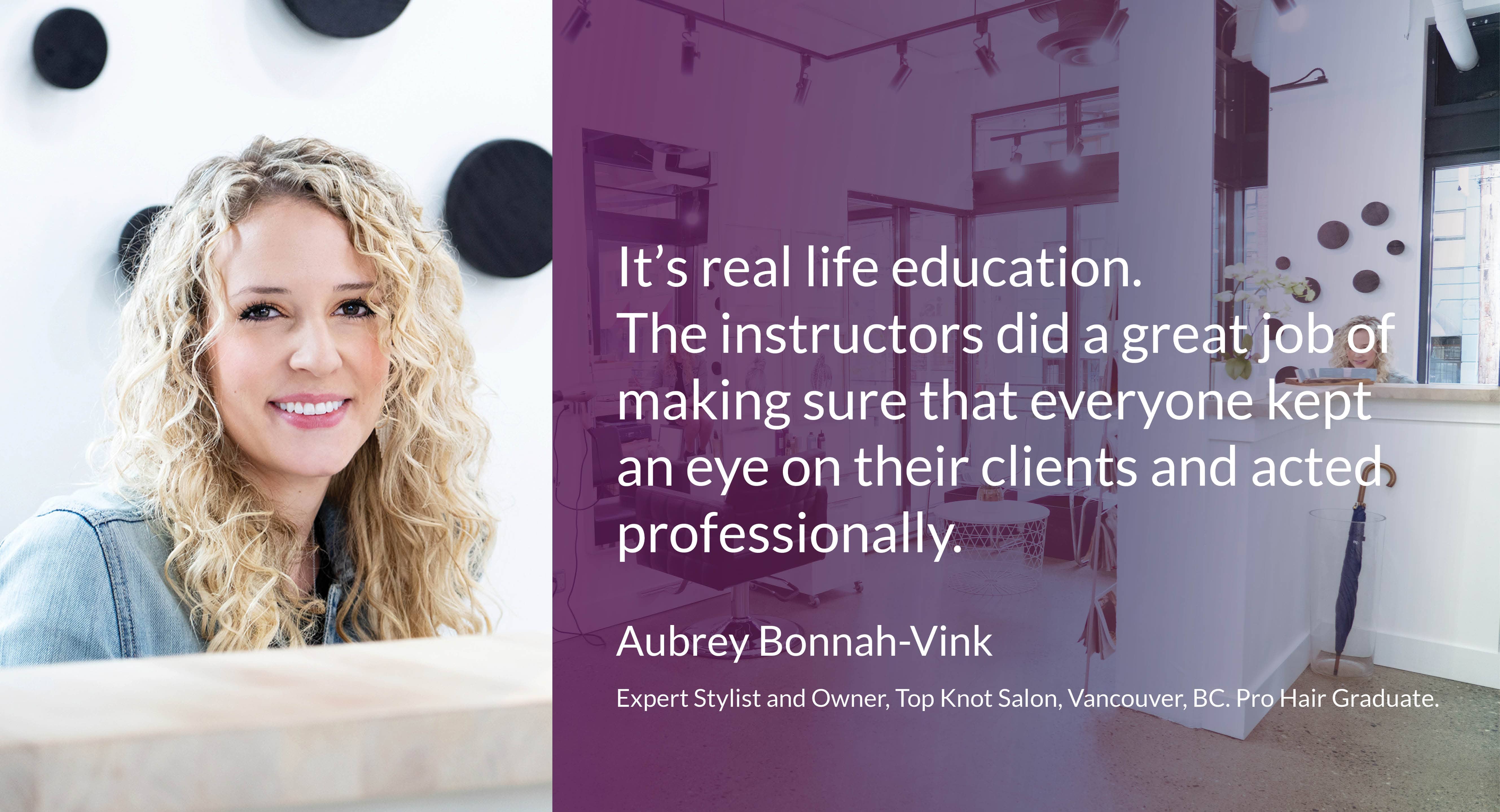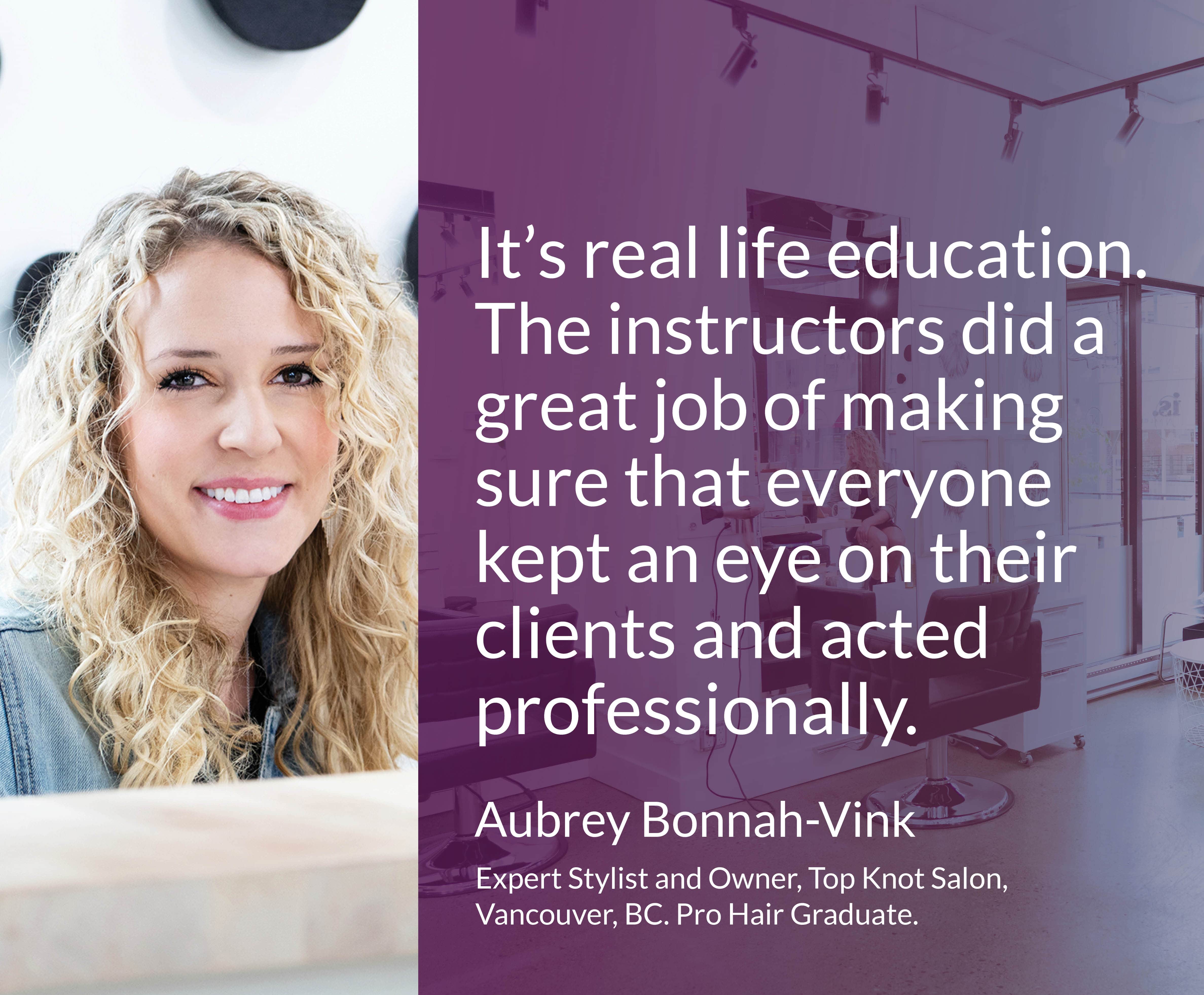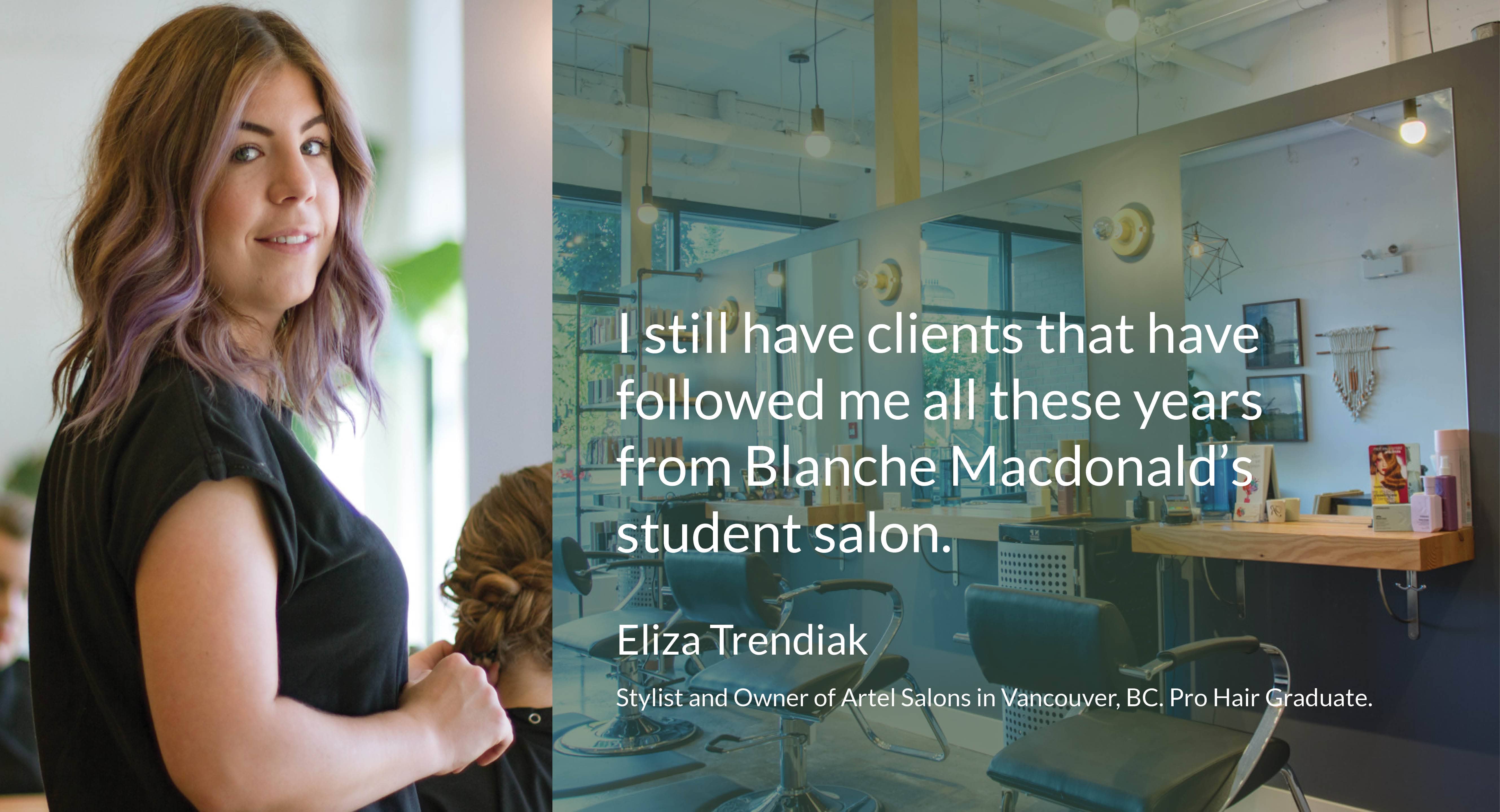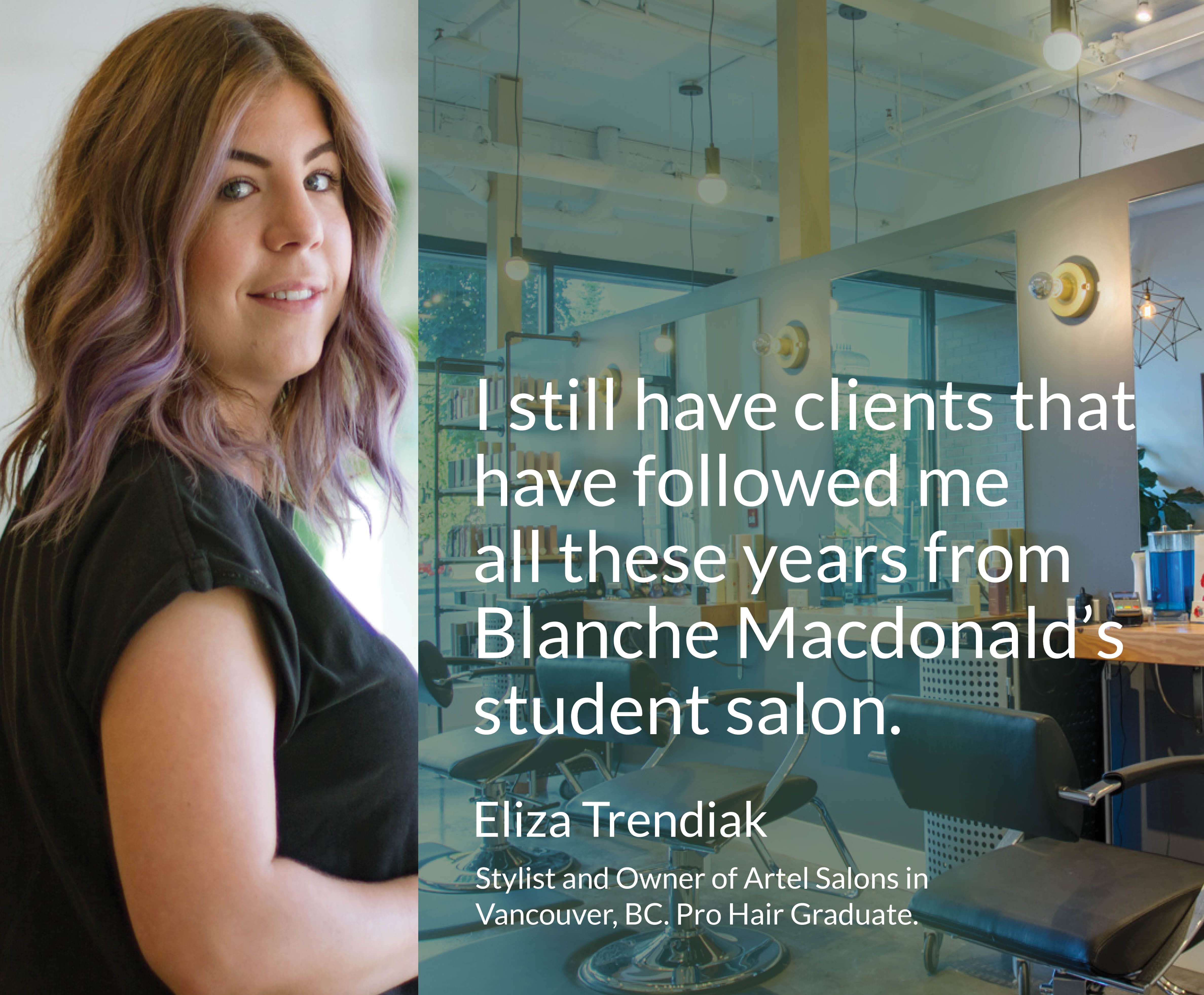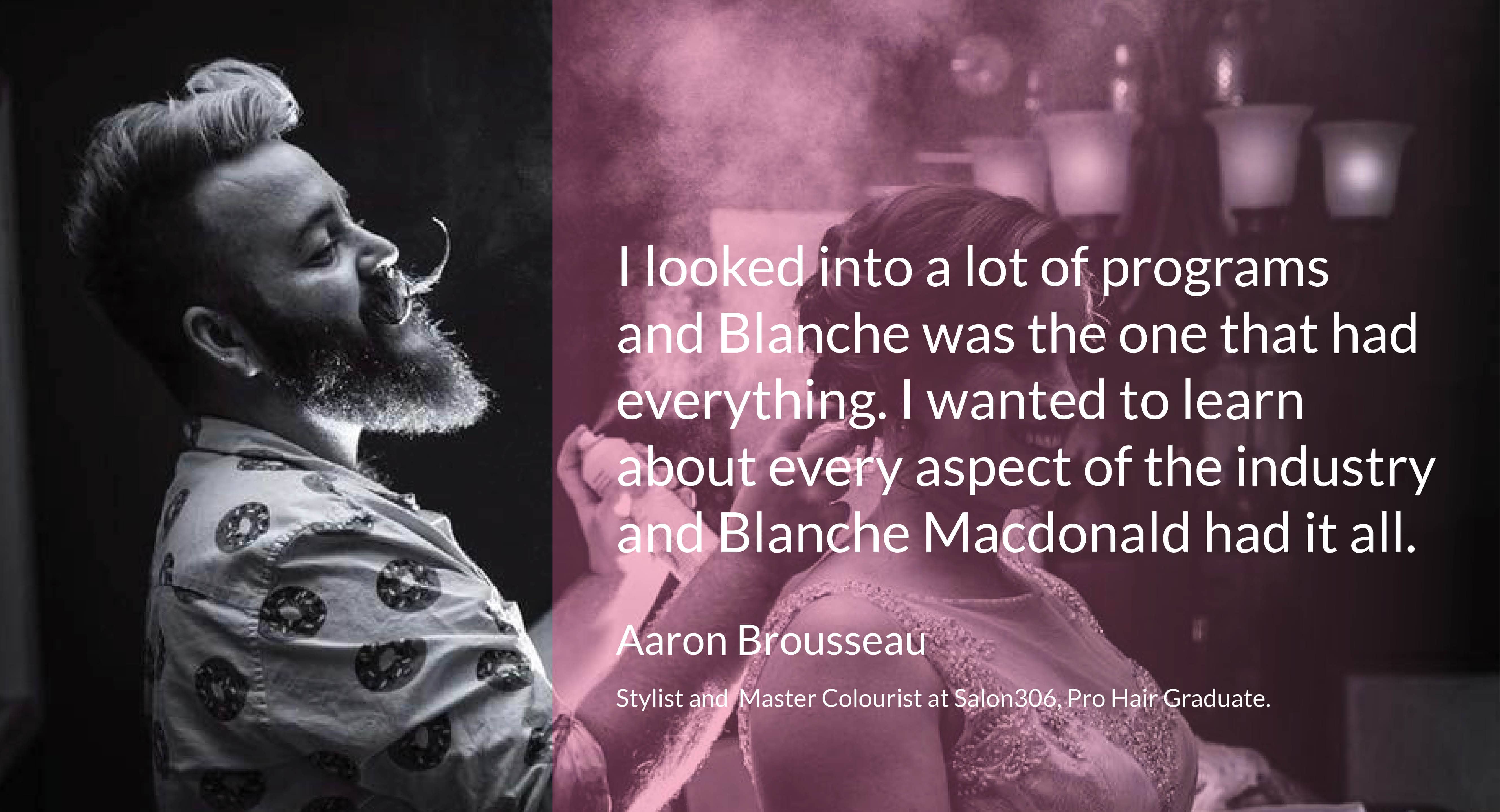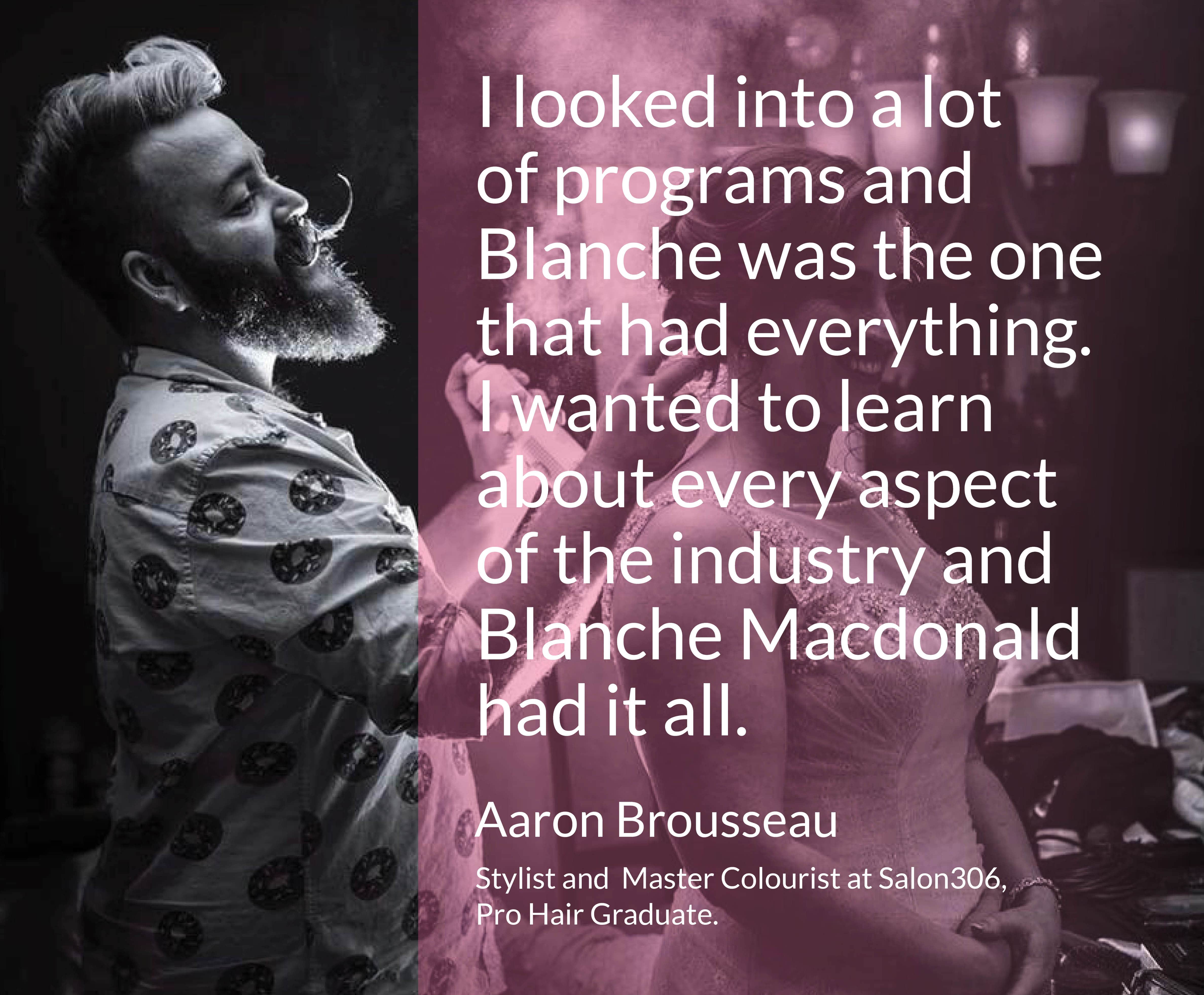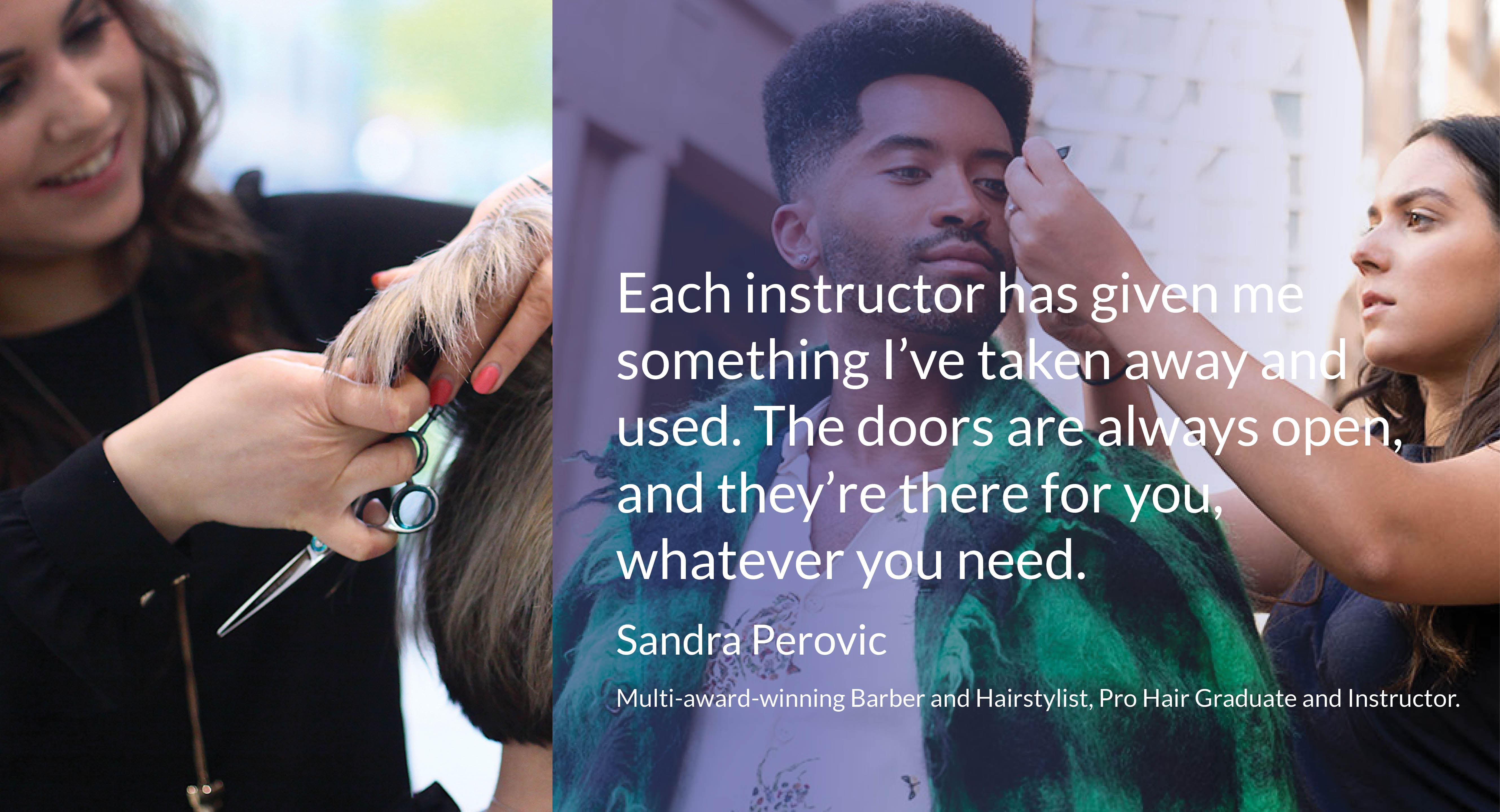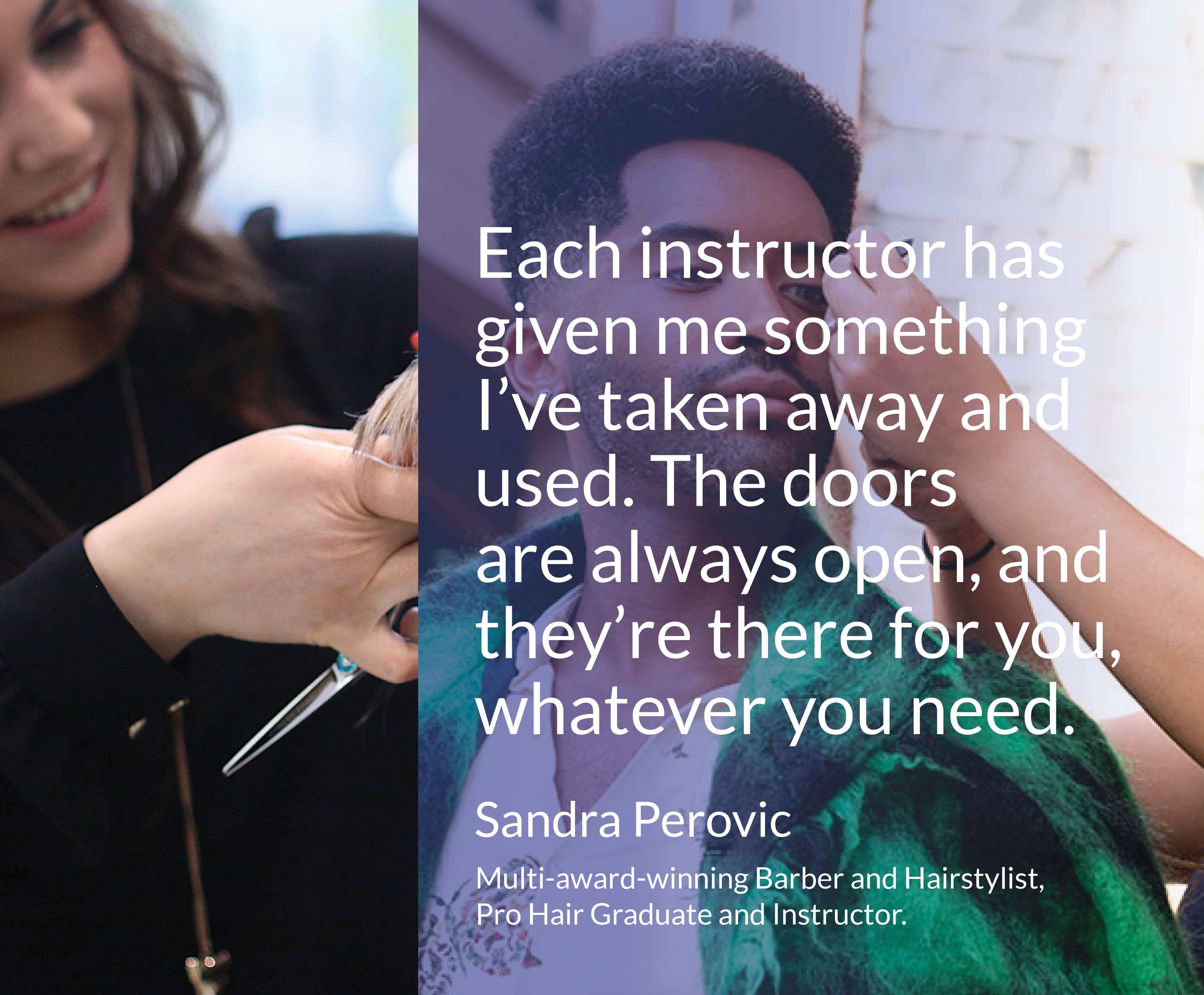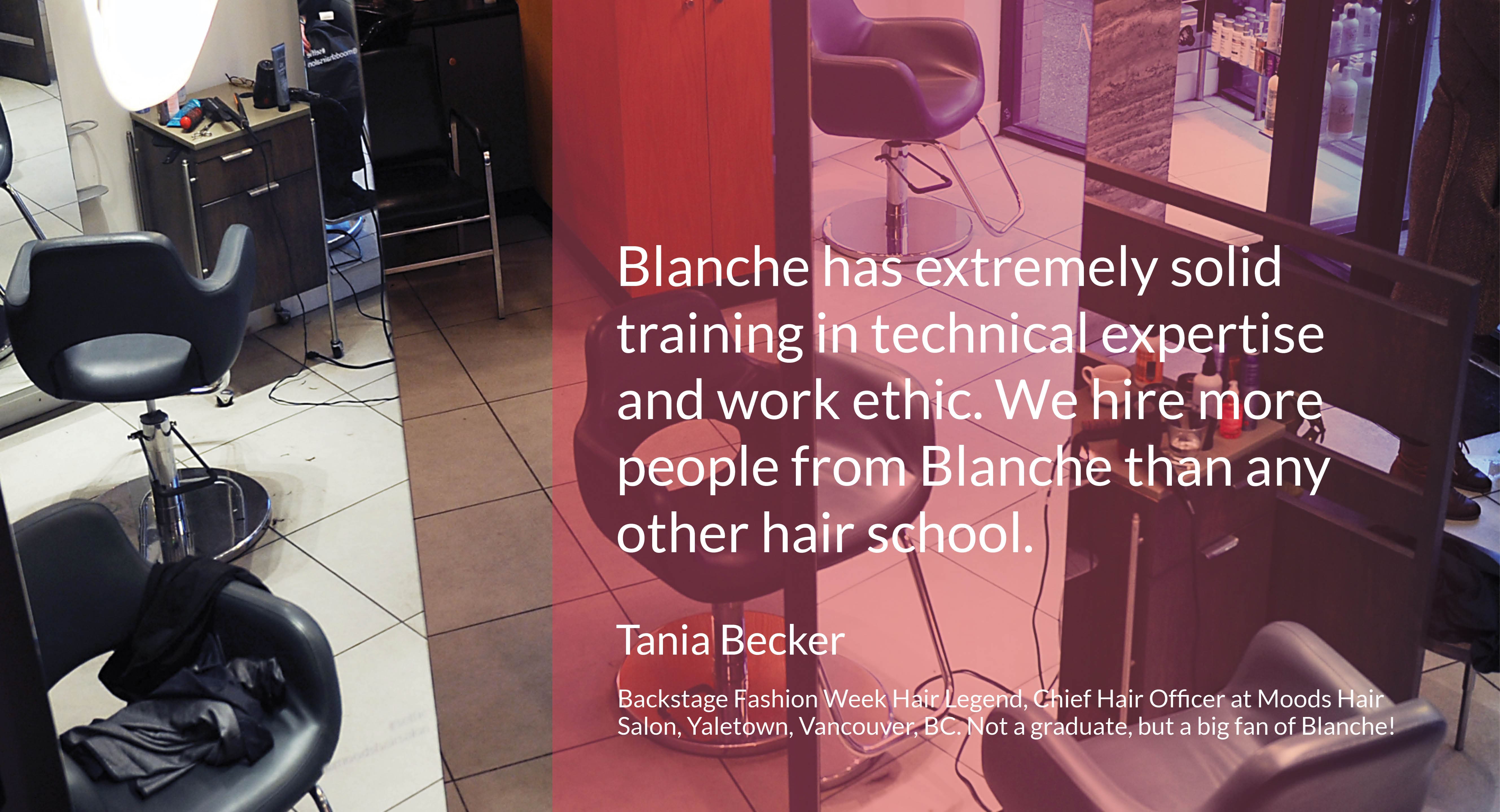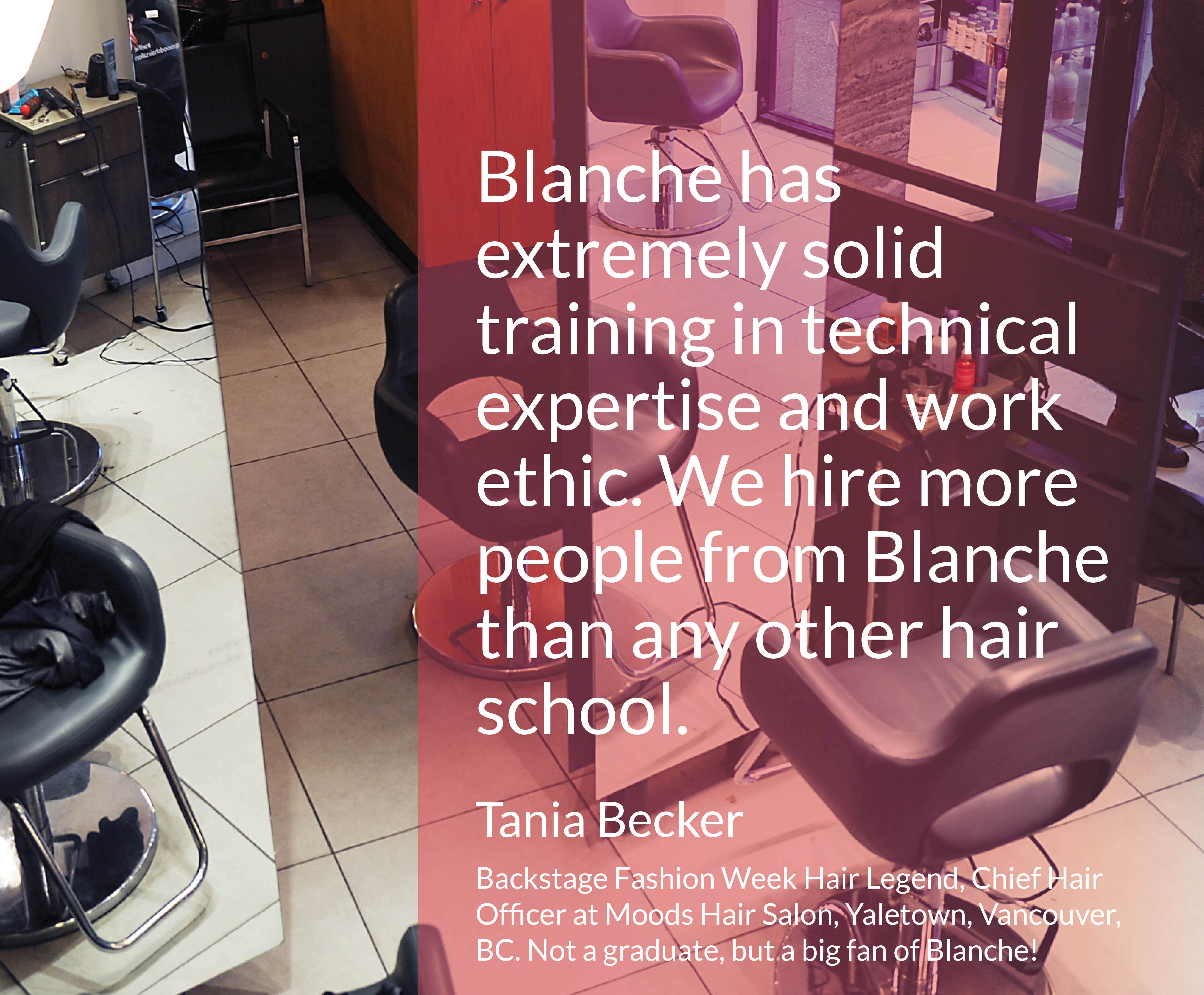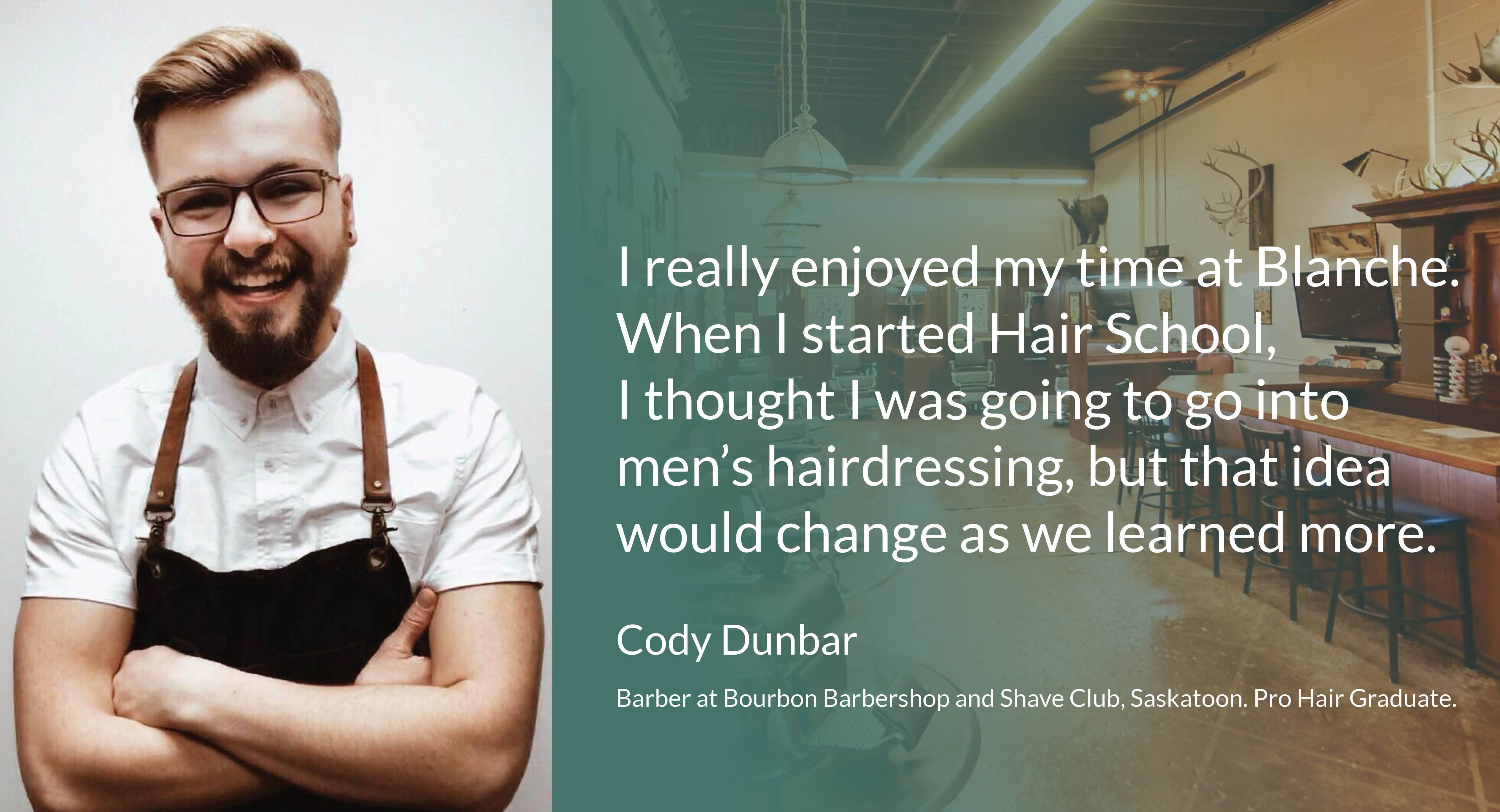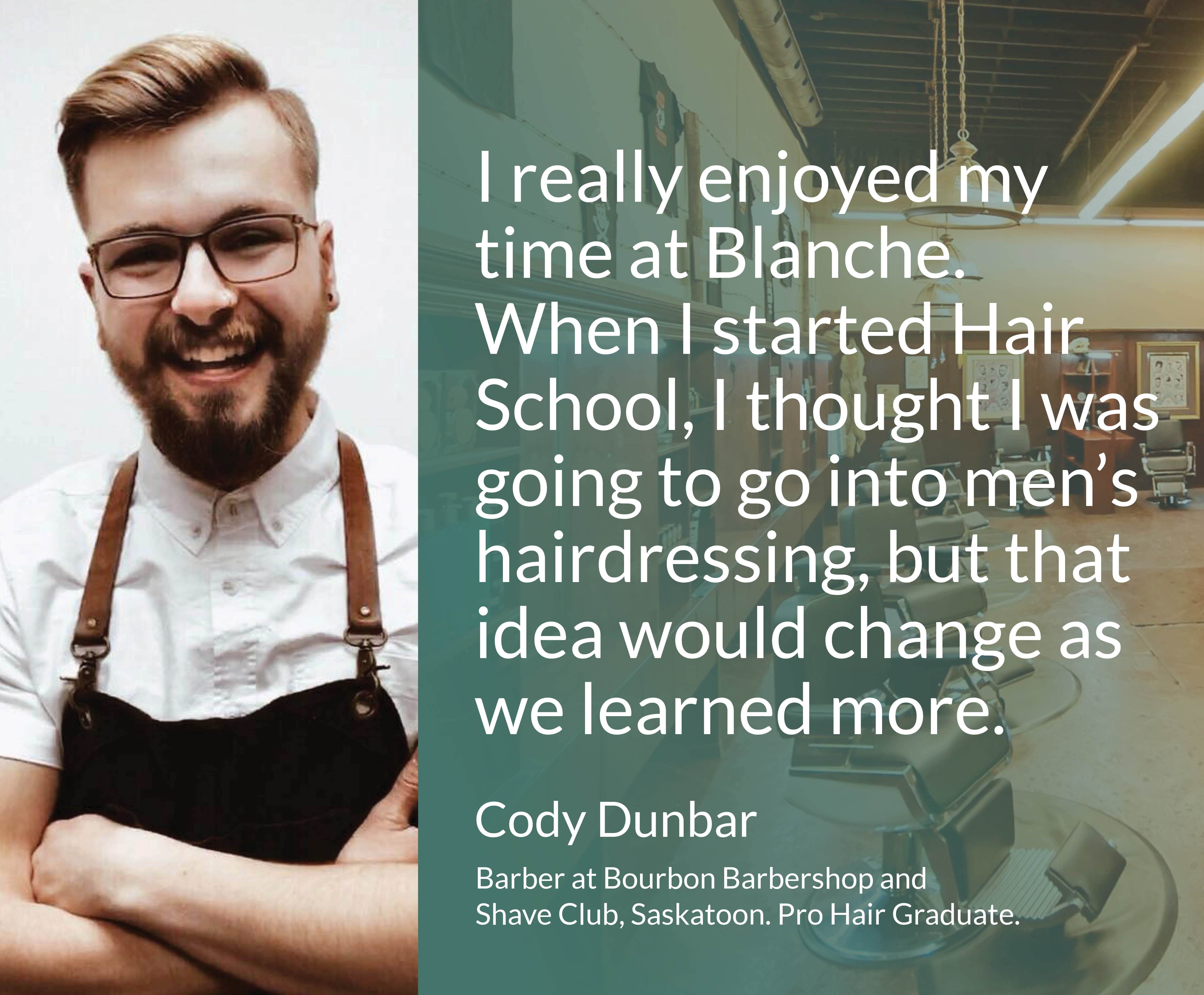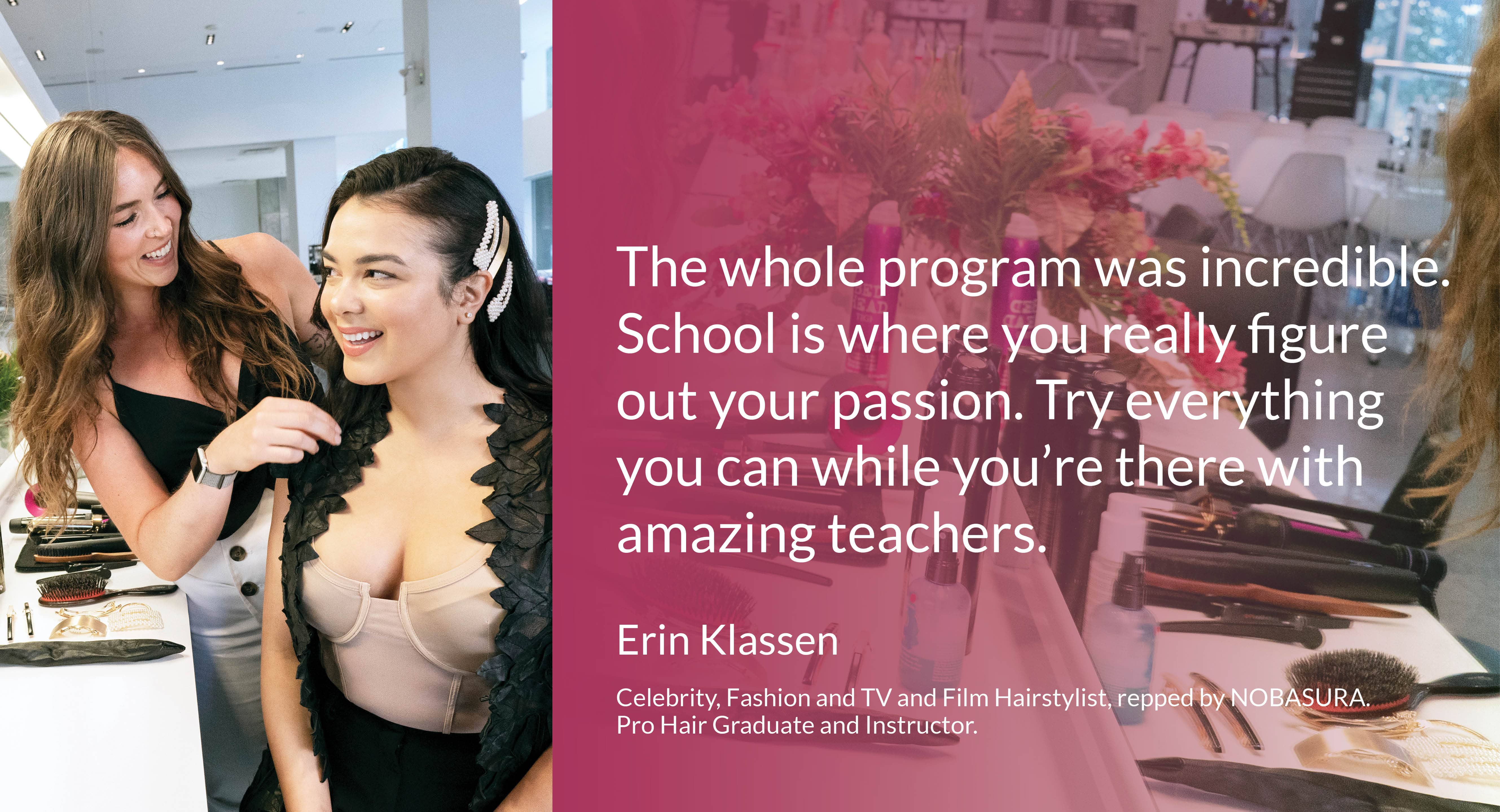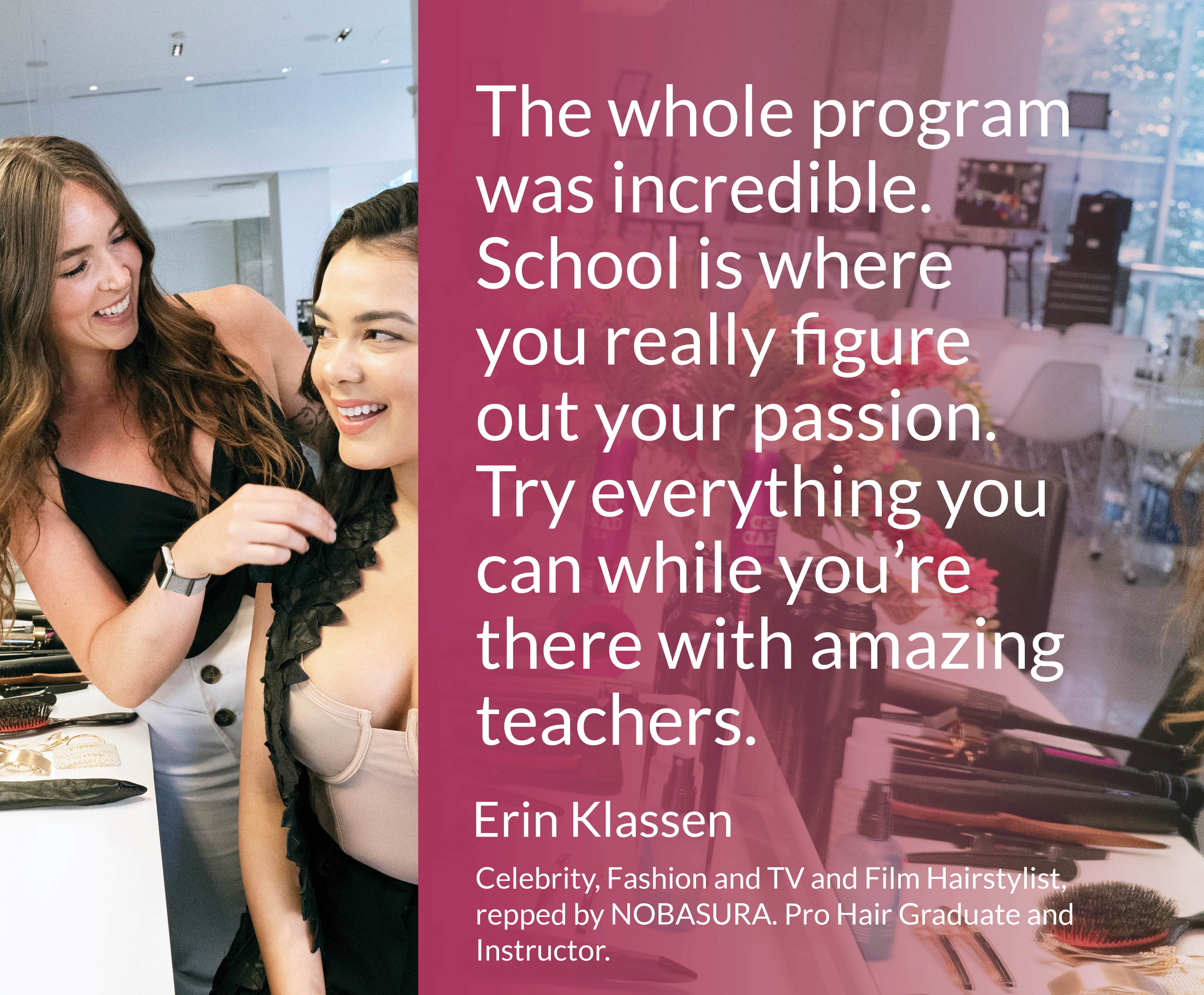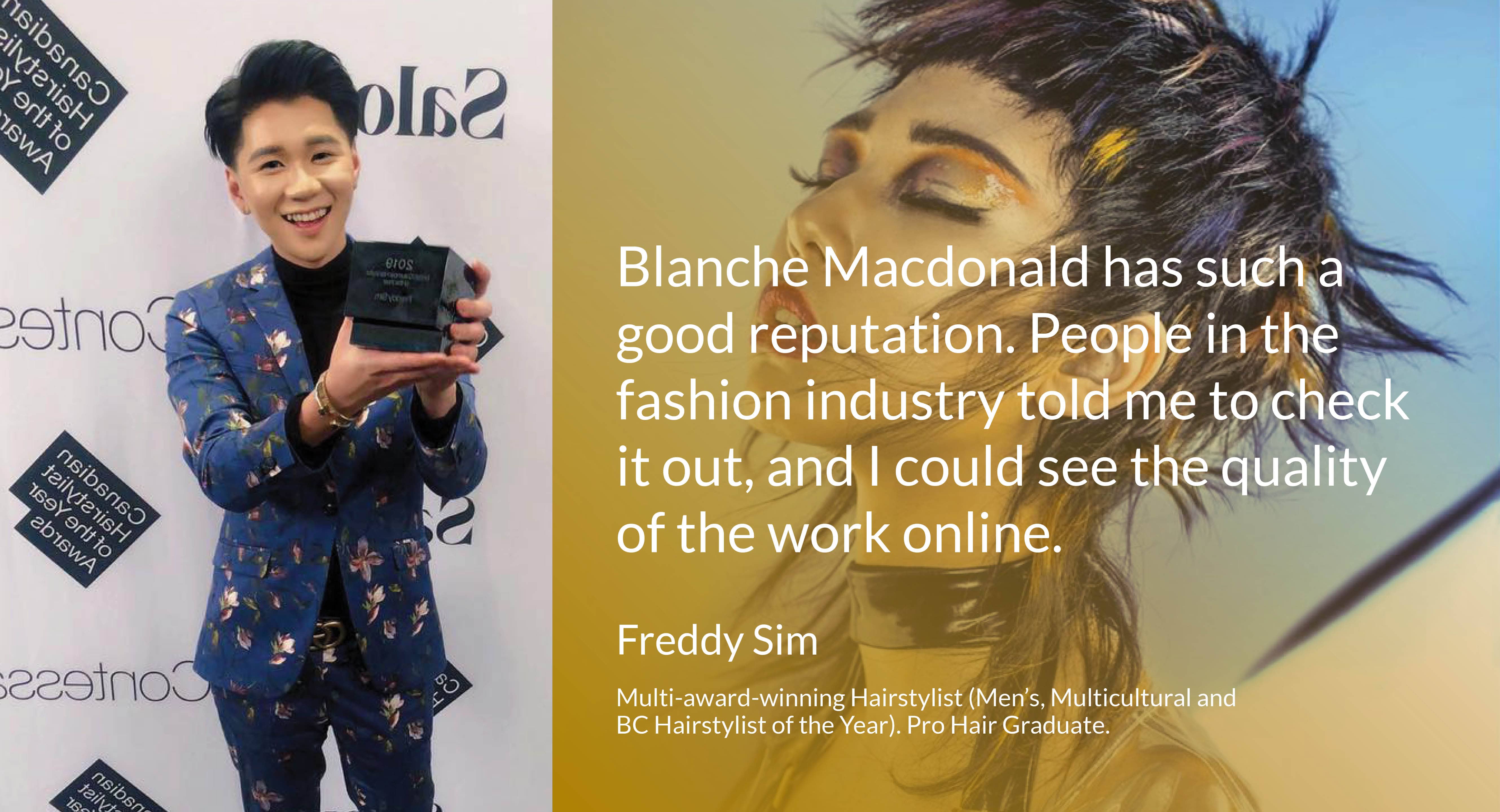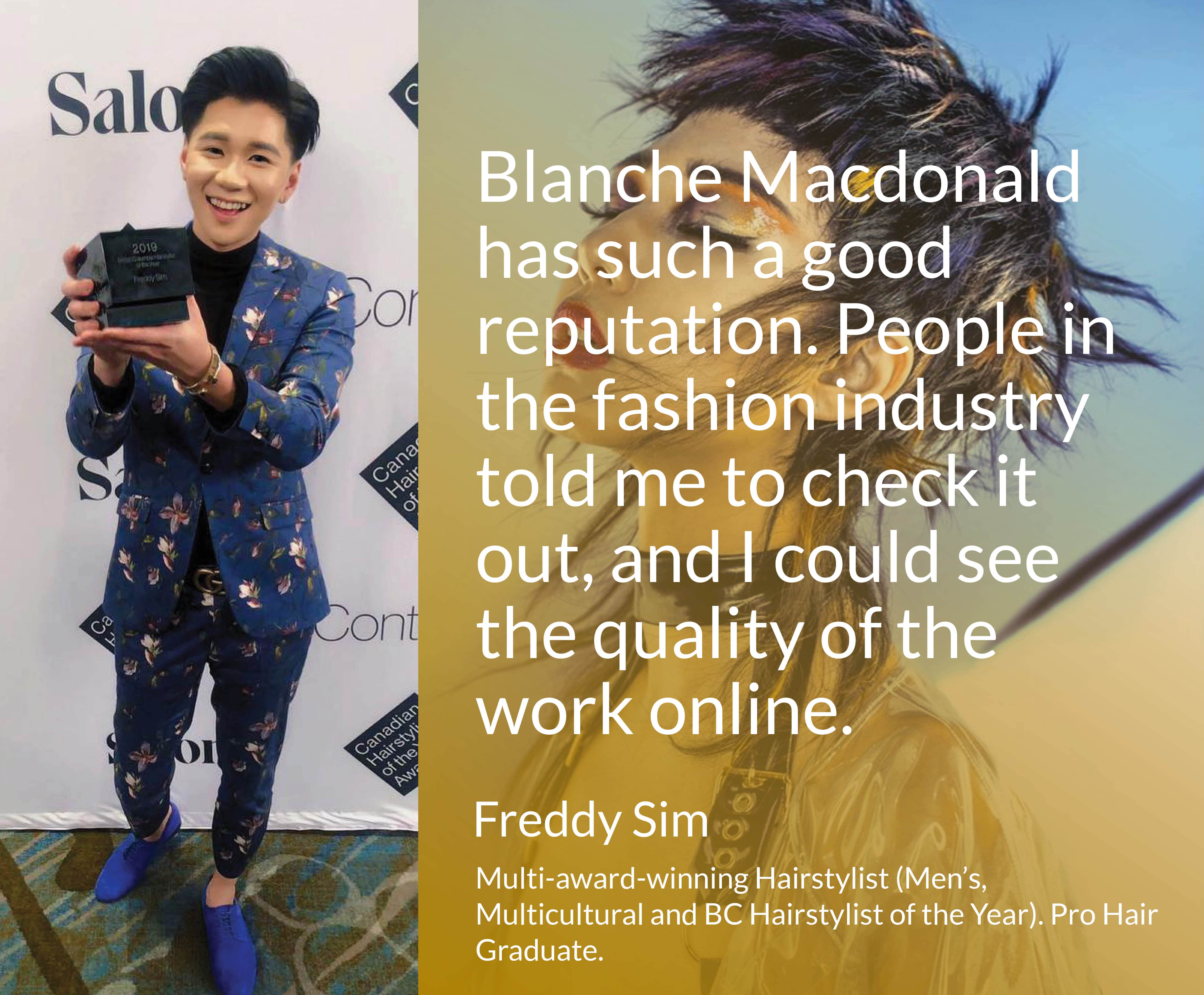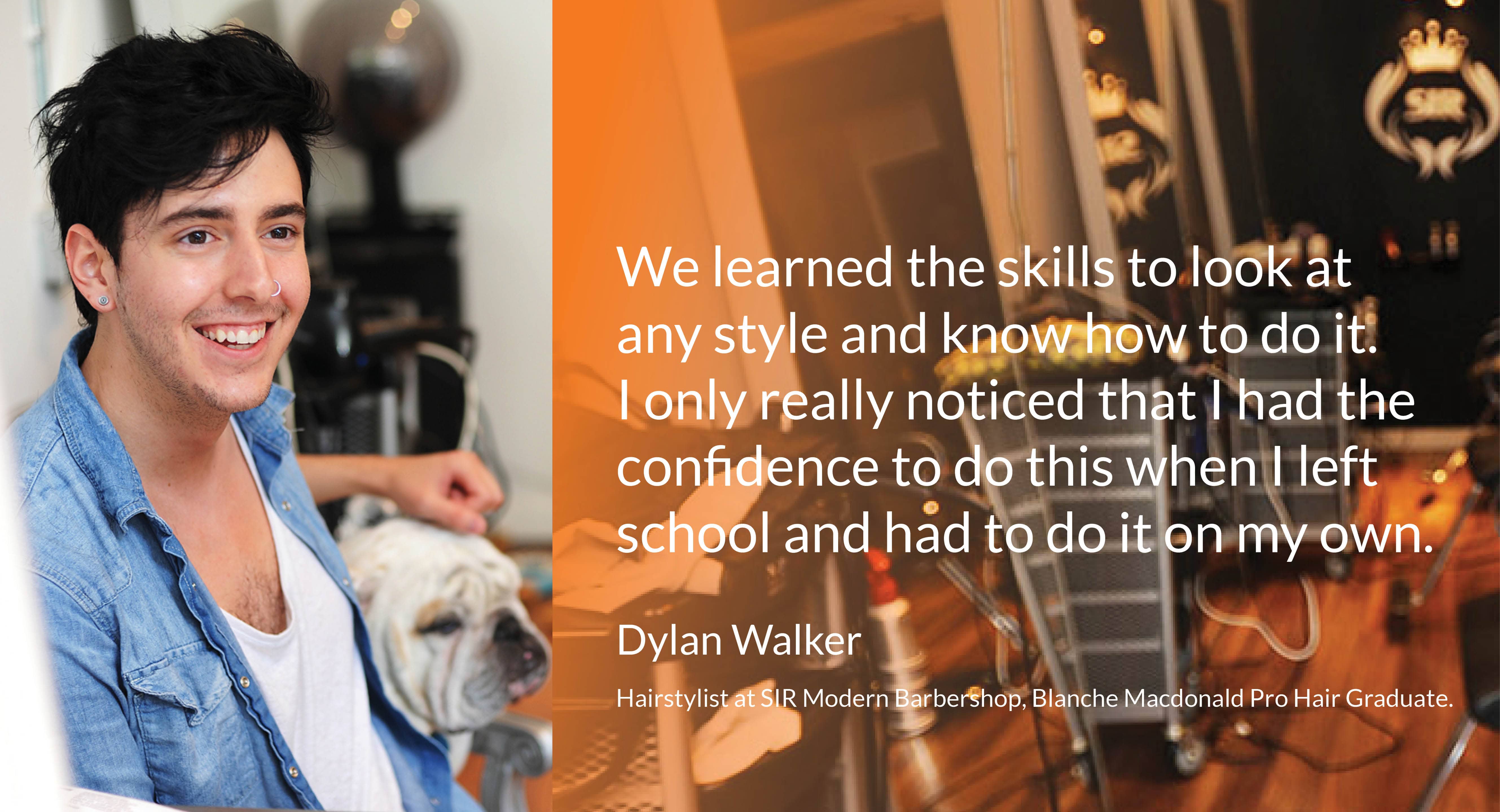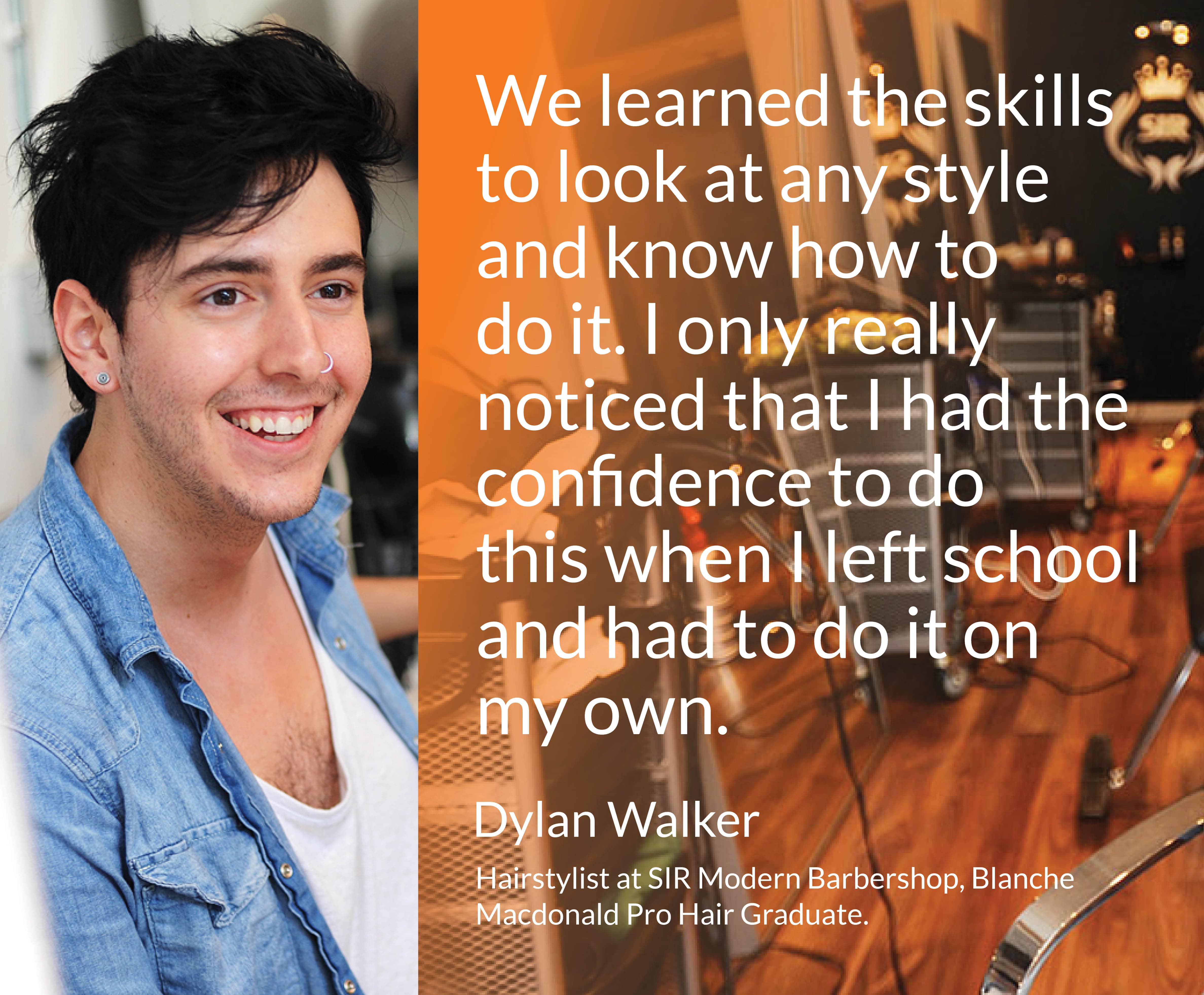 BEST EDUCATION IN CANADA
Enter the hair industry with confidence. Blanche Macdonald offers the most comprehensive education in Canada. Develop skills in cutting, colouring, styling and finishing techniques. Training you in hair extensions, wigs, perming & chemical treatments. Expand your portfolio fashion, editorial, and avant-garde hair looks for TV and Film.
AWARD WINNERS
We're home to award winners. Our instructor and graduates have received numerous national and international awards for Hair and Barbering including the American Crew All-Star Challenge, Best in Hairstyling from the Canadian Hairdresser Magazine's Mirror Awards, and the Contessa Awards from Salon Magazine.
RED SEAL DESIGNATION OPTION
While there is no special licensing required to work as a Hairstylist or Barber in BC, many provinces require Red Seal Designation. We offer students the option of completing technical training towards a Red Seal Designation for select 2020 start dates. This training will allow you to work anywhere across Canada.
OUR SCHOOL'S PRO SALON, Q&A
Develop your skills and confidence at our stunning Q&A Salon, located at our downtown Vancouver Atelier Campus.
SALON INTERNSHIPS
Blanche Macdonald Centre has cultivated relationships with a network of over 500 salons. Part of your core training in the PRO Hair 1500 program is a Salon internship at one of these professional salons.
ACCESS TO PREMIUM PRODUCTS
Adjoining our hair salon is our beautiful CurliQue Beauty Boutique. Here, students can find endless brands to experiment with including Oribe, Kevin Murphy, Goldwell, Sachajuan, Joico and Bumble and bumble..
REPUTATION FOR EXCELLENCE
Established in 1960, Blanche Macdonald has been dedicated to education for decades. With industry-leading curriculum, award-winning career departments, expert instructors and continuous support for students and graduates, we are proud to serve as an example of excellence in education.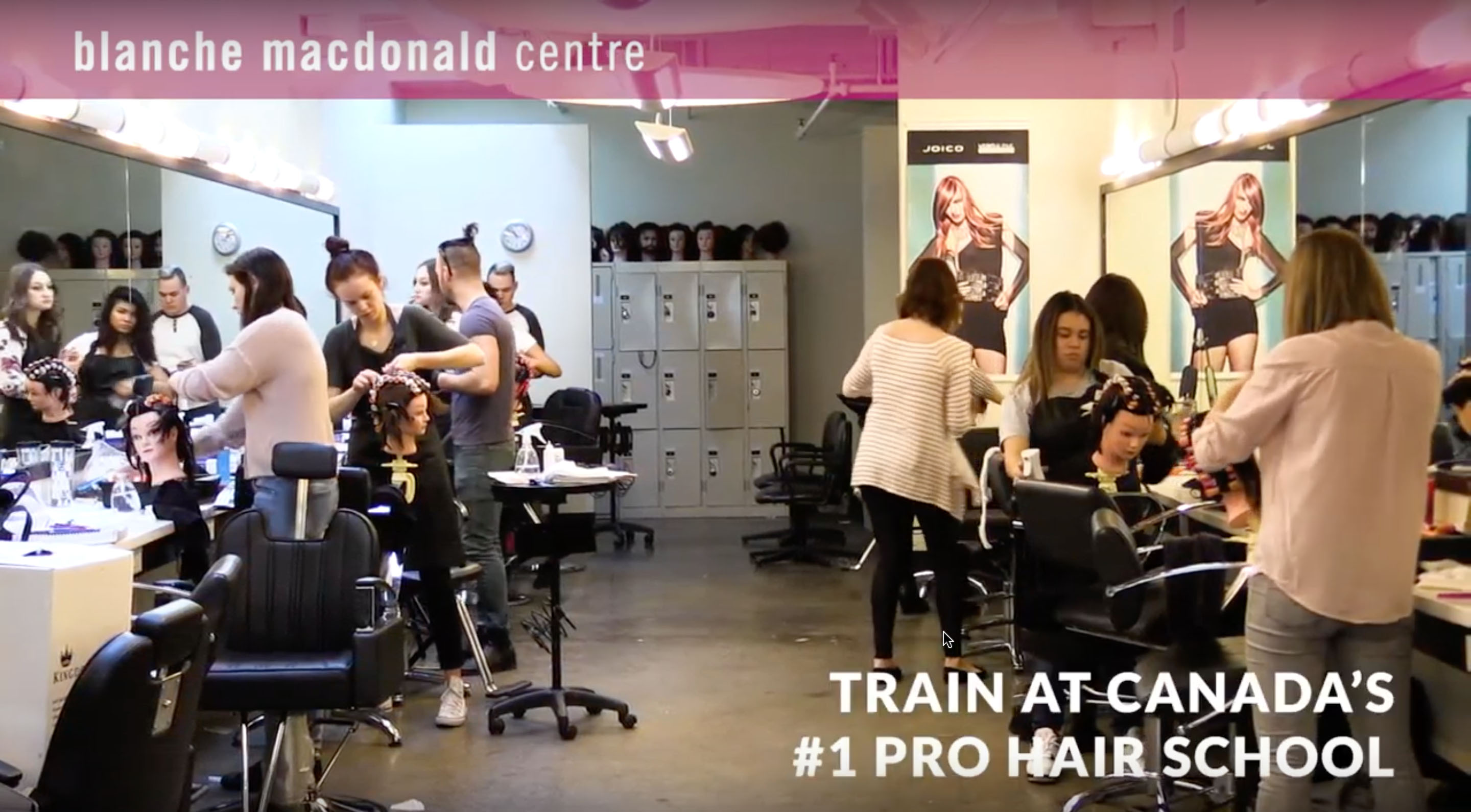 OUR PROFESSIONAL HAIR PROGRAMS
PROFESSIONAL HAIRSTYLING
1500 HRS, FT
- Full-time schedule, 3.5 days per week, 1 year
- Wed to Sat OR Sun to Wed; other schedule options available
- Red Seal Designation option for specific start dates
- Levels 1 to 10 (scroll down for full descriptions)
PROFESSIONAL HAIRSTYLING
FOUNDATIONS
600 HRS, FT + PT
- Full-time schedule, 3 days per week, six months
- Part-time schedule, Sun and Tues evenings, 1 year
- Levels 1 to 4 (scroll down for full descriptions)
OUR PROFESSIONAL BARBERING PROGRAMS
NEW


PROFESSIONAL BARBERING
600 HRS, FT + PT
- Full-time schedule: 3 days per week, 6 months
- Part-time schedule: Sun and Tues evenings, 1 year
- Levels 1 to 14 (scroll down for full descriptions)
NEW


PROFESSIONAL BARBERING
FOUNDATIONS
250 HRS, FT + PT
- Full-time schedule, 12.5 weeks
- Part-time schedule: Sun and Tues evenings, 6 months
- Levels 1 to 7 (scroll down for full descriptions)

I've met stylists who studied at other schools and I realized how much more you learn at Blanche Macdonald. I was really happy with what I'd learned once I finished Hair School. I was ready to move on and watch myself succeed.

I was having so much fun learning about everything. I wanted to know more. The photo shoots opened a door to show me what I was capable of.

I loved that Blanche Macdonald had a Business program built into it, as well as Makeup and Hair for TV and Film; you could really get a taste of everything. I wanted to come out of school feeling prepared.

Blanche Macdonald came up and had by far the most recognition and best reputation out of all the hair schools I looked at. When I came to Vancouver to check it out, I knew it was for me.

I loved the creative freedom we had [at Blanche] and being able to be hands-on with our hairstyling!

The connections I made at Blanche Macdonald continue to inspire my career. I cannot express how wonderful the admissions team, instructors, and career department are.

Work Experience was a big eye-opener for me. It gave me a sneak peek into the real salon environment.

[Blanche Macdonald Instructor] Renata was so professional. She taught us that our blow dry would have to be a ten out of ten every time. If you can finish with a great style, she told us, clients will always come back to you. That stuck with me.

Once I started researching, it was clear that Blanche Macdonald had the best reviews.

My favourite part of the Pro Hair program was colour class! I've always loved colour—it's fun and creative and a little science-y, which my nerdy side secretly loves! I love formulating and I also really enjoyed the photoshoots.

For me, the program was absolutely a necessity. The client relations aspect of the program was huge. Figuring out how to get someone to trust you and feel comfortable with you as a student makes it so much easier to have people trust you when you're a professional!

We learned the skills to look at any style and know how to do it. I only really noticed that I had the confidence to do this when I left school and had to do it all on my own.
Previous
Next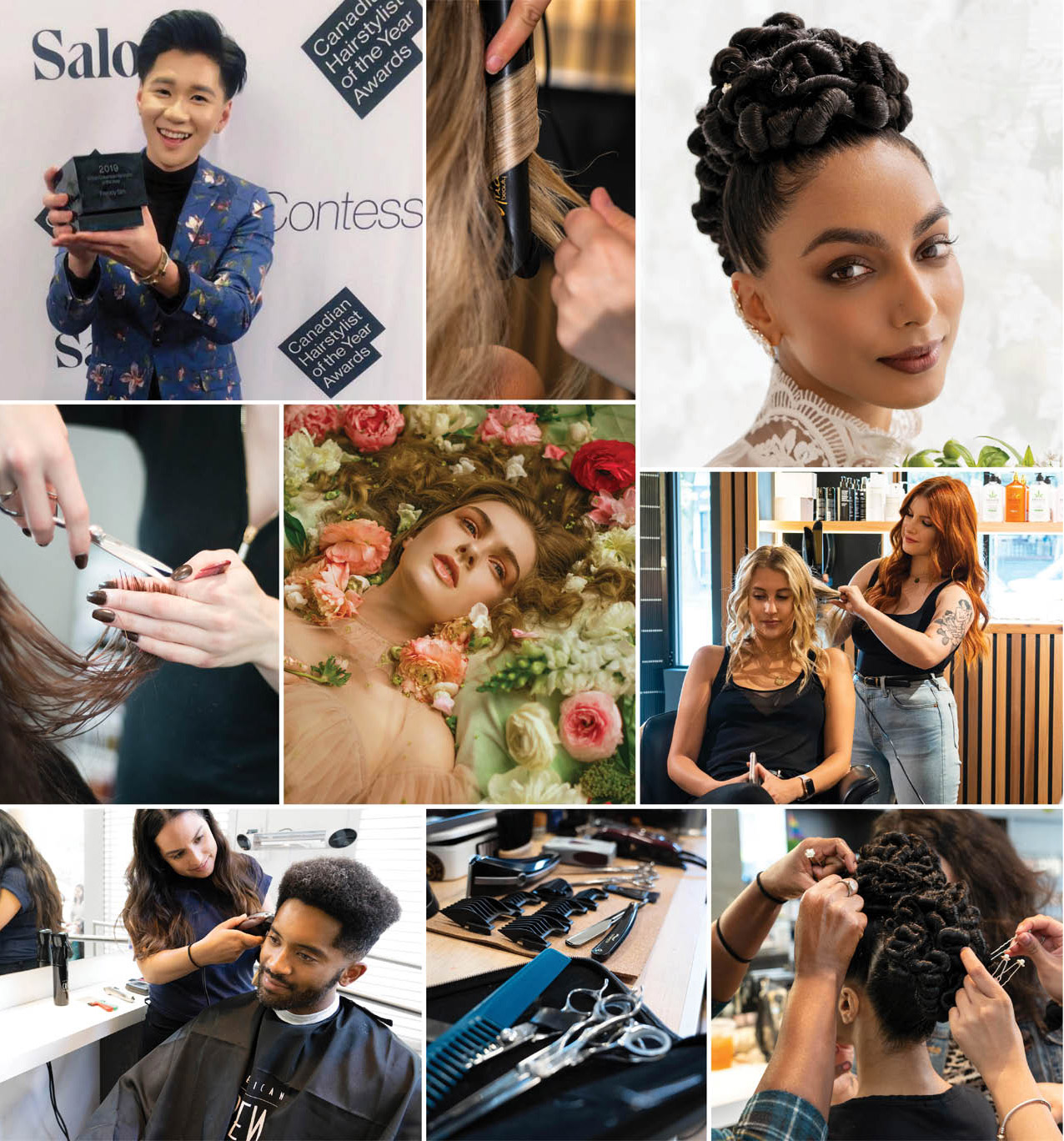 PRO HAIR DIPLOMA PROGRAMS: FULL- AND PART-TIME
A. PRO HAIR DIPLOMA PROGRAM | 1500 HRS | FT (LEVELS 1 – 10)
B. PRO HAIR FOUNDATIONS DIPLOMA PROGRAM | 600 HRS | FT OR PT (LEVELS 1 – 4)
LEVEL 1 | CORE SKILLS AND KNOWLEDGE
Cutting, Shampooing, Draping, Thermal Styling, Finishing, Traditional and Freehand creative techniques Trichology, Anatomy, Bacteriology, and Sanitation.
LEVEL 1B | BARBERING
Shampooing, Cutting, Styling, Grooming, Shave routines, Beard Designs.
LEVEL 2 | COLOUR THEORY
Colour Formulations, Application, Colour Corrections, Highlights and Lowlights, Balayage, Ombre, Hand Tip Foils, Special Effects, Zoning and Freehand Colour.
LEVEL 3 | CHEMICAL TREATMENTS
Chemical Processes for different Hair types, Perming, Thermal Straightening, Chemical Blowouts.
LEVEL 4 | HAIR EXTENSIONS AND WIGS
Natural and Synthetic Hair Extensions and Wigs, Euro Locks, Fusions, Weft rows, Single Cornrow, Single Cube, Glue Track, Full Head Weave.
LEVEL 5 | GROOMING AND MAKEUP BASICS
One-week course: Grooming and Beauty Makeup basics.
LEVEL 6 | HAIR FOR TV AND FILM
Set Etiquette, Script Breakdown, Character Development, Continuity, Hair and Wig application.
LEVEL 7 | PROFESSIONAL DEVELOPMENT AND CREATIVE CONCEPTS
Design and execute Hair creations for Fashion, Bridal, Editorial and Avant-garde, Photoshoots.
LEVEL 8 | DESIGN FORUM
Custom Cut and Colour Placement Blueprints.
LEVEL 9 | ART AND TECHNOLOGY
Photoshop and Design applications, Image editing, Digital Portfolio, Social media branding.
LEVEL 10 | SALON PREP AND BUSINESS
Salon and Business Operations: Revenue, Accounting, Marketing, Inventory, Clientele.
SALON INTERNSHIP
The Pro Hair 1500 hour program includes a Salon Internship. Students are placed in one of the over 500 salons in our Salon Internship network.
NEW

PRO BARBERING PROGRAMS: FULL- AND PART-TIME

A. PRO BARBERING DIPLOMA PROGRAM | 600 HRS | FT (LEVELS 1 – 14)
B. PRO BARBERING FOUNDATIONS DIPLOMA PROGRAM | 250 HRS | FT OR PT (LEVELS 1 – 7)
LEVEL 1 | THE CUT
16 traditional cuts.
LEVEL 2 | THE SHAVE
Razors, clippers, modern shaving tools, beards, moustaches.
LEVEL 3 | THE SCIENCE
Skin and scalp care.
LEVEL 4 | THE STYLE
Blowdrying and styling.
LEVEL 5 | THE PURITY
Sanitation, hygiene and safe work practices.
LEVEL 6 | THE PRODUCTS
Grooming, styling, skin care.
LEVEL 7 | THE CLIENTS
Service, developing a clientele, marketing essentials.
LEVEL 8 | THE COLOUR
Products, science, creativity, technique of hair colour.
LEVEL 9 | THE CHEMISTRY
'Chem Tech' treatments for hair.
LEVEL 10 | THE STENCIL
Creating hair stencils, hair tattoos.
LEVEL 11 | THE FASHION
Fashion photo shoot and editorial looks.
LEVEL 12 | THE TV AND FILM INDUSTRY
Barbering needs for working on set.
LEVEL 13 | THE SOCIAL
Developing your social media presence.
LEVEL 14 | THE SHOP
The business of barbering.
BLANCHE MACDONALD CENTRE DIPLOMA PROGRAMS
Global Makeup | 1 year
International Makeup Studio | 3 or 6 months
International Makeup Essentials | 3.5 or 7 weeks
Freelance Makeup Artistry | 6 or 9 months
Global Fashion Marketing | 1 year
Fashion Design | 1 year
International Fashion Marketing | 6 months
Professional Hairstyling | 1 year
Professional Hairstyling Foundations | 6 months or 1 year
Professional Barbering | 3 or 6 months, or 1 year
Professional Esthetics/Spa Therapist | 1 year
Nail Studio | 6 months or 1 year

THREE CAMPUSES
At the centre of it all.
DOWNTOWN CAMPUS
460 Robson Street
Vancouver, BC, Canada V6B 2B5
+1 604 685 0337
ATELIER CAMPUS
201–410 Robson Street
Vancouver, BC, Canada V6B 0H3
+1 604 685 5560
UPTOWN CAMPUS
100–555 W 12th Avenue
Vancouver, BC, Canada V5Z 3X7
+1 604 685 0347