Communities and Charities
The Blanche Macdonald Centre believes in making a commitment to the community. We have fostered extensive relationships with numerous charities, community organizations, schools, universities, companies and independent artists. Our extensive contribution allows us to assist many individuals and organizations in their creative and charitable endeavours.
Our involvement provides our students and graduates with additional hands on training, networking skills and most of all, an enriching personal experience with charity and the arts. The College participates in several hundred volunteer and community based activities each year.
BEAUTY IN COMMUNITY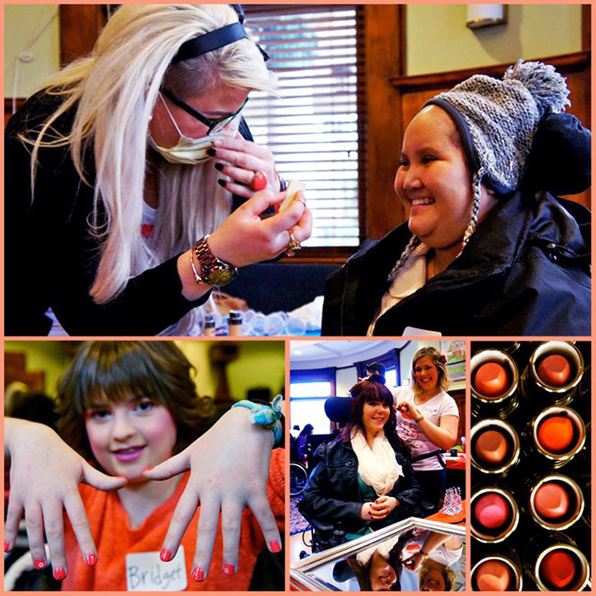 The Lipstick Project
"As a Vancouver-based nonprofit, The Lipstick Project (TLP) is incredibly fortunate to have students from BMC join our volunteer teams. Given the delicate nature of our work with patients and families in and from hospitals, hospices, and other healthcare organizations, BMC students have consistently shown to be skilled, passionate, and very professional. Furthermore, they display a strong sense of care and community that TLP upholds. Staff and faculty at BMC and CurliQue including Simona, Gina, Jaylene, and Teresa have been a true pleasure to work with. We feel very fortunate to have their encouragement and full support for our work and vision. TLP is thrilled to be able to provide opportunities for our volunteers to use and practice their existing skills in a community setting - we very much value our partnership with BMC and look forward to many more fun and inspiring opportunities."
- Holly Chan, BMC graduate and Director of Community Partnerships, TLP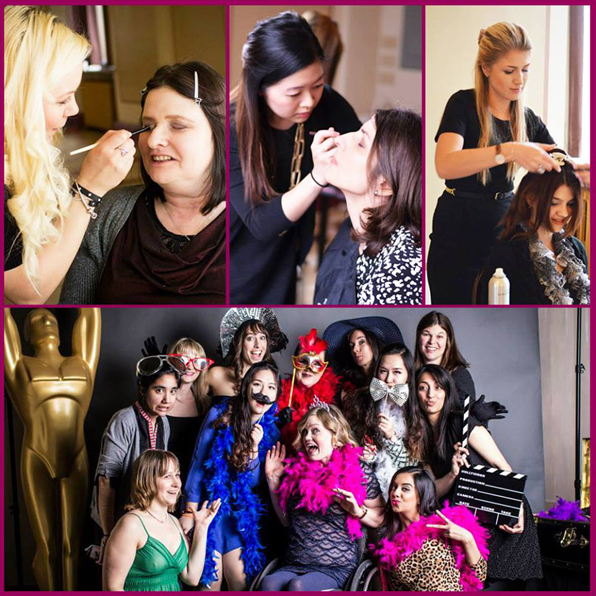 Spinal Cord Injury BC - Women's Tea
Red Carpet Community! So lovely seeing our Blanche Macdonald Makeup team at the 2014 Spinal Cord Injury BC Women's Tea, where they pampered and prepped this beautiful group of ladies for their Oscar's themed high tea (and fabulous boa-filled red carpet photoshoot)! It's such an honor working with this organization, and always a total blast.
"Blanche Macdonald Centre grads are the bomb diggity. Can't thank them enough!" -SCI BC
CHARITIES
Arbutus Care Centre
Battered Women's Support Group
BC Children's Hospital
Beauty Night Society
Burnaby Hospice
Breast Cancer Society
Canadian Cancer Society
CHILD Foundation
Cinerella Project
CMEV Charity event
Coastal Mental Health
Crystal Ball
Delta Youth Support Line
Dress for Success
Global Agents for Change
Gulf of Georgia Cannery
Heart and Stroke Foundation
JCC



Kid Safe
Kit's Community Centre - Seniors' Program
Lakeview Care Centre
Make-A-Wish Foundation
North Vancouver Canada Day
Ovarian Cancer
Pret A Pour Tea Breast Cancer
Port Moody Arts Centre Society
Richmond Hospital
Rick Hansen Wheels in Motion
Spirit of Children Society
UBC Fire Hall - Emergency Response Team
Vancouver International Dance Festival
Walk for ALS
Wearable Art Awards
Westside Family Place
Windermere Care Centre
Youth Variety Event



COMPANIES
Agence Emme
Banzai Hair Studio
BC Housing
BC Hydro
Blo Blow Dry Bar
Brian Jessel BMW
Bulgari
Canadian Freestyle Ski Association
Canucks Home Game Crowd Pleaser
Caprice
Carousel Theatre
Chinese Cultural Centre
Circus West
Community Arts Workshop Society
Count Down Events Design & Event Planning
Crème de la Crème Wedding Show
Cupcake Girls
Danier Leather
DTES Family Portraits
DreamRider Theatre
Elroy Apparel
Esmeralda Superspy Planet Protector (Web series)
Fitness World
Kitsilano Community Centre
GOH Ballet
Hellcat Beaute
Hollyburn Country Club
Hollywood Kids Theatre
Holt Renfrew
JC Studio
Leo Awards
Leone's
Lifestyle & Wedding Fashion Show
Miss Vancouver Chinese Pageant
Newlands Golf & Country Club
NOBASURA



Obakki
Odlum Brown Limited
Omni TV
2010 Olympics: Opening and Closing Ceremonies
Pink Tartan
Papillon
Providence Health Care
PSA "Operation Red Nose Santa"
Red Carpet gala Magazine
Rain Hair Salon
Rouge Makeup Lounge
Science World
Scion Fashion Show
Shaw Multicultural Channel
Shaw TV
Skate Canada
Short Film Asian Film Festival
Socialite Nails
STRUT INC.
Suki's Hair
Sweeny Todd Production
The Honey Mustard Fashion & Media Services
Telus Taiwan Festival FS
The Gulf of Georgia Cannery
Theatre Under The Stars
THEY Representation Inc.
Tinseltown
Triton Films
Trisko Talent
VanArts
Vancouver Coastal Health
Vancouver Eco Fashion Week
Vogue Theatre
Wear Else
48 Hour Film Festival


COSMETICS
Anna Sui
Armani Cosmetics
Auraline Beauty Inc.
Avon
Balmshell Beauty
Benefit
Biotherm
Blo Blow Dry Bar
Bluebird
Bobbi Brown
Chanel Cosmetics
Christian Dior
Clarins
Clinique
Coty Fragrances
Cover F/X
Decleor
Elizabeth Arden
Estée Lauder
Guerlain
Holt Renfrew
JC Studios
Jean Paul Gaultier Fragrances
Jo Malone
Kiehl's
Kiss and Makeup
La Mer


Lancôme
Laura Mercier
Lise Watier
Lola
London Drugs
L'Oreal
Lush
MAC
Make Up For Ever
Mary Kay
Mehndi & More
Nars
NYX Cosmetics
Pharmasave
Prestilux
Product Excellence
Sears
Sephora
Shiseido
Shoppers Drug Mart
Shu Uemura
Smashbox Cosmetics
The Bay
Vichy
Wish List Boutique
YSL Cosmetics



PHOTOGRAPHERS
Allen Ko
Amyn Nasser
Andrew Annuar
Joaquin Pedrero
Lush Photography
Peter Eastwood
Peter Hoist

Phillip Chin
Suzanne Paxton
Tallulah Photography
Tina Graham
Todd Duncan
Yukiko Onely


SCHOOLS
Anna Wyman School of Dance Arts
Art Institutes
Arts Umbrella
BCIT
Capilano University
Circus West Performing Arts Society
Columbia Academy Film School
Crofton House
Dancin' Stars & High Note School of the Performing Arts
David Thompson Secondary School
Douglas College
Emily Carr University
Eric Hamber Secondary
Franklin Secondary
Hugh McRoberts High School
Kitsilano Secondary
Kwantlen University
Langara College
McRoberts High School
Princess Margaret School
Semiahmoo Fashion Show
Simon Fraser University
Sir Charles Tupper
St. Thomas Aquinas High School
Steveston-London Secondary
Sullivan Heights Fashion Show
Templeton Graduate Fashion Show
University of British Columbia (UBC)
University of Fraser Valley (UFV)
Vancouver Film School
Vancouver East Cultural Centre