Makeup: Graduate Highlights
Fashion and Special Events
AJ WOODWORTH
Makeup Artistry Graduate
Makeup Artist and Owner of The Glamoury – Vancouver, BC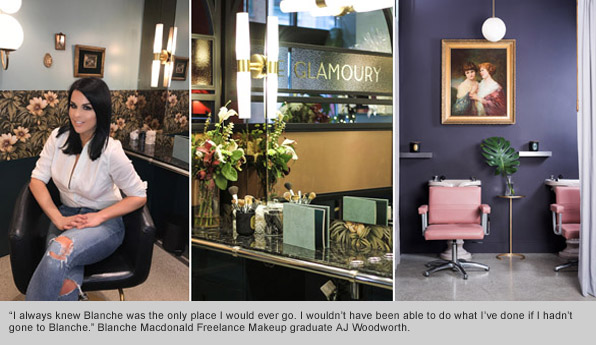 Makeup is different for everyone. For some, it's designated to special occasions; for others, it's an essential daily routine. For Blanche Macdonald Freelance graduate AJ Woodworth, it's a sacred ritual, deserving of respect in an appropriate space and environment. Upon graduating from Canada's #1 Makeup School, that's exactly what she set out to create. AJ's dreams of a private and comfortable makeup studio have come to fruition in The Glamoury – Yaletown's newest luxury styling salon.
"Before I did anything in makeup, I was a musician and there were always TV segments, performances or rehearsals that I had to be done up for, usually super early in the morning. I do not go out without my makeup on so the idea of going out to a store to get my makeup done, if they were even open that early, was horrifying. I always wanted something that was really private and that gave the clients an experience, which didn't exist. So that's when this idea started to take hold in me."
With the idea firmly planted, AJ took the plunge and began searching for the perfect location to create her makeup heaven.
"Yaletown was a natural place to be in my mind. I was putting my business plan together and I contacted a leasing agent. I told him what I wanted and he basically told me it would be impossible! Weirdly enough, he called me a few weeks later and was like 'I found your space!'"
Read more about Makeup Artistry Graduate AJ Woodworth
Andrea Tiller
Makeup Artistry Graduate
Makeup Artist for Carly Rae Jepsen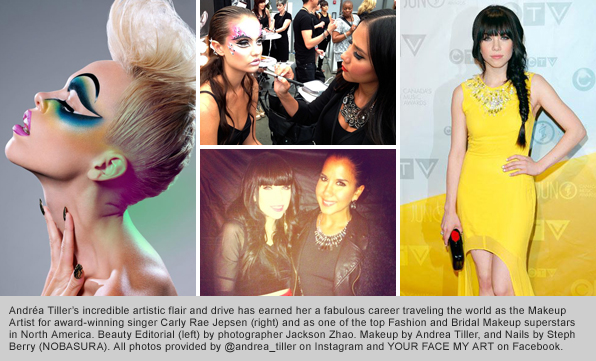 Andrea Tiller first appeared on the beauty industry radar when she won first place for flawless application at international cosmetics company Make Up For Ever's Island Competition while still enrolled in Blanche Macdonald's Global Makeup Diploma Program.
Since then, Tiller has become an artist, representative and instructor for Make Up For Ever and a part of the exclusive artists' roster for the prestigious agency, NOBASURA ARTIST MANAGEMENT. She has experienced working on a wide array of clients from bands like Theory of a Deadman to fashion magazine models draped in exotic snakes; she has lent her expertise to hopeful contestants in Miss Universe Canada and to the runner-up winner of Miss Latina Canada 2009.
"Every job is unforgettable to me," she says. "It doesn't even feel like a job. I am quite blessed and fortunate that I make a living painting faces and meeting great people along the way."
Combining Tiller's incredible artistic flair with Blanche Macdonald's Global Make-up Artistry Program has acquired her a reputation among clients and industry professionals as one of Vancouver's most exciting new artists.
"My experience at Blanche Macdonald was essential," she says. "If it wasn't for Blanche, I would have never had the confidence to pursue this industry full-throttle and be able to live my dream job." Tiller adds that she developed many wonderful contacts while attending the College, a number of whom were teachers that continue their contact and support to this day.
"I have a few but important words of advice for future students that plan to attend Blanche: give it 150 per cent when you're a student and graduate because it's not an easy industry to break into…You'll have the time of your life at Blanche. I'll never forget my classmates and the experience."
Read more about Makeup Artistry Graduate Andrea Tiller
BLAIR PETTY
Makeup Artistry Graduate
Makeup Artist and Procter & Gamble's Canadian Makeup Artist of the Year Award Winner, Judy Inc., Toronto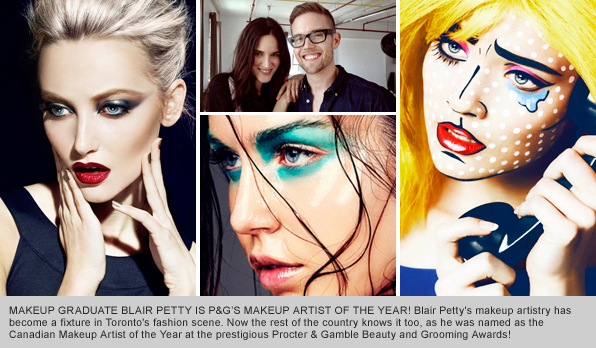 Here at the Blanche Macdonald Centre we think that Makeup Graduate Blair Petty is a pretty special talent.

They feel the same way in his new hometown of Toronto too. That's where Mad Men's Christina Hendricks hosted the Procter & Gamble Beauty and Grooming Awards, where Blair was honoured by being named Canadian Makeup Artist of the Year.

"I felt like I was going to throw up," laughs Blair, recalling the events of the most exciting night of his young career. "It was a bigger event than anything I'd ever been to before. Even the nomination was a surprise. I went with Carlyle Routh, who'd shot some of the images that had been submitted by my agency, Judy Inc. It was a shoot recreating famous paintings as a beauty campaign. All the agencies submitted their best work, and P&G's judging committee picked the nominees and winners."

"That night was a really positive experience. It showed that I'm doing what I should be doing. If you're a creative person you're not going to be happy unless you're creating."
Blair's makeup has become a fixture in Toronto's fashion scene. His artistry has been featured in magazines around the world including Flare, Sharp, Glassbook, NOW, Toronto Life and Chloe and he's worked with fashion clients like Roots, Hudson's Bay, Call It Spring and Cleo, along with celebrities like Alexander Skarsgard and Jessalyn Gilsig. The shoot that won Blair his trophy saw his brushes recreate masterpieces from historic painters including Magritte, Vermeer, Frida Kahlo and Roy Lichtenstein; fitting inspiration for an artist who was creating long before he ever picked up a makeup brush.
Read more about Makeup Artistry Graduate Blair Petty
Caitlyn Dixon
Makeup Artistry Graduate
Canadian Finalist for L'Oreal's #TheBrush Competiton

Happily squeezed in between two friends, head crowned in sunglasses and limbs bared to the mounting heat of a hot summer's day, Caitlyn Dixon seems your average twenty-two year old headed to the beach. Her words come bright and sweet, and her radiant spirit seems to carry the sun into the room.
Yet Caitlyn has far more spectacular reasons than a cloudless day off behind her smile. This young power wonder has just swept through the world stage in a cyclonic few months training with Beauty industry Big Leagues, stepping the red carpets at Cannes, and painting the faces of mega stars as a contestant of L'Oreal's prestigious new international competition, THE BRUSH.
"It's been a whirlwind! Every single moment has been mindblowing. There are so many highlights that I can't even pick one!" (Though, painting the face of SUPER strutter Soo Joo, group hugs with Eva Longoria, and three brilliant rounds of wins are some that may be worth mentioning.)
"I had no idea that it would come to this. It's the greatest gift. It's been life-changing."
Read more about Makeup Graduate Caitlyn Dixon

Caterina Miller
Makeup Artistry Graduate
Freelance Colourist for Madame Tussauds, TV & Fashion Makeup Artist, London England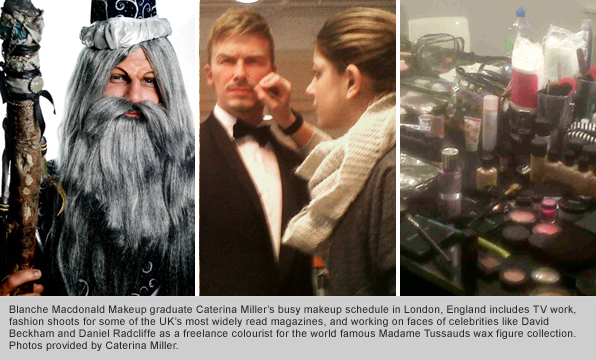 It's not unusual for Blanche Macdonald makeup graduates to work on celebrity faces and build successful careers from homes in Richmond.
That's the story for Caterina Miller too. But the Richmond where she lives is in Southwest London, England, not suburban Vancouver. And although she's regularly working on faces of celebrities like David Beckham and Daniel Radcliffe, that's a little different too. The faces are the same. The bodies aren't. Because Caterina, as part of her increasingly busy makeup career, is a freelance colourist for the world famous Madame Tussauds wax figure collection.
"I take care of the wax figures at The London Eye, the Sea Life London Aquarium and Piccadilly Circus," she explains. "I've worked on the painting for David Beckham at The London Eye, Daniel Radcliffe and Luciano Pavarotti at Madame Tussauds, and I maintain Susan Sarandon at Piccadilly Circus. I don't sculpt the figures' faces, but if an ear or a finger has been broken or someone has put chewing gum in their hair, I'll fix it. It's been a great experience. I love it there!"
"I did an internship with Madame Tussauds for four months, then they offered me a job as a freelance colourist, painting the figures' faces. The Special Makeup Effects training I had at Blanche Macdonald really helped with that. On our last module we had prosthetics pieces that we had to paint to match the skin exactly. Madame Tussauds has made me even more aware of the colours in people's skin. The skills I've learnt with paint have really crossed over into my makeup. I can look at foundations now and don't have to test them. I can take three colours, mix them, and it will be the right foundation."
Read more about Makeup Artistry Graduate Caterina Miller
Clifton Kwan 關逸揚
Makeup Artistry Graduate
Artist, Regional Trainer, Cosmetic Concierge Supervisor in Hong Kong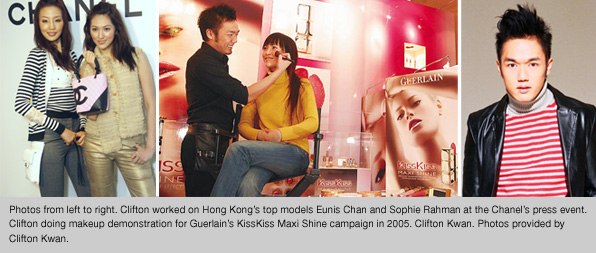 Clifton Kwan has become known in Hong Kong as the holder of a number of prestigious titles within the cosmetics industry. Since graduating from Blanche Macdonald, this makeup artist has lent his leadership to cosmetic brands of international fame such as MAC and Chanel, where he was Head Makeup Artist, and Guerlain, where he was the Makeup Trainer. In addition, each company required him to teach seminars, do makeup at fashion photo shoots and represent them at media events, jobs which lead him to the opportunity of working with Hong Kong top models Eunis Chan and Sophie Rahman. Recently, Clifton has just finished developing the Beauty Concierge service for DFS (Duty Free Shoppers) in Macau. And now, Clifton is working for La Prairie's travel retail as their Regional Trainer.
Kwan later became the Cosmetics Concierge Supervisor at Lane Crawford, the department store that Kwan calls "the Holt Renfrew of Hong Kong". His responsibilities included maintaining daily counter operations, developing theme services and proposing upgrades on customer service.
When asked if the education he acquired at Blanche Macdonald helped him, Kwan replied, "It is probably the most important decision I've made in my life. Without a diploma from BMC it would've been tough for me to even start my career as a makeup artist. The demand for good makeup artists in Hong Kong is so big that I got a job within two weeks after I first returned to Hong Kong, where some of my 'normal' office job friends took months to find [one]."
Read more about Makeup Artistry Graduate Clifton Kwan
Colleen Conroy
Makeup Artistry Graduate
Professional Makeup Artist, THEY Representation Inc.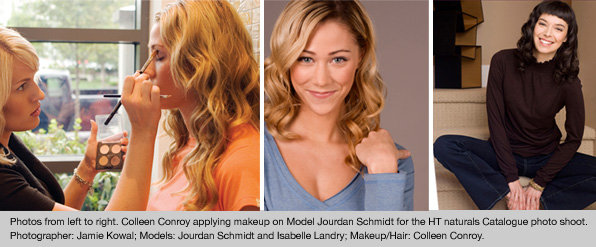 Colleen Conroy's career in the cosmetics industry has been exciting and diverse. Since her beginnings in retail at the age of sixteen and her graduation from Blanche Macdonald Centre two years later, she has worked as an artist for MAC Cosmetics, at weddings doing bridal makeup, on the set of productions like Battlestar Galactica, Disney's Snowbuddies and the TV series Reaper as well as behind the camera lens for photo shoots for THEY Representation, the agency which also represents Conroy herself.

"One of the things I love most about being in this industry is that there is always something new and exciting happening. Your work can really take you anywhere and I am constantly developing more and more incredible memories," she says.

Conroy calls her time at Blanche Macdonald "a very beneficial experience," adding, "Not only are their name and teachers very reputable, but the knowledge and skill that you develop at the school is outstanding."

Her advice to future students: "You never know who you will meet. Be nice to everyone and make contacts whenever and wherever you can. In this industry you can't fully rely on your talent and skill; it has a lot to do with personality as well. Be confident. If it is something you truly want for your future then stick with it. It is always easy to give up on things when times get tough…but if you have a goal, go after it!"
Read more about Makeup Artistry Graduate Colleen Conroy
COURTNEY VIEIRA

Two and a half years ago Blanche Macdonald Makeup Graduate Courtney Vieira walked into a meeting with her bank manager with a business plan. She was looking to open an affordable Downtown Vancouver-style salon and spa in Suter Brook Village, a retail and living community in the rapidly growing Lower Mainland town of Port Moody. By the time Courtney walked out of that meeting, she had shaken hands with a seriously impressed bank manager and secured the investment to make that dream a reality.
"I had a business plan and explained everything I wanted to do," recalls Courtney. "The bank thought that I understood the industry and would be opening in the perfect area. I didn't even have to do a makeup on anyone in the bank!"
That investment, paired with Courtney's vision, became Refresh Salon and Spa. Courtney is the owner, manager and in-house makeup artist. And her staff of hair stylists and estheticians have all been chosen to meet Courtney's vision and exacting standards.
Read More about our Makeup Artistry Graduate Courtney Vieira
Darcy Madrigga
Makeup Artistry Graduate
Management and More at MAC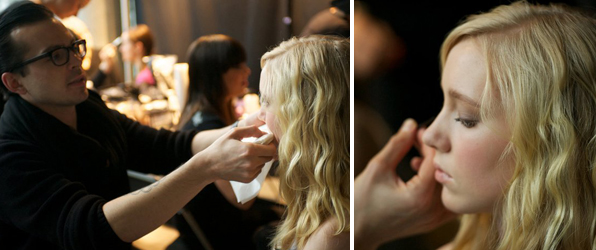 Darcy Madrigga is a busy guy. He's an occasional instructor at Blanche Macdonald, he was a Key Makeup Artist at the Opening Ceremony at the 2010 Olympics, and he's been called on to work at the Juno Awards and at multiple shows during Vancouver Fashion Week.
But ask him what's the most exciting thing about being a professional makeup artist and he'll tell you it's the challenges that come with his day job, managing the MAC counter at The Bay in Downtown Vancouver.
"I can't expect anything," he smiles. "I'll plan a day and it will end up going completely differently. Typically I'll go in, get my paperwork out of the way and try to get out on the floor. Then I'll lead my team and have some fun with makeup and the customers, trying new techniques and listening to great music. It's like a party."
It's no coincidence that Darcy is managing at MAC. That's the brand that got the Winnipeg native excited about makeup in the first place.
"I was working on reception at a hair salon and the salon had a MAC counter," he recalls. "I was 19 at the time. I was really into fashion. I thought I was going to get into fashion styling for photo shoots. Then I fell in love with the MAC brand – their philosophy and their image. I was transfixed. That's when I decided I wanted to get into makeup."
Read More about Makeup Artistry Graduate Darcy Madrigga
EVELINA HELGESSON
Makeup Artistry Graduate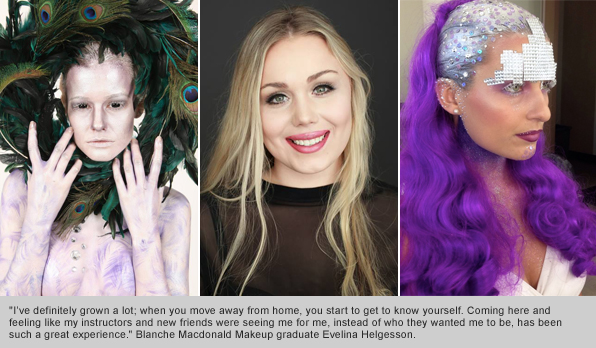 "Italy, Paris… the big Fashion cities! I want to get to that point when I'm the one that people call when they need a look for the runway, for photo shoots – all of that High Fashion work."
Blanche Macdonald Global Makeup student Evelina Helgesson is not one to mince words when it comes to voicing her goals. After all, she's made big moves to be here in Vancouver, studying at Canada's #1 Makeup School. Growing up in small town Gothenburg, Sweden, Makeup was a distant, but eager dream for Evelina ever since her pre-teens.
"My mom gave me this blue eyeliner when I was twelve, and I put it all over my eyes," Evelina laughs. "People kept saying that it was good and even though I knew it was probably bad, I thought, 'Oh, maybe this is my thing.' You go through that period where you're just trying it out and it looks like hell but you do it anyways. After a while, I started doing Makeup on other people and really enjoyed it."
It was a visit from an international agent at her high school that planted the idea that she could study beauty as a career – she'd just have to be willing to leave her Gothenberg nook.
"I asked what the best program would be, and they were like, "Blanche Macdonald – no question. Go there.' "
Read more about Makeup Artistry Graduate Evelina Heglesson
Farah Hasan
Makeup Artisty Graduate and Makeup Faculty Member
Makeup Artist and Entrepreneur, Studio Artésia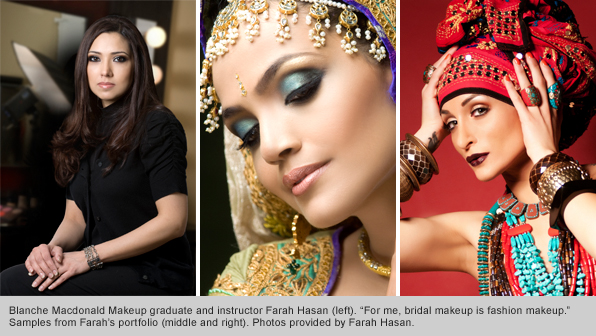 Ten years ago Farah Hasan's creative brilliance was directed towards her laptop, delivering graphic design work for an in-house graphic agency. That's when a visit to City Square's food court opened her mind to new future.
"I looked upstairs and saw Blanche Macdonald," she recalls. "For some reason the name just clicked. I went home, googled it and decided, I want to be there."
That day changed everything. A decade later, Farah has regular opportunities to sample the delights of the City Square food court as a member of Blanche Macdonald's Makeup Faculty. Teaching at the Makeup School where her journey began is just one component of an incredible career that regularly takes her across Canada and the world for fashion and editorial work and has seen her become the ultimate bridal makeup artist for British Columbia's South Asian community.
"I'd always been an artist," continues Farah. "I have a degree in graphic design. Working as a graphic artist was well paid, but it was very template based and not very creative. Being confined in four walls with my laptop wasn't me. I needed more fun, more liberty. I had never thought about makeup artistry until I moved to Vancouver, but I came to Blanche Macdonald, met a program director and signed up. I felt like I was meant to be here. It had that energy. And the portfolio of students' work was full of art."
It was that artistry that convinced Farah that Blanche Macdonald was the best Makeup School for her. The opportunity for the designer to fully embrace her longstanding love of colour and passion for art was as inspirational as she had imagined.
"The first weeks were amazing. I knew from day one that this was the kind of environment I wanted to be in as an artist. It was full of great people and great support. I would open my kit every day, even when I wasn't in school, and just admire the products and the colours."
It wasn't long before the skills Farah had learnt in the makeup program were opening doors of opportunity outside the classroom.
Read more about Makeup Artistry Graduate Farah Hasan
Felicia Bromba
Makeup Artistry Graduate
BC Wedding Awards' Makeup Artist of the Year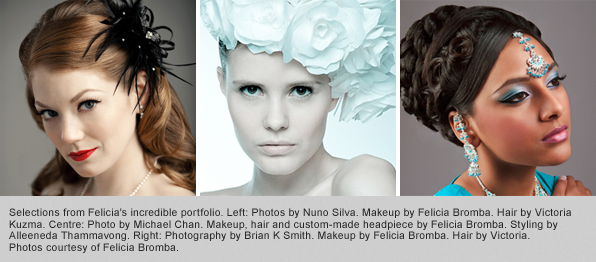 If you recently got married, or are planning on getting married in British Columbia in the near future, you've probably heard of Felicia Bromba already. Not only is Felicia one of the most in-demand bridal makeup artists in the province, she's been officially recognised as the very best by the professionals.
"It totally came out of left field," she beams. "I got a call from the 2010 Professional BC Wedding Awards one day asking if I'd like to come to the event itself. I asked if I could bring my hair stylist with me, and they said sure. We went, I was enjoying networking with people from different areas of the wedding business, and the next thing I knew, my name was being called. I have a glass trophy about a foot high with my name etched on it."
Although the title of BC Wedding Awards Makeup Artist of the Year was hugely appreciated, it wasn't entirely a surprise. With over 100 bridal clients in 2010 alone ("I haven't had a free weekend in over two years"), Felicia's mobile makeup business has already won thousands of fans across the province.
Read more about Makeup Artistry Graduate Felicia Bromba
Fiona Kennedy
Professional Makeup and Hair Graduate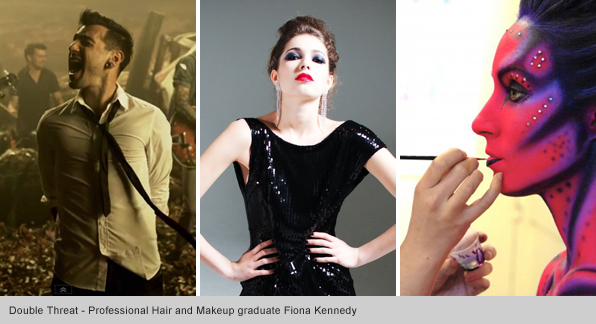 Fiona Kennedy came to Makeup School at Blanche Macdonald with some bold ideas about where she wanted to take her career.
"On the first day of classes, the instructor asked what we eventually wanted to do," she recalls. "I said, 'I'm a musician and an artist and I'd love to combine the two, touring with a band that has really fun makeup like Lady Gaga or Kiss.' I thought that would be living the dream."
She hasn't worked with Lady Gaga or Kiss. Not yet anyway. But the Makeup and Hair graduate has fulfilled her creative dream of working at the heart of the music business. You've seen her work in videos for Hedley, Marianas Trench, Band of Horses and many more. Rock and roll.
"It's such a fascinating industry to be a part of," she continues. "Bands need to be actors, writers, performers and models to be what they are. Josh Ramsay from Marianas Trench, he can do everything. I got shivers watching Jacob Hoggard from Hedley perform. It was so intense. It's great to work and be around people like that. You totally vibe off it and it enhances what you're doing. And they're all so bloody nice! They'll come and give us a hug at the end of the shoot and say how much they appreciate what we do.
Read more about Professional Hairstyling and Makeup Graduate Fiona Kennedy
GLORIA SION KIM
Makeup Artistry Graduate
1st Place Winner, IMATS Sydney 2014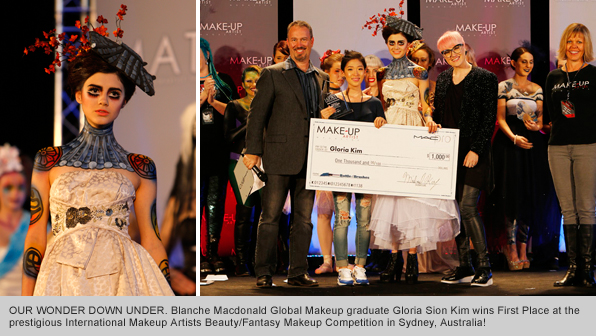 Gloria Sion Kim remembers discovering that she was going to embark on a Makeup adventure that would change her life. So does her family.
"I always check my email before I go to bed," recalls Gloria. "It was 2am, and my grandmother was asleep next to me. I saw a message from Heather Wisner from IMATS saying 'Congratulations: You've been selected to be a finalist at the Sydney IMATS'. I screamed, and of course my parents came rushing in. 'What happened!'"
The drama had just begun. One month later Gloria was on stage in Sydney, accepting the First Place Trophy having won the IMATS Beauty/Fantasy competition for her dazzling interpretation of a Ki-Wa, a traditional Korean House, giving a sense of time and place to the theme of Art Through the Ages.
Read more about Makeup Artistry Graduate Gloria Sion Kim
Heather Remillard
Makeup Artistry Graduate
Associate Director of Champagne Showgirls Inc.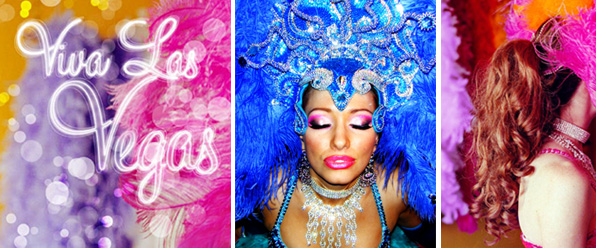 Heather Remillard always loved glamour. While studying for her Business Degree at the University of British Columbia, she designed and produced fantastic sequined and feathered outfits, and held costume evening soirees so friends could see her incredible creations. Ten years later, she's turned this passion into a successful career. She's now the Associate Director of Champagne Showgirls Inc (www.champagneshowgirls.com), a company that provides costumed showgirls, themed characters and models for casinos and blue-chip clients in Las Vegas and across North America. And an important springboard for her success was completing the one-year Makeup Program at Blanche Macdonald.
"I'd earned my business degree and I wanted explore my creative side," she smiles. "So I took a year off to explore the world of makeup – everything from beauty to special effects. I asked around and Blanche was the obvious choice. "In my youth, I'd always done very eccentric makeup as an extension of my personality. I adored costuming, makeup and fantasy. So going to Blanche Macdonald was an expressive avenue for me. Being at Blanche, I could expand my imagination, and make new friends. I found it strict, which was good for the younger students – getting them ready for the real world. Coming from the confines of university, for me it was refreshing."
After graduation, it only took one chance encounter to launch Heather's career in glitz and glamour.
"The River Rock Casino Resort in Richmond needed twelve Showgirls for its grand opening," she explains. "I was asked to be the twelfth Showgirl! I was asked to do radio promotions with their marketing executive the next morning. But when I arrived, their costumes were missing. I suggested we visit my studio, as I had many colourful Showgirl costumes of my own. Off we went and the marketing executive was amazed that I had all these beautiful costumes. Soon she offered me a contract to provide official Showgirl hostesses at the River Rock Casino Resort."
Before long Heather was providing Showgirl super-hosts for the majority of casinos in the Vancouver area and soon found herself relocating to Montreal to meet the demands of Eastern Canada clients. Eventually the sparkling lure of the casino capital of the world proved impossible to resist, and Heather and her business partner moved to Las Vegas. Since then, Champagne Showgirls has been in continual demand at world famous casinos including Caesars, Harrah's, and MGM; all the while providing costumed models for high-profile corporate clients like MTV, T-Mobile and IBM.
Her day-to-day business is the world of costumes, but Heather hasn't lost her love for makeup yet.
"Before Blanche Macdonald, I would create any way I could. At Blanche I learned the techniques needed to get professional results. Now it plays a huge part in what I do. Dealing with hundreds of models every year, I have to give them tips on how they can improve their presence. When you're a Showgirl, everybody's watching – you have to understand theatrical makeup. I couldn't do it without Blanche."
Helen Dao
Makeup Artistry Graduate
Makeup Artist and Co-owner of Glamstar Beauty & Nails
Helen Dao's started her makeup career at a young age. Her original model was even younger.
"When I was 12 or 13 I started putting makeup on my little sister," recalls Helen. "Big red lips and blue eye shadow. She was two!"
Helen's artistry has come a long way. But that passion for transformation is still there, and her combination of talent and work ethic has enabled her to create a successful career for herself both as a freelance makeup artist, and as co-owner of a busy Vancouver salon, Glamstar Beauty & Nails.
"I was doing makeup on myself and friends at high school," continues Helen. "I loved the artistic side of it. After high school I was trying to figure out what I wanted to do. I loved fashion and makeup, but after a lot of thought I decided it would be better to go with makeup."
The decision about which makeup school to attend was far simpler.
"A lot of my friends had gone to Blanche Macdonald so I'd heard great reviews about the school since I was young. I knew it was the school for me. I fell in love with it when I met Karen Esprez and Mary Hombrebueno the first time I came to see the school myself. They seemed so professional! I loved the atmosphere. I knew it was what I wanted to do and where I wanted to be."
Armed with a raging hunger for knowledge and a skill set already honed on her friends (and baby sister), Helen shone as a student.
Read more about Makeup Artistry Graduate Helen Dao
Janeen Witherspoon
Makeup Artistry Graduate
Global Glamour: Designers, Superstars and Rock and Roll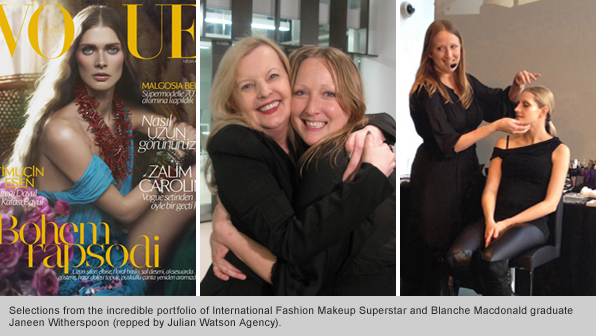 Janeen Witherspoon is a Makeup Superstar. Her work has graced the pages of French, British, American, Russian, Turkish, Indian and Japanese Vogue, along with international magazines like POP, Husk, i-D, LOVE, Dazed & Confused, V, Russh, Exit, and AnOther. She's contributed to countless campaigns with top photographers, stylists, celebrities and models for Marc Jacobs, Burberry, Balenciaga, H&M, Topshop and ASOS. When French Vogue wrote a fall feature on the world's hottest new talent, they devoted an entire page to Janeen and her work.
Read more about Makeup Artistry Graduate Janeen Witherspoon
Jayna Marie
Makeup Artistry Graduate
Award-winning Bridal Makeup Artist and Owner of Jayna Marie Makeup + Hair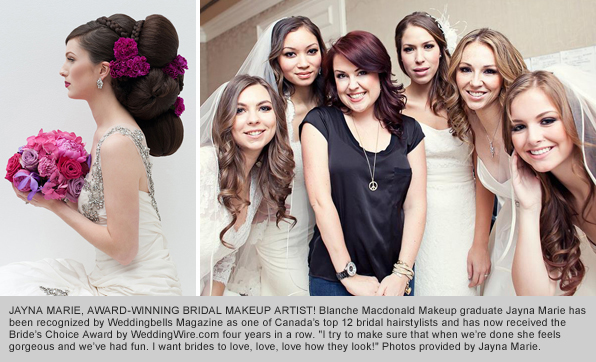 A mantelpiece full of Bridal Makeup Awards hasn't changed Blanche Macdonald graduate-turned-instructor Jayna Marie's approach to her work in the slightest. It's still always all about the bride.
"Working with a bride on her wedding day is a lot of pressure and I don't take it lightly," insists Jayna. "It's her very own red carpet moment and I'm honoured to be a part of it all. I've had some clients rearrange the timings or even the dates of their weddings to book me. I've been fortunate enough to have been flown to do weddings in Mexico, Thailand and the Dominican Republic. Women take their bridal hair and makeup seriously. They might gamble with their florist or food, but not with how they look."
Jayna now works with almost 200 brides a year as one of BC's best Bridal Makeup Artists. She's been nationally recognized by Weddingbells Magazine as one of Canada's top 12 bridal hairstylists, she's received the Bride's Choice Award by WeddingWire.com four years in a row and she's been named as one of the best in her field by Wedluxe, Aislewalk and the BC Wedding Awards.
Jayna's success wasn't part of some long-term master plan. Growing up in Kelowna she had no idea a career as a full-time Makeup Artist was even a possibility, even though her passion for transformation started at a young age.
"I remember in Grade 5 my parents got a call from the school. Apparently my principle thought putting blue dollar store eye shadow on everyone was inappropriate behaviour. I remember watching makeovers on Oprah and they recommended putting bronzer below your jaw line to hide a double chin. I had chubby cheeks, so I made a beeline to my Mom's bathroom and snuck into her makeup bag to try it out on myself. Then, when I was 13 my Mom took me to a counter and I learnt how to do makeup properly. After that, I was the girl who did all my friends makeup for dances or events. I usually went looking the worst, because I'd spend so much time getting everyone else ready. It was all just fun. I had no idea it was a respectable career option."
Read more about Makeup Artistry Graduate Jayna Marie
Jenna Kuchera
Makeup Artistry Graduate and Instructor
Award Winning Makeup Artist, NOBASURA Artist Mangagement and Winner of #BACKSTAGEWITHPATMCGRATH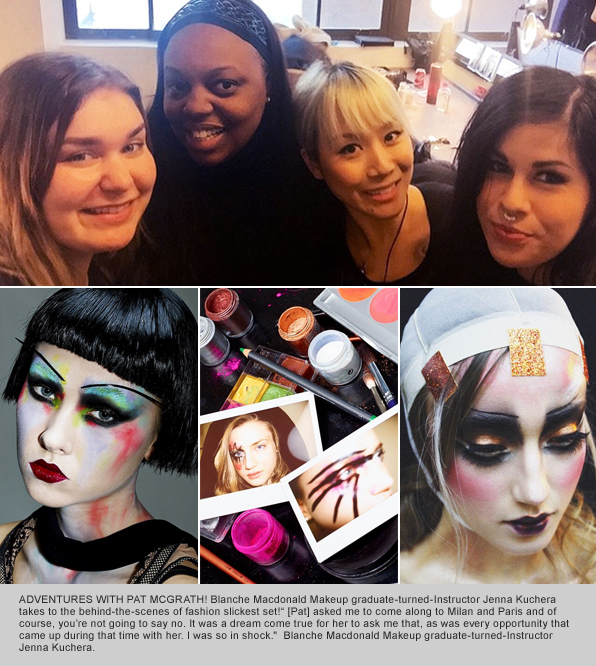 Envision this: you've just been chosen as one out of tens of thousands of face-painting hopefuls to join the backstage ranks of the world's reigning Cosmetic Queen for New York Fashion Week. You soar out to the Big Apple on the order of an Instagram notification and join right in on the frenzy of shows like Anna Sui, Diesel Black & Gold, Calvin Klein and Hugo Boss. A few days later you're pulled onto a flight to Milan where you brush it out for luxury legends Gucci, Prada, Dolce & Gabbana, Bottega Veneta and Versace. Another ticket is thrusted at you. It reads Paris. Givenchy happens, as does Jil Sander and Valentino. You're there amongst it all, and you end it with a magical motorcycle tour of the city.
This is Jenna Kuchera's fantasy. A fantasy that flung through into real life.
"When I found out I had won Pat McGrath's #backstagewithpatmcgrath Instagram contest, I was on set with my friend Alan Chan shooting for Kit and Ace – just a regular work day – and I hadn't looked at my phone for hours. When I had packed up I saw that I had something crazy like 50 missed calls," recalls the Blanche Macdonald Makeup graduate-turned-Pat-Prodigy. "I knew at that point that I must have won."
"I threw my life together, my kit together and I was away for over a month with her team. I wasn't expecting that time frame either so it was all just really crazy!"
Jenna can't reveal too much of her whirlwind month with Pat – MBE (that's Most Excellent Order of the British Empire), and widely-dubbed 'Most Influential Makeup Artist in the World' – but what we do know is that what was supposed to be just one Fashion Week turned into three.
"She asked me to come along to Milan and Paris and of course, you're not going to say no. It was a dream come true for her to ask me that, as was every opportunity that came up during that time with her. I was so in shock that I didn't really think about it too much. I feel that if you're thinking about how, 'I'm here, working on the World's Best Team,' you start to get panicked and nervous. For me, the more that I relax and do my thing, and not really think about, the better. It wasn't until I came home that it sunk in."
Read more about Makeup Artistry Graduate Jenna Kuchera
Jennifer Delesoy-Esmeria
Makeup Artistry Graduate
Resident Trainer, MAC

BLANCHE MACDONALD MAKEUP GRADUATE AND MAC RESIDENT TRAINER JENNIFER DELESOY-ESMERIA: "MY GOAL IS TO GIVE PEOPLE AN AMAZING EXPERIENCE."
"I always knew I wanted to work at MAC," smiles Jennifer Delesoy-Esmeria. "It's corny, I know, but it's true."
Landing the dream job might sound corny, but it's also reality. For the past four years Jennifer has been a Resident Trainer covering the four MAC stores across Vancouver. It's a management role that goes beyond the responsibility of teaching the best young makeup artists in the retail world. MAC, Makeup Arts Cosmetics, is the professional makeup artist's choice after all. That's why Jennifer is one of the first artists called when big events need the top professionals. She worked on Chantal Kreviazuk, Nikki Yanofsky, Tara Oram and Zaki Ibrahim when the Juno Awards visited Vancouver in 2009, and it was Jennifer who did the makeup for k.d. lang's amazing performance at the Opening Ceremony at the 2010 Olympics.
Read more about Makeup Artistry Graduate Jennifer Delesoy-Esmeria
Jennifer Little
Makeup Artistry Graduate
Award-Winning Body Painter and Freelance Artist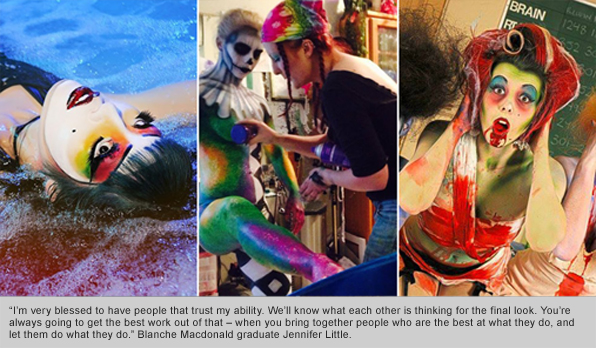 As one of Vancouver's leading Freelance Makeup and Bodypaint artists, Jennifer Little has made it her job to boldly push the boundaries of beauty beyond the face, sparking engaging conversations in art, body positivity and even animal rights under her self-started banner 'A Little Artistry.' Wielding airbrush gun and a rapid-fire hand with hues, Jennifer has slicked the planes of the body with creatives that boggle the mind – see pin-up zombies, scarecrow goddesses and animorphs – for leading performers, artists, charities, private and corporate clients. Over the course of her career, she's taken four 1st Place, a 2nd Place, and three 3rd place bodypainting competition wins and has been Art Director and Judge at some of the city's largest bodypaint events. The Canucks jersey trompe l'oeil paints she created during the Stanley Cup Finals broke national news. And in the last two years, she's been published more than ever before for publications like Vogue Italia. She's been making Makeup magic for over fifteen years, and she's at it just as fiercely as ever before.
Having worked all areas of the professional Makeup game – from fashion to bridal to television and celebrity (cue Gothic Lolita star La Carmina) with vigorous independence and artistic verve, Jennifer is a dynamic force and an inspiration for anyone looking to make it out in the Freelance world. We sit down with Jennifer to talk telling tales in paint, mornings with Much Music VJ's and how being a risk-taker takes the biggest reward.
Read more about Makeup Artistry Graduate Jennifer Little
Jessica Steblyk
Makeup Artistry Graduate
Key Makeup Artist for Citytv's Breakfast Television, W Network's Anna & Kristina's Grocery Bags and for top Artists' agency, Judy Inc. - Vancouver, Canada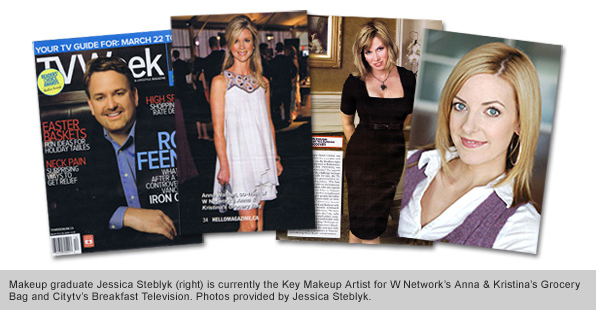 "Jessica is currently the key makeup artist for Citytv's Breakfast Television and W Network's Anna and Kristina's Grocery Bags. She has worked with Paramount Canada, MTV Canada, Razer Television, TV Week, the television series Kyle XY and a variety of locally shot commercials both print and film. With years of experience in the industry Jessica has the confidence and ability to work with any skin type and can adapt to achieve any look." - www.judyinc.com
Read more about Makeup Artistry Graduate Jessica Steblyk
Jon Hennessey
Makeup Artistry Graduate and Makeup Faculty Member
Creative Director/Owner of NOBASURA Artist Management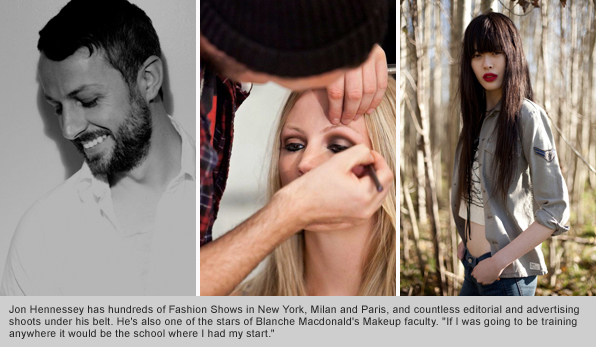 Jon Hennessey is Makeup Royalty. The graduate-turned-instructor at Canada's #1 Makeup School has hundreds of Fashion Shows in New York, Milan and Paris, and countless editorial and advertising shoots under his belt. He tours the World with the superstar educators of The Makeup Show. And somehow he's found the time to put together one of Vancouver's strongest creative teams with his NOBASURA Artist Management.

We feel blessed to have an artist of Jon's international standing on the faculty at Blanche Macdonald. Talk to him for a few minutes and you'll realise the feeling is mutual.

"I love it when I'm sharing my experience," he explains, "and I see a certain energy being reflected back from students that are passionate and hungry and want to absorb as much as they can. I love sharing that information."

Jon understands the power of inspiration. It's at the core of his own journey into makeup.
- Jonathan Hennessey, Creative Director / Owner – NOBASURA Artist Management
Read more about Makeup Artistry Graduate Jonathan Hennessey
Julie Brown
Makeup Artisty Graduate
Bridal Makeup Artist & Instructor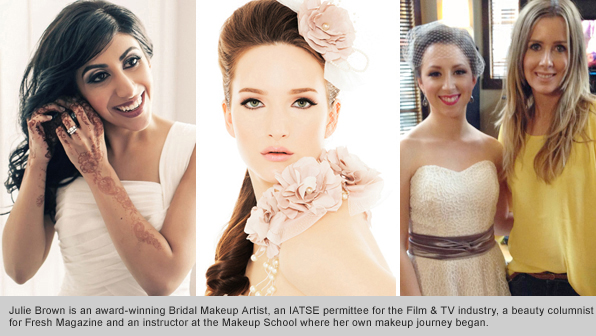 It's never too late to begin a new career. Julie Brown is proof. She's one of BC's most in-demand Bridal Makeup Artists (with a Weddingwire.com Bride's Choice award to prove it), an IATSE permittee for the film and TV industry, a beauty columnist for Fresh Magazine and an instructor at Canada's #1 Makeup School, which is exactly where her own makeup journey began.
"I was in my late 30s, working as a flight attendant for Air Canada," she explains. "I was spending money on makeup like crazy and doing it on friends as a hobby. I was thinking about a career in makeup but felt like I was too old to make a change. I'd thought about going into makeup when I was younger, but I was dissuaded by my parents. It was always something I loved doing. I was fascinated by the transformation process. During my school years I would rip pages out of fashion magazines of makeup, clothes and hairstyles that I loved, and made collages in scrapbooks. I was so surprised when I came to Blanche Macdonald that we were asked to do assignments called photo morgues. That's what I did when I was younger!
Read more about Makeup Artistry Graduate Julie Brown
Kelly Mitchell
Makeup Artistry Graduate
National Artistry and Development Manager and Makeup Artist for the Global Pro Team for Charlotte Tilbury, London, England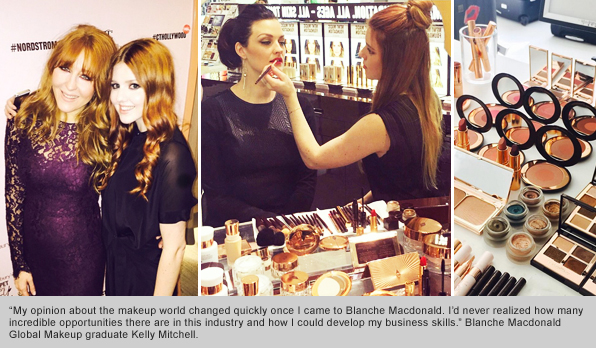 Even if you don't recognize the name, you'll be familiar with the work of Charlotte Tilbury. You've seen her handiwork on some of the most famous faces in the world, as Charlotte is the makeup artist Kate Moss, Jennifer Lopez, Rihanna and Penelope Cruz all call when they need to look their best. Which, in their lines of work, is a regular requirement. Quite simply, Charlotte Tilbury is makeup royalty.
Wherever Charlotte is working, Blanche Macdonald makeup graduate Kelly Mitchell is close by. Kelly travels the world from her new home in London, England as the National Artistry and Development Manager and a star member of the Global Pro Team for Charlotte Tilbury Makeup.
With two roles at a rapidly expanding company, plus a growing number of private clients, Kelly stays busy. That's fine with her. She loves every minute.
"Every month I'll do two or three starter trainings in the UK, Ireland or Amsterdam as the National Artistry and Development Manager," she explains. "That's a five-day course when we introduce new starters to our brand, whether they work in head office or for one of our retail accounts. We teach everything from Charlotte's history to the brand's philosophy and positioning, to doing practical makeup training. The next week I might be with Charlotte in LA, Chicago, New York or Vancouver to support her at a Global Pro Event. I might fly to Milan Fashion Week and do some shows. I also work once a week in the office creating content, developing and testing products and colours. For me it's the perfect balance. I love planning and the business side of work, but I would never want to give up the artistic side of makeup. I love the diversity of this job!"
Read more about Makeup Artistry Graduate Kelly Mitchell
Lily Lin 林筣
Makeup Artistry Graduate
Freelance Artist in Taipei, Taiwan

Lily Lin is as modest as they come. Ask about her successes as one of Taiwan's top makeup artists, and she barely mentions that she's worked with model/actress superstars like Jaline Yeh, Andréa Chen and Elana Tsai, and fashion lines including Issey Miyake.
Lily doesn't feel the need to proclaim her triumphs to the world. Instead, the Blanche Macdonald Makeup grad has the quiet confidence that comes from knowing she's taken bold steps to create an amazing career for herself. A year out of Canada's top Makeup School and eager to immerse herself in the fashion industry, Lily decided to move back to her native Taiwan after thirteen happy years living and studying in Vancouver.
Read more about Makeup Artistry Graduate Lily Lin
THE MAKEUP COLLABORATIVE
Makeup Artistry Graduates
Mary Ann Richardson and Breianne Zellinsky create community with The Makeup Collaborative, London, England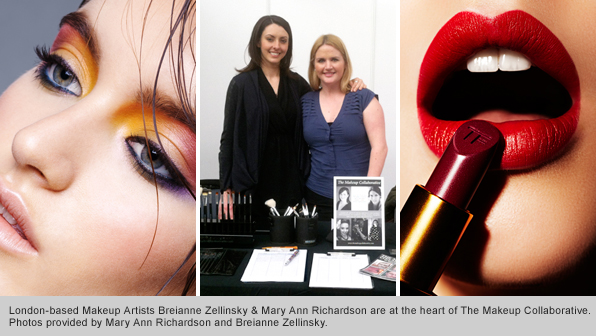 An Italian café in London's swanky Soho is the perfect location to meet a pair of globetrotting graduates from Canada's #1 Makeup School. Mary Ann Richardson, as befits a young Englishwoman, sips an earl grey tea. While Vancouver native Breianne Zellinsky embraces her own cultural stereotype by happily ordering multiple cappuccinos. They're makeup artists with international aspirations. And together they're creating a worldwide community of artists with their incredible project, The Makeup Collaborative.
Mary Ann, who mainly works in TV and commercial advertising, had the original idea for something more than a makeup blog, but she could have barely anticipated the site instantly blossoming into a global directory and resource for Makeup Artists. Teaming up with fashion specialist Breianne (and three other Artists, all experts in different areas of makeup), in slightly over half a year The Makeup Collaborative has had contributions from celebrity artists, hosted masterclasses around the world, received product sponsorship and even been able to offer assisting positions at London Fashion Week.
For Mary Ann and Breianne their passion for every aspect of the makeup industry drives them to share their knowledge. And it's that passion that led them to Blanche Macdonald to begin with.
"I was working in a nine-to-five job in South London," recalls Mary Ann. "I just knew I wanted to be a Makeup Artist. I would look at pictures in magazines and think, 'How can I could do that?' I visited Canada when I was 15 and knew I wanted to try living there. One day I googled 'Makeup' and 'Canada' and Blanche Macdonald came up. Within two days I was signed up. I wanted to train and become a master in my field and I wanted a program that was extensive. Blanche Macdonald had it all. I thought, I'm going to give it everything I've got, work as hard as I can, and see what happens. And after a year I was signed up by an agency called Judy Inc.
"CJ Wills was my fundamentals instructor. She's a great teacher, she's British and we had a mutual bond from the start. A lot of the disciplines she taught me are things I pass onto my assistants now. I'm incredibly strict about their kit. It's so important! Her ethos, and staying in touch with her to use her knowledge and experience has really been invaluable to me. She's helped me get jobs in Vancouver and London!"
Read more about Makeup Artistry Graduates Mary Ann Richardson and Breianne Zellinsky
Lori Woodhouse
Makeup Artistry Graduate
Beauty Education Manager for MAC Cosmetics, Bobbi Brown and Tom Ford, Leading Makeup and Hair Artist for T.V. and Film - London, England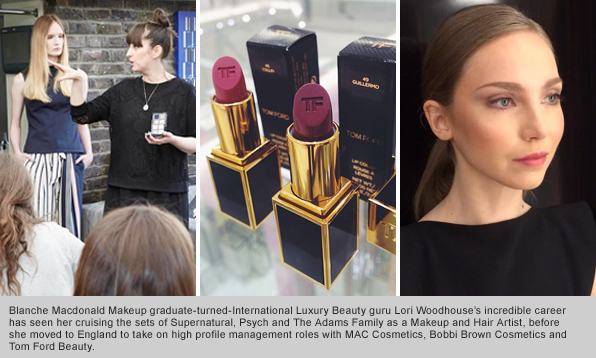 Lori Woodhouse was at Hair School in Victoria when a visiting Makeup Artist arrived to talk about opportunities in the TV and Film industry. That was all it took to convince young Lori that makeup would be her career; a career that took her onto the sets of Supernatural, Masters of Horror, Psych and The Addams Family, before she moved to London, England to take on high profile management roles with MAC, Bobbi Brown and Tom Ford Beauty. Makeup has taken Lori around the world, but she still remembers the thrill when she first heard the potential of a career in makeup.
"The Makeup Artist talking to us had worked on The Scarlet Letter with Demi Moore," recalls Lori. "It sounded super-exciting. I turned to my friend and said, 'I'm going to be a Makeup Artist and work in film.' She said, 'Me too!'"
Lori was working as a hair stylist in Victoria when the lure of Makeup proved too strong to resist. The move to Vancouver, and Canada's top Makeup School, was inevitable.
"In the 1990s everybody who wanted to work in TV and film also wanted to work at MAC. Most of the artists who worked at MAC went to Blanche Macdonald, so that was the school I knew I had to go to. It had a great reputation even back then.
"Learning at Blanche Macdonald was really powerful. My TV and Film instructor had put the bruises on MacGyver. Now she was teaching us bruises! It was inspiring and amazing."
Read more about Makeup Artistry Graduate Lori Woodhouse
LIZ PEDERSON
Professional Makeup and Hairstyling Graduate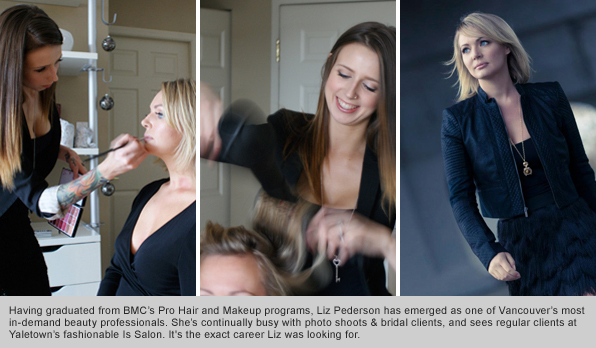 Can't decide between makeup or hair? Why not do both? For freelance Makeup Artist and Hair Stylist Liz Pederson double the expertise means double the opportunities.
"I'm doing both makeup and hair on jobs most of the time," explains the Blanche Macdonald Pro Hair and Makeup graduate. "You're more flexible as an artist and more valuable on a shoot. They work together so well. Whether I'm doing a wedding, a private client or an editorial the two go together seamlessly. And doing both helps me create a more cohesive end product."
Liz has carved a niche for herself as one of Vancouver's busiest beauty professionals since graduating from Canada's #1 Hair and Makeup School. She's continually working on photo shoots and bridal clients, while still finding the time to spend two days a week with her faithful hair clients at Yaletown's fashionable Is Salon. It's the ideal combination of creativity and commercial success. Which is the exact career Liz was always looking for.
"Creativity was always something that flowed through me," continues Liz. "When I was little I'd love doing anything creative, whether it was crafting, or sitting in front of the mirror for an hour doing my hair or playing with makeup."
Mani Bratch
Makeup Artistry Graduate and Makeup Faculty Member
Bridal / Fashion Makeup Artist and Artist roster, NOBASURA Artist Management

Upon graduating from the Blanche Macdonald Centre, Mani took on a position with MAC Cosmetics as a counter artist. She quickly rose to a management position and was promoted to the position of MAC trainer, where she became an integral part of the training and development of all MAC artists. Specializing in Fashion and Bridal make-up, Mani earned a reputation for bringing out the natural beauty of her clients. Her make-up application is never heavy, always polished and flawless. A four page feature in the Vancouver Sun, 'Brides of the Millennium', launched Mani's career in the direction of bridal makeup.
Working with top fashion and wedding photographer as Rob Magee, and bridal designers as Manuel Mendoza and Sandra Sung, her work has graced the cover of BC's Complete Wedding Directory, Westcoast Bridal Trends billboards, the Province and the Vancouver Sun. Specializing in Bridal make-up for Asian and Indian weddings, Mani's talents were recognized by her industry peers with a nomination for 'Best Bridal Make-up' for the Canadian Make-up Awards (CNoMAS) - Canadian Network of Make-up Artists).
Mani teaches the makeup for fashion and photography level of the Blanche Macdonald Global Makeup Diploma program and is represented by fellow instructor and graduate Jonathan Hennessey's agency NOBASURA.
Marcia Garnes
Makeup Artistry Graduate
Canada's Best Beauty Talent Makeup Winner and Freelance Makeup Artist, Toronto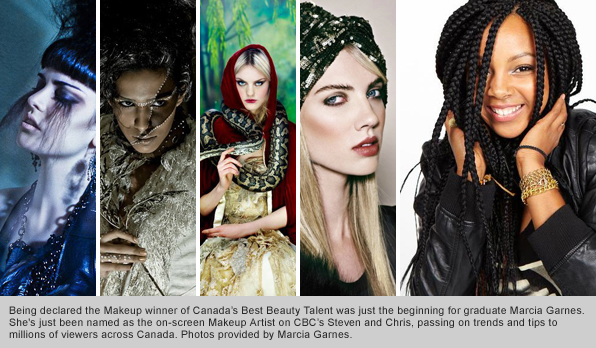 Amazingly enough, the eventual Makeup winner of Canada's Best Beauty Talent wasn't even sure that she wanted to enter the on-line reality show.

"I was pretty anti-reality TV because of how it can sometimes portray individuals in a negative light," explains Toronto-based Blanche Macdonald Makeup graduate Marcia Garnes. "But my boyfriend found out about it and told me I had to audition. I was shocked and excited to get the call. And when we were filming I loved it! It was a humbling experience. There were a lot of great artists there."

Marcia's right. The Six Makeup Artists chosen for the Final of Canada's Best Beauty Talent (including Blanche Macdonald's own Jenna Kuchera and Andrea Tiller) all displayed incredible levels of skill and creativity. And yet, as the eliminations kept coming, the final Makeup Artist standing, was Marcia.

"I'm still shocked that I won," she insists. "I'm still super excited about it. Part of my prize is a series of meetings with the chief editor of Flare and Hello Canada! I still have some meetings to come. Another prize was a sponsorship from L'Oreal that brought me into the Toronto International Film, which was awesome. I received the VIP treatment and was able to go backstage to do makeup for some of the producers affiliated with TIFF."
Being named Canada's Best Makeup Talent continues to open doors for Marcia. She signed with major league Toronto Agency The Plutino Group and she's just been named as the regular on-screen Makeup Artist on CBC's Steven and Chris, passing on trends and tips to millions of viewers across Canada.

Marcia's reality show triumph has been a welcome career boost, but things were already going fabulously before the show came along.
Read more about Makeup Artistry Graduate Marcia Garnes
Marlayna Pincott
Makeup Artistry Graduate
Blanche Macdonald Makeup Instructor and Professional Makeup Artist, Lizbell Agency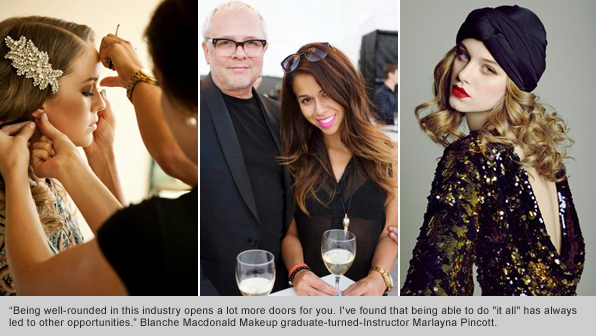 Marlayna Pincott is where kickass and kindness meets. Little about her warm, mellow tones assume the high-octane career behind them. And yet, this Blanche Macdonald Makeup graduate-turned-beloved-instructor marvel has painted the faces of chart-toppers and A-list personalities – cue Carly Rae Jepsen, Sarah McLachlan, Kate Morgan and the Beckerman Twins – and has a client book slicked with sleek Fashion names like Aritzia, Hugo Boss, Lululemon, Nike and L'Oreal.
Signed on with supreme boutique roster Lizbell Agency for over five years now, Marlayna knows well the thrill of the professional beauty industry. She hustled the scene and achieved her dream position with an overwhelmingly inspiring policy of positivity, initiative and personal connection. We count ourselves (and our students) lucky to have her here with us.
Having just slipped out of her teaching role for the day, Marlayna joins us to perch in the sun-soaked lounge of our Atelier Campus, to talk therapy sessions with Metallica, a goals list full of checkmarks, and how she invented waterproof eyeliner.
Read more about Makeup Artistry Graduate Marlayna Pincott
Michelle Rosen
Makeup Artistry Graduate
Sets, Celebrities and Airborne Samsonite in Toronto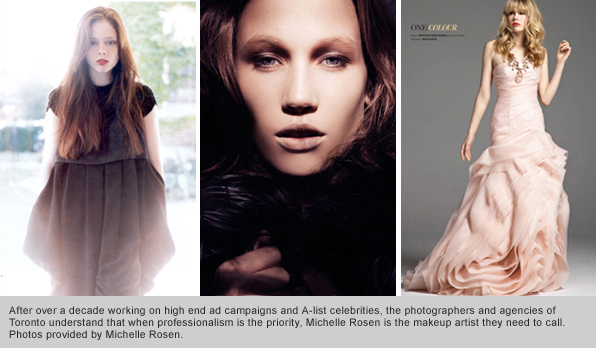 Michelle Rosen understands. Ask the Blanche Macdonald graduate the secret to her incredible career as one of Toronto's busiest makeup artists for the print advertising industry and her answer is both straightforward and illuminating.

"You have to be a good people person," she explains. "The talent can sometimes be anxious before the shoot. I almost think it's part of my job to help them relax before the shoot."

After over a decade in the business, working with clients like Nike, Uniqlo, Old Navy and Dove, and celebrities including Sting, Leslie Feist, Alanis Morissette and Nelly Furtado, the photographers and agencies of Toronto appreciate that when professionalism is the priority, Michelle is the makeup artist they need to call.

It all sounds rigorously professional. But don't underestimate how much fun Michelle's life can be. One of her many jobs is prepping celebrities for days on the Toronto media crawl, travelling across the city making sure they're camera ready when they're meeting George Stroumboulopoulos, Jian Ghomeshi and the folks at Much Music. Which is a gig just as entertaining as it sounds.

"Those days are amazing," she insists. "It's so intimate you get super-close to people. I've worked with Alanis Morissette a few times. I always thought she was amazing and very cool to work with. I loved Hilary from Lady Antebellum. Paul McCartney was great, but it was so quick I didn't really get to talk to him.

"I'd love to do that every day if I could. It's exciting. It's fun. It's the original reason why I wanted to go into makeup. You're meeting interesting people and having cool conversations."
Read more about Makeup Artistry Graduate Michelle Rosen
Mika Does Makeup
Makeup Artistry and Esthetics/Spa Therapy Graduate
Makeup Artist and Spa Owner, Vancouver BC

Mika from MikaDoesMakeup doesn't like using her real surname.
That's the only mysterious thing about her. Everything else is open, engaging and instantly likeable. You'll learn that first hand when you walk into The Studio, her elegantly eclectic spa and makeup palace in downtown Vancouver. Mika's personality is stamped all over the unique décor of her cute and cosy two-floor store. It's the career culmination and dream workspace for the graduate from Blanche Macdonald's Makeup and Esthetics Schools.
"When I was in high school I thought it would be cool to be on movie sets doing special effects," she recalls. "That's what brought me to makeup school. Watching the characters in Star Wars, I thought it would be amazing to transform people like that.
"I researched a whole bunch of schools and pretty much every review on the Internet said Blanche Macdonald was the best for makeup in Vancouver. I talked to a lot of people who went there too.
"I was never a good student before I came to Blanche Macdonald. But I really wanted to do this, and I wanted to learn. Although the program was hard, they made it easy for you to want to study. There was a lot to learn too. We had to know the bones of the face and we were tested on it all the time."
Read more about Makeup Artistry Graduate Mika
NATACHA TROTTIER
Makeup Artistry Graduate
Body Painting Champion and Award-winning Makeup Artist, Vancouver, BC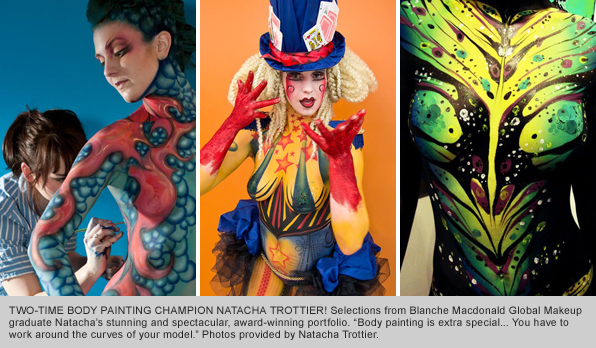 Natacha Trottier's artistry speaks for itself. She's a two-time 1st Place Winner at Vancouver's prestigious Art World Expo Body Painting Competition. She's worked on commercial campaigns and corporate shoots for major brands and organisations. She's an IATSE union permittee with a growing list of credits ranging from TV shows like Untold Stories of the ER to award-winning videos for Canadian hip hop icon Madchild. And she's an in-demand Demo Artist for Lancôme who still finds the time to regularly produce creative shoots with some of Vancouver's top photographers.

"I need to be very busy the entire time," laughs the Quebec native. "I like to go through with things too. I don't like saying no."

This no fear attitude to creativity has been with Natacha long before she decided to study at Canada's #1 Makeup School.

"I knew I would be an artist," she continues. "I just didn't know what kind of artist. When I was little I would paint on the walls of my bedroom. I would steal my Mom's Halloween makeup. I would paint my face, my dolls, my dog! Anything I could find!"
The dog recovered from its makeover and Natacha's natural artistic affinities were honed when she took a Makeup Course at college, the stage between high school and university in Quebec. With the basics under her belt she moved to Alberta and started working as a bridal Makeup Artist. That's when fate stepped in.
Read more about Makeup Artistry Graduate Natacha Trottier
Negar Hooshmand
Makeup Artistry Graduate
Owner of Lip Gloss and Lashes and Artist Roster, THEY Representation Inc.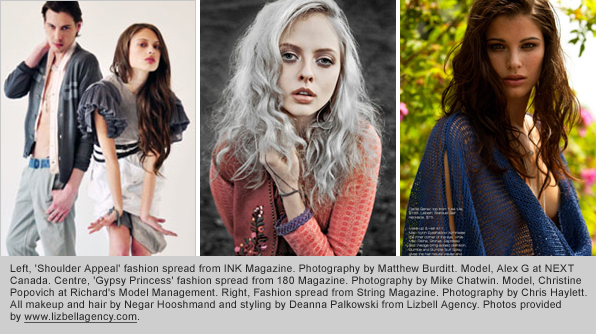 WARNING. Volunteering to model at a Blanche Macdonald Makeup Class can seriously change your life.
That was a lesson learned by Vancouver-based fashion and bridal makeup artist Negar Hooshmand. The one-time psychology student first came to Blanche Macdonald to model as a favour to a friend. That was all it took to convince Negar that her life was going to take a new direction.
"I remember my friend had to do a low Spanish bun on me with makeup to match," she recalls. "I loved the activeness of the work and how social it was. I thought, you can do this with your life?"
Negar graduated Blanche Macdonald in 2007, and since then has become one of Vancouver's busiest makeup artists, splitting her time between the fashion industry and her own bridal makeup company, Lip Gloss and Lashes.
Read more about Makeup Artistry Graduate Negar Hooshmand
Oz Zandiyeh
Makeup Artistry and Spa Therapy Graduate
Freelance Makeup Artist, Vancouver and Toronto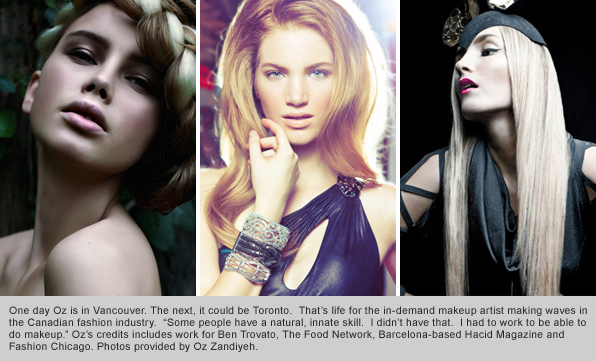 No two days are ever the same for super-busy freelance makeup artist Oz Zandiyeh. One day she's in Vancouver. The next, it could be Toronto. You'll have seen her work on influential fashion photography site Ben Trovato, on The Food Network and in magazines including Papercut, My Vancouver, Fashion Chicago and even the Barcelona-based Hacid.
Oz denies being a natural talent, even though she was a star student.
"Some people have a natural, innate skill," she explains. "I didn't have that. I had to work to be able to do makeup. I remember trying to do liquid liner and my hand would shake. I couldn't do it, so I had to keep practicing. Everyone wanted you to succeed, and you felt that immediately. I couldn't wait to get to school each day because you never knew what you were going to learn. Every day was a new adventure.
"I've had so many people ask me, 'should I go to Blanche Macdonald?' I say that you'd have to be insane not to go to Blanche Macdonald. Look at how successful people are when they come out of the school. They'll prepare you with all the means they have available so that you can be successful in the future. And what students learn today is above and beyond what we learnt. They get more training and have amazing instructors."
Read more about Makeup Artistry Graduate Oz Zandiyeh
PALOMA GUERARD
Makeup Artistry Graduate
Owner, Colómbe Makeup School, Guadalajara, Mexico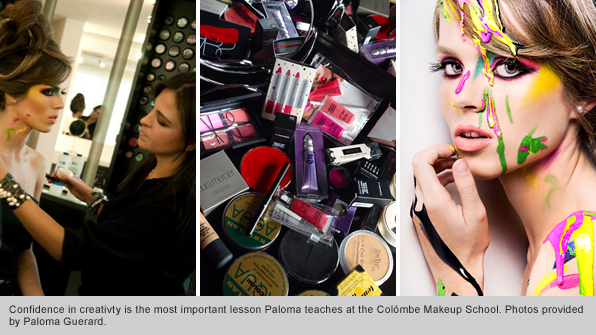 There's nothing rare about a Makeup Artist taking inspiration from their time at Blanche Macdonald. But Paloma Guerard has taken that inspiration to its ultimate conclusion. She was so moved by her time at Canada's #1 Makeup School, she's used it as the blueprint to create her own in her hometown of Guadalajara, Mexico.

"In a lot of makeup schools in Mexico teachers keep their secrets," explains Paloma. "They'll tell you the basics but they don't teach you everything. After I'd experienced Blanche Macdonald I wanted to give students that same kind of education. I knew I could share the amazing experience that I had, which is what students deserve."
Paloma and the Colómbe Makeup School's reputation are growing rapidly. There were five students in the first class she taught. Four years later, she's seen over 400 Makeup Artists graduate, and has had to employ three instructors to keep up with demand.

It's only natural that Paloma's been inspired to share her love of makeup. It's been her passion for as long as she can remember.

"I always wanted to change and transform people. I wanted to reflect the beauty they have on the inside and make them feel amazing. I saw that as a child when my mom would put on her makeup. I wanted to turn that passion into my profession. I would see makeup in fashion magazines and on TV and movies and knew I wanted that to be my career. I would go through magazines looking for new products and new looks. I loved the transformation."
Read more about Makeup Artistry Graduate Paloma Guerard
Ruby Hogg
Makeup Artistry Graduate
Owner/Makeup Artist at Colour Me Famous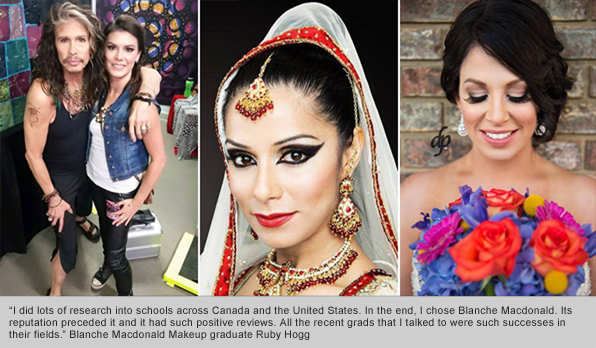 Nestled amidst the boreal forest in Northern Alberta is the industrious, tight-knit community of Fort McMurray. While it may sound an unlikely place to find success as a makeup artist, Blanche Macdonald graduate Ruby Hogg has done just that, cultivating and an outstanding career and flourishing as one of the province's top makeup artists. In the three short years since she graduated from the Freelance Makeup program, Ruby has established both local and national clientele, achieving celebrity status within her community and traveling all over Canada to do makeup for brides and films alike. She attended a workshop in L.A. with the famous Scott Barnes, and her growing reputation landed her on set with National Geographic. She achieved all this while starting her own successful makeup business, Colour Me Famous, and becoming a new mom.
Ruby now lives in Valemount, B.C. with her family, but it's clear that her establishment in Fort McMurray was instrumental to her success. Humble, hard working and eternally grateful, Ruby is proof that the unexpected and unknown can be transformed into monumental career cornerstones by an expansive view of life, beauty, and business and an enduringly creative eye.
Read more about Makeup Artistry Graduate Ruby Hogg
Sarah Appleby
Makeup Artistry Graduate
Freelance Makeup Artist, New York City, USA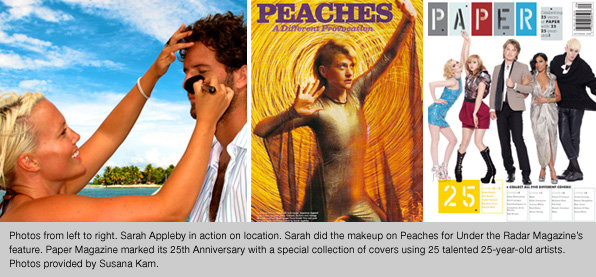 In May last year Blanche Macdonald Makeup Artistry graduate Sarah Appleby made the move from Vancouver to New York City to further her career as a freelance makeup artist for the fashion, print and music video industries. Since arriving there, she's worked for clients like Victoria's Secret, BMW, Dove and MTV, magazines like Rolling Stone, Nylon, Paper and Glamour and with musical stars like Little Boots, Tyson Ritter, Paramore, Taylor Hanson and Dave Matthews.
There may be more glamorous jobs than Sarah's in the world, but it takes a while to think what they might be.
"The day it stops being a creative adventure is the day it stops being fun," she smiles. "I love makeup. I love the creativity and the art of it. I love working with artistic, passionate people. My place in the industry lends itself to incredible opportunities, fun collaborations and such inspiring workdays. Working with people who are so good at what they do is such a privilege.
Read more about Makeup Artistry Graduate Sarah Appleby
SHAINA AZAD
Makeup Artistry Graduate
Makeup Artist and Creator of Suva Beauty Cosmetics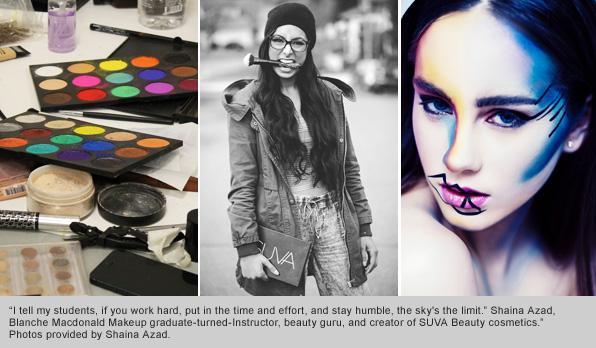 Shaina Azad takes the business of Makeup seriously.
That's how she's succeeded across multiple disciplines since graduating from Canada's Top Makeup School. She's continually busy working with Indian Bridal and Beauty clients. She launched and is selling her own cosmetic line, SUVA Beauty, around the world. She's working on sets for commercials seen across Canada and beyond. And she's teaching at Blanche Macdonald.
On top of all this, Shaina somehow finds the time to run a popular YouTube makeup tutorial channel. Which is where you realize that there's a huge difference between taking your work seriously and taking yourself seriously.
"I have no problems making fun of myself," admits Shaina. "I'm quirky, try to be funny, and speak my mind. I want people to know me as an artist and understand my personality. I specialise in Indian bridal, but I want to show that I can do everything else. I've had people stop me and take photos in the street. So bizarre!"
Great artistry paired with a natural gift for comedy is a potent combination. A YouTube rant about frustrating counter service is what persuaded ABC Producer Glenn Ruppel to contact Shaina for her highest profile appearance so far, inviting her to New York to share some of the less ethical tricks some cosmetics salespeople use as part of a special feature on the channel's flagship news magazine show, 20/20.
"When Glenn emailed me out of the blue I thought it was a joke. Why would an ABC producer want to contact me? But it was real. They flew me to New York, put me up in the Empire Hotel and gave me a private driver to show me around.
Read more about Makeup Artistry Graduate Shaina Azad
SHARON RAI
Makeup Artistry Graduate
Owner/Artist Sharon Rai Hair & Makeup Artistry, Double nationwide-winner at the 2014 Canadian Wedding Industry Awards, First Place Bridal Beauty Award Winner at Canadian Wedding Industry Awards
For Blanche Macdonald Makeup graduate Sharon Rai, every day is a labour of love. The lavish ado of marriage was once youth's sweetest daydream; now, that daydream has grown into the swoon-inducing reality of her workaday, as Canada's premier bridal Makeup and Hair Artist.
"I have been mesmerized with brides since I was a little girl," Sharon enthuses. "To me they were as close as I could get to a princess. Now, I am honoured to be able to work with them, and to be included in the most special day of their lives. It's been nine years since I worked on my first wedding and each one still has the same excitement for me – I still get those butterflies in my stomach!"
The feelings are mutual. Brides are infatuated with the beauty mastery of Victoria-based Sharon Rai Hair & Makeup Artistry, which whorls through everything from blush-kissed natural, to the full-blown opulence of South Asian tradition. And this year, the wedding industry was ready to make their adoration for Sharon's finesse known.
"It was an amazing feeling to hear my name as the winner of Best Makeup Artist! Especially being mentioned in such an esteemed group. Even more amazing was hearing the excitement in the voice of the host when she read my name again for the Best Hairstylist in Canada award," says Sharon, her smile beaming with the emotional vestige of her DOUBLE nationwide-win at the prestigious 2014 Canadian Wedding Industry Awards. "It was pretty cool!
"I've worked very hard this past year. 2014 brought new challenges, new opportunities, and I was able to find the balance of being a mother and being a business woman. That's what made this such a great accomplishment: having a baby, being able spending time with her, and still working up to being one of the best artists in Canada. It was huge."
Read more about Blanche Macdonald Makeup Artistry Graduate Sharon Rai
Steven Carty
Makeup Artistry Graduate
Very 'BUSYDRAGQUEEN' and Director of Education at Studio F/X, Vancouver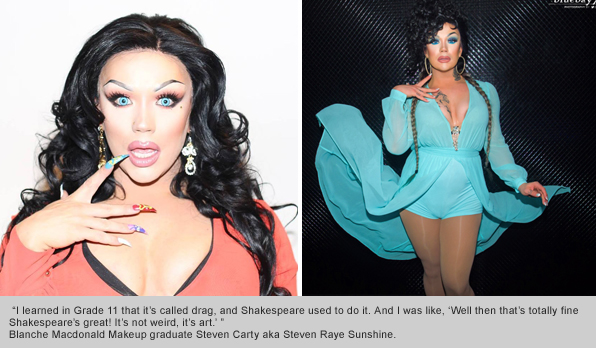 As a child actor seeking stardom from the pastoral settings of Mission, BC, Blanche Macdonald Makeup graduate Steven Carty quite nearly had his break. Having been offered the role of Pugsley in macabre kin favourite, The Addams Family, Steven probably wouldn't have been sitting here today, had it not been for his parents' reluctance at the prerequisite husking up. As Steven put it, "being young and gay in Mission – you don't need any more hardships."
But when one door closes another opens, as the saying goes. And for Steven, calling scene on set life would lead him to spot lights worldwide.
"Watching the Hair and Makeup Artists work on transforming people like John Travolta and Kirstie Alley into their characters was so neat and it just stuck with me. When I was in hair and makeup it would be the best half hour of my life.
"In Grade 11 we did this big production of Stoker's Dracula, and I got to create the dead Lucy and a vampire. That's what sparked the thought of going to Makeup School and then meeting [Blanche Macdonald Admissions Director] Jill Wyness during my tour at 16 sealed the deal. I didn't go to any school interviews after that and started right after graduation."
Read more about Makeup Artistry Graduate Steven Carty aka Steven Raye Sunshine
Susana Kam
Makeup Artistry Graduate
Makeup Artist and Entrepreneur, Show Attitude stores / studios

Susana Kam had a vision – she wanted to create a visually inspiring retail environment for people of the Lower Mainland that combined makeup, fashion and art. So when she graduated from Blanche Macdonald's Makeup Artistry Program, she established Show Attitude in Burnaby and later a second location in Richmond.
"Show Attitude is a one-stop shop for fashion, beauty and photography; we create a vision of total beauty, then capture it with lighting and film," she explains.
Since the boutique's opening, Kam has hosted five Show Attitude fashion shows, several makeup workshops and in-store events with cosmetic lines Dior and Anna Sui. She also supports local Asian artists and stylists in the beauty industry by incorporating their designs into Show Attitude's vision.
When she isn't busy running Show Attitude, Kam freelances as a makeup and hair stylist at weddings and recently had the opportunity to work with the creative director at Clairol Professional in New York City.
Of her time at Blanche Macdonald she says, "[The] Uptown Campus is such a beautiful campus. The instructors and staff are so caring and patient! There are constantly seminars being held by industry experts and many job opportunities throughout the school. The whole package was more than I expected."
She recommends that future students be "prepared to handle all the different types of challenges and pressures. And, most importantly, treasure every moment in class and pay attention to the details."
Read more about Makeup Artistry Graduate Susana Kam
Teslin Ward
Makeup Artistry Graduate
Freelance Makeup Artist - Calgary, AB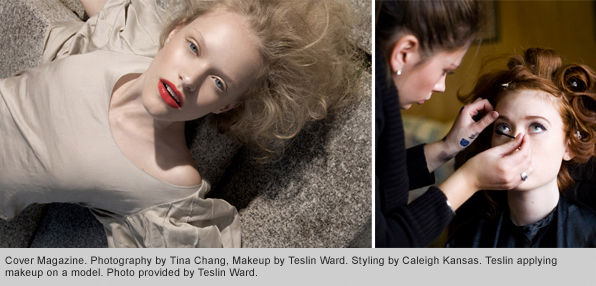 Calgary's Teslin Ward didn't grow up with a passion for makeup. Her young heart was elsewhere. On the dance floor to be precise.

"I used to be a competitive ballroom dancer," explains the Blanche Macdonald makeup graduate. "I did Latin dancing. When my partner moved back to Montreal, I stopped, which was just around the time shows like Dancing with the Stars started to catch on. I'm still dancing, but not competitively anymore."

Teslin can laugh now she's one of the busiest up-and-coming makeup artists for Calgary's fashion and print industries. Because if it weren't for her time on the dance floor, she might never have made her way to Canada's top Makeup School.

"That's where my love of makeup started," she recalls. "I was a big tomboy before that. My first foray into makeup was for dance competitions. Everyone has their own interpretation of the stage look. I remember using a lot of black and white; very heavy on the eyes."
Read more about Makeup Artistry Graduate Teslin Ward
Timothy Hung
Makeup Artistry Graduate
Professional Makeup Artist - Vancouver BC
It's a long way from Vancouver to Milan, but it's a journey Timothy Hung is very familiar with. As a freelance makeup artist with deep roots in the fashion industry, he feels perfectly at home working in Italy's style Mecca. He should do. He spent three years studying fashion in the city, sandwiched around a year shining on the Makeup Program at the Blanche Macdonald Centre.
Actually, there's very little Timothy doesn't shine at. He's a brilliant makeup artist and an award-winning fashion designer. He's also an accomplished pianist and composer, and a budding movie production designer. He has a cracking sense of humour too.
"I'm a crazy perfectionist," he laughs. "I always try to exceed people's expectations. I either motivated my classmates or drove them insane!"
If Timothy set a high standard for his colleagues at Blanche Macdonald, it was only because that's the standard he set for himself. Although, ironically, it was an unlucky break that brought him to Canada's top Makeup School to begin with.
Read more about Makeup Artistry Graduate Timothy Hung
Tonia LaRiviere
Makeup Artistry Graduate
Makeup Artist in Edmonton, Alberta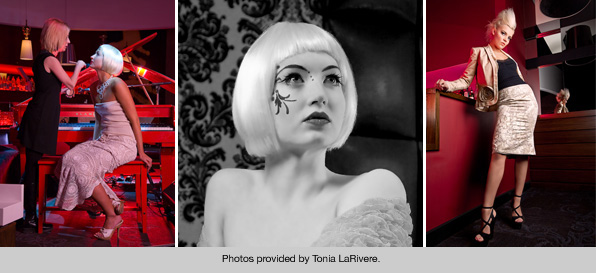 Talk about total immersion into the world of fashion and beauty! Since graduating from Blanche Macdonald Centre three years ago, makeup artist Tonia LaRiviere has been busy helping Edmonton Fashion Week take off in its home province of Alberta, taking on multiple roles for the project that were left solely to EFW creator Sandra Sing Fernandes before her involvement. After applying her skill to the models dressed by designers Michelle Djonlic of Andeo Hats and Kelsey McIntyre of Serendipity, LaRiviere also took up the roles of coordinating EFW's charity event, recruiting and organizing volunteers, and increasing media coverage, among others.
While working Edmonton Fashion Week, LaRiviere also became certified in doing camouflage makeup for burn survivors, an occupation that she calls "her calling within the makeup industry." She remains the only certified Paramedical Camouflage Makeup Specialist who is also an artist accredited at Blanche Macdonald.
"The experience at Blanche Macdonald was absolutely incredible and the instructors were amazing," says LaRiviere. "It's now three years later and I am still in awe at the talent and caliber of the instructors and the relevancy/real life application of what we were taught. I would never have thought that the instructors and directors would even remember me with all the students that attend the school, let alone support, help and encourage me three years after graduating! Going to Blanche Macdonald was one of the best decisions I ever made."
Read more about Makeup Artistry Graduate Tonia LaRivere
WIN LIU
Makeup Artistry Graduate and Instructor
Freelance Makeup Artist and IATSE Permittee, represented by Lizbell Talent Agency
"I'm jealous of Makeup Artists who can narrow it down to Fashion or TV and film," laughs Blanche Macdonald graduate-turned-instructor Win Liu. "I love working on both! I'm represented by the model and talent agency, Lizbell, and I'm also an IATSE permittee, which means I get to work on union shows like Arrow, Warriors, Motive, Almost Human and Wayward Pines. That's great for me. I get the best of both worlds!"
Every job has its perks for Win, whether it's the challenge, the people or just seeing the end results. If she's doing a Beauty application or Special Makeup Effects, she throws herself into her work with the same effervescent enthusiasm that first brought her to Blanche Macdonald.
"I'd studied painting and fashion, and was working in fashion, making couture collections for private clients. I just didn't see fashion as a full-time career. I woke up one morning thinking 'what else can I do with my hands and brushes?' Later that day I walked into Blanche Macdonald and asked if I could talk to someone about the Makeup Program. Jaye Klippenstein showed me some portfolios and I said, 'OK!"
"I was sure that I wanted to do only runway," smiles Win. "Then Jen showed me a whole new world. She came in on the first day of class and said, 'Ok guys, today I'm going to teach you to make a dead finger.' We made a bloody latex finger and that night I brought it to a pub to watch a hockey game. I left the finger on the table and freaked out the bartender. After that I was totally into prosthetics and makeup effects."
That instant passion took Win to two IMATS Character Prosthetics Finals, taking the Third Place Trophy in Los Angeles by turning her brother into a monstrous version of Henry VIII. Win had natural talent, but she also embraced the Blanche Macdonald philosophy that it's never too early to start acting like a professional.
Read more about Makeup Artistry Graduate and Instructor Win Liu
Yuichi Ikeda 池田裕一
Makeup Artistry Graduate
Makeup Artist for Laura Mercier in Tokyo, Japan

After graduating from Blanche Macdonald's Global Makeup Artistry Program, Yuichi Ikeda quickly set to work on various film and fashion projects for Vancouver Fashion Week and followed up with an eight-month job as a beauty specialist aboard Mariner of the Seas, the second largest cruise ship in the world.
Though the job was hectic, non-stop action – Ikeda fought seasickness for the first two weeks of his employment and estimates that his clients must have totaled well over 800 – he did enjoy traveling across the Caribbean Ocean in luxury for free.
Now in Tokyo, Japan's hot spot for fashion and beauty, Ikeda is working as a makeup artist for Laura Mercier.
"Everything around here moves so fast, and it's not just the people or the pace in everyday life but even the trends in fashion. I have been feeling different energies from all types of people everyday. If you love fashion, Tokyo is the best city in the world, believe me!" he says.
"My school life went by so fast, but I believe that Blanche Macdonald Centre has helped mould me to become a creative and innovative person at the same time, improving my English skills tremendously."
Read more about Makeup Artistry Graduate Yuichi Ikeda
Daemon Cadman
Makeup Artistry Graduate and Makeup Faculty Member
Airbrush Body Makeup Artist

Daemon Cadman's career is taking a foothold in the industry as it reaches its first decade.
Her career took root in independent film. Independent film was a natural start and very reflective of her free spiritedness. However, it was beyond film that Daemon found her true freedom as an artist. Her talents took her career into the direction of Fashion. It was in Fashion shows and print that gave expression to Daemon's creativity, most notably in airbrush body makeup. Her work has been featured in the Vancouver Sun and Vancouver Province, especially for Halloween special features. Her airbrush body makeup has been specially commissioned by Molson Indy for their opening Galas and V.I.P guests for many years. Not to be out done, Absolute Spa and the Audi Car launch have also contracted Daemon for her creative work.
Daemon's driving force as an instructor is her independent style. Her refreshing approach to teaching can be characterized as energizing, inspiring and enlivening to the students. This invigorating environment spurs the students to find their own creative voice and to find their own expression in their work. One of the many allures of having Daemon as one of our senior instructors is her fervent passion for fostering originality and creativity.
Lena Naidu
Makeup Artistry Graduate and Makeup Faculty Member
Bridal and Fashion Makeup Artist
Lena Naidu has forever been captivated by the world of beauty. Upon graduating from Blanche, Lena broadened her skills and experience working internationally learning the techniques of various cultures, personalities and styles. She has spent the past decade providing makeup for weddings, fashion shows, magazines, television and film. Some of Lena's credits include There She Goes Website Bridesmaid Issue, Wish Upon A Start Charity Fashion Show, Brian Jessel BMW Magazine, Jacqueline Conoir Studios Fashion Show, Jazzy B Bhangra Music Video and Vancouver View Magazine. Lena is also an instructor in our Global Makeup Diploma Program and has worked for Chanel Cosmetics, MAC Cosmetics, and Eveline Charles Day Spa.
Zabrina Matiru
Makeup Artistry Graduate
Fashion, Television and Film - Celebrity Makeup Artist
Zabrina Matiru another industry professional who is known for her attention to detail and flawless results has become a sought-after talent in the realm of beauty. Zabrina's brushes know no bounds. Her work can be found on the faces of actors, athletes, models and musicians: From Michael Jordan's Team Jordan ad campaign featuring the legendary basketball player himself as well as Ray Allen, Derek Anderson, Mike Bibby and Carmelo Anthony to name a few to pop stars Ashanti, Kelly Osbourne and Vancouver native and international superstar Michael Bublé. Zabrina's creative and diverse skills are able to keep things fresh and with continued momentum strive for excellence in all aspects of her career.
Are you a BMC graduate?
Are you a Blanche Macdonald Makeup Artistry graduate? Interested in being profiled? Click here to send us your latest updates and we would love to hear from you!