Current Features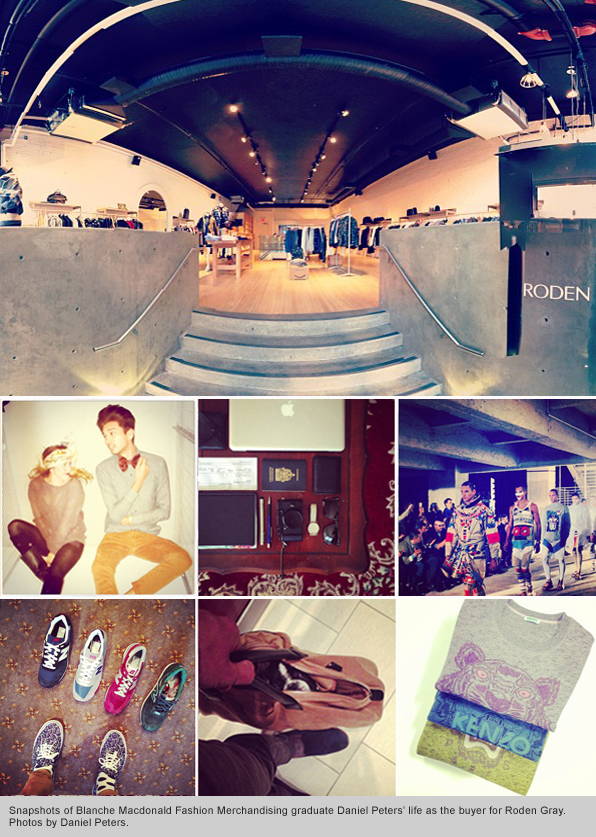 The next round of menswear shows in Paris is looming for Daniel Peters. As the buyer for Vancouver's cult favourite men's boutique Roden Gray, Daniel will be living and working in the Parisian pinnacle of fashion, Place Vendome, and meeting with some of fashion's major players: Dries Van Noten, Raf Simons, Kenzo and Mihara Yasuhiro.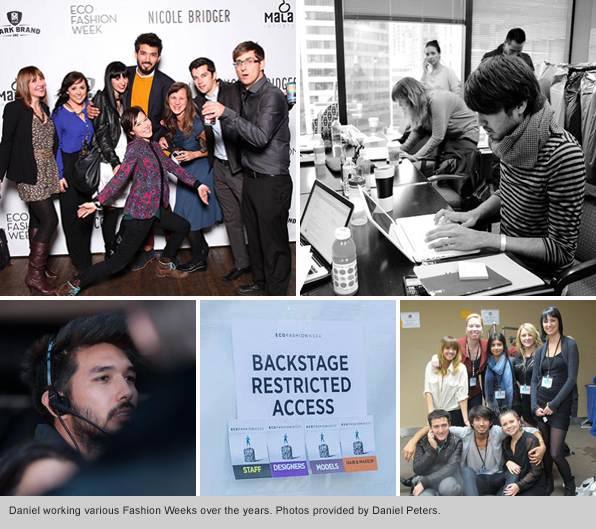 As you'd expect, he's understandably enthusiastic about the task ahead of him.
"I'm really excited about my trip but when you are buying a 100-piece collection for a year ahead, it can be a bit stressful!" he admits. "I'm really looking forward to seeing Dries and Raf. They're probably my two favourites. Dries is just so amazing!"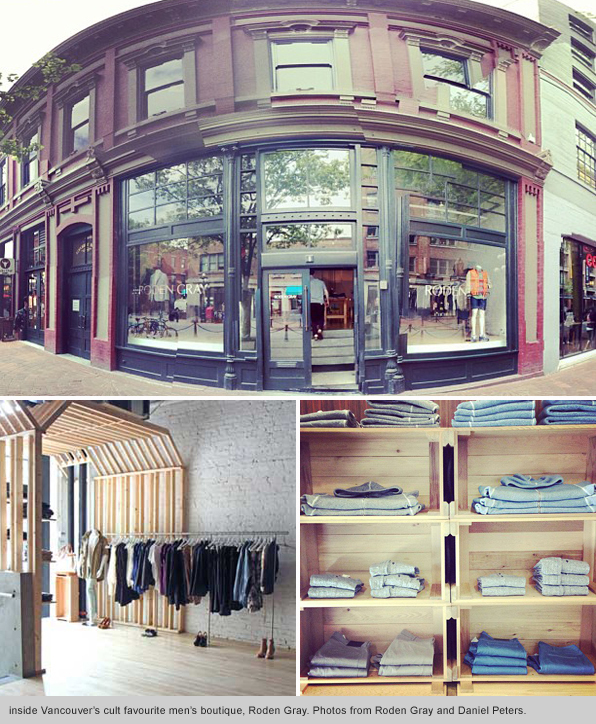 This French work trip is one of the career highlights (so far!) for the Blanche Macdonald Fashion Merchandising graduate, who came to Canada's #1 Fashion School three years ago with his best friend (and fellow graduate) Stephanie Smith.
"Stephanie and I waited six months to start the program and we had the opportunity to do a lot of work together before starting school. The two of us were heavily involved in Vancouver Fashion Week and we were doing a lot of freelance photo shoots even before our year at Blanche Macdonald. It was great to finally get to school and learn from people who were in the industry. I really appreciated learning how to write about fashion from Tyler Udall and I enjoyed Peggy Morrison's classes too. Exploring the in-depth history of fashion was fascinating and enabled me to understand its evolution. So many people only care about Karl Lagerfeld because of Chanel, but he did a lot before that!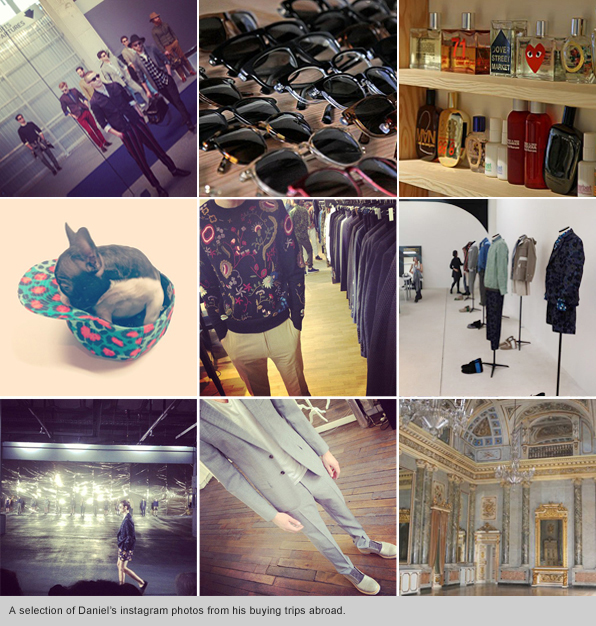 "Towards the end of my time at School I started interning with the design team at Vancouver/Tokyo label Wings and Horns. It was really cool to witness the production and the design process of it all. Seeing how they picked colours, fabrics and to finally see the samples come in was a totally new side of the fashion industry for me. I did an entire season at Wings and Horns, from the research phase all the way to market. It was a really great experience."
In addition to his work at Wings and Horns, Daniel got a job on the floor at Roden Gray. A shopping hot spot for any fashion aficionado living in or visiting the West Coast, the Gastown boutique is the destination in Vancouver for the most current men's fashion trends. The popularity of the one time elusive store has been garnering global attention with its sleek design and diverse product range. Hard work pays off, and when preparation and opportunity intersect, great things happen."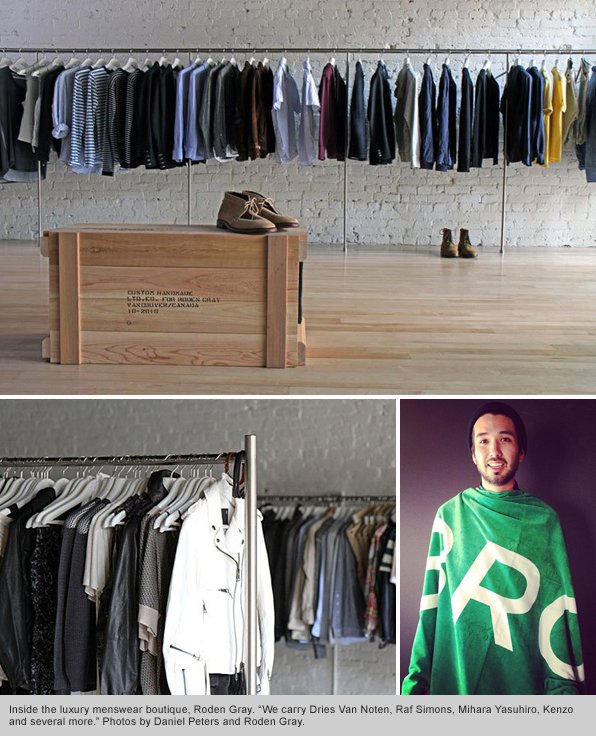 "When I started at Roden Gray I would work on displays. I wasn't the best salesperson but I made myself useful and needed. I would organize the back room and later started handling the look book shoots and ultimately I oversaw the creative content for our online store. The owner. Rob Lo, was doing sales for Wings and Horns at that time. He saw that I was really into the job and every aspect of the business. Luckily for me, he took me under his wing."
Rob recognised Daniel's talent and enthusiasm, handing him extra responsibilities within the luxury menswear boutique.
"I've always been very organized. Rob could see that as I was managing the shoots. One day he just said 'Hey, you are coming to New York for Fashion Week?' and I just sort of went! That was last summer. It was good that I went to New York and not Paris first. New York is much more sport and commercial oriented and I was able to learn a lot. The following season I went to Paris and since then things have become a lot busier for us. Roden Gray is moving into more and more designer wear. We used to go to 16 appointments in New York and maybe six in Paris but now we go to 16 appointments in Paris and maybe ten in New York."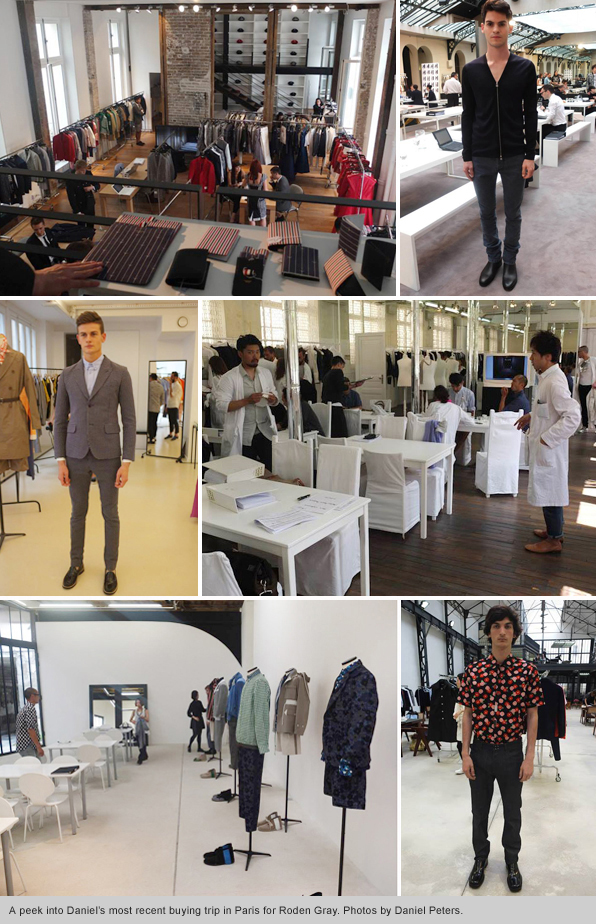 "We carry Dries Van Noten, Raf Simons, Mihara Yasuhiro, Kenzo and several more. This next trip we're going to see Balenciaga. I'm excited to see what Alexander Wang is doing. We're also going to see Marni, Color and Jil Sander. Within two seasons we've transitioned to a much more fashion forward demographic. It's important to evolve. Being a small boutique we can adapt to fashion's rapid changes quickly, which is exciting. As the seasons have gone by I've become more confident and Rob has trusted me with a lot more responsibility."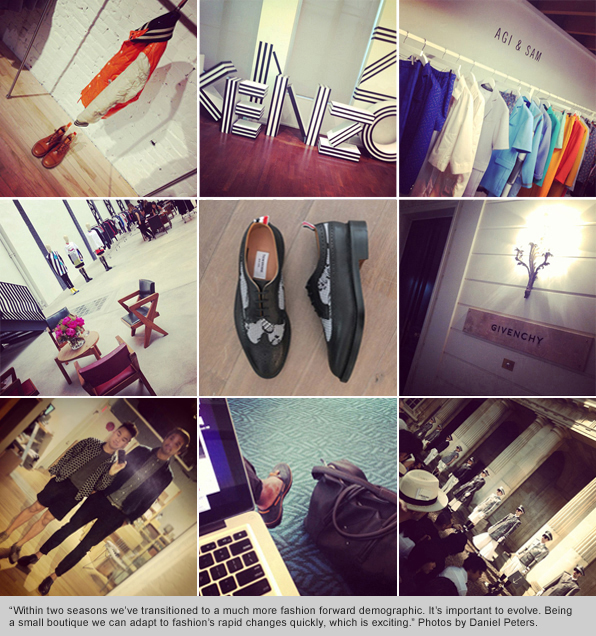 Daniel doesn't hesitate to credit his time at Fashion School for preparing him for his rapidly evolving career. Executive Program Director Donna Baldock's buying classes have proved invaluable.
"Donna's classes taught me so much. I learned how to write an order. Super useful! It would be ok if I was buying with my own money, but there are three owners at Roden Gray and I'm working with their resources! It's important if you are a boutique store to purchase certain pieces that have curb appeal. It might be a jacket that sells for $3,000 that barely anyone could wear, but it was in the runway show and people recognize it."
Daniel's sophisticated approach to life among the European high flyers demonstrates that the leap from Fashion School to the Fashion Industry isn't nearly as daunting as many students anticipate.
"School is pretty much like real life, especially in a store where we want to sell clothes in an intelligent and stylish way. I find it fascinating because you can never fully predict what's going to be cool. It's still men's fashion we are dealing with, but it's moving and changing faster than ever. Our most expensive and fashion forward brands, Givenchy and Thom Browne, are our best sellers. That's something that genuinely pushes us. I'm learning something new all the time in this job, and that's really important to me."