Current Features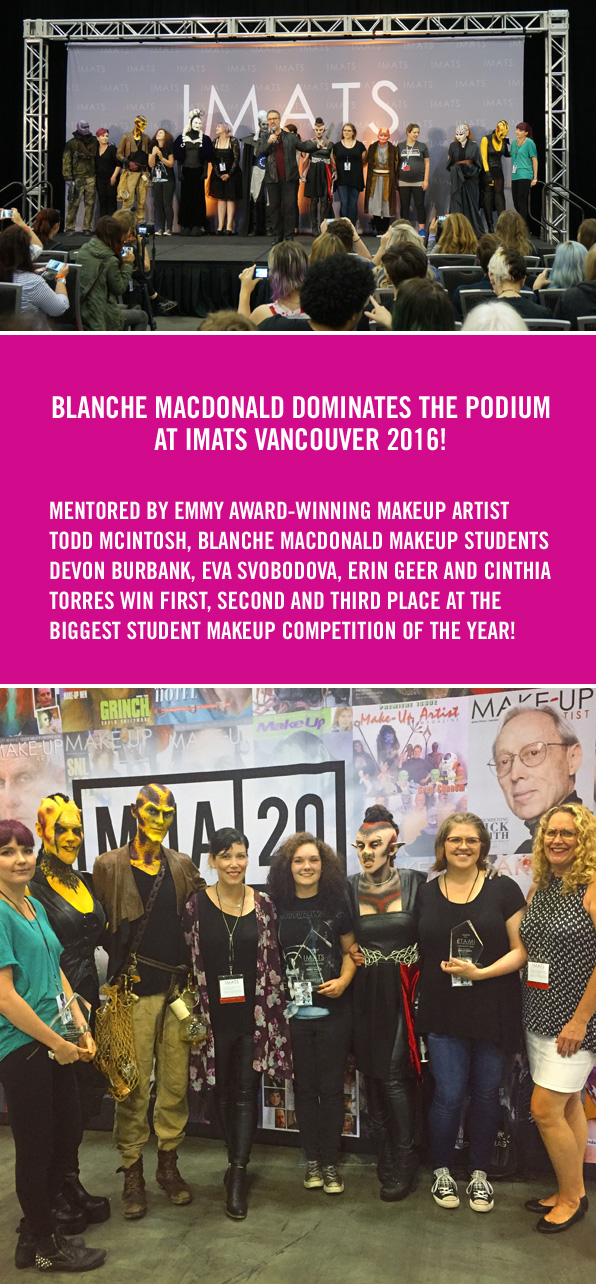 What a weekend! The 2016 edition of the Vancouver International Makeup Artist Trade Show (IMATS) was the best yet, as thousands of Makeup Artists, ranging from the professional to recreational, descended on the Vancouver Convention Centre to stock up on product and inspiration.
Both were in plentiful supply on the Blanche Macdonald/CurliQue Beauty stand, which drew large crowds as Makeup Program Director and industry legend Todd McIntosh demonstrated his prosthetics wizardry over the course of a Sunday afternoon. Proving that the possibilities of Makeup are indeed limitless, Todd created a realistic alien in a matter of hours – using discarded prosthetics pieces he retrieved from the bottom of a cupboard in his studio!

It wasn't just industry veterans creating magic. In the Battle of the Brushes, the ultimate competition for new Makeup Artists, Blanche Macdonald students shone, taking a superb second in the Beauty/Fantasy category, and filling the podium – taking first, second and third – in a hotly contested Prosthetics competition, crafting aliens on the theme of Four Decades of Star Wars.
For Prosthetics first place winner Devon Burbank, her victory was a triumph of tenacity over setbacks.
"My airbrush broke a few days ago so I bought a new airbrush and that broke too," she revealed, minutes after her victory. "We fixed it yesterday and today it broke again. So today's paint job was sponges and q-tips. Today's been a flux of emotions. It was an incredible experience and an amazing opportunity to be part of this event. I'm filled with joy. When they said my name I thought I was going to hit the floor. But I didn't!"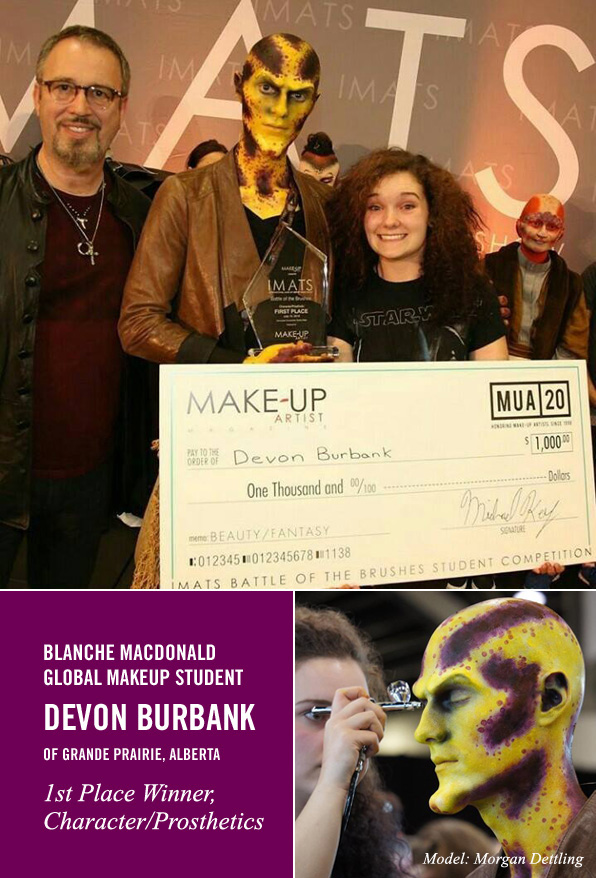 The Battle of the Brushes Prosthetics Competition is the ultimate mix of preparation and inspiration. With prosthetics pieces handed out at random 20 minutes before the contest begin, an artist's ability to instantly harness creativity is invaluable.
"I was excited to have random prosthetics thrown at me," continued Devon, "Because I love creating on the spot. I like doing makeup on the spur of the moment. That's when I feel my heart is into it. I was going to use a bald cap but that was all I knew. I was given two eyebrow pieces, a chin piece and two cheek pieces. The cheeks didn't fit well or look right, so I flipped them and added them to my model's collarbones, which made them look so defined."

Blanche Macdonald's competitors did have a small advantage: personal sessions with instructor Kari Zantolas and two-time Emmy Award-winner Todd McIntosh in the days preceding the contest.
"I was happy to give each of the IMATS contestants my critiques," explained Todd. "It was up to the individual artists to take that advice where they wanted. I can't push them or make decisions for them. It's always going to be their makeup."
For Devon, a one-on-one session with one of her Makeup idols nothing short of an emotional experience.
"I've been a huge fan of Todd McIntosh since I was ten years old, when I watched Buffy the Vampire Slayer and Star Trek," she enthused. "The fact that he took time to critique my work was amazing. He suggested so many ideas about hiding edges and folding things out. Todd is incredible. At the end he gave me a full hug and I freaked out."

The honour and pleasure of working alongside a Makeup icon was echoed by second place winner Eva Svobodova.
"Working with Kari and Todd was a great experience. They gave me such great advice. Todd was tough. I liked to hear what he didn't like and thought I could change. Our time together was really detailed."
Eva is no stranger to the Battle of the Brushes, having taken a fabulous First Place in the Beauty/Fantasy category at the Vancouver IMATS last year.
"I knew I could do Beauty/Fantasy so I wanted to try this too. I enjoy prosthetic and effects makeup as well as beauty and fashion makeup. Every time I can create a character, I'll take that opportunity. I've been freelancing since I graduated. I've done a few independent movies, and a lot of fashion shoots. I'm going to try to keep doing both. Why not? If the opportunity comes to do prosthetics and effects, I'll do it!"

Completing Blanche Macdonald's sweep in the prosthetics competition was third-place winner Erin Geer.
"I really wanted to make a Sith Lord – something really dark that could give you nightmares. I thought I'd bitten off more than I could chew, but I chewed it! In three hours I did a bald cap, fitted five prosthetic pieces and did a quarter body paint, which was a lot. I didn't want to be given ears, but that's what I got and I loved them. They really completed the character.
"Six years ago I went to a different makeup school. They told us about IMATS but I didn't understand it and forgot about it. Then I came to Blanche Macdonald and we found out about the IMATS right away. I said, I'm going to do that and I did! Who knows where this will lead? I would love to make a career body painting. If I could just create aliens, I would love that too!"
Day Two of the Vancouver IMATS came with more triumphs, as Cinthia Torres took a fabulous second place in the Beauty/Fantasy competition, becoming Blanche Macdonald first graduate from our Freelance Makeup Program to win at the Battle of the Brushes.
"When I heard my name for second place I couldn't believe it. It took a couple of seconds for it to sink in. I'm really, really happy. And shocked!"
Building on the competition's theme of Carnival/Circus, Cinthia's carousel-inspired look wowed the judges with its elegance and classic beauty.
"The carousel is a symbol of a vintage carnival," she explained. "I spent a lot of time building the dress, and I knew after that the makeup would come together. I wanted to make my model look beautiful, not just weird or avant-garde. That's why I concentrated on making her eyes so beautiful."

Cinthia had warm words of thanks for Blanch Macdonald instructor Breianne Zellinsky, her personal mentor in the lead up to the IMATS.
"Breianne was so soothing. Any time I had concerns, or felt down, she was always a rock. Everything she said from the beginning was the right advice. Even today, when some of the other competitors had done these elaborate creations, and I began to feel like mine was too simple, Breianne told me to believe in myself. When you do something with love, people can see it.
"My time at Blanche Macdonald was really fun and interesting. I met a lot of friends and people that inspired me. Things I didn't know I could do, I started doing them. I was given more than tools. I was given the push to create. I would ask my instructor, Win Liu, about a certain look and she would say, why don't you try it? What if I make a mistake? Then you make a mistake and move on. I wanted to do a Korean style bridal makeup in my bridal class. LucyAnn Botham said go for it. They want to push your limits. That shows that they care.
"I was working in a bank before I came to school. Now I'm doing makeup full time. I'm doing photo shoots and I own a bridal Makeup Company. I want to do even more. I want to reach people. It's not about money. It's about expressing yourself. Makeup is how I express what I feel!"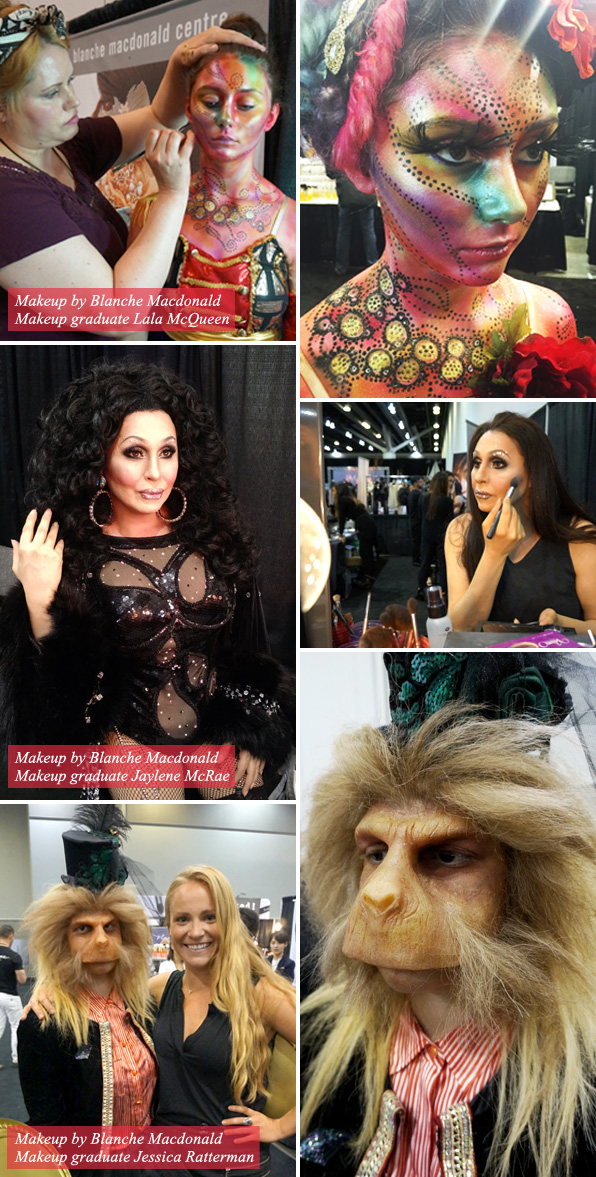 The Blanche Macdonald Centre would like to offer our warmest congratulations to all our Award Winners, along with huge thanks to Todd McIntosh and all our students and staff on the Blanche Macdonald/CurliQue Beauty stand whose hard work was at the heart of an unforgettable weekend!