Current Features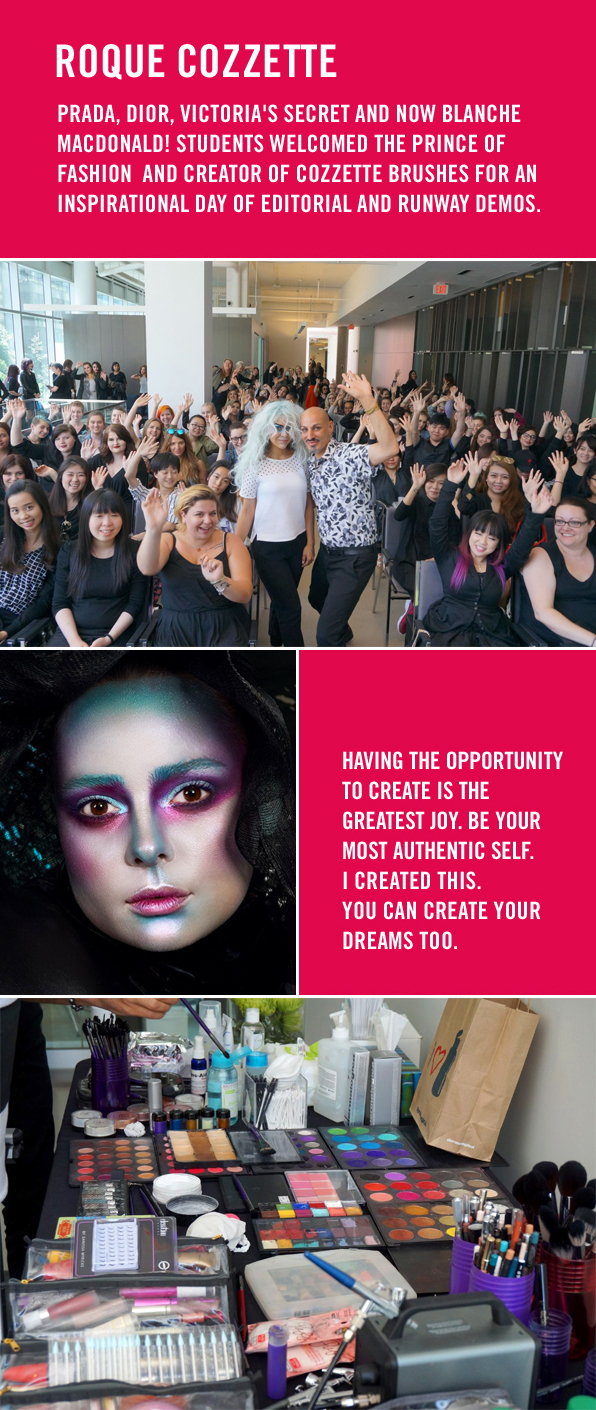 "Thank you for being alive and for following your heart."
Makeup Superstar Roque Cozzette knows how to make a great first impression. And his beautiful opening words at his magical presentation at Blanche Macdonald's Atelier Campus provided an apt introduction for a morning coloured with splashes of emotion, inspiration and creativity.
Roque's makeup has appeared on runways and in print for Christian Dior, Valentino, Y3, Louis Vuitton, John Galliano, Yohji Yamamoto, Victoria's Secret, Prada and Givenchy. Creating professional grade products alongside high-end fashion looks; he's also turned Infinite Makeup and his own Cozzette vegan brushes into global brands. In short, Roque Cozzette is makeup royalty.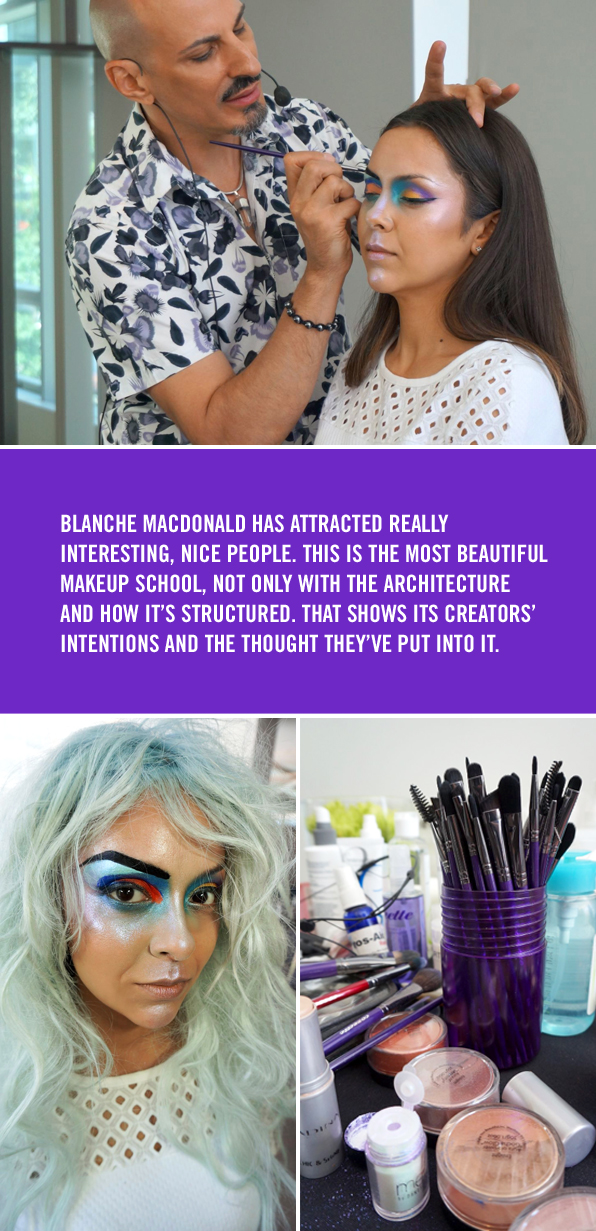 Both his artistry and products were on display throughout a fascinating makeup demo, as Roque transformed Blanche Macdonald grad-turned-youtube beauty queen Trina Duhra into a shimmering explosion of fashion editorial colour. Throughout the application Roque answered questions from host, CurliQue Beauty Team Leader Jaylene McRae and students, covering topics ranging from Photoshop ("think about it as a colour tool"), to confidence ("It comes from having a standard look and building colour theory into my plan") to the often underrated art of assisting ("You're serving the higher good, and there's greatness in that").
Most of all though, Roque came to Canada's top Makeup School to reinforce the importance of emotion, intuition and inspiration, whether it comes from individuals' faces or motorcycle gas tanks.
"Being here means you've already taken the first step," he explained. "Having the opportunity to create is the greatest joy. Be your most authentic self. I created this. You can create your dreams too."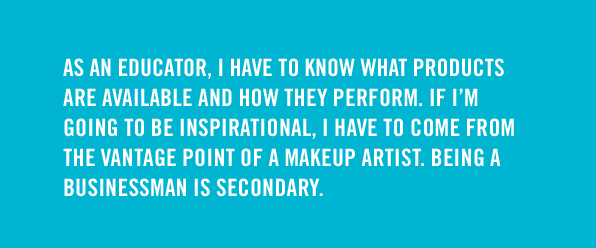 For the Blanche Macdonald and CurliQue Beauty team welcoming Roque to Vancouver, it was a pleasure spending quality time with the man and the artist behind the products they've already fallen in love with.
"Since I first met Roque at the 2010 IMATS I've always felt a wonderful connection of artistry and friendship to him," explained host Jaylene. "He has always shared his gracious personality so freely and also championed my own journey of artistry. I've witnessed time and time again the wonderful gifts he brings to our world with his education, artistry and spiritual insight. Anything he creates is exceptional and surrounded by love and his Cozzette brush collection is the best in the business!
"We love the quality of the tools and the fact that they are a vegan option, but we're also inspired by the exciting and passionate career of Roque! We call Cozzette brushes our 'magic wands.' They're made to stand the test of time. I've had mine for years now and they still look and perform like new. They really allow us to create great makeup designs! His outlook on life, artistry and business is fantastic and really contributes to our positive environment of continued learning. I have truly become a better artist and person by knowing him."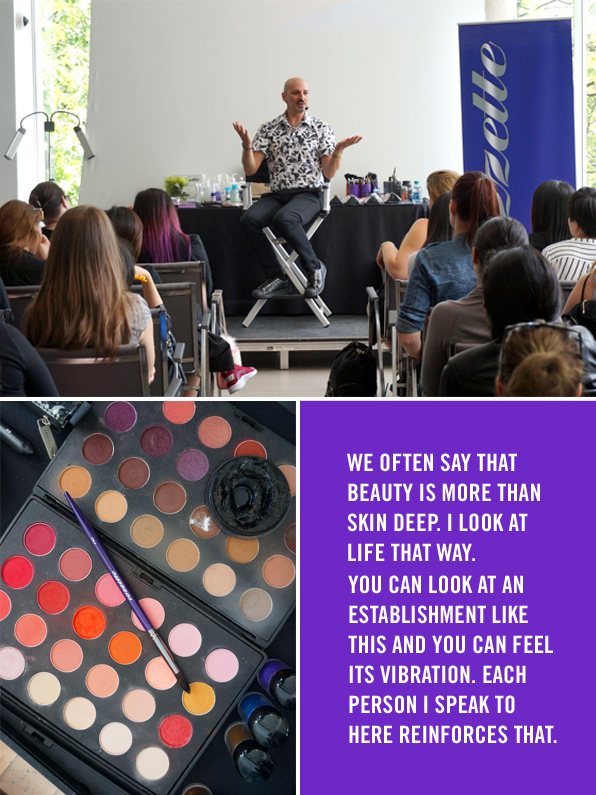 Speaking after his presentation, Roque could barely contain his enthusiasm for what he'd discovered on his first visit to Blanche Macdonald.
"I connected to Blanche Macdonald through Jaylene and Jon Hennessey. I've known Jon from the time we were trainers at MAC. They introduced my products to the School, and through that the School was introduced to me.
"We often say that beauty is more than skin deep. I look at life that way. You can look at an establishment like this and you can feel its vibration. Each person I speak to here reinforces that. Blanche Macdonald has attracted really interesting, nice people. This is the most beautiful Makeup School, not only with the architecture and how it's structured. That shows its creators' intentions and the thought they've put into it."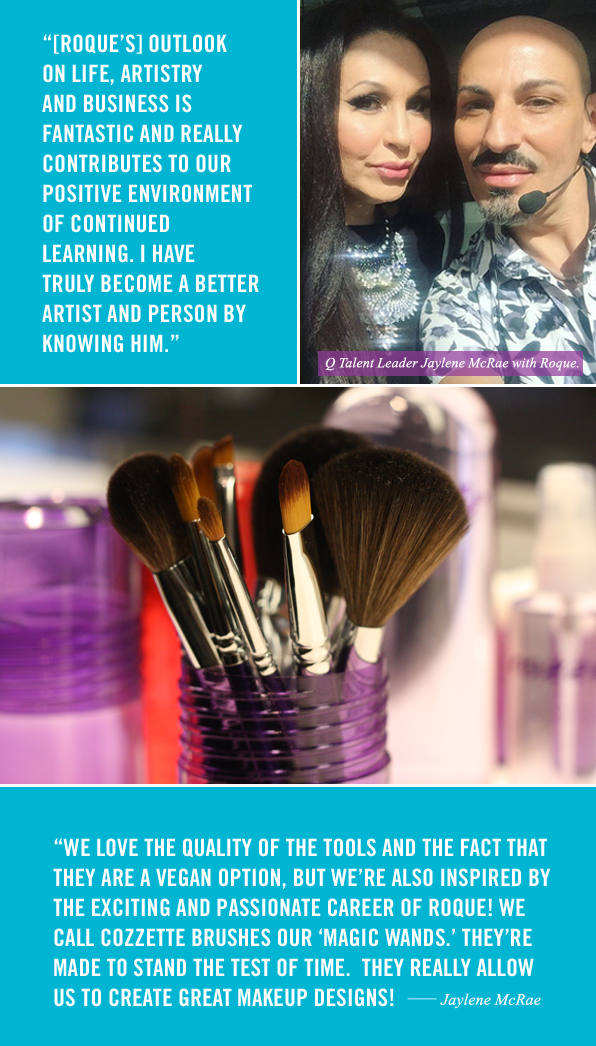 Honesty took a front seat throughout Roque's presentation. Even though he explained the engineering behind his superb brush line, he took pains to point out that it's craft and creativity, not products, that make a makeup artist. If you need to use a Beauty Blender or your fingers, go for it!
"I have to tell the truth," he explained. "No matter what product I create it's not going to be a miracle for everyone. As an educator, I have to know what products are available and how they perform. If I'm going to be inspirational, I have to come from the vantage point of a Makeup Artist. Being a businessman is secondary."
In front of a spellbound audience of Blanche Macdonald students and Makeup Instructors, Roque's message of emotional investment resonated with everyone.
"You have instructors here that are inspiring and talented. When I do presentations like this I want those instructors to see that being genuine, open and understanding that we're all different is the most important thing. I don't expect people to do things like I do. I hope they do it better than me. We're all different and that should be celebrated.
"Speaking to students after the presentation, there were a lot of emotional people! When they see me here, I hope they understand that it's ok to be yourself. I'm not trying to be anyone else. They seemed to think I was a real, down to earth person. That floors me every time!"