Current Features

Walking into Onyx Aesthetics Studio is like walking into a world where every day is a good nail day. It's a place where beauty is continuously unfolding; a place to be primped and pampered in total tranquility. In just two short years Onyx owner and Blanche Macdonald graduate Linda Trang Ly has cultivated the perfect space to showcase her inimitable esthetics skills: an IG-worthy salon with a killer team of estheticians and an impressive roster of clients.
Although Onyx has already achieved great success in its short life, the studio was a long time in the making. After completing the Nail Parlour program at Canada's Top Nail School, Linda spent nearly a decade doing nails in Ontario and Connecticut, until Vancouver's nail scene was finally established enough for Linda to bring her skills back home.
"When I was trying to get into the industry after school, everyone here wanted French manicures on sport length nails. I knew that if I stuck around I would change careers again, so I moved to Toronto. Because of that, I've been perfecting my skills and doing crazy long nails with art for the last 10 years! And this was even before all the gel polishes came out. I always knew I would come back home, but I needed it to be the right time for what I wanted to do. Once I saw on Instagram how things were evolving in Vancouver, I knew it was time to come back."
But having been out of the Vancouver scene for nearly 10 years, Linda had to quickly suss out what the new Vancouver had to offer to find the perfect place for the esthetics paradise she was planning to create. When her initial searches of Kitsilano and Kerrisdale proved unsuccessful, it was in a relatively unexpected neighborhood, on the suggestion of a friend, that Linda happened upon the ideal space for her studio – Gastown.

"The Gastown I knew was The Old Spaghetti Factory, The Purple Onion and some souvenir shops. But suddenly, Gastown wasn't just Water St. anymore! I saw this space and the shape of it and I knew that it was exactly what I had been searching for!"
Finding the space was job number one. Job number two was turning it into the studio of Linda's dreams. Enlisting the help of a friend, Linda set to work creating the beautiful, coordinated and oh-so-Instagram-friendly interior that exists now. Pristine white tables, glistening cabinets, accent cushions and wall upon wall of nail colours and products nestle underneath a glittering chandelier and below a perfectly puzzled-together gallery of quotes.
"My best friend and I designed most of it together. We picked out all the accents and framed and foiled all the quotes. I don't have a favorite though! I'm just one of those people who loves to read and funny or positive quotes are my favorite so, why not?"
With a space that exhibits such a personal touch, it's no wonder the patrons and passersby of Gastown came flocking in to see the new esthetics digs in their neighborhood. And it's precisely these clients that make each day a wonder for Linda and her team.
"We have really, really nice clients. They're my favourite part of each day! I've had clients walk out the door and yell 'That was great!' which is so funny because it's like I pay them to do that. But I don't! I envisioned these amazing clients who come here because they want to and that's exactly what it's become. They brighten our day and they enjoy the music, their service and the team of incredible women I've got working with me."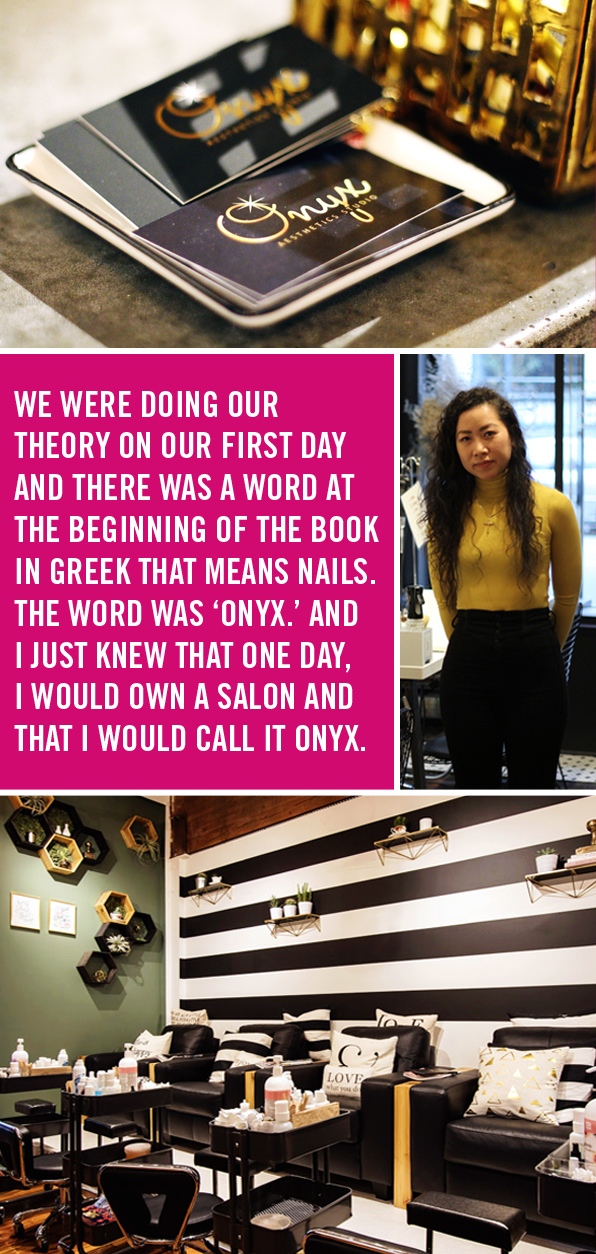 If rave client reviews are anything to go by, it's clear that Linda knows a thing or two about building the best possible team and delivering the utmost in pampering services. But what does it take to make it onto such a special close-knit team?
"Personality! I obviously look for skills too, but those can always be worked on. It's such a close space in here, so it's important that all the girls on my team and I really get along. There are a few of us that have been doing this for quite a while and we still teach each other new things or a more efficient way to do a service, so it's so important we all work together!"
With a myriad of services on offer and high expectations from customers, teamwork is essential. Luckily for Linda, she loves performing the variety of services on her clients as much as they love getting them!
"When I started at Blanche Macdonald, I was taking Makeup. Then I took the Nail Program and I realized that the makeup and skincare came in so handy. So I learned how to do it all! If I stuck with nails all day, I think I would get bored, but the fact that I can switch it up with brows and lashes makes everyday different and fun!"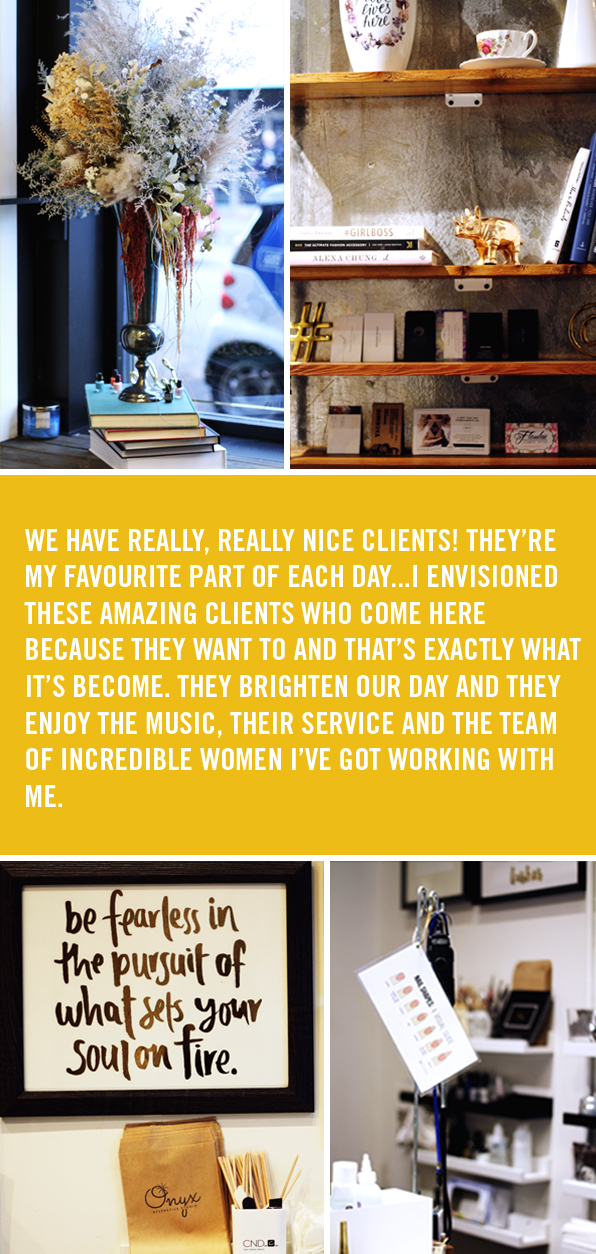 Linda's training at Canada's #1 Makeup and Esthetics school is the foundation that she needed to get to where she is today. But what brought her to Blanche Macdonald in the first place?
"I wanted to try out Makeup, but I wanted to do it the right way. I knew Blanche Macdonald was the biggest school for that. I judge everything on quality, not brand name or anything else. So I wanted the school that was going to give me what I needed, but was also the best option. And for me, that was Blanche Macdonald. Then when I knew I wanted to take nails, I didn't need to shop for schools again. The Makeup Program was so good and thorough; I knew their Nail course would be as well. And it was! Everything I needed, everything I wanted to learn, was there."
And it wasn't only her training that she got from Blanche Macdonald. She also picked up a little something else that would prove very valuable years down the road.
"We were doing our theory on our first day and there was a word at the beginning of the book in Greek that means nails. The word was 'onyx.' And I just knew that one day, I would own a salon and that I would call it Onyx."
Though Linda decided on her salon's name on that first day of theory, the entrepreneurial spirit had taken root in her soul years before.
"My parents owned restaurants when I was young. Growing up around that, you see the benefits and the sacrifices. I like being able to have things in a certain way, which isn't always an option when you work for other people. Having my own studio, I know that every single day I want to be here. This is where I should be."

Linda's independent business sense and countless skills have scored her a must-visit studio in Vancouver and a solid reputation in the Esthetics world. But it is her connection with her clients that has brought her one of her greatest accolades: Onyx Aesthetics Studio is one of only 14 CND Ambassadors in Canada. And yes, it's as impressive as it sounds.
"I had a regular client in Mississauga who would tell me about CND and Revlon and how I could get involved. I just thought she was being a super nice, thankful client! But once I was back in Vancouver, she introduced me to the CND reps and they loved my space and what I had envisioned for my clientele. They flew me to Toronto to teach me about everything CND and each year I go back for regional training. Now I fly to different venues, salons and tradeshows to teach classes about CND products, do manicures using the products and explore any issues they may be having. It's all about education. It's perfect for me and Onyx because CND gives me access to products and knowledge that I wouldn't be able to get otherwise."
With a successful studio, a flourishing career, and an impressive standing in the Canadian Esthetics scene, is it possible Linda has any more aspirations for the immediate future?
She grins, "I'm thinking of possibly a second location. And actually the wall of quotes has gotten me a lot of requests to make people other ones – but I don't want anything to interfere with this shop right now. Though a little more space would be nice!"