Events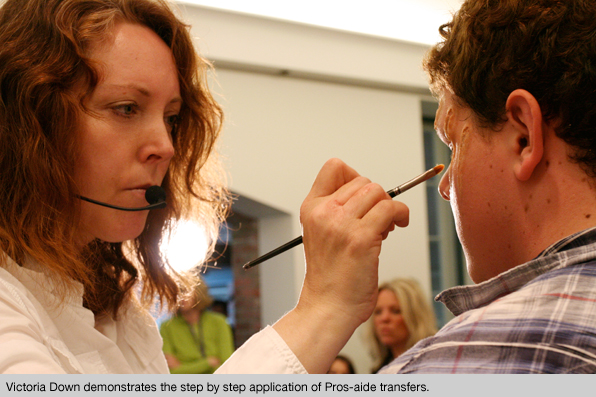 Blanche Macdonald's Makeup Program students learnt more than the correct application of Pros-aide transfers when movie makeup artist Victoria Down dropped by the City Square campus to deliver a pair of hands-on demonstrations. They also learnt why any movie's Director of Photography is their best friend, what happens when the only porta-potty on an icy set slides off the side of a mountain and why Pierce Brosnan is the nicest guy in Hollywood. Even when his prosthetic beards don't fit properly.

Victoria broke into the movie business twenty-six years ago, and since then has gone on to become makeup department head on movies including Thir13en Ghosts, Elf, The Chronicles of Riddick, The Exorcism of Emily Rose, Night at the Museum 1 and 2, Shooter, Juno, and Percy Jackson and the Olympians.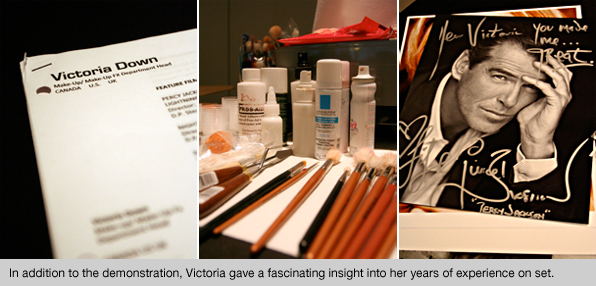 The big filmography doesn't translate to a big ego, and for nearly three hours in both the morning and afternoon, Victoria gave two fascinating and highly entertaining presentations, dishing out insider tips of how to get ahead in this competitive industry. The presentations culminated with Victoria, aided by Blanche Macdonald's own Céline Godeau, giving step-by-step guides to applying Pros-aide transfers, the same demonstrations of new technology and technique she and Frank Ippolito had delivered to the professional movie makeup artists of the IATSE union, local 891.
A schedule that's taken her across North America and the UK, combined with an alleged dislike of public speaking (not that anyone present would believe it), meant Victoria hadn't spoken at Blanche Macdonald for ten years. She was more than impressed on her return.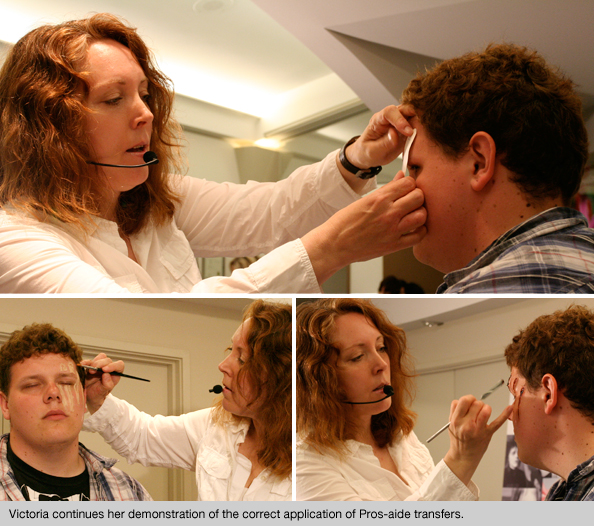 "I could see the students are doing this because they want a career," she insisted during the break between the two presentations. "Their kits are fantastic. The teachers are all professionals and senior people at IATSE. They all know what they're talking about and are great teachers too. Students here have learnt from some of the top people, which is amazing. I've worked with every one of them.

"You wouldn't be accepted without a diploma from a recognized school now. There's no such thing as training on the job any more. I don't mind talking to people and pointing them in the right direction. It's only fair. I've been given so many opportunities. Students here have the right to have the chances I did. Maybe one of them will be the next great makeup artist that helps me down the road."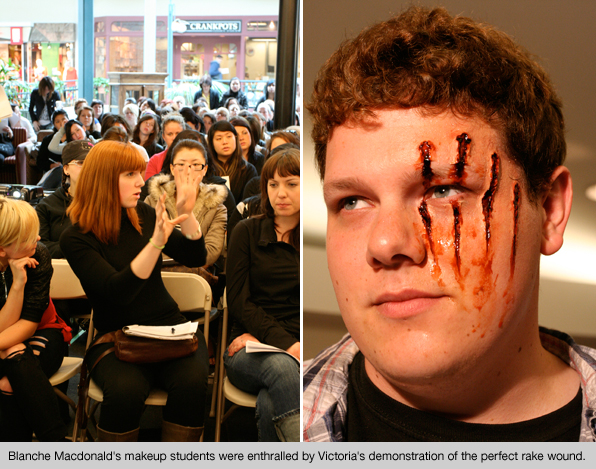 When Blanche Macdonald's future graduates do end up on major movie sets, they'll be well prepared. Victoria didn't pull her punches describing, through many eye-opening and frequently hilarious stories, how challenging, unpredictable and stressful the life of a movie makeup artist can be. But Victoria's dry sense of humour couldn't disguise her enthusiasm for what she insisted was the greatest job in the world.

The students were enthralled and inspired. Just the way Blanche Macdonald's Makeup Program Directors had planned it.

"Karen Esprez and Jennifer Powell asked me to speak but they didn't brief me at all," laughed Victoria. "They said just talk!"