Events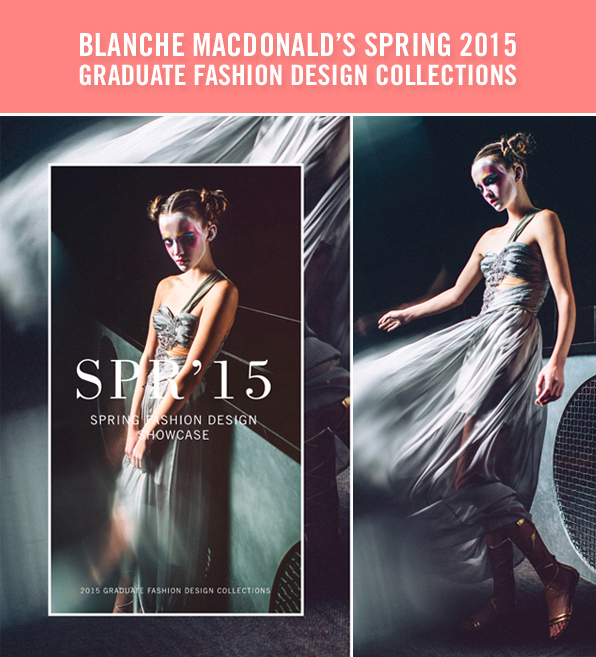 Fashion wonders unfurled last week before a house packed with family, friends and faculty, as we ushered in a bright new lot of talent at our Blanche Macdonald Spring Fashion Design Showcase! The spotlight-spangled sweep of our Atelier gallery saw Design visions vaulting from the earthy whorls of South Iranian textile, to the space-slick daze of star-hopping bohemians. As always with our Showcases, the unifying factor was the impassioned distinction in concept and design. We caught up with our ten Spring '15 graduates to talk the translation of inspiration, dynamism in process, and the rewards of welcoming challenge throughout their year. Congratulations to each on a most brilliant debut, and thank you to all who joined us in fêting their sublime fashion feats!
MARIA RACHEL LEUNG
"I wanted to create a collection that was modern and minimal to redefine the new classic. The concept of SPACE HIPPIE was born from combining ideals of the hippie movement – primarily peace, love and happiness – with the futuristic notion of a utopian society where equality and technological advancement are prized. I utilized denim, a classic fabric, in new silhouettes as a modern twist on a wardrobe essential. I was listening to FKA Twigs a lot at the time and was inspired by her artistry, dance and interesting sounds. I interpreted these elements visually as fluid movement, using draped fringe and mushroom pleating to reflect this. For a futuristic element, I chose Neoprene, a soft but structured technical fabric, to create silhouettes which still allowed for freedom of movement, further reflecting fluidity, both physically and psychologically.
"I want to say that the greatest moment for me was watching my designs come to life at the grad show but I enjoyed every step of the process in getting there, from learning to drawing, to conceptualizing and constructing my garments. Completing the program and my first collection was the most rewarding as I learned so much about myself and my capabilities this year!"
**FOLLOW @lesnaxx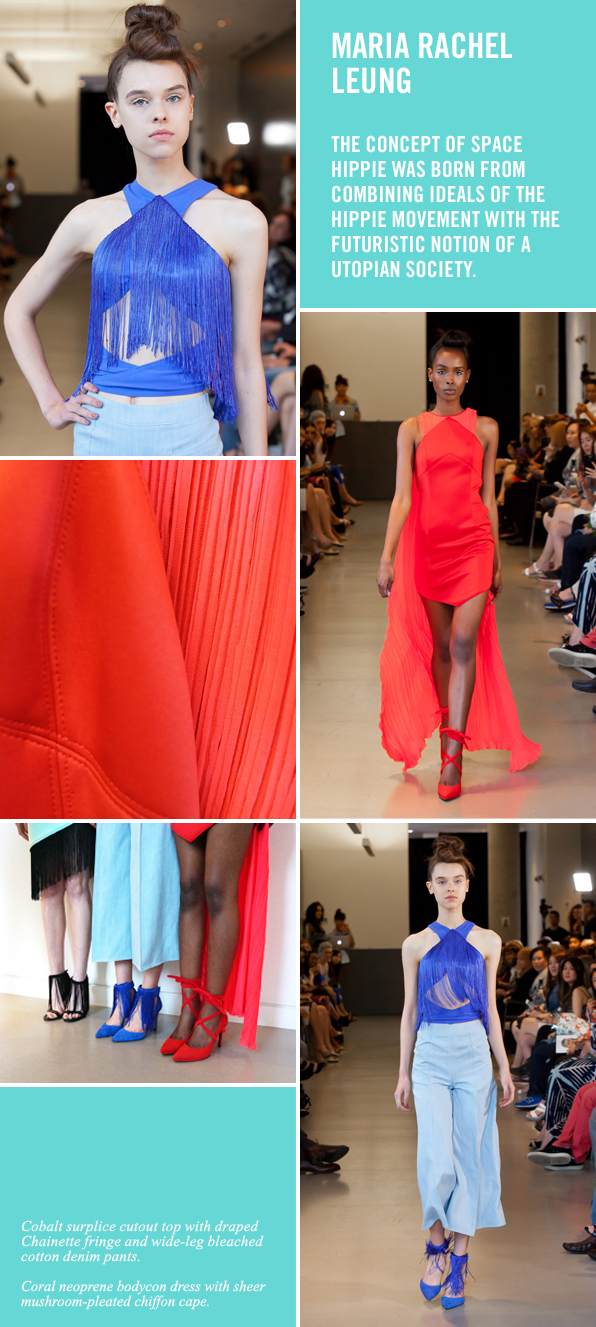 AMANDA BARNETT
"I used the elements of the forest as an overall feel of the collection; the forest is mysterious, alluring and seductive – it pulls you in by the subtleties of it's beauty. We all know the story of Little Red Riding Hood. My story is a little different. I used her curious demeanour and thrill for danger as the main theme in my collection. I combined elements of the forests to create her silhouette, incorporating the shapes of trees to create long, curvy lines which translate into a soft elegance for the evening wear and lingerie. but also using the rough edges of the bark for the day wear."
**FOLLOW @amandaelizabethhb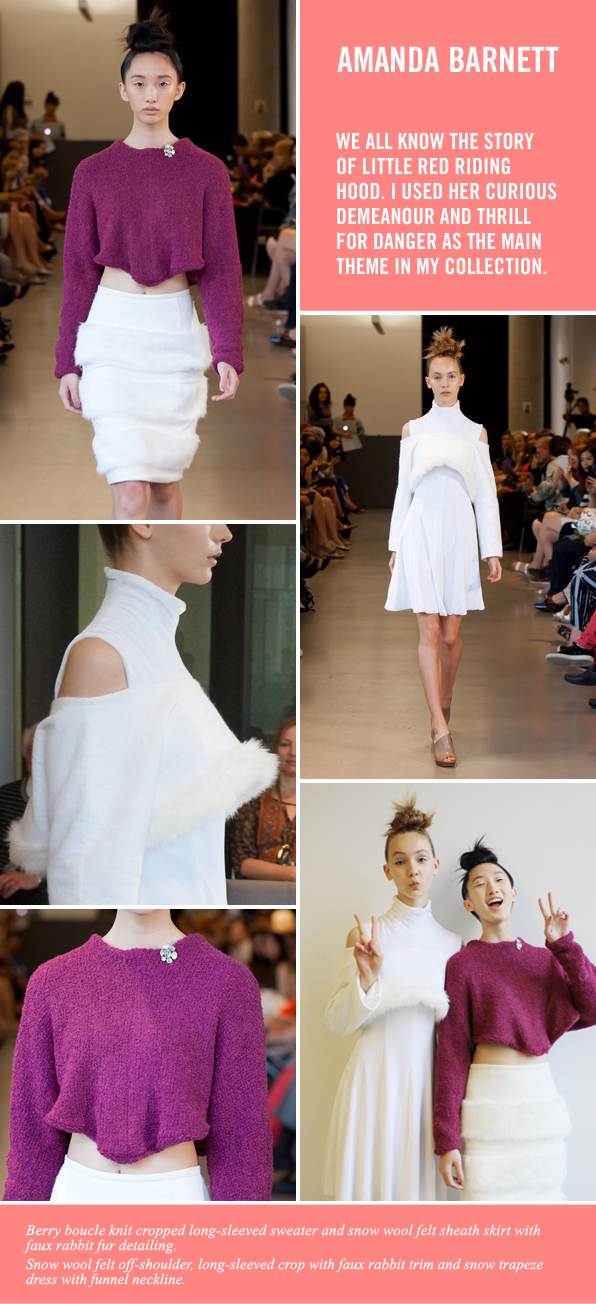 AMY CHUNG
"Time is a circle: like the rotation of the earth in a circle for 23 hours, 56 minutes and 4 seconds, or how the earth goes around the sun in a circle made up of one year. My collection used a lot of circle curve with cord patterns on silk to explore this.
"I most enjoyed the illustration in my process. The biggest challenge was how to create three excellent garments from the visual ideas I had sketched. My teacher Brenda [Swinglehurst] was a great mentor through the whole of the process!"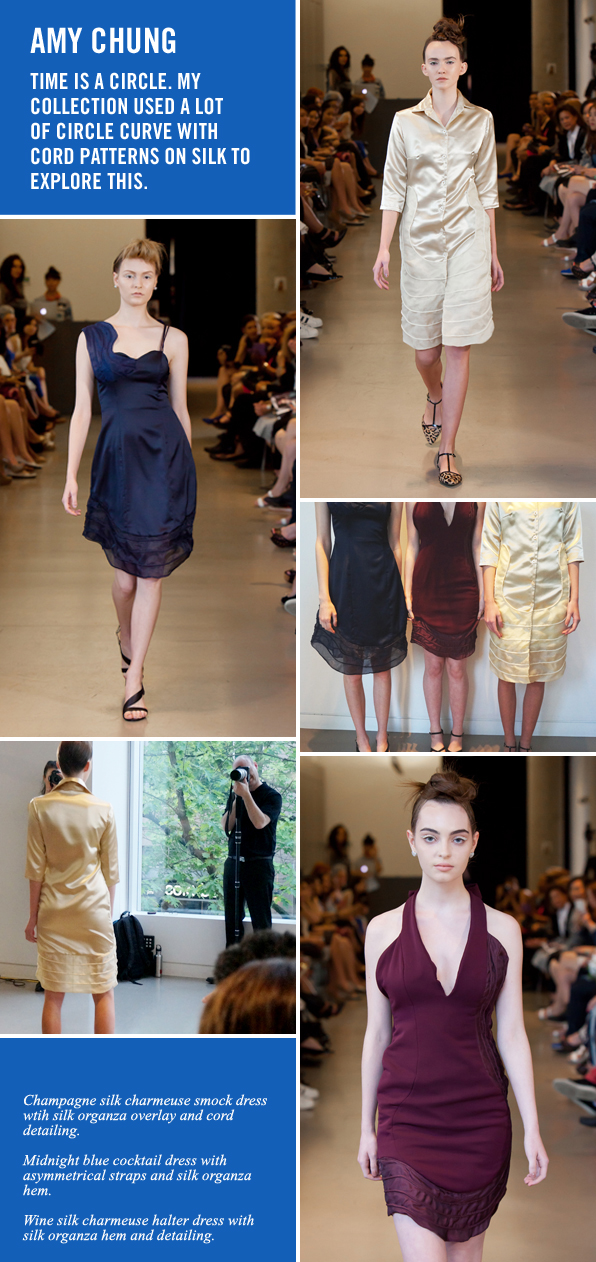 JESSE AMERY SAMUELS – Awarded, Academic Achievement
"This collection began with a desire to revive historical elements of Fashion. I wanted to find a way to bring people through history, as if the clothes take you on a journey through time and space. I began to modernize elements like historical sleeve treatments, collars, lapels and silhouettes through the eyes of two of my favourite French New Wave filmmakers: Jean-Luc Godard and Roger Vadim. Borrowing from the oceanic colour palettes and stark shot design in "Et Dieu Crea la Femme" and "Le Mepris" allowed me to move the collection into the modern era, turning draped historical silhouettes into architecturally tailored pieces, and conflating the pastel palette of the Rococo era with the dreamily saturated pastels of 50's French Riviera. The smallest of details, like the width of women's lapels, extremely high waists, singular pin-tucks and ankle slits in slim men's pants were inspired by photos of my parents in the 70's, and help to root the flamboyant and feminine elements of historical men's fashion in a modern era. As these clothes take you through history, travelling ever closer to the current day, each representative element is smaller and more abstract in it's interpretation of the original.
"The design process can be so overwhelming and all encompassing that it is hard to pick a singular moment that stands out. However, while constructing my garments I discovered a love of tailoring that felt so visceral it was almost as if my body had inherently led me to design such an architectural collection. In that moment I felt like I was doing the one thing I was always meant to do."
**FOLLOW @bessebaroque

QIANWEN 'KIKI' XIANG - Awarded, Achievement in Illustration & Design
"I wanted to create something soft but still strong. It's dark but it's still 'cute.' As women, we usually have a strong side and a soft side. I wanted to show how each woman has these two facets, and how there can also be a lightness and a darkness within one person. Maybe facing you is the one side – the light, 'good' side. The darker side would be hiding inside – that's why there is the skull motif, burrowed under the layers of the dress. The outside is very pretty, light and gauzy, but there is the darker side contained. The skull in the first piece is hand drawn. On the second it is airbrushed onto the base fabric with swathes of organza on top. I learned animation and drawing before I learned Makeup (and now Design) at Blanche Macdonald so it came naturally to me!"
**FOLLOW @kikixiang_makeup_art

SHEENA MEDINA
"Vancouver's city lights are always so constant and alive making it hard to ignore. Tall skyscrapers and buildings with lights that shone like stars made me want to feature this in my collection. I wanted to also incorporate a window idea in my garments and show the lights coming through. I formed squares with gold and silver beads to have a window effect on the black crisscross dress. I had one dress laser cut and beaded and had the hem uneven to show the structural look of buildings. The last dress features silver beads spread across the ruched top to have the element of the lights around the city.
"There were countless nights that I went without sleep just to try and get as much beading done as possible and trying to keep up with my other courses. Of course, all of that paid off with how all of my garments turned out. I really appreciate the help and support of all the teachers, friends and family and especially my instructor Hana [Chiang]."
*FOLLOW @smgmtea

CARISSA MORRISON
"The fact that [West Coast festivals] take place outside in nature is an important element of the clothing. I gave a nod to the forest setting by adding small, subtle woodland animal silhouette appliques on each garment as a little detail for the wearer: foxes, deer, rabbits hiding in plain sight. All of the clothing was fit and draped to complement the female body as it moves, so a combination of curve-hugging lines with lots of hanging lace and soft, flowy fabrics were used to sway with her as she walks and dances.
"Really diving deep in to myself to collect all of the thoughts behind my passion, the designs in my imagination, and somehow make it all make sense, to tell a story that was still balanced and practical was a favourite part of my process. It was hard for me to fit my designs into a box or to define them in a way that would all work together or make sense to anyone. Focusing on creating a cohesive themed collection in Illustration class with Lisa [Ghellert] really allowed me to work hard at pulling these images out of my head and putting them in front of me in a structured manner. Once I was past whatever was blocking me, designs just came flowing and had me so excited. In the end, I was really pleased with the results and proud of my portfolio."
**FOLLOW @plaidhippo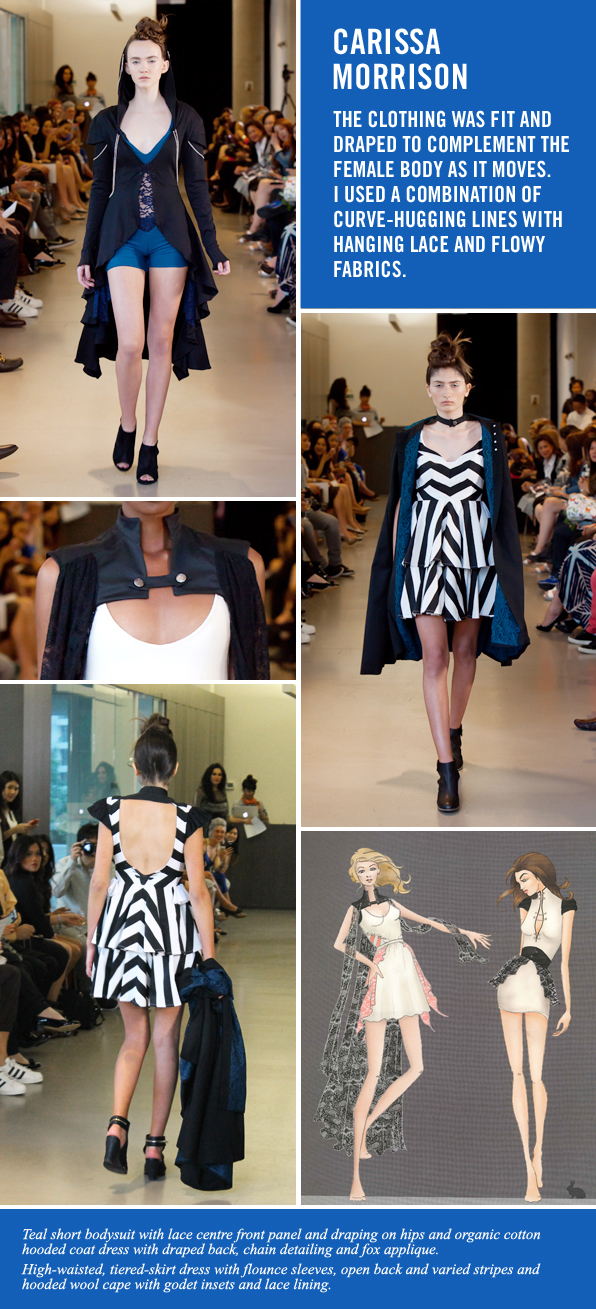 NASIM MEHRTABAR – Awarded, Overall Achievement
"I started Fashion school when I had already two BA degrees in two other majors. Becoming a Fashion Designer was my life-long dream and this time I just wanted to make my dream come true. I had no idea how difficult the program was and how much hard work it needed. Focusing on school was my only concern for the whole past year. I tried to learn from my amazing and knowledgeable instructors as much as I could and I enjoyed every moment of the program.
"After watching a beautiful clip of Niagara Falls it immediately became the inspiration for my collection. The idea was to present clothes as beautiful, strong and mysterious as a waterfall while keeping their delicacy and femininity. The European silk sheer fabrics (ombre and solid color) and elegant laces I had used in my collection were all purchased from abroad. Even the leather that was used in my daywear pieces as a symbol of strength, when associated with the guipure lace and silk, became softer and therefore more glamorous, elegant and rich. Using leather was the favourite moment that stood out to me in the process of creating this collection. Initially I had made a taffeta fabric skirt which didn't satisfy me and I found that the fabric was not a good choice for that skirt, so I completely changed my daywear design and switched to pants and leather instead. That was my first experience in sewing leather but definitely not the last. There was so much fun and creativity in working with leather, and I really enjoyed using it and mixing it with lace for one of the garments I was showing!"
**FOLLOW @nasim.m.t
SARITA GHEYDY
"My inspiration came from the Middle East, with a focus on Iran. In the South of Iran, they use Mongolian lamb's wool in clothing and hats. I centered my collection around this material, imagining and playing with design elements to highlight the wool during my time sketching. I am attracted to fabric; I always buy my fabric first, and my process is then inspired by the chosen material.
"This is the first year that I was so far from Iran. It's been thirteen years that I've worked in a Fashion department, starting when I was thirteen years old – I love Fashion and the creation of new clothes. I love my country and all of the traditions that we have throughout the different cities. For this collection I really wanted to show these traditions in a new way, mixing them into modernity and fashion."
**FOLLOW @saritassss

ANAHITA MONZAVI – Awarded, Special Award for Innovative Use of Materials
"I was originally inspired by stained glass windows – the shapes and colors of the window really caught my eye. I knew it would be very hard task to create customize pieces of glass to use in my collection, but I had always wanted to do something different and challenging. I decided to take on the project. I attended glass fusing, glass blowing and glass flaming in order to learn how to make my elements. As this was a new idea and making these pieces was very hard with the fragility of the glass, nobody was really able to help me in certain areas of construction. So, I had to do it myself. In my designs I used glass fusing, fabric fusing, beading, natural lamb leather and lacing, but the hardest part was making the mold for each piece and making holes in the bustier for the laces. Making that bustier and then being able to drill the holes for the laces successfully – after almost 15 tries – was my best moment. I stayed strong and tried over and over again till I finally made it."
**FOLLOW @fmanahitaa

Many thanks to our wonderful Blanche Macdonald staff, and roster of volunteer students and graduates from the Blanche Macdonald Makeup, Hair, Nail Parlour and Fashion programs whose incredible work backstage, and throughout the year made this show possible. Special mention due to the inspirational leadership of President Lily Lim, the endless efforts of Executive Program Director/Show Coordinator Peggy Morrison, Executive Program Director Donna Baldock, Fashion Director Tyler Udall, Career Director, Fashion Department Mel Watts, the expertise and support in the Sewing and Pattern Labs of Instructors Brenda Swinglehurst and Jenny Hedberg, and creative catalyst Lisa Gellert. Special thanks must also go to Instructors Carlie Wong, Mariana Prins, Maneli Nourbakhsh, Rose Aiello and Wanda Sustersich, Lab Assistants Kari Applequist, Hana Chiang and Jill Kacic, Creative Director Kelly Schmidt, Social Media and Marketing Manager Natasha Eng, Social Media and Marketing Coordinator Laila Fox, Social Media Associates Allie Samborn and Rheanna Miller, Graphic Design Assistant Esther Chaye, as well as our Instructor and Backstage Coordinator Lyndi Barrett.
Infinite gratitude too, must be given to the backstage team, led by Peggy Morrison, of volunteers from the Fashion Design and Fashion Merchandising programs. While instructors Jon Hennessey, Lisa Callender and Barb Baker and their volunteer graduates and students from the Blanche Macdonald Makeup, Hair and Esthetics Schools ensured the models looked as spectacular as the collections. Thanks also to our fabulous emcee Jaylene McRae and DJ Hana Pesut (Sincerely Hana) for providing an amazing soundtrack to the night.