Events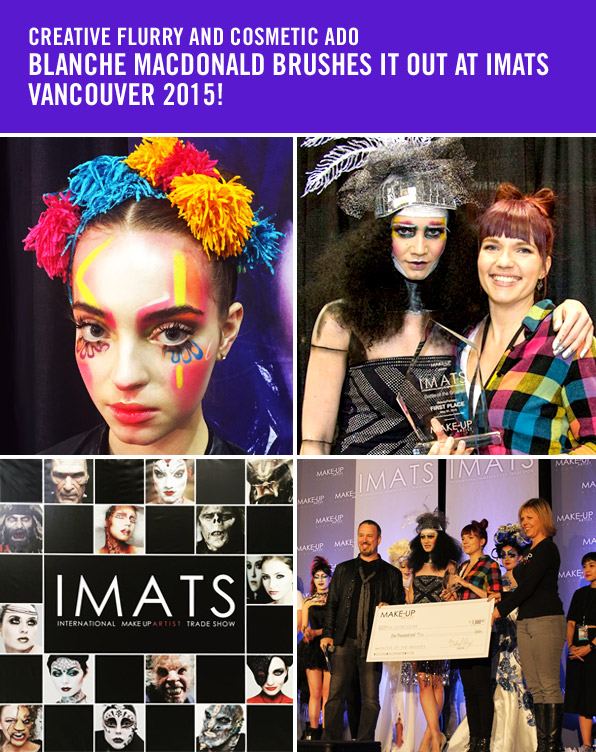 Makeup mavens and film devotees were sent into flurries of passion this past month as the International Make-up Artist Trade Show (IMATS) rolled into Hollywood North, transforming the cavernous sprawl of the Convention Centre into a cosmetic Wonderland. Held annually in six cities across the globe (LA, New York, Vancouver, London, Toronto and Sydney) IMATS is the event of the year for the Makeup obsessed, where we get to be loud about what we love to do amongst friends such as tip-top Makeup industry leaders, Award-Winning Artists, beauty product innovators, and fill our kits to the brim with our favourite cosmetic treats.
This year saw the Blanche Macdonald x CurliQue booth in a glitzed-out blitz of artistry and ado: Dolly Parton dance parties, mega-pro run-ins and, most thrilling of all, two top wins in the show's centrepiece student competition, the Battle of the Brushes (BtoB).
On the closing day, four Blanche Macdonald Makeup prodigies – recent graduate Shino Chen and current Co-op Makeup students Eva Svobodova, Agnes Liu and Yangi Kang – took to the BotB platform for a high-octane Beauty/Fantasy brush-off, each tasked with the conceptual reimagining of 'Historical Beauty Trends.' Time turned back as looks spanning the Qing Dynasty to the rabble-rousing '80s strutted out of the archives as creative wonders, and the seconds seemingly stopped as the last two envelopes were split to reveal the names of Yangi and Eva to a roar of applause.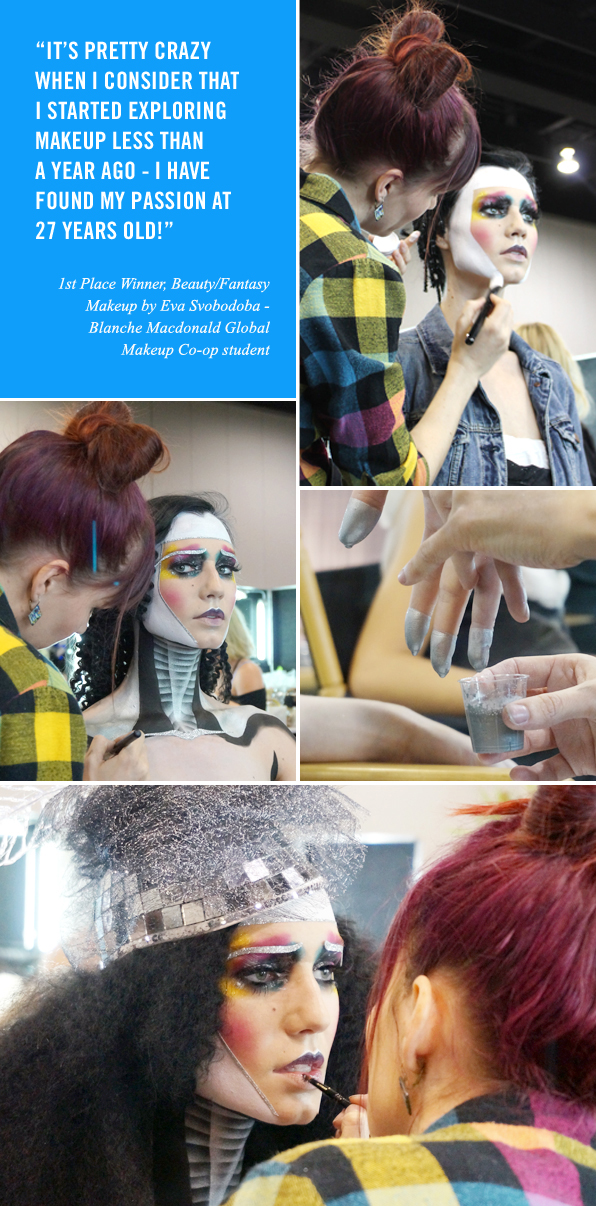 Czech-native student Eva Svobodova, who took First for her 'futuristic flapper' look, stepped away from her post-stage interview with IMATS Executive Producer Michael Key, giant cheque clutched tight and forgotten in the daze of her win.
"I am still shaking. I can't believe it," gasps Eva. "It definitely came as a shock. Inside I was hoping I would win, but you never know. The whole experience, and meeting all of these amazing artists was incredible. It was all so intense – I still need to process it!
"It's pretty crazy when I consider that I started exploring Makeup less than a year ago – I have found my passion at 27 years old! I went to my first IMATS last year; I saw the Battle of Brushes and was so excited by it. I told myself that the next year it would be me up on stage. I didn't think about winning or losing – I just wanted to do my best.
"It's proof that if you really want something, go for it, and go for it in a way that's your own, you can achieve it."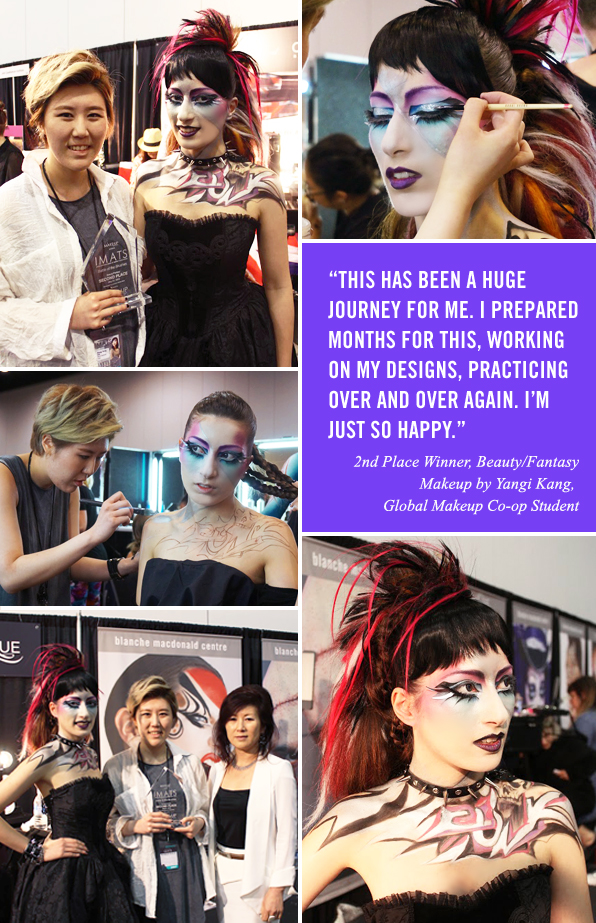 Yangi Kang, who raised hair and elevated subculture to high art with her bold punk-inspired look, was all gleam and high spirits.
"This has been a huge journey for me. I prepared months for this, working on my designs, practicing over and over again. I can't find the words. I'm just so happy"
Half-hidden behind the curtain was Yangi's mother, discreetly fixing her makeup. Her mascara was simply no match for the high emotion of the day, having flown in from their home in Korea to support her daughter, and watch her take the Second place win.
"I really wanted to show her what I could do," said Yangi, looking down at her trophy, "This is for her."
Yangi's mother was not the only one filled with pride – waiting on the sidelines to congratulate the four competitors' feats was their Battle of the Brushes mentor, Blanche Macdonald Makeup instructor Jenna Kuchera. Having herself won the same competition years before at IMATS LA, Jenna knows well the challenges and thrill of this ride. And fresh home from a whirlwind, city-blitzing trip on the Fashion Week circuit, working backstage with mega Pro Makeup royalty Pat McGrath (chosen as one out of tens of thousands in her #backstagewithpatmcgrath Instagram contest), she is also one to recognize the potential of brilliance in these impressive emerging artists.
"In each of our competitors I saw a strong vision that they were working hard to make come to life," says Jenna. "It can be really challenging to create in real life what you are picturing in your mind, and I saw each of them working through their design to get to that point of makeup happiness. It's always fun to see the looks on the day of the competition in their refined and polished state – I was so happy and proud! These were all really great, lovely, hardworking students. I am so thrilled for them. Way to go!"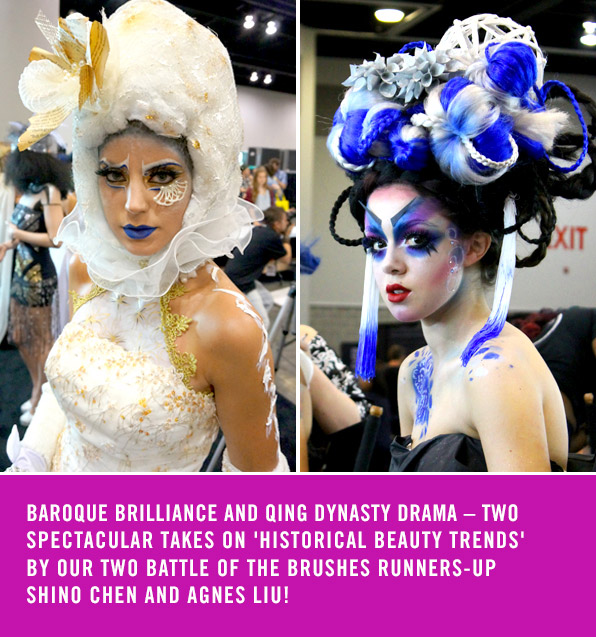 The weekend saw pop-ins by fairies, werewolves, and TV & Film Makeup LEGENDS: two-time Emmy Award-Winning Special Effects Makeup Artist Andy Schonenberg (Jurassic Park, The Walking Dead) and industry heavy-hitter Bill Corso, two-time Emmy Award-Winner and holder of an Oscar Achievement in Makeup (Lemony Snicket's A Series of Unfortunate Events).

Our own Makeup Big Leaguer, Blanche Macdonald Fashion Makeup Director, Founder of creative influencers' agency NOBASURA, INGLOT Educator, and industry powerhouse Jon Hennessey talked subverting the constriction of trends by diversifying awareness of inspiration (bulk up your Instagram feed!), creating a textured riff on contour-highlight that was a little bit Kim Kardashian, a little bit Jobriath, and a little bit David Choe.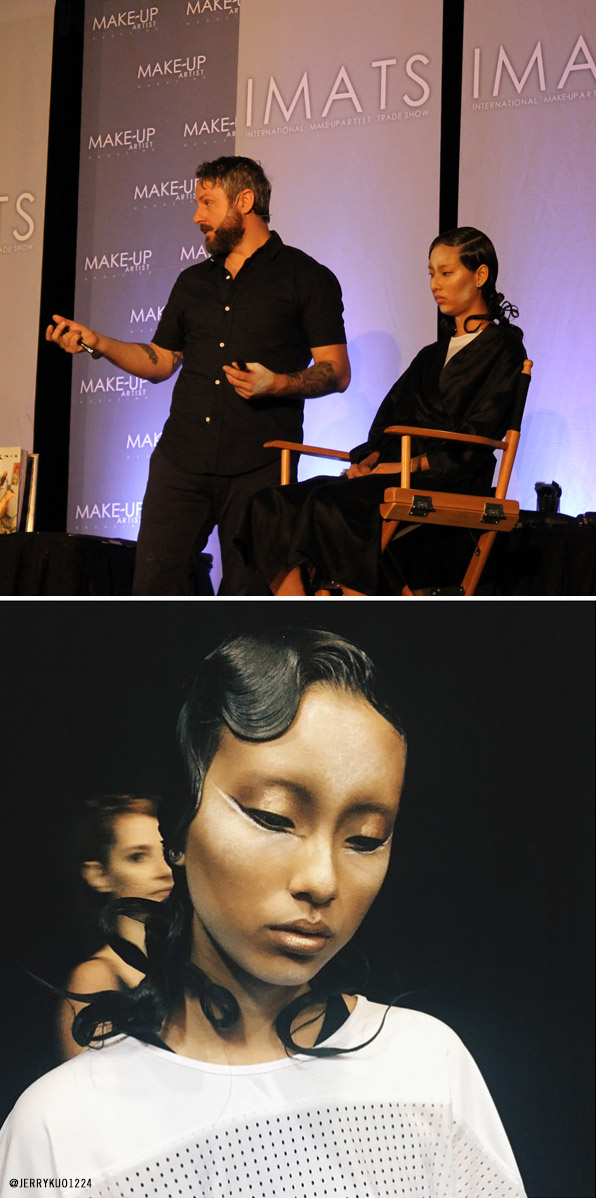 Back at our booth, it was nonstop creative flurry. Over the bold banter of our booth-mate, Award-Winning Makeup Artist and Founder of the London Brush Co. Siân Richards, and the click-swish-smack of product obsessing, was heard the ooo-ing and ah-ing of passersby who stopped to ogle our instructor demos: a barnacle-esque patina of Swarovski by Jenna Kuchera; an opulent Indian bridal look by Shaina Azad; intricate Mandala-like layers of hue by bodypaint champ Natacha Trottier. We all watched, jaws dropped, as CurliQue Q Talent Leader and Queen of Transformation Jaylene McRae transfigured before our eyes into an uncanny double of Dolly Parton, frisking about the venue in a country-sized smile and crimson fringe.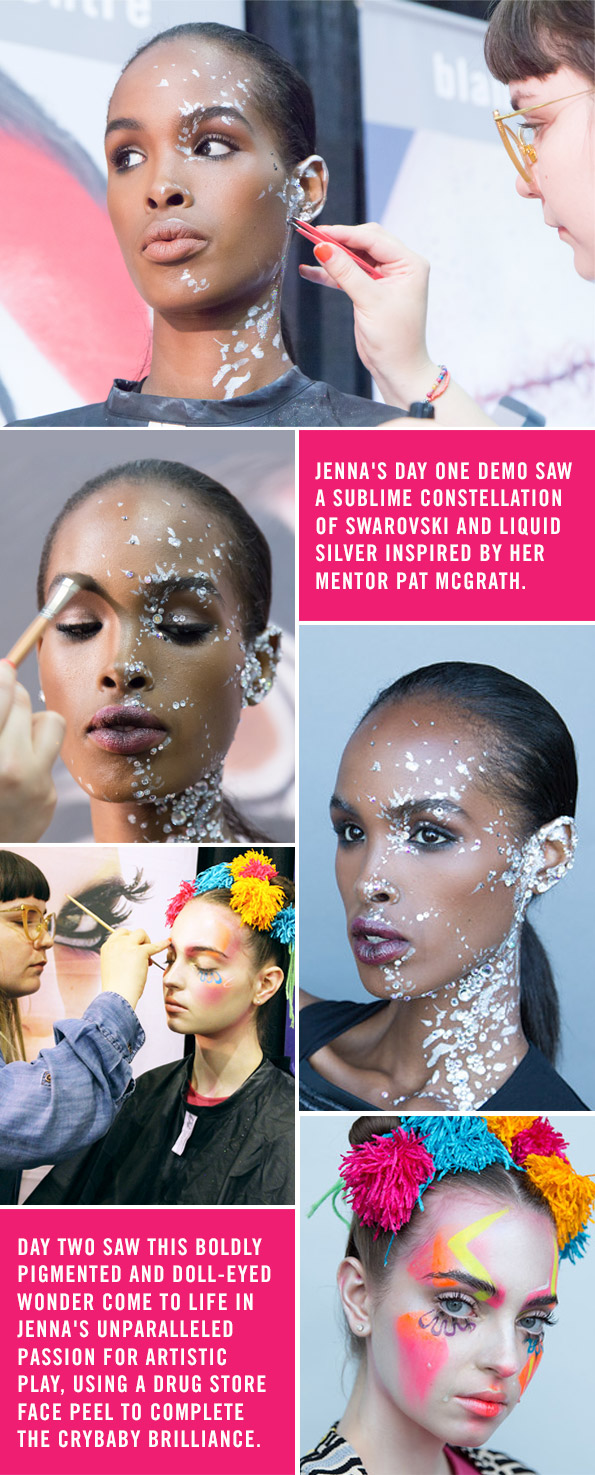 As we took strolls for quick shops and hellos, we were running into many a familiar face: graduates Pauline King, Catherine Long, and current student Omar Caloca yar-ing up Special Effects marvel Gideon Hay; Marie-Helene Babin and Jen Little spritzing magnificent sprays of pigment in airbrush masterpieces; Kait Davison strutting about in her self-made demoness F/X; a row of smiles and busy hands at the Make Up For Ever booth; and an IATSE Local 891 panel made up entirely of Blanche Macdonald graduates Tina Teoli, Amy Van Wormer, Candice Stafford and Zabrina Matiru-Anderson.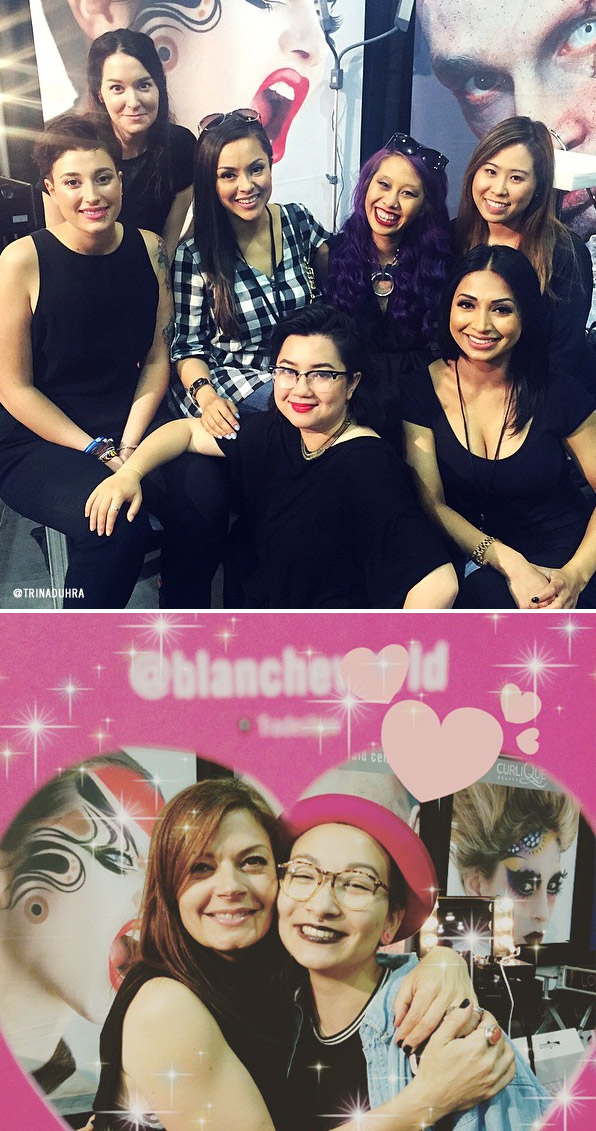 It was so wonderful to catch up with old friends, and meet new – a big thank you to everyone who came by our booth to share in the beauty thrill with us!