Fashion
With their unique fashion voices, these Blanche Macdonald Global Fashion Marketing graduates are taking the industry by storm. Articulating their story to the world, our grads have navigated their way through fashion's ever evolving terrain, bridging the gap between knowledge and success: from luxury retail brands and glossy magazine offices, to prestigious PR firms and leading buying agencies. Our grads are 'serging' ahead of the trend, climbing the ranks of local and international scenes one fashion forward trend at a time. Meet these burgeoning fashion mavens that have become part of this thrilling community in our Fashion Fervour storytelling!

As the Visual Manager at the highly-anticipated Vancouver opening of Swedish modern-minimalist brand COS, Blanche Macdonald Global Fashion Marketing graduate and Saskatoon-native, Janelle Knihnitski has successfully circumnavigated the Vancouver fashion scene, testing fate and ambitiously pursuing her goals to land herself in this coveted role. Besides being aligned with Janelle's values and personal aesthetic, another fulfilling aspect of life with COS is that Janelle has already had the opportunity to travel to Montreal, New York, Toronto and Miami in her new position. Maintaining this sleek and resplendent space is no easy feat, but Janelle has demonstrated she is up to the task. Enthusiastic to learn, eager to grow and excited for what's next to come, meet Janelle Knihnitski, accomplished, adventurous and a visionary in her creative field.
Read More

Vancouver, A.K.A. Hollywood North, is home to towering mountains, lush rainforests and stunning ocean views. It's a small slice of filming heaven which has helped make the past year one of the busiest and most exciting in Canada's Film and TV history. In and around Vancouver you can find alien invasions and fairy tale endings, Super Hero battles and monster truck adventures. It was a blockbuster year that saw studio space become limited due to an ever-expanding line up of productions from X-Files and Prison Break reboots to comic book juggernauts Arrow, Supergirl and The Flash fighting crime across the Lower Mainland. In a historic move Hollywood studio giant Skydance opened up one of the world's longest and tallest stages right here on the West Coast, breathing Altered Carbon to life in Netflix's biggest creative endeavor yet! With impressive scenery, diverse shooting locales and an incredibly talented pool of TV and film crew, the decision to utilize everything British Columbia has to offer was an easy one.
Vancouver boasts some of the world's best TV and Film Makeup Artists and Hair Stylists, a previously exclusive club that's now parting the ropes as high demand for their skills continues to skyrocket. With our city playing host to gruesome hits like Supernatural, iZombie and Deadpool our Blanche Macdonald Hair and Makeup family is beyond busy creating epic looks and winning major awards. In the past year they have been recognized with multiple Emmy, Canadian Screen Awards and Leo Awards for their outstanding work and dedication to their craft. The diversity of the abilities throughout our Fashion scene is becoming more involved and the Film & TV industry is taking note! They are scouting local talent and our contribution is only growing. From Vancouver to Prince George, film productions dotted the landscape in this momentous year and Blanche Macdonald graduates and instructors were lucky enough to take on leading roles.
At the forefront of many of the main costuming jobs that roll through Vancouver is Blanche Macdonald Costuming for TV & Film instructor Derek Baskerville. As an industry veteran with titles like I, Robot, Untold Stories of the ER and Wedding Bells behind him, Derek has an innate understanding of all the demands and responsibilities that come with a role in the costume department of any production. He also has an excellent eye for those students of his who possess such gritty sparkle. Students such as Fashion Marketing graduate Madison Douglas, who is excelling as an assistant to Derek on a number of his upcoming projects! Luckily for our Fashion Marketing and Design students, Derek is also an extraordinary mentor and has placed many Blanche Macdonald Fashion students and graduates behind the scenes of multiple productions.
"One of my greatest pleasures when hiring Blanche Macdonald graduates is that within a very short time they make themselves indispensable with their willingness to take it all on, 'own it' and have fun at the same time. In the industry we are always looking for people with fresh ideas and ways to make challenges work while working on tight timelines. We are looking for people who bring enthusiasm, courage and a positive attitude when they join a new costuming team!"
Read More

Kirsten Ley won more than the Award for Overall Achievement at Neon Dreams, this year's Blanche Macdonald Fashion Design Graduate Show. She also received one of the all-time great compliments from Executive Program Director Peggy Morrison (not someone known for distributing praise lavishly), who declared Kirsten, "the Student of the Decade."
Since then Kirsten's been busy preparing to conquer the world with her eponymous label. And it'll be little surprise if Kirsten Ley becomes a household name in fashionable homes within the next five years. She's practically Wonder Woman.



"I get up at 5am every morning and go to bed around 2am every night," she explains. "When I was in the Fashion Design program at Blanche Macdonald I also had an internship and was teaching yoga every morning. I'm a night owl and a morning person. I find my relaxation and rest practicing yoga. I get enough rejuvenation from that to compliment my sleeping schedule, or lack of one!"
Channelling her endless energy directly from the universe (rather than the traditional method of sleep we mortals use), Kirsten's intellectual approach to creativity knows few bounds either. Her brilliant graduate collection juxtaposed concepts by matching the constriction of leather body casts with the free-spirited escapism of billowing silks.
"One of the ideas that sparked this collection was my own personal experience," continues Kirsten. "I was diagnosed with scoliosis when I was 13 and was put in a back brace for 22 hours a day. I was an actress, dancer and opera singer and the only time I was out of the brace was when I would dance, sing or perform. The dichotomy of the bound leather garments with the flowing silks is like breaking free of the confines I grew up with, which is one reason why I called my collection 'The Unbearable Lightness of Being.' That's one of my favourite novels too. Milan Kundera took Nietzsche's idea of eternal return, which I think is relevant to the cyclical nature of fashion.
"I'm also intrigued by the way the Victorians drew their anatomy diagrams. These diagrams were not just medical but extremely artistic and beautiful in a grotesque way. I was drawn to them in my own collection. The predominant colour in my collection is oxblood, and I jokingly refer to my leather bodice as a 'skin suit' because it reminds me of these Victorian Illustrations and the peeling back of layers of skin to reveal what lies beneath."
Read More
With their unique fashion voices, these Blanche Macdonald Global Fashion Marketing graduates are taking the industry by storm. Articulating their story to the world, our grads have navigated their way through fashion's ever-evolving terrain, bridging the gap between knowledge and success: from luxury retail brands and glossy magazine offices, to prestigious PR firms and leading buying agencies. Our grads are 'serging' ahead of the trend, climbing the ranks of local and international scenes, one fashion forward trend at a time. Meet these burgeoning fashion mavens that have become part of this thrilling community in our Fashion Fervour storytelling!

Set your mind to it and it may happen. Do it with heart and it's guaranteed. Blanche Macdonald Global Fashion Marketing graduate Amanda Watt has approached her burgeoning career with this doctrine, hustling (with heart) on her way to become Marketing Coordinator at Vancouver's coveted luxury retail department store, Holt Renfrew. From setting up large scale events featuring the most buzz-worthy designers and mega-names in the industry, to coordinating intimate fêtes, prepping hundreds of swag bags and sourcing for what's to come next, she's always on her toes, ready to tackle the next big fashion moment. Meet Amanda Watt, gracious, accomplished and fanatical for Fashion.


Blanche Macdonald: What was your favourite part of our Fashion Marketing program?
Amanda Watt: All of it! It was such a truly amazing experience that I will always treasure. I remember being so inspired by [Blanche Macdonald Fashion Program Director and Instructor] Peggy Morrison's passion that no matter what she was teaching I loved it; her stories and Show and Tell were something that I would have never imagined I would be fortunate enough to be a part of. I truly believe that I would not be where I am today if it was not for Blanche Macdonald and the opportunities and goals it helped me realize.

BMC: How did the Blanche Macdonald Career Department help you in pursuing these goals?
AW: Honestly, if it wasn't for the guidance of [Blanche Macdonald Career Director] Mel Watts while I was in school, I would never have had the opportunity to intern with Holt Renfrew, and if it wasn't for that, who knows where I would be today! I truly believe that my internship was the first and most crucial step in starting my career in fashion. I fortunately still get to see Mel from time to time. I really should stop into the campus more than I do, though!
I have been lucky enough to now be heavily involved with the internship program here at Holts. It is an incredible way to get your foot in the door! The Internship Program is something that I hold very close to my heart and I have had the opportunity to meet some extraordinary Blanche students along the way.
Read More

There's no substitute for genuine glamour. Which is why, when Blanche Macdonald was seeking a venue to host the 2016 Fashion Design Graduate Show, once we set eyes on the Grand Ballroom at the historic Hotel Vancouver, the decision was easy. The contrast of Imperial Russian style elegance with the bold, ultra-modern debut collections from some of Canada's most promising new designers was too tempting to resist.
The result was Neon Dreams, the most spectacular – and to many attendees the best – Blanche Macdonald Graduate Fashion Show in the School's storied history.
"The Hotel Vancouver is such an iconic piece of this city," explained Fashion Director Tyler Udall. "They've done an incredible job preserving the original designs and over the years the hotel has been peppered with bits of luxury. Incredible fashion houses like Dior, Gucci and Louis Vuitton are now occupying retail space in the hotel. It seemed like a fitting space for our show."

Under the sparkle of Vancouver's most magnificent chandeliers Blanche Macdonald's grads' collections shone, as two glorious fashion shows unfurled on a chilly November afternoon and evening, the first for graduates' friends and families; the second for the city's assembled fashion media. For Tyler, presenting collections that could hold their own in the most extravagant surroundings was a testament to a special group of graduating designers.
"This group had more than a few extremely focused students. There are always a handful who come in and treat Fashion School like a military operation: up at 5am, working until 11pm and really pouring their blood, sweat and tears into their collections. There were several of them this year and it was a treat to see how well they worked and how much they bonded as designers and friends."
Read More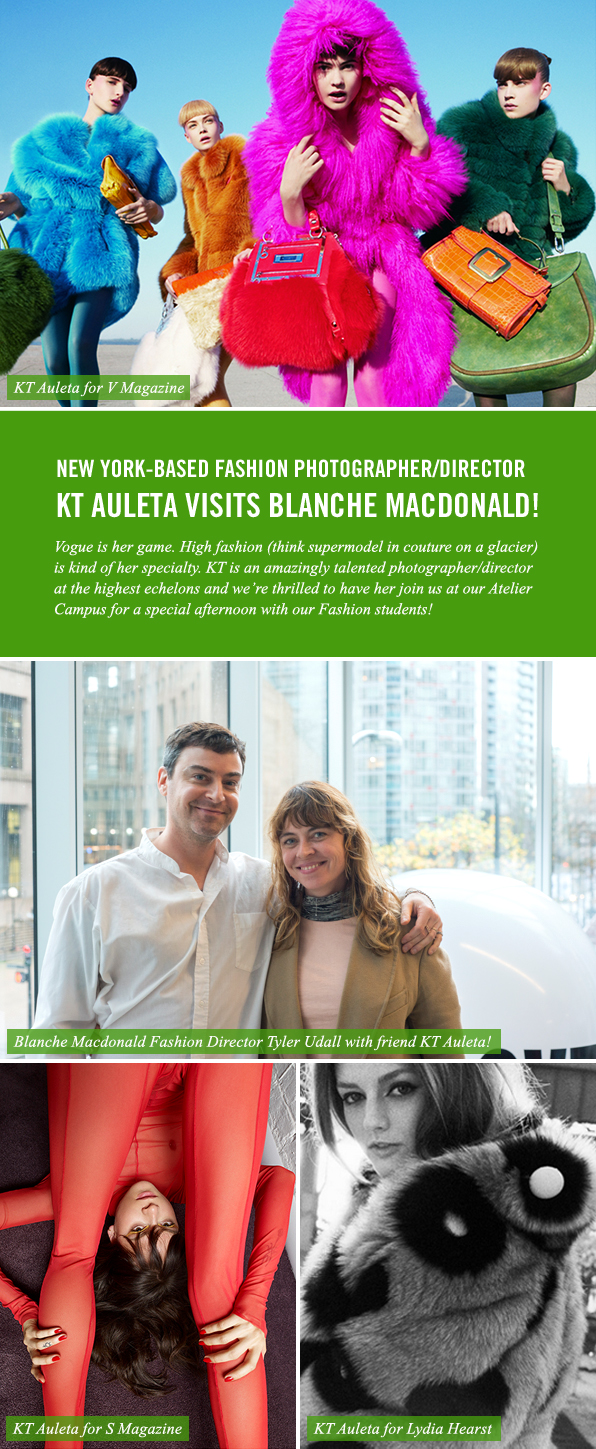 "What drew me to fashion was how it kept moving. Nothing's iconic any more. It's always, 'What's next? What's next?' I like that!"
KT Auleta's high velocity love affair with fashion continues to take her around the world. The New York City-based photographer and director is in perpetual motion, travelling from country to country shooting with clients like Hugo Boss, Sephora, Louis Vuitton, Tom Ford and Marc Jacobs, and titles including Vogue, GQ Style, Elle and Glamour. But on a layover en route to China she somehow found the time to visit Vancouver, Blanche Macdonald and her close friend, Fashion Director Tyler Udall, to give an engrossing presentation to students at Canada's top Fashion School.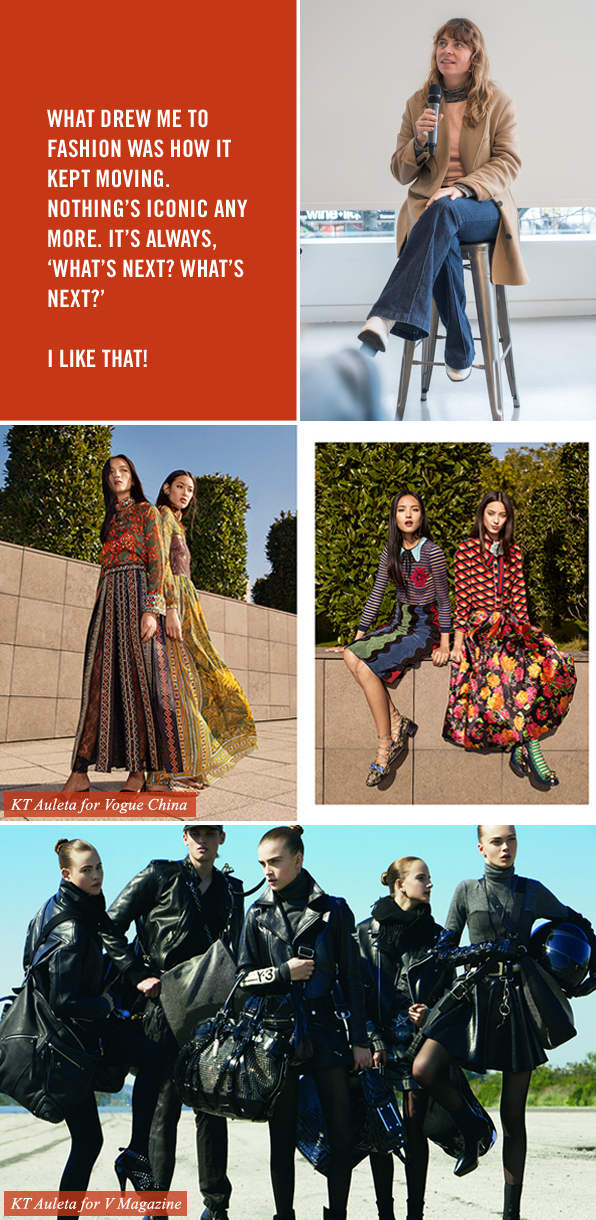 Over the course of a fascinating hour KT revealed her journey from intern to globetrotting photography superstar, the changing face of fashion imagery (including why she now shoots stills and video simultaneously) and the art of building a great creative team.
"I'm looking for good communicators," she explained in response to one of many questions from the floor. "I want people to take pride in their work. I want people I can trust to do their job well. I want them to feel empowered. I love working with new models, giving them wings and watching them blossom."
Read More
With thousands of artists, stylists and designers soaring into our halls from around the world each year, our classrooms have become dynamic global communities under the unitedly diverse banner of our Blanche World – a United Nations of creativity! In a glorious culture clash, our International students import a vibrant collection of new customs, insights and inspiration that colour our world in exciting new ways. The leap from their home countries to our corner of Canada comes with big change, courage and incredible journeys. Speaking in the international language of passion, we sit down with our global talent to talk the dreams that brought them here, the challenges they overcame, and all about the power of being an artistic representative in a new country. Meet the burgeoning stars that have joined us from around the globe in our UN storytelling!

"Fashion Design is my passion. I never get tired of what I do. It's hard to put in words, but I never imagined I would love fashion and design the way I do. It's just the right thing for me."
Though Anahita Monzavi graduated from Canada's Top Fashion School in the spring of 2015, she was immersed in the world of Fashion Design well before that. Originally from Esfahan, Iran, Anahita worked for over eight years in fashion before moving to Canada, with five of those years spent running a showroom and designing custom evening and bridal gowns for a myriad of A-list clients. With an inherent knack for design, Anahita is proof that talent and fate so often fall hand-in-hand. When she walked through our doors on her first day at Blanche Macdonald, we knew she was exactly where she was meant to be.
"When I first came to Canada," she says, "I spent a lot of time researching and talking to people about which school I should go to. I already had experience so I didn't want to go back to Fashion Design school for four years. My friends and family who are from Vancouver said that I must go to Blanche Macdonald, that it was the best school. After that I did not look anywhere else."

After spending a mere two years in Vancouver, Anahita has gone from excelling as a student to shining as a mentor and instructor for budding designers. She's been impressing the fashion community since she first enrolled at Blanche Macdonald, so her accomplishments have come as no surprise. Investing the same attentiveness in fashion instruction as she does with her professional career, Anahita credits the mentorship of Senior Pattern Making and Construction Instructor Brenda Swinglehurst as well as Program Directors Peggy Morrison and Donna Baldock for her academic successes.
"Studying here [at Blanche Macdonald] was the best decision I ever made," Anahita says. "I loved every minute of it and appreciated all of my teachers so much. I'd have to say that Pattern Drafting and Garment Construction with Brenda were two of my favourite classes. I also loved Fashion Awareness with Peggy and Fashion History with Donna. I wanted to absorb everything they had to say."
Read More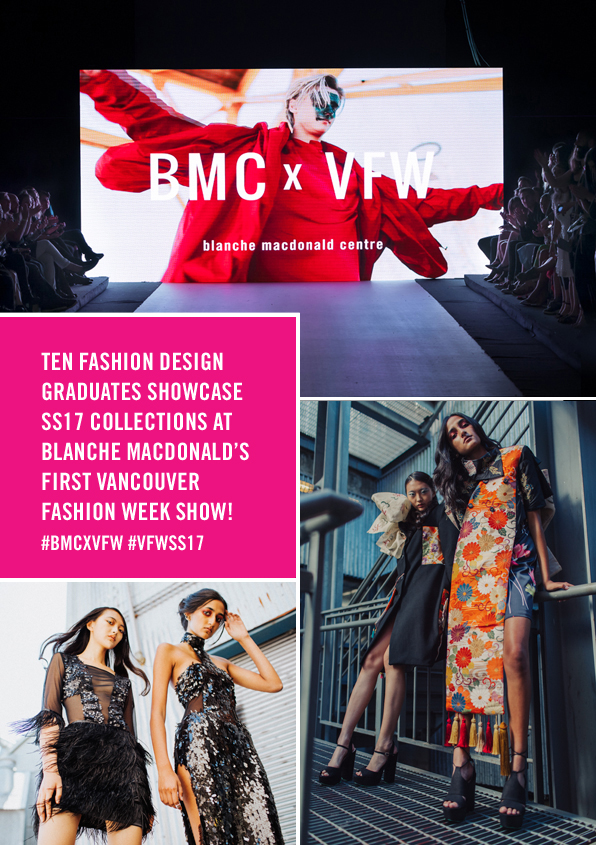 This year at Vancouver Fashion Week, there was a runway platform unlike any other: The first-ever collaborative show between Blanche Macdonald and the city's top-trending sartorial event unfolded under the eyes of the city's fashion and media industry elite.
From the moment the models began to emerge, it was clear that this showcase was a showstopper. Ten carefully curated Blanche Macdonald Fashion Design alumni from all over the world revealed three looks each to a packed forum of wall-to-runway journalists, bloggers, photographers, industry professionals, and fashion fans.
The audience found themselves whisked from one delight of to the next – first transported to the lively and eccentric world of Alex S. Yu; then to the fabulous collection of Evan Clayton's magical-girl couturiere; then awed by the hand-formed and dyed wool of Garret Alexander Elphee's singularly unique creations; then tantalized by the glittering animal prints and feathers put to use by Maryam Asgari. The startling range of stories, aesthetics and influences displayed by this prodigious international set of designers elicited the standing ovation that capped off the inaugural BMC x VFW show.
Read More

Think working as a wardrobe stylist means a never-ending stream of free clothes and cutting edge looks? For Blanche Macdonald Fashion Marketing graduate and Cross-Canadian stylist Jessica Clark the reality is a little different.
"As a stylist people think you're always working with high fashion. But on commercial jobs I need to make people look real. That's what my job is a lot of the time. My clients are trying to sell a product, so I'm trying to meet the creative vision of the ad agencies and art directors. How can I make this actor or model look like they own this product? How can I make them look like the target market?"
Jessica is adept at answering those questions. Regularly travelling across Canada, from her native Alberta to Vancouver to Toronto and beyond, she's styled for household name brands like Revlon, Maison Simons, Honda, Adidas, Kate Spade, Vince Camuto, Poppy Barley and American Crew. Her portfolio is understandably full of high end looks for magazines, designers and modelling agencies, but Jessica is acutely aware that being a successful stylist requires more than surfing the wave of the latest trends.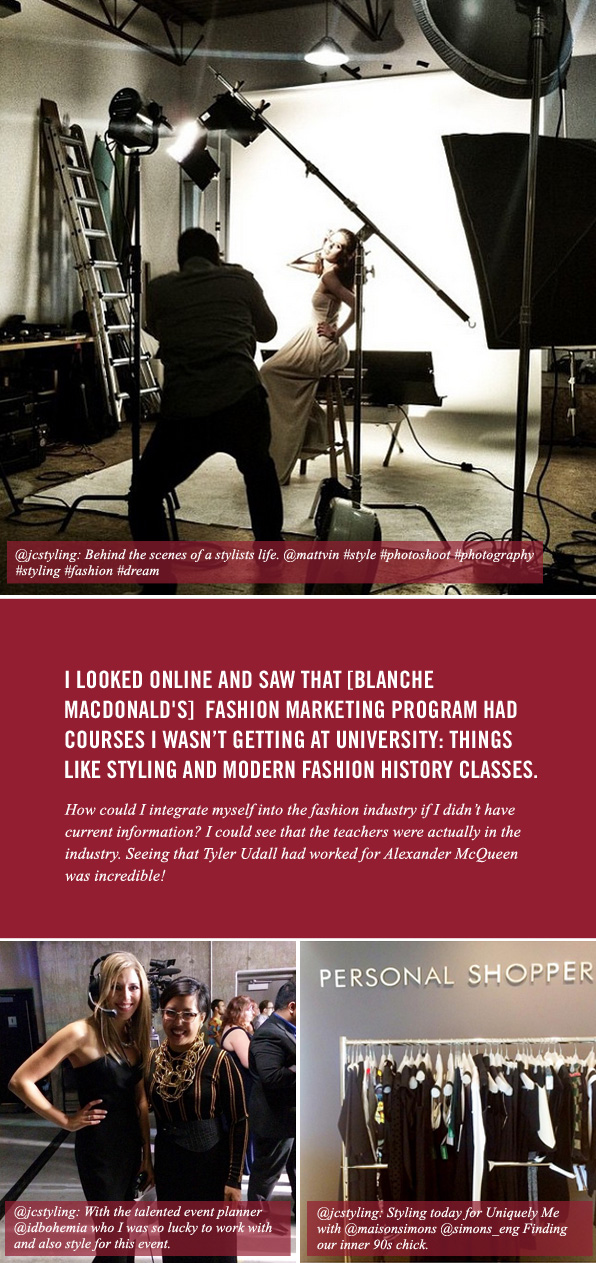 "I was recently flown to Toronto to work on an ad for an agricultural supply company," she continues. "It doesn't sound glamorous but it was an amazing campaign. A young farmer is proudly looking over the fields thinking 'This is all going to be mine some day.' If you're working on a farm, you're probably not going to be wearing an expensive jacket. I needed to make the clothing look like it had been worn for decades. The images are telling the story, so those images need to be believable. For a job like that I make mood boards so everybody is on the same page. We're a team, so I'm in constant communication with the clients and photographers. I want to be sure what I'm providing is what the clients want. And if they don't like my first choice, I have five other outfits on hand ready to go."
Professionalism comes naturally to Jessica. Her father is a commercial photographer and he provided the teenage Jessica with an introduction to the world of advertising, opening doors as she began a brief modelling career. It was on one of those modelling gigs where Jessica had her first encounter with the world of professional styling.
"Stylists weren't common growing up in Alberta, so when this guy started putting my belt on backwards, telling me to put my dress on backwards and throwing another dress over the top I thought it was so weird, even though I understand what he was doing now. I asked him what he did, and he said he was a stylist. I thought, that sounds like a fun job. I like putting outfits together."
Read More