Fashion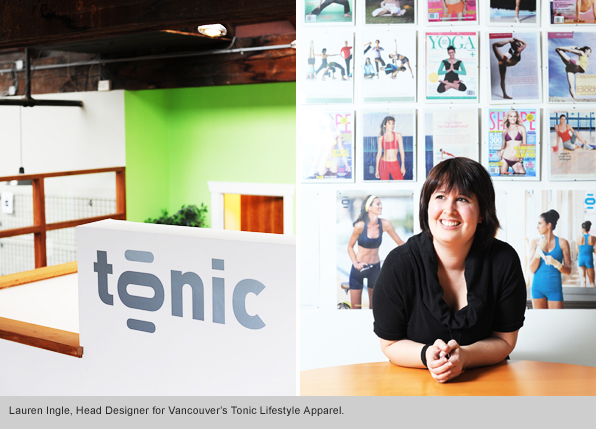 As Head Designer for all three lines of Tonic Lifestyle Apparel, Lauren Ingle makes the big decisions. Still, she always listens to her design colleagues' feedback when it comes to perfecting the Tonic Tennis line. Lauren knows fashion. One of her co-designers, Martina Hingis, Wimbledon Champion and winner of seven Grand Slam titles, knows tennis.
"Two years ago we got a call from one of our retailers in London," explains Lauren. "Martina's trainer had come in and bought all the Tonic in the store. She contacted us and Martina was really interested in starting her own tennis line."
For yogawear label Tonic and its Blanche Macdonald Fashion Design grad Head Designer, it was another challenge to be embraced.
"Tennis is different to yoga," continues Lauren. "It's high impact and there's a lot of bouncing up and down, compared to yoga, which is focused on being still. We married the two and it's proving to be very popular. Martina came to Vancouver last summer, met with the team and we bounced ideas around. We had her try on all the garments and she told us what she liked and didn't like. She played tennis in them, and we went from there. It's important to keep her aesthetic in it and merge that with our own. It's like she's part of the design team."
Growing up on tiny Salt Spring Island off the coast of Vancouver Island, you'd be forgiven for thinking the young Lauren struggled for fashion design influences. Don't underestimate the contents of Salt Spring Island Public Library.
"The library had the Usborne Guide to Fashion Design," recalls Lauren. "I basically renewed it every three weeks and had it checked out from the library for four years straight. I read it cover to cover and did everything it said, drawing until there was nothing left to draw. Fashion File and Fashion Television with Jeanne Becker were the highlights of my week. I'd tape them on the VHS and watch them over and over."
Dubious that a career in fashion could even be possible, Lauren began a history degree in Victoria. Even then, trips to the library would inevitably revert to fashion exploration.
"I'd go there to research US diplomatic history and I'd end up in stacks of old Vogue magazines sketching away."
The day after finishing university Lauren's Mum told the history graduate the glowing reviews she'd heard about Blanche Macdonald. A visit to the campus and a meeting with Program Director Peggy Morrison was all it took to convince Lauren that Fashion Design would be her future.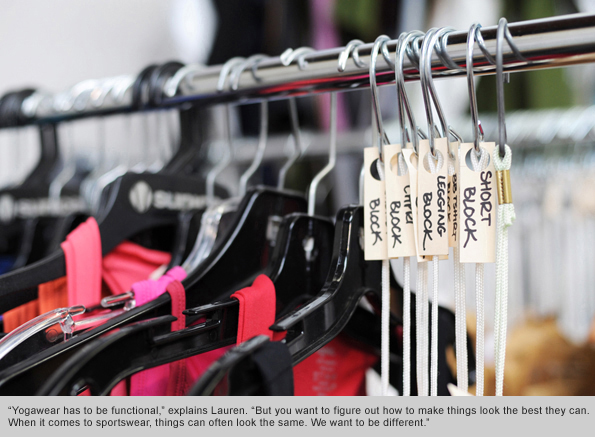 "Peggy is one of my favourite people," smiles Lauren. "She's so knowledgeable and so encouraging of other people. She has a genuine excitement about fashion and getting other people excited about it. All the skills I use today came from my year at Fashion School. The teachers were absolutely amazing. Right away it was super-positive and we were free to be creative and really go for it.
"I was incredibly cocky going in. I thought that it was going to be a lot of fun and not that hard. Oh my god, I was so wrong! It was much harder than university because you were passionate about it. You'd get lost in the work and spend hours pushing yourself, because it's your passion you'd want to do it all the time. For my graduate collection I made a bubble skirt made of 10,000 hand-sewn petals. I was sewing petals for weeks, but it was what I wanted to do. My collection walked the runway, and I got a lot of applause then cried hysterically because it was done."
Lauren's first job was with patternmaking company Tukatech, which led to technician positions with Kersh and Aritzia, correcting and perfecting details for samples made overseas.
"I wanted to learn as much as I could, so if I wanted to hire someone to do a job for me later in my career, I'd know if they were doing it right. Design was what really made me happy though, and I felt like I was going down a different fashion career path than design. I heard of a fantastic local dress company called Blushing Designs, so I applied and worked there for a couple of years as an Assistant Designer before I heard about Tonic. I went from dresses to yogawear." Listening to Lauren talk about how her time at Tonic has seen her grow from Head Patternmaker (which she still is), to Co-Head Designer, to Head Designer, she makes it seem like the most natural journey in the world. In reality, it's a testament to her talents.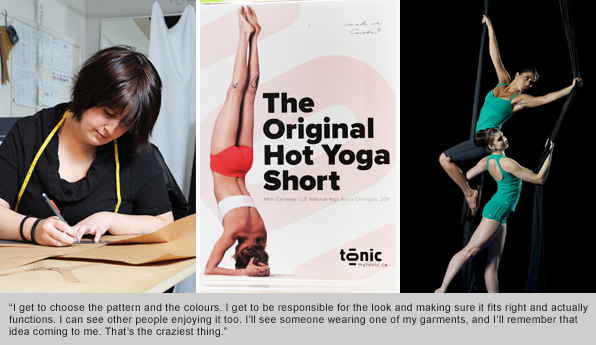 "I came in to make sure all the fit issues were perfected. With yoga especially, that's extremely important. They needed someone to help out with the design and help it grow. I'm still the only patternmaker here.
"Last October we needed to make a t-shirt. We had the request come in on Monday morning, I designed it at lunchtime, made the pattern in the afternoon, had it cut that evening, sent it to a factory overnight, it came back Tuesday for fitting corrections and we sent it to London Thursday morning. It was total Project Runway. That's when it gets really cool. You get the challenge and take it from inception to completion."
The real fun comes when Lauren rolls up her design sleeves. Activewear may not be Parisian haute couture, but it still gives Lauren the chance to explore the limits of her creativity.
"It's all about gathering inspiration," she insists. "What Tonic focuses on is doing fashionable activewear, pulling in influences in from everywhere to make it special. There's a Polish artist, Olek, doing knitted art with neon yarn. I see clothes and textures in there, so I see what I can pull through into my design. Every day I have my morning coffee, put my emails aside and go through fashion and art blogs looking for things that inspire me to get my head in the game.
"Yogawear has to be functional. You're putting pressure on parts of your body, so you have to design within specific parameters, but you also want to figure out how to make things look the best they can. When it comes to activewear, things can often look the same. We want to be different."
There's a wall in the Tonic boardroom covered in magazine covers of models and celebrities all wearing the label plus, of course, the obligatory poster of Martina Hingis, poised to unleash a serve in a fuchsia Tonic tennis top. Lauren has become the epitome of the successful real world designer.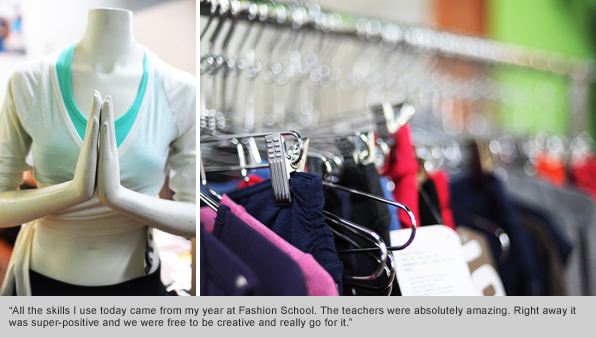 "I'm a lot less fabulous than I thought I would be," laughs Lauren. "I assumed it would be all high heels and glamour with a lot of leopard print and minions who agreed with everything I said. I read The Devil Wears Prada, ok. The reality is it's hard work, but I love what I'm doing.
"I don't know many other careers where I could see something that inspires me on my walk to work one day, and it hits and sparks an idea. I can draw a garment that morning, and in a year it will be in stores and magazines. The fact that I can be a part of that is really cool. Choosing the patterns and the colours, being responsible for the look, and making sure it fits right and actually functions. Then I get to see other people enjoying it, I'll see someone wearing the garment, and I'll remember walking down the street and that idea coming to me. That's the craziest thing."
Looking back, it turns out that Lauren's come pretty close to realising the fashion dream she set out to achieve.
"Years ago I wrote a list of all the things I wanted to accomplish going into Fashion Design. A while back I found the list, and I've done everything but one thing on it. I've seen someone walking down the street in something I've made. I've been at the end of a runway show. I've been on magazine covers. That's awesome. Other than having my name on a garment, everything's been checked off.
"It's not all glamour, but it is a lot of fun. I enjoy it every day. I've never regretted doing Fashion Design for one second."