Fashion
Fashion Design Graduate
Designer/Owner of the SALGADO collection
Garnering top marks and an achievement award for Overall Portfolio Presentation, Fashion Design Graduate Genette Salgado has launched her own self-titled label, S A L G A D O. This very talented designer has channeled her creative and competitive spirit and brought us a beautiful clothing line for the trendy, flirty and confident woman. Read on as Genette tells us how S A L G A D O came to be and about her decision to become a fashion designer!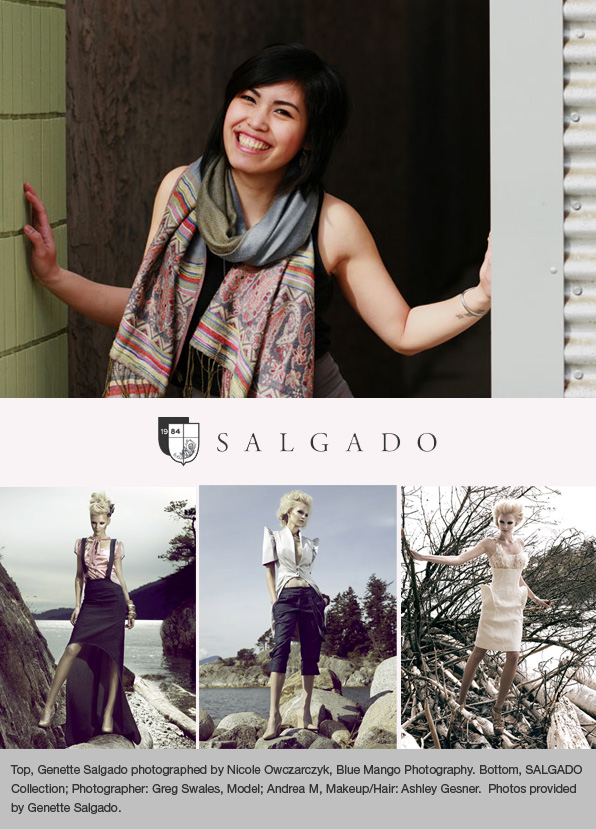 BMC: With a creative background in Performing Arts and then a BA in Anthropology, why did you choose Fashion Design?
GS: Because I had been involved in the performing arts growing up, I wanted a career that would allow me to continue to be a part of the creative field. At 18, I moved away from being on-stage to behind-the-scenes as a director for musical theatre productions. The process is similar to that of design in that you have a set amount of time to produce a quality product before showcasing it to a live audience and critics. The experience was both challenging and exhilarating and I was determined to have a career that would be just as gratifying if not more.
I never actually considered fashion design as a possible career choice. And then the summer before my program started, something just clicked. The rest is history =)
BMC: Tell me about the SALGADO collection.
GS: The S A L G A D O brand is trendy, flirty, fresh and sophisticated. It's feminine street wear that goes easily from day to night. I design based on what I would wear myself and I try to inject some personality to make the pieces stand out from other brands.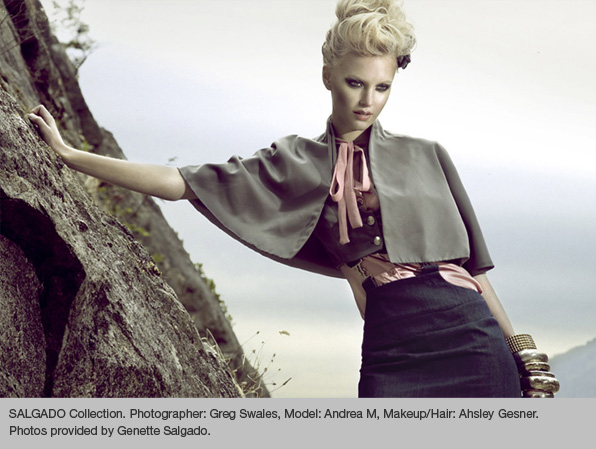 BMC: What inspired you while you were designing your graduate collection, "The Secret Life of Daydreams"?
GS: I was inspired primarily by many of the emotions that encompass love - vulnerability, joy, acceptance, a sense of freedom. The collection is about being open to finding and falling in love, and the openness in sharing one's self with another. I also found inspiration in one of my favorite films, Pride & Prejudice and of transforming the menswear of the era into modern day womenswear.

BMC: What were some of the challenges?
GS: I wanted to incorporate part of my cultural background into this collection. My Lola (Grandma) who was a couturier in the Philippines taught me how to make the traditional Butterfly sleeves on one of my visits back to Edmonton. It took me 3 weeks to draft the sleeve because of all the pleating needed to create the shape!

BMC: Tell me about the Ready-To-Wear line that you are currently working on.
GS: The collection I'm currently working on is for S/S '10. It's inspired by a family trip to the Philippines just before starting at BMC. We spent a day in Bohol and my sister, for whatever reason, was angry with me and ignored me the entire time. I'm drawing from my emotions of that day so it's going to have little bit of a "f*ck you, I'm going to have the best day...by myself!' edge to it. [Laughs]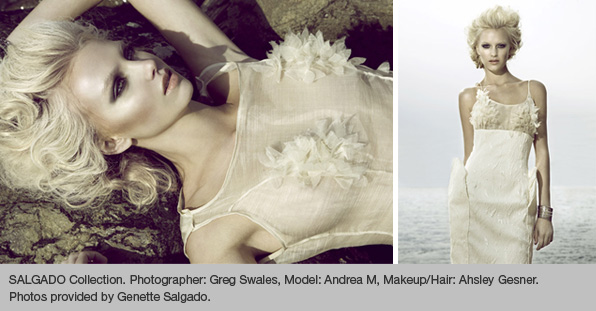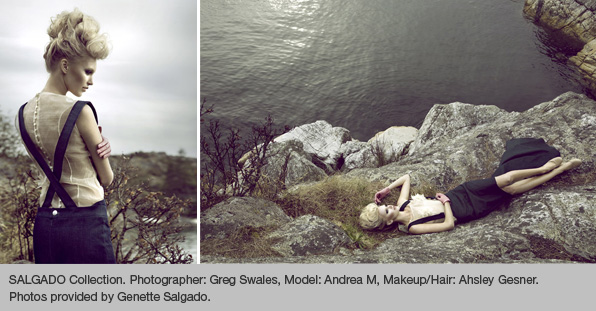 BMC: How did you hear about Blanche Macdonald?
GS: I originally had wanted to be a makeup artist so after doing some research in high school, I decided that BMC was the school I would attend. When I finally decided to pursue fashion, BMC was already at the top of my list =)

BMC: What were some deciding factors about Blanche Macdonald that led you to study Fashion Design with us?
GS: One of the main factors that drew me to BMC was that they offered a 1-year intensive program. I had gone into University straight out of high school so taking another 4 yr. program was not an option I wanted to even consider. BMC was also coincidentally in Vancouver - a city I had wanted to move to since I was 13. And lastly, a friend of mine graduated from BMC a year before I did and she had nothing but praise for the instructors and the program. This simply reinforced my decision to go to Blanche.

BMC: Was Blanche Macdonald what you expected?
GS: Blanche was more than I expected! And I already had high hopes prior to the start of my program! The teaching staff is incredibly talented and knowledgeable, and I was very fortunate to have been part of a very inspired and inspiring class. We were all able to create a very supportive environment in which we could all grow into unique designers. It was an immensely gratifying year.

BMC: What would you tell future students that are coming to study Fashion Design at Blanche Macdonald?
GS: You get back what effort and energy you put it in - so work hard and be supportive of one another. There's room for everyone in the fashion world. But most importantly, embrace and enjoy the experience! 1 year goes by too quickly!