Fashion
Fashion Design Graduate
Co-owner of Style Bridge - Victoria, BC
It hasn't come as a surprise that Marcie LeBlanc is making waves in the fashion community. Marcie graduated from Blanche Macdonald at the top of her Fashion Design class in 2005, and before long she was collaborating with owner Christine Lavdovsky on the reopening of the popular boutique Style Bridge in Victoria, BC.

Having formed a successful business partnership and friendship, Marcie and Christine now use Style Bridge as home for their three exclusive house labels Stil Brucke, Ludmila and BlackFish WhiteFish. And it's not just us who've been impressed. Marcie and Christine's talents were officially recognised by Vancouver Island's Times Colonist, being awarded the title of 'Most Awesome Clothing Design of 2008' for their highly customizable dresses which are created by hand according to the vision of the customer.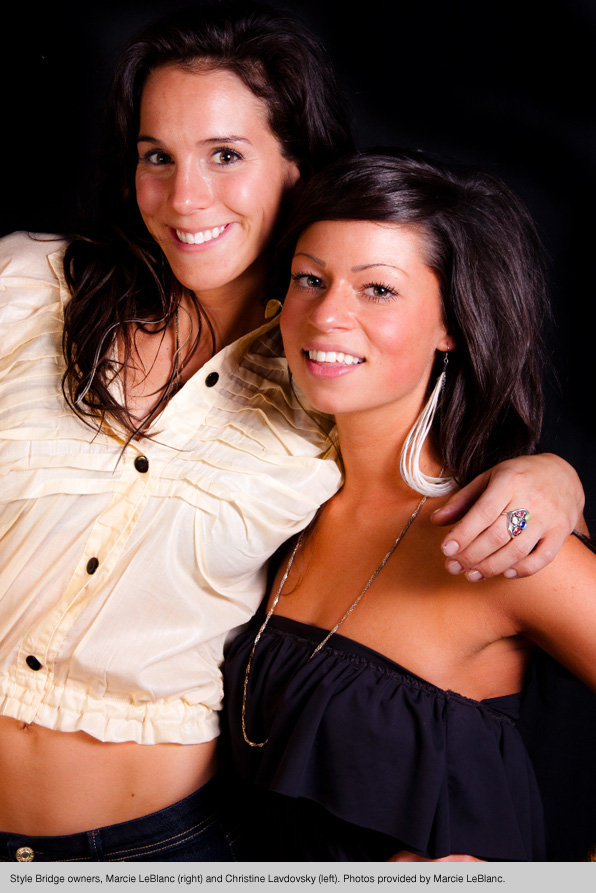 BMC: Congratulations on being named 'Most Awesome Clothing Design of 2008'! Can you explain what Style Bridge is?
ML: Thanks for the congratulations! We had no idea we had won until a customer came in and said she'd seen us in the paper that day. It was very exciting and unexpected. Style Bridge is a clothing boutique located in Victoria, owned by my business partner, Christine Lavdovsky, and me. This is where we showcase our lines of customizable dresses, bikinis and other handmade pieces. We also carry a variety of lines from around Canada and the US.
BMC: What inspired you and Christine to create Style Bridge?
ML: Christine originally opened Style Bridge in 2006. It was her studio and shop where she created everything in-store, until she had to close it temporarily for maternity leave. When she was ready to reopen she was looking for a business partner and she'd heard about me through a mutual friend who gave her my number. After meeting and becoming good friends very quickly, she asked me to be her partner. It was exactly what I was looking to do in Victoria.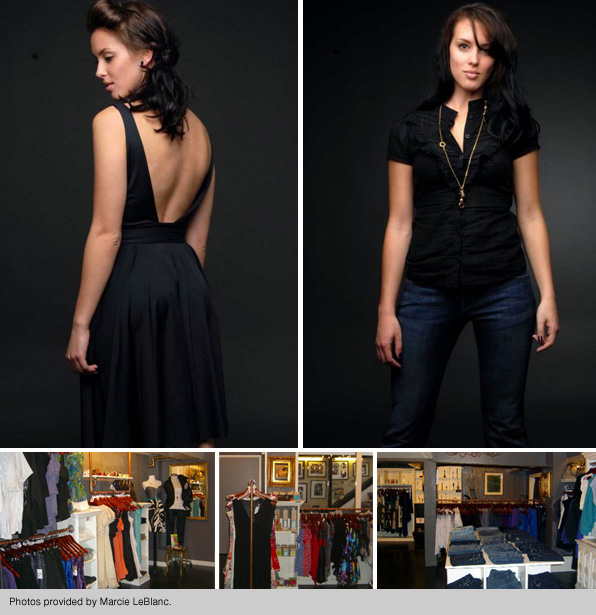 BMC: Tell us about your house labels – Stil Brucke, Ludmila and BlackFish WhiteFish.
ML: We've created three different lines for Style Bridge. The first is Stil Brucke, our recycled line. This includes handmade jewellery made from old vintage chains and charms mixed with new materials to create eclectic, one-of-a-kind pieces. We also do a lot of leatherwork using old leather jackets and skirts. From these we make leather purses, vests, new jackets and even use some of the leather on our bikinis.

The next line we have is Ludmila. This line includes our customizable bikinis and fashion pieces.

Our third line is BlackFish WhiteFish. This is our line of customizable dresses. Here, women can choose from a variety of different tops to mix and match with a number of different bottoms. They also get to pick all of the details and fabrics. We then take their measurements and create a one-of-a-kind dress just for them
BMC: What is a day in the life of a fashion designer and shop co-owner like in beautiful Victoria?
ML: My life right now is very busy, but I wouldn't have it any other way! I normally head to the shop around 8am. This gives me a few hours to organize my day before the store opens at 11. Once we're open, I never really know what the day is going to be like! My day never really has an end time. It all depends on whether all the orders are done or not. Sometimes we leave at 6pm and some nights we stay as late as needed. Once we worked until 7am. Not so fun, but we got everything finished. It's hard work owning a business. I've learnt so much along the way.

BMC: Why did you choose to study at Blanche Macdonald?
ML: I first heard about Blanche Macdonald through a friend that took the makeup program and loved it. I knew I wanted to be a fashion designer, so when I was ready to go to school I did my research and found that Blanche was the best for me. I really liked that it was a one-year program as well as the courses Blanche Macdonald offered.
BMC: Did Blanche Macdonald you meet your expectations?
ML: I didn't really know what to expect. I remember jumping right into it the first day, pattern drafting a skirt and freaking out because I had never pattern drafted in my life, let alone used a pattern. After that I realised it was time to get prepared for a very busy and tough program. It took a lot of hard work and dedication, but in the end I was so happy with everything I had learned. It was absolutely worth it. The program surpassed my expectations.
BMC: What advice would you pass on to future students coming to Blanche Macdonald?
ML: Hard work will definitely pay off. And get ready for your social life to dwindle.