Fashion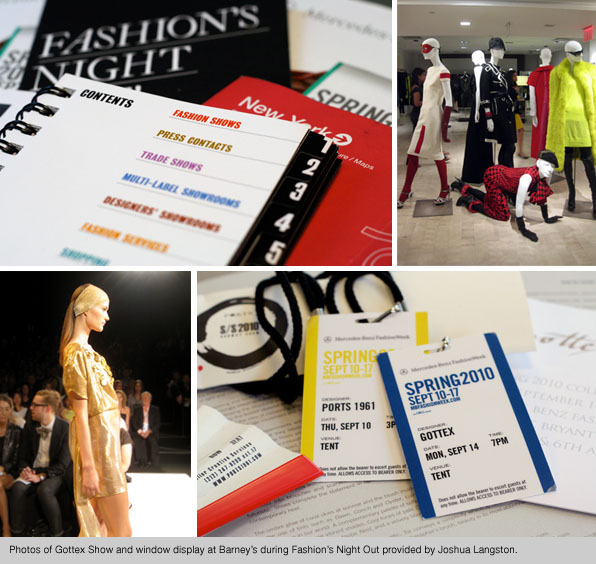 This September saw a week to remember for Blanche Macdonald Fashion Merchandising and Fashion Design students Kaitlyn Kuipers, Jenn Co and Joshua Langston, as all three flew from Vancouver to The Big Apple to work as interns for Gottex Swimwear at New York Fashion Week. The students were able to experience the pulsating heart of the fashion industry from the inside, making hands-on contributions to a major fashion show, attending special events and generating potentially life-altering friendships and contacts.

Blanche Macdonald's Career Director Brenda Wong and The Kirk Group, instructors of the Public Relations course within the Fashion Merchandising program, arranged the internships and selected the students. They chose wisely. Gottex was more than impressed with the interns' knowledge and work ethic. So much so, all three have since been invited to work a launch at Barney's in Los Angeles.

We asked Kaitlyn, Jenn and Joshua to tell their own stories.

BMC: When you applied for these internships, what was the process?
Jenn Co: The application was an essay on why I deserved to be selected for the internship with a cover letter and resume. Researching what would be expected was crucial. I had to ensure my qualifications met their expectations. Then came the interview at The Kirk Group. I'd had the privilege of being taught by Jennifer Shaw, Senior Publicist of The Kirk Group, already. We'd also worked on a few events together in the past, so we'd established a rapport. This is why it's so important to network, work events and attend functions. You never know whom you'll connect with in the future.

Kaitlyn Kuipers: I wrote my essay and cover letter and snuck in some written references from previous internships. The interview with Jennifer was nerve-wracking. I felt as though I had a disadvantage being a design student, but I love the business side of fashion and the PR and marketing. Studying design was actually an advantage. You just never know exactly what people are looking for.

Joshua Langston: My cover letter for the internship explained what I was able to bring to the table. You need to show how much you want it, and what you'll do with it. I dressed very professionally for the interview and arrived fifteen minutes early. It was laid back but nerve-wracking at the same time. After the interviews were done, we heard the verdict within a couple of days. I wish I'd filmed my reaction to the email. I'm pretty sure my head hit the roof when I jumped on my couch. After that we had three weeks to find a flight, accommodation and save money for the trip.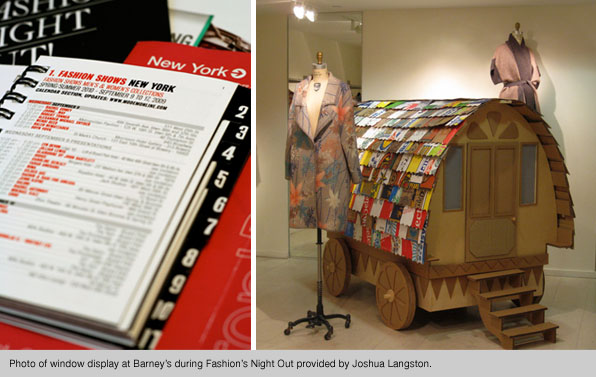 BMC: Explain your day-to-day responsibilities during Fashion Week.

Jenn: There was so much to be done. The designer, Molly Grad, put me in charge of shoes; readjusting the colour of the shoes depending on the outfit each model chose. We sorted through and arranged Molly's collection initially by colour, then later by show order. We also set up her model board depending on which girls were booked for the show. We did a lot of running around the city, picking up items in hardware stores, art supply stores, and even underwear at Victoria's Secret. Whatever needed to be done, we did it.

Kaitlyn: Every morning we started at 8am, running around town to get whatever was needed for things to run smoothly that day. We also called editors, stylists and newspapers to confirm their seats to the show. We were usually home by 10pm, except for the night before the show when we were working until 2am.

Joshua: We were responsible for being resourceful and effective in the problem solving situations that arose. I had to shoot a few fittings because the photographer we'd booked wasn't unavailable. Our job was to be effective, knowledgeable, creative, detail-oriented, professional and resourceful to anything that was needed by Molly and the Gottex team.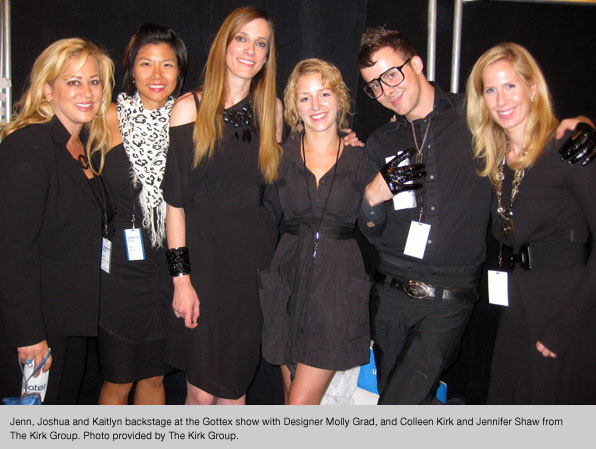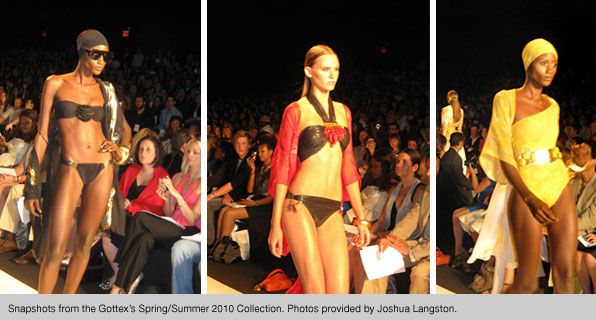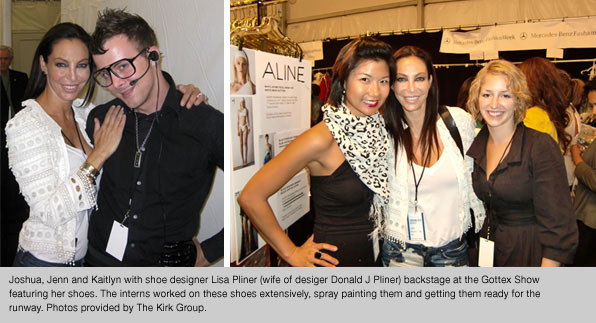 BMC: What were your personal highlights of New York Fashion Week?

Joshua: Just to walk into Bryant Park for the last season of Fashion Week shows was unbelievable. Once we saw the sign for Mercedes Benz Fashion Week we were all in shock. We hugged when we realised our dreams had come true. For the Gottex show I was 'on-com', on a headset, running the Media Check-in. Seeing the crowds trying to scam their way backstage was insane. There was one gentleman who claimed he was working for a huge newspaper, which I won't name, but he didn't have any of the credentials. My directions were to not let him in. He started calling me names when I stone-faced told him he wasn't coming in. He started taking my picture and getting threatening to the point I thought he might hit me, but I calmly got security to escort him out. The other PR interns were like, 'I can't believe how well you handled that'. I definitely enjoyed the free champagne and seeing all the celebs and models during Fashion's Night Out. And getting to play photographer for the day shooting Gucci and Prada models.

Kaitlyn: I met the most amazing people and worked with a very talented designer. Watching the Ports 1961 show sitting in the editors' seats was amazing and inspiring. As was going out and seeing how alive New York becomes for special events. Although some of my favourite moments were having power naps in an empty room in the Gottex office.

Jenn: It was phenomenal! It's a whole other ballgame, compared to Vancouver. This is the world stage. I had dinner with Ve Neill. I chatted with Iman. I'll never forget the big cheer backstage after the Gottex show was finished.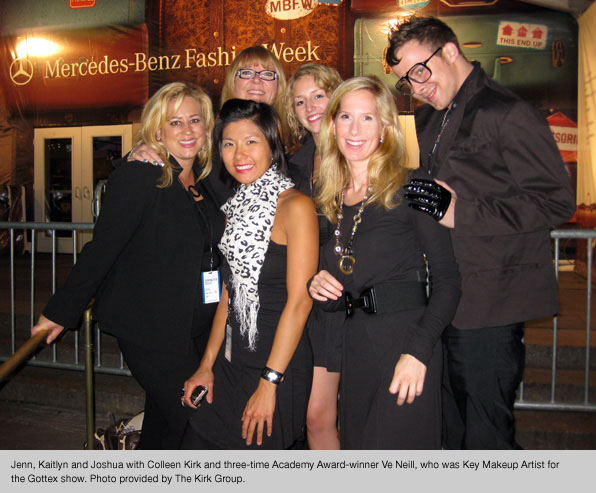 BMC: How did your time at Blanche Macdonald prepare you for your experiences in New York?
Kaitlyn: Every course I did at Blanche Macdonald helped me with this internship. We used our knowledge of Textiles when figuring out what paint would stick to leather. I used Sewing when I helped with some hand beading for the show. And we used Awareness and Elements when we were writing descriptions of the garments and the model dressing cards. Design classes prepared me for the unexpected. You never know what kind of obstacles you're going to run into. I learnt at Blanche that whatever happens, it all has to be done by the deadline.

Jenn: Blanche Macdonald gave me an awareness of the process involved – from the initial sit down with the client, to creating the critical path timeline to the actual event management and completion.

Joshua: I used a lot of skills I learnt at Blanche. PR and Events, Fashion Show Production, Elements, Textiles, Effective Communication and Fashion Styling – all these courses had information we used during the course of the internship.

BMC: What did you learn from your internship experience and what advice would you pass on to students wanting to get involved with the fashion industry?

Joshua: You need patience. You have to really be conscious about the purpose. This is New York Fashion Week; an experience thousands of people would kill for. You can't start at the top. You have to work your way up. But hard work gets noticed. Don't go in with the expectation that it's going to be easy and you'll have a lot of time to hang out. The hours are long and it can be frustrating at times, but in the end when you see the journey, it's profound. New York has a way of changing your thinking. It gives you a bigger picture to aspire to. I came back from New York glowing, feeling reborn into someone even stronger and more determined.

Jenn: It's better to be solution-focused that to whine and complain about frustrations. Never accept dead ends. Pursue creative alternatives to solve problems. Even though it's crucial to get things done, it's important to treat people with grace at all times, regardless of how stressful the situation may become. Adaptability is key. You are there to help out. No divas allowed! My advice would be to do your research about New York Fashion Week and the PR world. Volunteer and work in as many shows and events as you can while you're in Vancouver.

Kaitlyn: I learnt that it's important in this industry to be able to work with different personalities. I also learnt to improve my problem solving skills. There were so many times when something didn't work out how we thought it would. We'd have to think of new solutions quickly. Most importantly, I learnt about the time and effort that goes into a show. My advice would be that the more experience you have, the better your chance of getting an internship. Be realistic. Know your strengths and weakness. No one knows everything and no one expects you to. Just go in with a willingness to learn and work harder then you've ever worked before.