Fashion
Fashion Merchandising Graduate
Owner of body politic and Freelance stylist - Vancouver BC
Growing up in Edmonton, Alberta, owner Nicole Ritchie-Oseen always had a determined spirit and a love of fashion. Packing up this determination (and, she confesses, a lot of clothes and shoes) she set her sights on Vancouver to study fashion merchandising at Blanche Macdonald. The dream turned into reality with a business plan, a location on Main Street, and a name which embodied clothing that is sustainable, ethical, and organic. Welcome to Nicole's body politic clothing boutique.
BMC: What have been up to since graduating from Blanche Macdonald?
NR: Before opening my business I wanted to make sure Vancouver was the place for body politic even though "home" for me is in Edmonton where my family is. I worked for lululemon athletica for a year and a half to gain experience in a retail environment that was forward-thinking. It was interesting to see how this local company had managed to become a multi-national player in a relatively short time period. I also worked as a freelance stylist to keep the creative energy going, which I had also done in Edmonton. After this time I felt confident staying in Vancouver to open my store.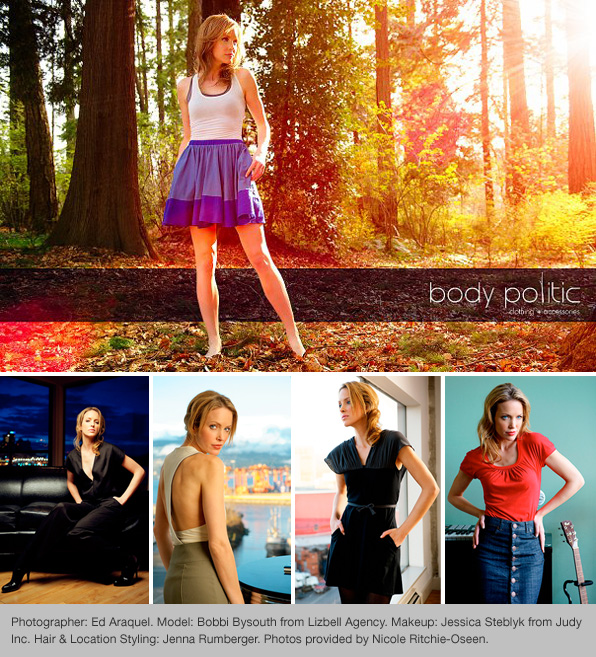 BMC: Tell us how body politic started? What were some challenges?
NR: My mom tells me that I first spoke of having my own business when I was in grade 5. My memory isn't that sharp but it was while I was completing my Arts degree at the University of Alberta that I started dreaming about opening a boutique. It was my mom who strongly encouraged me to create a sustainable business (and by strongly, what she said was "it better be ethical!").
I was hesitant at first because I didn't realize that "eco-fashion" had shed the granola image revolving around t-shirts and yoga wear. However, I almost immediately took up the challenge and began my research. At that time, about five years ago, most of the designers were based out of Europe. Soon enough talent emerged from across North America and I knew I wanted to focus on these designers at body politic.
Every step was a challenge in that I was learning as I went along. However, as many people said to me along the way, "if it were easy, everyone would be doing it!" Looking back though, all of the "challenges" were just steppingstones and things I needed to learn - and quickly! The most time-consuming aspect was finding a location. I had my heart set on Main Street (and a lot of market research to back me up!) but I had to be patient and determined until the right space came up.
BMC: What is your favorite part in running your own business?
NR: I work every day so it's very important that I'm passionate about what I do. It's great being able to make all of the decisions; but that's also the most difficult too! Although I don't have a lot of "down time" right now it's liberating to know that I can dictate the direction of my business. Then of course there are other aspects such as getting to know the community and the relationships that form so quickly. A bonus is that I can have my dog with me too! A little pet therapy goes a long way.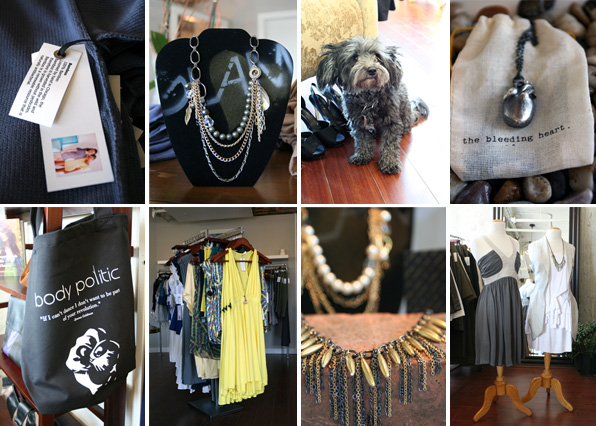 BMC: What made you to decide to move from Edmonton to Vancouver to study at Blanche Macdonald?
NR: Vancouver always felt like a second home for me so the opportunity to move here and pursue my goals was something I didn't want to pass up. I thought Blanche would give me a great overview of the fashion industry and give me additional time to make sure opening a boutique was something I absolutely wanted to do.
BMC: How has your experience at Blanche Macdonald Centre influenced you? Was Blanche Macdonald what you expected?
NR: Attending Blanche really gave me the confidence to tackle every aspect of the industry that I would encounter when starting and running my store. Previously I had only "studied" fashion as a hobby so to be able to indulge in all the information, especially fashion history, was so captivating. I also became close friends with two Blanche students who work with me to create a seasonal "lookbook" for body politic. Help like that is invaluable!
BMC: What would you tell future students coming to Blanche Macdonald?
NR: Don't be shy! Make connections and if you have a goal, tell your instructors and other students so that they can help you achieve it. I learned quickly that I needed a team even if it was my endeavor.