Fashion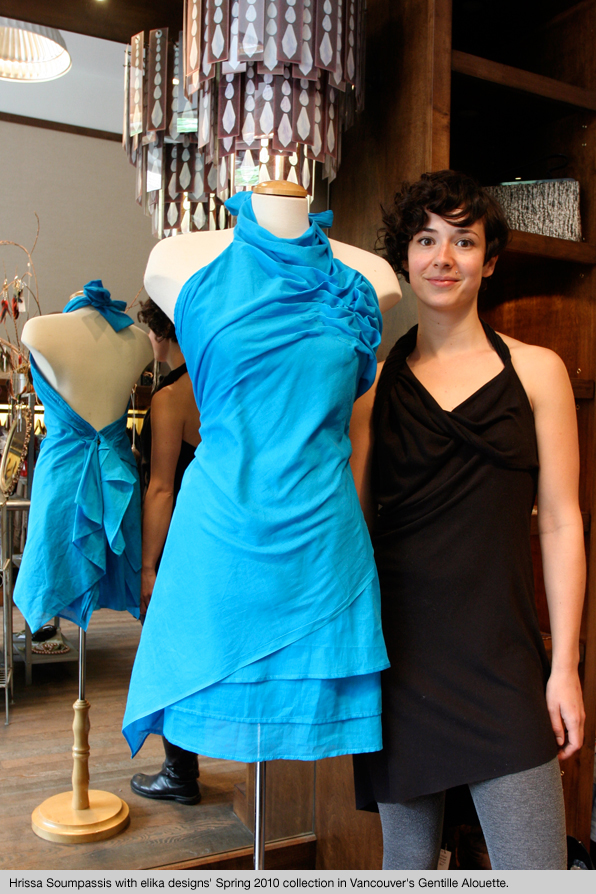 When Hrissa Soumpassis was twelve, her parents asked her what she wanted to be when she grew up.
"I told them I was going to be a fashion designer," she laughs.
It was a bold prediction. Hrissa is now the Designer and Creative Director of elika designs, a high-end women's ready-to-wear label selling to fans around the world.
"I was obsessively drawing clothing from the age of six or seven," she smiles. "I loved clothes. I always had my own weird style."
Hrissa took inspiration from the vintage clothing that found its way to her hometown of Prince Albert, Saskatchewan and began designing as a teenager.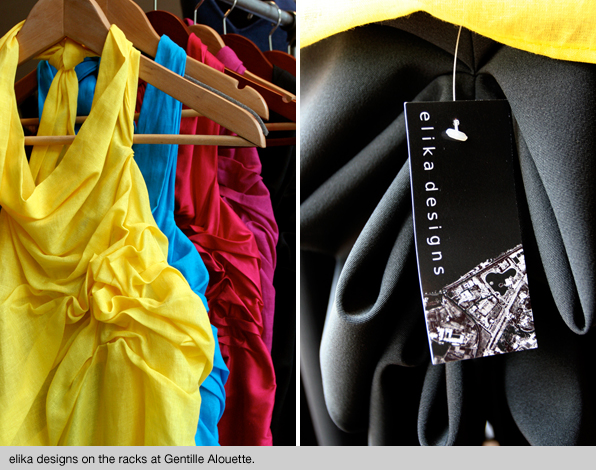 "I started experimenting with clothing in high school," she recalls. "I was making outfits for my friends to wear at parties. I could do magic with fun fur!"
Hrissa had two major ambitions on graduating high school. She was going to travel and she was going to break into the fashion industry. Preferably both simultaneously.
"After high school I did a year at a fashion design school in Saskatoon," she recalls. "It was totally ridiculous. They were geared to teaching women to become seamstresses, not fashion designers. So I studied Humanities at university then went backpacking for a year. In New Zealand I interned with a designer who taught me a lot about the industry, even how to experiment with possum fur.
"Before I left Canada I knew I wanted to enrol in a Fashion Design program. I'd loved Vancouver when I'd visited, so I found its best fashion school – Blanche Macdonald. I got back from Australia, drove straight from Saskatchewan to Vancouver and started the Fashion Design program."
The travel junkie quickly readjusted to student life.
"The program was great!" she insists. "I was a big-time keener. All my instructors were enthusiastic, and that's totally my style. I wanted to get as much out of my time at Blanche Macdonald as I possibly could. The instructors had so much knowledge and were always willing to share. They were all such good teachers.
"My favourite part of the course was designing and constructing my final collection. I had five weeks per garment. That's an unbelievable amount of time. I was pushing my own boundaries in so many ways. I hand-painted one dress with a 360-degree view of an aerial architectural site. I had a silk organza dress machine-pleated in Burnaby. I hand-sewed metres of cording onto silk organza to make a manic, yet beautiful pattern. Another dress was white trapunto – very costume-esque. That was as couture of a collection as I've ever done. It was very liberating. Without the instructors' guidance, these ideas wouldn't have been actualised to their full potential."
Hrissa graduated from Blanche Macdonald in 2005. She knew what she wanted, but she wasn't going to start her own fashion label before she was certain she was ready. There was still more to discover.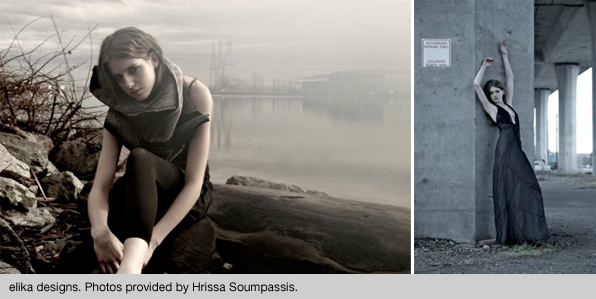 "I wanted to learn from different fashion houses," she continues. "I started working at Bisou Bridal, becoming the manager and doing some custom bridal work, playing with $5000 gowns, which was super fun. I went on to the design house Obakki, working as an Assistant Designer, Sales and Store Manager. I got to wrap my head around all the different aspects of a small fashion house during the start-up phase, which was an invaluable opportunity. I'm still grateful for Obakki's support over the years. I moved to Lotuswear, a yoga wear line, and was thrown into the fire as Production Manager. That gave me valuable experience working with factories, suppliers and retailers.
"I was working and gaining experience within the industry, but I was still designing, experimenting and dreaming of having my own line. I knew I wanted to travel again, but I wanted to give the label a go too. My friend Evan Biddell (from Project Runway) wanted to share a studio. Voila! elika designs was born. I tried showing at Portobello West Market and people were trying it, loving it and buying it! Within a few months I was in five boutiques in Vancouver, and selling online and in markets. From those markets I gained custom clients, which until then I hadn't realized was niche that elika designs could fill."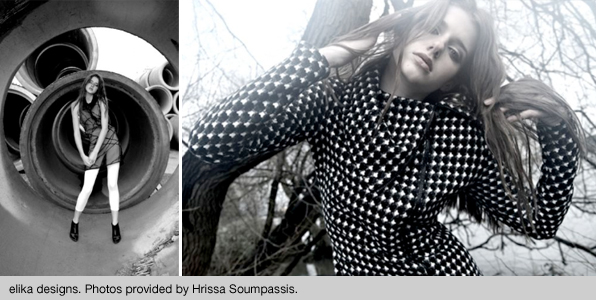 The lure of the open road was too great a temptation to resist. It was time to travel again. But exploring Asia was more than vacation. It was inspiration.
"In Laos I did silk hand-weaving with local women, hand-dying fabrics with rusty nails and turmeric, mashing them up on the banks of the Mekong with a mortar and pestle. I visited a silk farm in Cambodia and was invited to eat silkworm! In Thailand I designed my Spring 2008 collection. I sourced hand woven fabrics at markets and shops then found a lovely Thai designer who agreed to help me produce the samples. I gave him the designs and fabrics, he translated it to his sample sewers and they made the garments. The end result was a one-of-a-kind handmade collection!"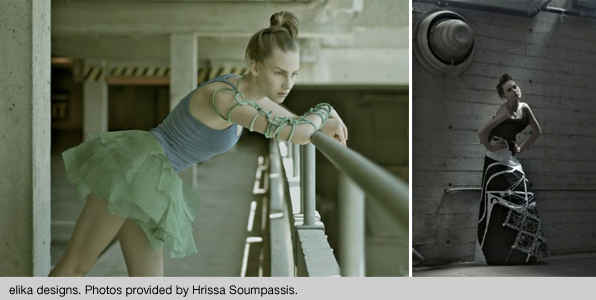 A stop in Northern Europe brought further adventures and opportunities.
"I arrived in Copenhagen looking to plant some roots. Within a week I was working at an independent Designer Store. Apparently it didn't matter that I didn't speak a word of Danish. Through that boutique I made contacts with Danish designers and was invited to share a studio. So I started designing and selling in the boutique. It was all Scandinavian labels, other than elika designs. The clothes were selling out faster than I could make them!"
After a move to Berlin, an unanticipated ankle injury in brought Hrissa back to Canada for rest and recovery. It turned out to be a blessing in disguise. It was time to become serious about elika designs.
"I took a Business course, wrote my first business plan and moved forward," she explains. "I believed in elika designs and its potential."
One person who saw that potential is Eliza Lau, owner of Gentille Alouette, a cosy, fashion-forward boutique in Vancouver's trendy Gastown.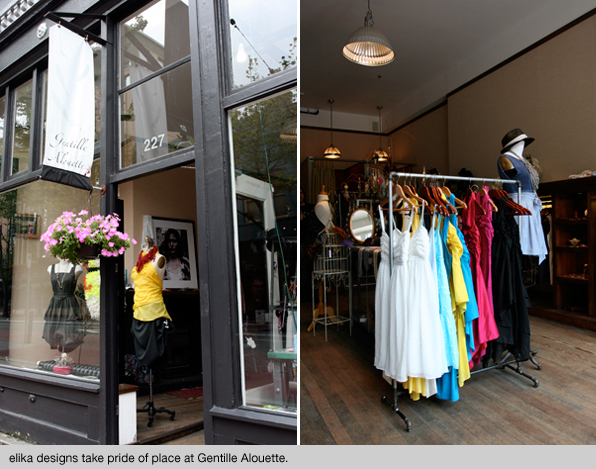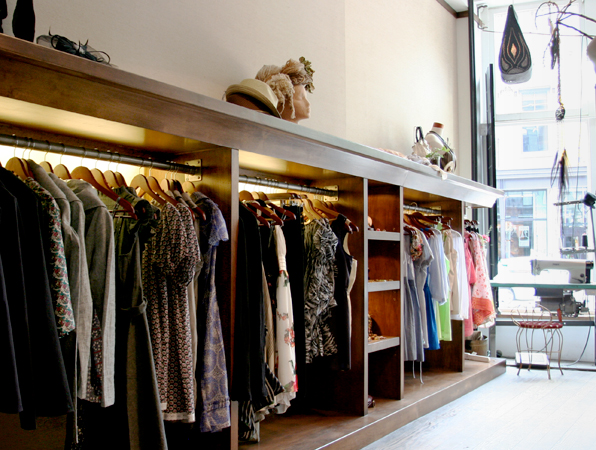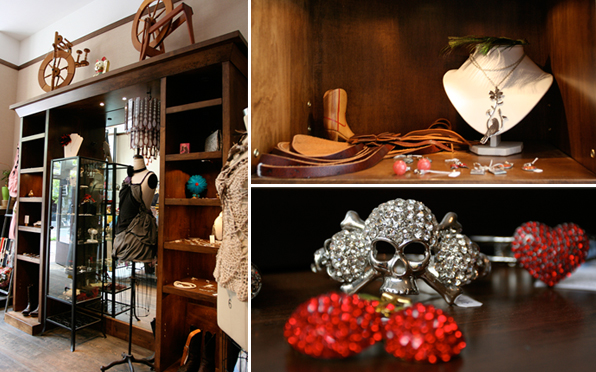 "I like that Hrissa's clothes are modern and architectural feeling," beams Eliza. "I like that she's doing draping in really bright beautiful colours. I like that she's using stretchy, wearable fabrics. She does a size range that a lot of designers have difficulty doing. And she's lovely to work with too!"
"I made a dress for the Oscars for Mary Jane Bolton, the partner of Julian Clarke, who was nominated for Best Editor for District 9," continues Hrissa. "I made that dress in four days. Real life project runway! I saw her wearing it on TV and squealed! Kathryn Calder from The New Pornographers purchased one of my jackets too. She decided to wear it in the band's press shots and it appeared in magazine after magazine, including American Elle.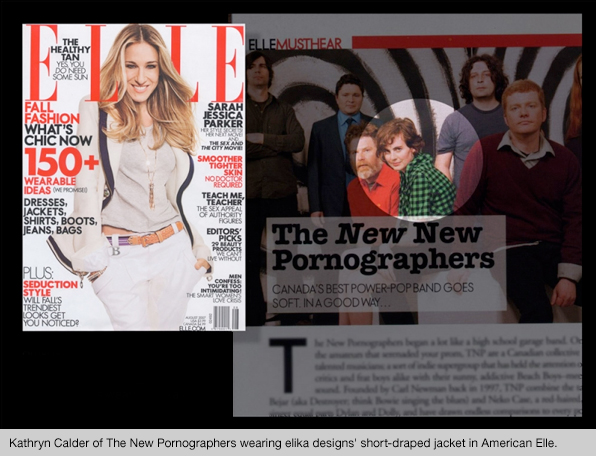 "Now I'm working on the Spring 2011 collection. It's a combination of my signature hand draping, mathematical cutting, and asymmetry. I'm trying to create patterns that are intricate in design and integrity, but straightforward enough so someone else can sew them. My studio became a sweatshop last season, with me being the one doing the sweating!
"I also strive to design my day dresses to be bicycle friendly. I learned in Denmark that it's possible to look hot while riding a bike. I ride everyday. And I don't do bike shorts!"
Hrissa can barely contain her optimism for the future. Right now she's looking to align herself with a business partner and investors to help her expand elika designs. She'll find them too. Her enthusiasm for the fashion industry, in Vancouver and across the world, is infectious.
"I don't think it's necessarily tough to break into fashion, especially in Vancouver. We have a small independent scene here that's very supportive. There are lots of outlets for young designers. But you have to work hard. You just have to be hyper-motivated. You have to want it."
Twelve-year-old Hrissa wanted it. She hasn't changed a bit.