Fashion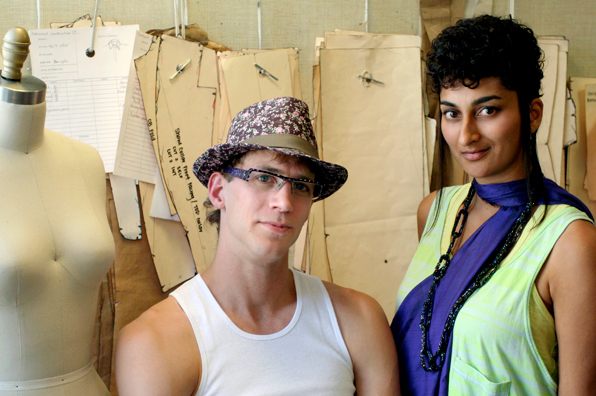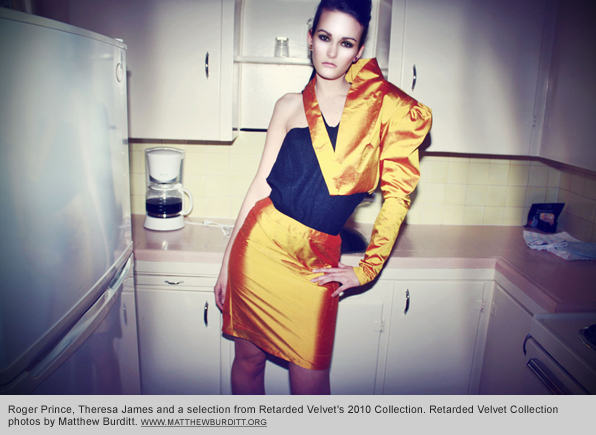 She's a former human rights lawyer who worked in Albania and Papua New Guinea with the United Nations. He's a construction worker and home renovator with shoulders like an Olympic swimmer. Together, Blanche Macdonald Fashion Design graduates Theresa James and Roger Prince are Vancouver-based design team Retarded Velvet. And they are crazy for each other.
"We met in Toronto on the dance floor in summer 2004," recalls Theresa. "It was a Danny Tenaglia marathon DJ set. We still remember exactly what each other was wearing!"
Back then Theresa was completing her articles at a law firm in Ottawa and Roger was renovating a heritage home in downtown Toronto. Their creative (and romantic) relationship would have to wait until Theresa returned from her globetrotting legal work. Although the few hook-up opportunities they did have hinted at what their future held. This was the era of the 'Hot-Off'.
"A Hot-Off," explains Theresa, "is where you're meeting up at an airport from two different locations or one of you is picking the other up. The goal is to see who shows up wearing the sickest look."
"It was elaborate!" beams Roger. "I would spend a small fortune to win. I mean, it's a Hot-Off! Other people waiting in the airport would be like, what the hell is going on?"
By the time they decided to head to Vancouver as a couple, they were actively looking for a way to spend more time together.

"Certain people are set up to say 'Bye honey!' and go off to do their thing every morning," explains Roger. "That's healthy for a lot of people. But for me if I'm gone 12 hours every day at work, we're apart for half of every day. If you work for 40 years, then you lose 20 years together! Every time I left for work I'd think, this is awful!
"So we started building inspiration boards to see what we could do together. What was exciting for us? And fashion was always splattered all over it."
"We wanted to start a business together," clarifies Theresa. "It didn't matter that we didn't have the skills at the time. We'd learn them."
Those inspiration boards eventually brought Roger and Theresa to the Fashion Design Program at Blanche Macdonald. They took a couple of sewing classes together as a test run, then started investigating the next step.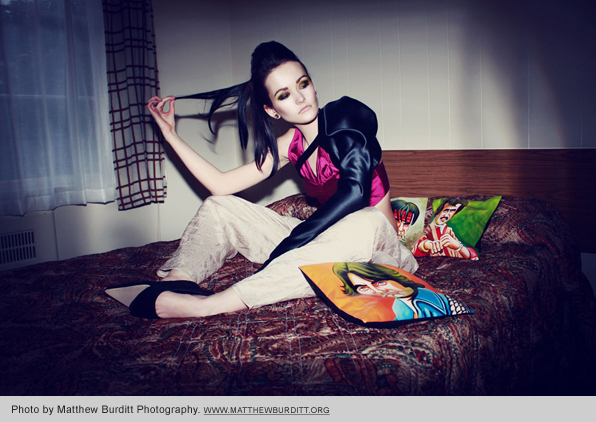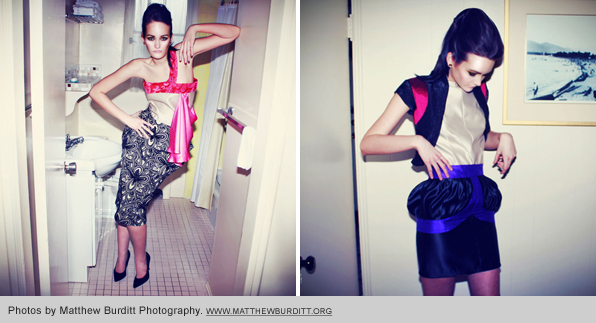 "I went on line to look at message boards," continues Theresa. "Blanche Macdonald had good reviews. It had a practical advantage over some other schools and allowed you to follow your vision."
That time spent researching was time well spent.
"I have super-fond memories of Blanche Macdonald," insists Theresa. "I loved it. We had an amazing group. Everyone had their own style and everyone got along. It wasn't competitive. We were like a little family."
"We pushed each other in a healthy way," confirms Roger. "And everyone was very accepting of having a couple in the group."
"Who were a little bit older than everyone else too," adds Theresa. "I loved coming into class. Our instructors Lisa Gellert, Peggy Morrison, Brenda Swinglehurst and Donna Baldock were amazing. I learnt so much. Hearing Peggy's stories was always exciting. She's so passionate and so knowledgeable. It's stimulating. There was nothing easy about the work though. And we were constantly driving each other."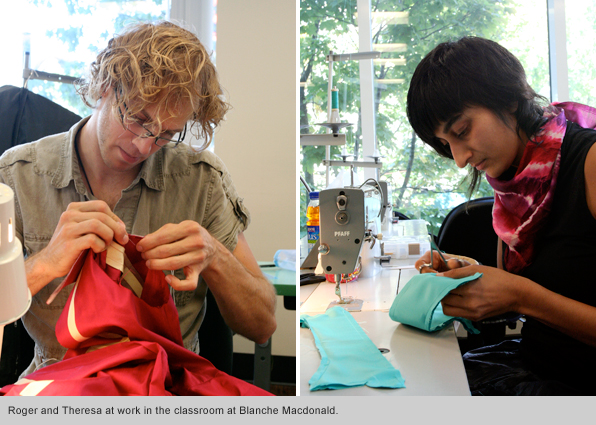 "We figured out during the school year what our strengths and weaknesses were," explains Roger. "We learnt we could complement each other that way, which was sensational. For me, drawing and putting my ideas on paper was always a challenge."
"And Roger had technical strengths that I didn't have," adds Theresa. "He's a very precise sewer. He pretty much helped everyone in the class with pattern making. It's very mathematical and measurements have to be exacting to even an eighth of an inch. That was the area I struggled with."
"I was able to take things from my construction knowledge that helped me with pattern making," confirms Roger. "It's easy for me to work in fractions of inches. That's second nature to me. Blueprints for a house aren't so different from blueprints for clothing. The whole program set us up with the practical know-how. It wouldn't be possible for us to have gone into business without what we learnt at Blanche Macdonald."
That business is Retarded Velvet.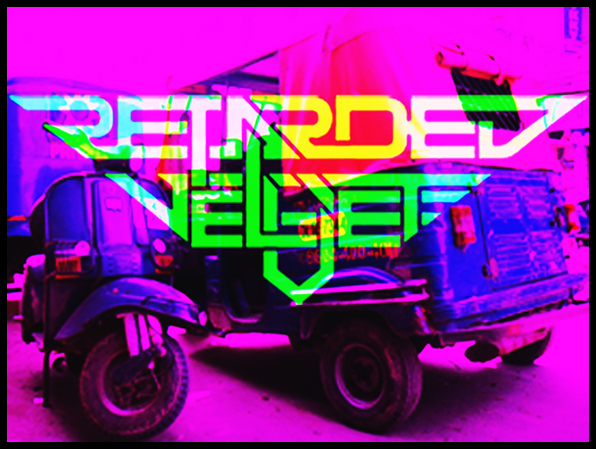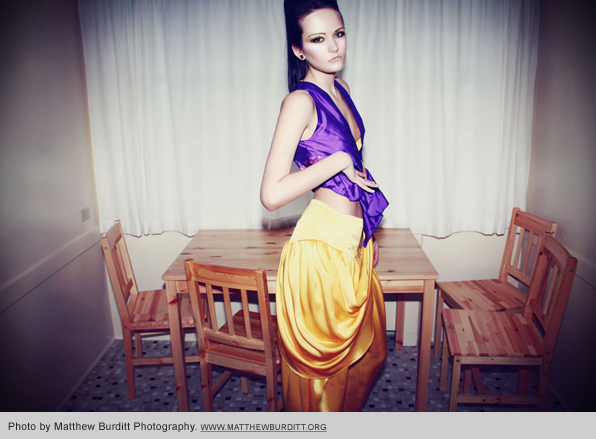 "The name came out of a brainstorming session when we first moved to Vancouver, before either of us ever dreamed of becoming design entrepreneurs," recalls Theresa. "I've only recently discovered that it's urban slang for something that's extremely smooth or incredibly effortless. The people that get the name just happen to be our target market. They just gravitate to it. It's polarising and unapologetic. You love it, or you don't. The vast majority have really taken to it."
"People who you think would say, 'You can't use that', they love it!" confirms Roger. "They see the logo and say, 'That's right on'."
A post-graduation vacation in India was the inspiration behind Retarded Velvet's debut collection.
"We called it 'Grace Jones in Goa, Rick James in Rajasthan'," explains Theresa. "It was a fusion of Indian ethnic influences crossed with the style of strong 80s icons. Not just power shoulders and big hair, but draping mixed with bold colour combinations and in-your-face prints."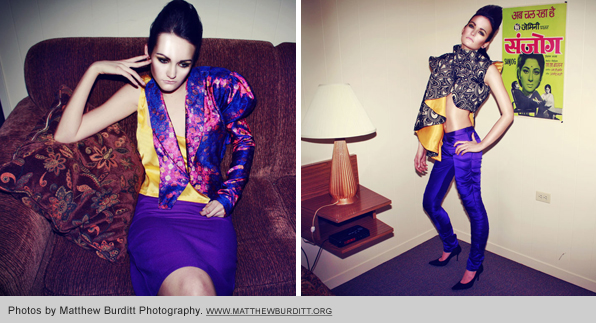 "We knew that collection wasn't going to go into production," adds Roger. "It was for branding and to get people to our web site. We wanted to create a buzz. We wanted people to see what we were capable of."
"This April we had our first show at Vancouver Fashion Week," continues Theresa. "There were 16 looks and 38 pieces. We both had full-time day jobs, so we were working on the collection evenings and weekends for six months solid."
"The actual show was fantastic," beams Roger. "I was flipping out the entire time. When we were backstage the only people we could see out front in our line of vision were our instructors from Blanche Macdonald. That was precious to me."
"We had over 400 people come to the actual show and we received a lot of great press," continues Theresa. "We were on Global Television and OMNI TV. We had articles in the Vancouver Sun, The Province and 24 Hours. OMNI TV came to our home studio to do a piece, which was a little panic-inducing but a lot of fun."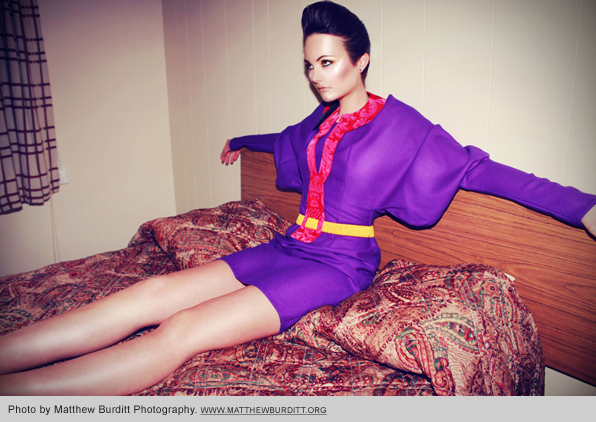 "Soon after that, one day we were walking down the street and someone yelled 'Retarded Velveeeeet!' out of a window at us," grins Roger.
"Because of that press we've been contacted by a number of photographers and stylists, which is exactly what we're looking for," smiles Theresa. "That's how we're gaining more exposure, by getting our collection into some editorials. An agent who represents a singer/songwriter has also approached us. They're putting together a music video that's going to have a rotation on Much Music."
First comes the small matter of collection Number Two. They're working on it already, fully aware that this will be the collection that goes into production.
"We're hoping to have it produced in 2011," reveals Theresa. "It'll be more casual than our first collection, more wearable, and largely unisex. I love the idea of androgyny and genderlessness. We already wear each other's clothes and thought, why don't we design in the style that we have an affinity for? We want to design in a way that's forward thinking with an edge and try to stay away from anything that looks too pretty. We're both on the same page with that. Like, would this work on both of us?"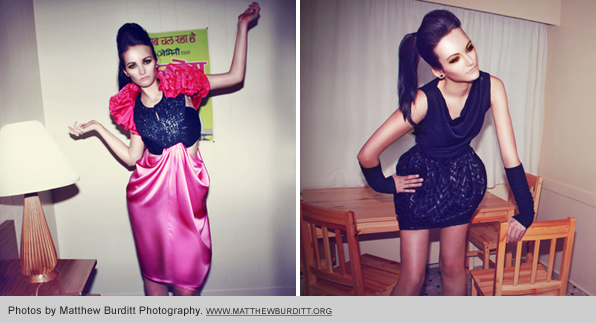 "When it comes to the business I have to be brutally honest," promises Roger. "I say it straight. Could you see me wearing that? Certain necklines won't look good on a guy no matter what."
"I'm so excited about this collection," continues Theresa. "It's an extension of what we've started. Now we're looking at getting a sales rep and a showroom on the West Coast. I envision Retarded Velvet being sold across North America. I think our style could adapt to a larger market. Eventually we'd really love to open a studio in Mumbai and support local design talent in India. The craftmanship there is incredible and we could really increase our production capacity."
Mumbai is a long way from Vancouver but Retarded Velvet is already thinking globally. They've built houses and protected human rights around the planet already. Why wouldn't they aim high?
"If you're going to go to production you have to be prepared to take some risks and run with it," nods Roger.
"Obviously we've had to start conservatively," smiles Theresa. "But we're still thinking big."