Fashion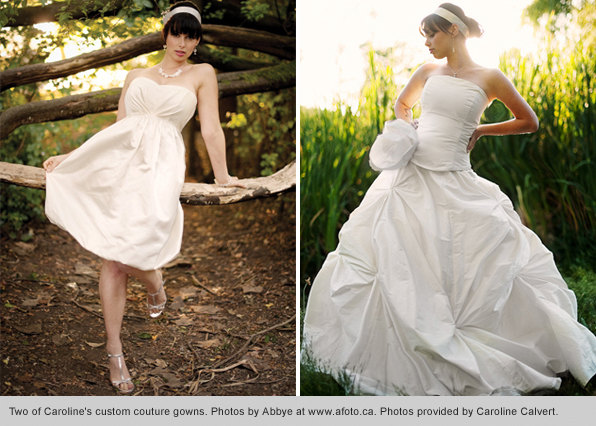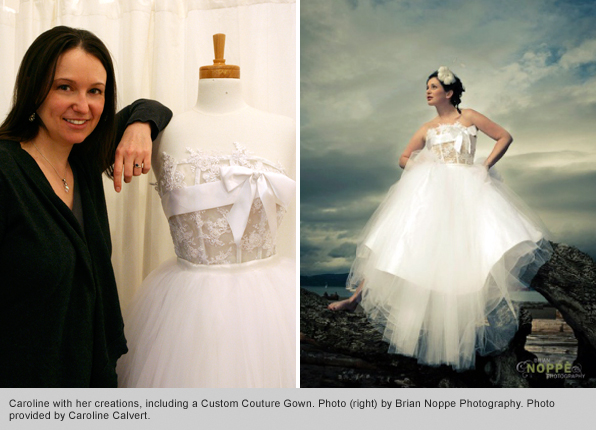 When you're dealing with the most important dress most women will ever own, things can get emotional. Couture wedding gown designer Caroline Calvert understands.
"One girl came to me a month before her wedding," recalls Caroline. "She was almost in tears because a dress she'd bought from another store looked absolutely horrible. She was so upset and wanted to know if we could make her a dress quickly. I said, 'No problem. We'll rush it through and we'll get it for you.' She picked a dress from my collection and we got it made. The day she arrived to pick it up, she came in with her mum. She came out of the fitting room wearing the dress and no one was saying anything. I thought her mum wasn't happy with it, but it was actually because she was crying. Her mum came and hugged me. And then we all cried!"
Turning fears into tears (of joy, of course) is all part of the service at Caroline Calvert Couture . From her stylish boutique in the Kitsilano area of Vancouver, Caroline offers a heavenly selection of wedding gowns from her collection that will be made to every bride's individual measurements. For brides with their dream dress already in mind, Caroline will create a custom piece of couture. Every bride leaves with her dreams, at least in terms of her wedding dress, fulfilled.
"My job is to make brides happy," continues Caroline. "Because it's a wedding dress, their mum and their friends are coming in to inspect every inch of it. As a designer, you can't accept anything less than 100%. I make sure each dress is perfect before it leaves the store, even if it means reworking the design. The bride always gets exactly what she wants. And I always get a hug."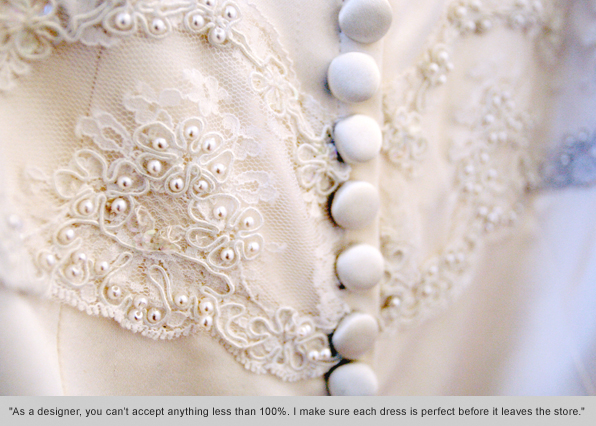 The challenge of attaining perfection for wedding days has been with Caroline since her time on Blanche Macdonald's Fashion Design Program. Her graduation collection was bridal wear.
"I just loved the idea of creating a dress that meant so much," she explains. "It wasn't about mass production. It was about design and spending a lot of time on one piece and making it more art than anything."
Caroline was raised in the tiny northern BC town of Tumbler Ridge, a place more familiar with coal mining than couture. Even there, young Caroline knew her future lay in fashion.
"I got my first sewing machine when I was in Grade Two. I would make clothes in high school; big boxy jackets and MC Hammer pants. My friends would want to go out somewhere and I'd want to go and sew. I'd make an excuse, but they knew I was heading home to sew. After high school I moved to Vancouver and worked at the Stock Exchange. After three years there I decided to pursue fashion school. That's when I came to Blanche Macdonald."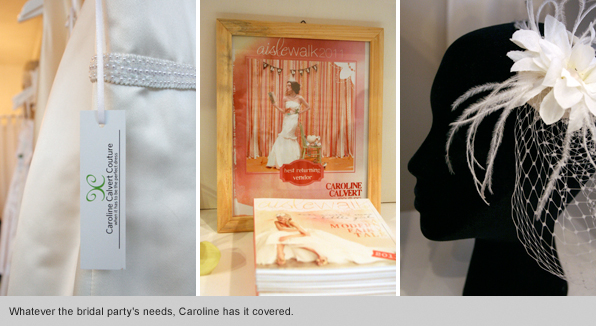 At Blanche Macdonald, Caroline was able to channel her longstanding love of clothes into firm fashion ideas.
"The instructors at Blanche focused on creativity and getting me to express myself. Peggy Morrison was so passionate about what she did, that passion was contagious. Teaching us about the different designers, you could tell that she really loved it and lived it. She walked and breathed what she was teaching us.
"One of the dresses I drafted at Blanche Macdonald I reworked and is still in my collection. It's the Gladis dress on my web site."
You might assume that the road between a grad show bridal collection and becoming a full-time bridal designer is a short and straight one. You'd be wrong. Caroline's first professional fashion job was running a factory, checking production details for outdoorwear brands like SmartWool, Marmot and Westbeach. She eventually opened her own factory, helping local designers get their lines started and running production for her own label, In-Form Clothing, a promotional line of golf shirts and tees. Caroline was designing baby shoes for Robeez Footwear when a favour request allowed her to revisit her earlier inspiration.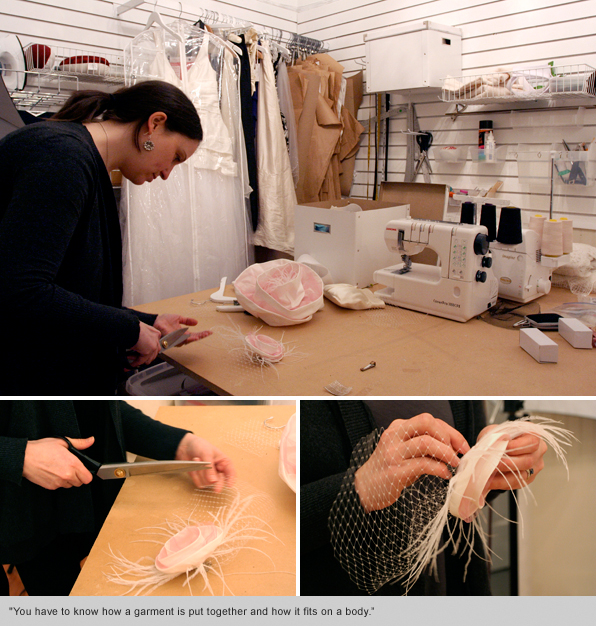 "I had some friends getting married," she smiles. "They asked me to design their dresses and I remembered how much I loved it. As soon as I started, I knew that this was going to be my next business."
That business has been refined into a boutique where every bride receives the highest level of personal service.
"Brides can come in, try on gowns, and see what kind of styles they like. If they choose one of the gowns everything is custom fit, so I'll measure the client and make the dress to their measurements. If people want me to design their dress they'll normally come in with an idea and pictures of what they want. I'll do some sketches and give them a quote of what it's going to cost. If they decide to go forward they'll leave a deposit and I'll make a prototype dress in cotton."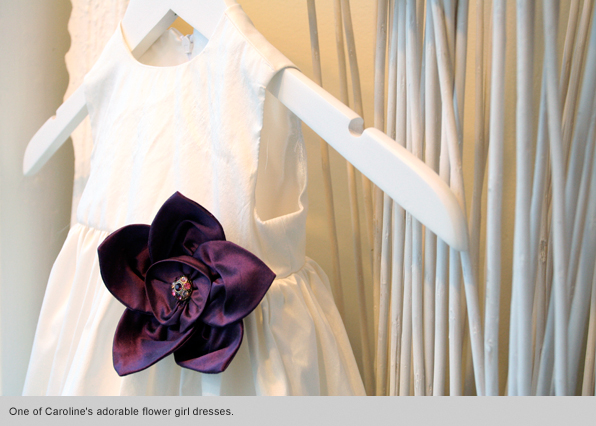 There's an extra level to Caroline's bespoke service – eco-couture.
"I was getting a lot of brides coming to me because the dresses are made in Vancouver. I thought, why not go that extra step and use eco-friendly, ethically made fabrics like natural silk, cotton and hemp. There's nothing synthetic. Although every bride that comes here doesn't have to have an eco-couture dress. A lot of brides, because it's their wedding dress, might not want those fabrics. It's my lifestyle though. I shop locally and try to purchase from local designers."
It's been a while since Caroline graduated from Blanche Macdonald, but the lessons she learnt at fashion school are still being used on a daily basis. The terminology she uses to describe every aspect of her creations, and the knowledge to understand what styles suit which body types, were learnt in classes that haven't been forgotten.
"You have to know what styles suit which body types," she insists. "You have to know how a garment is put together and how it fits on a body. When somebody comes in and it's not fitting right, you have to know how to make it right."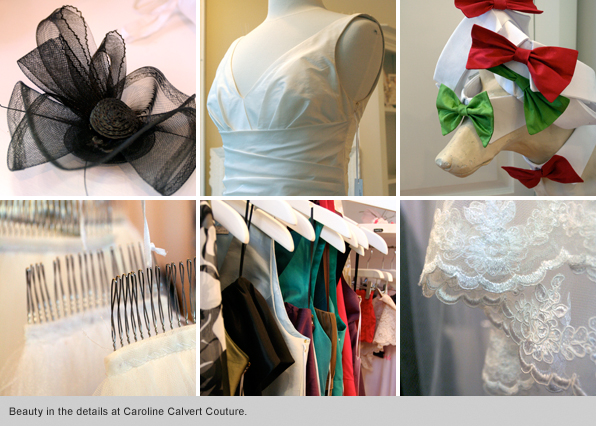 Caroline has taken something else from fashion school: an addition to the team.
"My assistant, Alexandria MacKenzie, is a Blanche Macdonald grad. She came to see me, and when I saw that she'd been to Blanche Macdonald, I hired her. I know the program and what she's gone through. She's amazing and I love working with her."
Still, there are some things that aren't taught at even the finest fashion school. Caroline will tell you, it takes more than creative brilliance and technical expertise to be a wedding gown designer.
"I'm a wedding therapist sometimes too," she laughs. "Because I'm working with the brides so closely during the process I become very close with them. Brides will tell me what's going on with their mother-in-law, who isn't cooperating and what groomsman is being difficult. Some of brides have told me they're pregnant before they've told anyone else. I need to know these things, right! I reassure them that everything's going to be ok and over the course of the six months it takes to get their dress made, we normally become good friends.
"There are a lot of qualifications you need to be a bridal gown designer. You have to love it. And you have to be a perfectionist. Luckily, that's what I am."