Fashion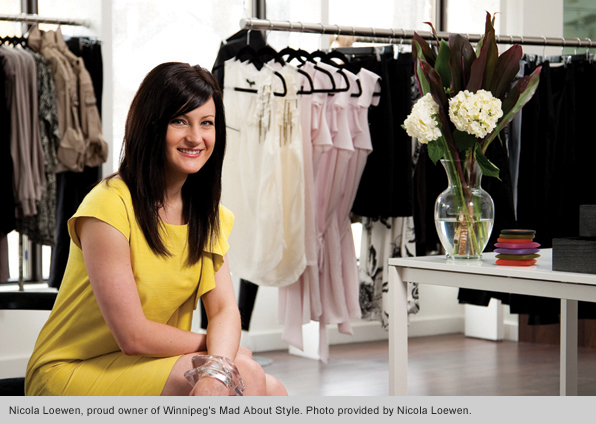 Launching a fashion store can be a nerve-wracking business. For Winnipeg native and Blanche Macdonald Fashion Marketing graduate Nicola Loewen, opening the doors of her boutique for the first time was borderline terrifying. She needn't have worried.
"I was shaking before we opened," she laughs. "That first day was amazing. There were people outside the door waiting. We'd done a huge marketing campaign on facebook. We put out flyers. We did radio ads. We sold out three-quarters of our stock on day one. A week after we opened my Mum and I had to take off for Los Angeles to get more product."
It's been over a year since that boutique, Mad About Style, opened its doors. Winnipeg hasn't been the same since.
"It's just getting better and better," insists Nicola. "We have a great existing clientele and we're gaining new clients all the time.
"It's the coolest feeling when I see our clothes on people. It's a personal complement because I picked everything. If we see you wearing our clothes on the street we'll give you a 10% off coupon that says, 'You look amazing!'
"We've changed Winnipeg a little bit. We've brought unique products at great prices. People are bargain hunters in Winnipeg. Everything in the store is $150 or under, so people can come back often."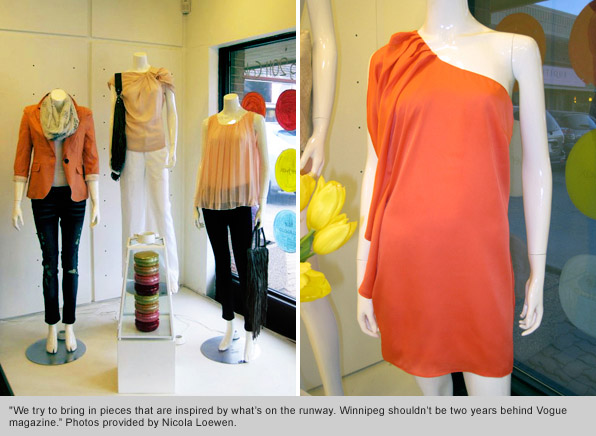 If Winnipeg has been changed, then a visit to Manitoba by the Blanche Macdonald team years earlier was the catalyst. For a high school girl with a growing interest in fashion, it was exactly what she was looking for.
"I was a real tomboy, although I was still that girl wearing plastic jackets, bell bottom pants and platforms to school. Thankfully, my Mum got hold of me and set me straight. That's when I fell in love with fashion. I started working in a men's clothing store and realised I had a huge passion for it.
"I was in Grade 11 when I saw the Blanche Macdonald stand at a career symposium. Once I saw the school I knew I didn't need to look any further. I always loved the West Coast. I knew I wasn't a designer. I'm not a drawer or a sewer. I wanted to get into the business side of fashion. I wanted to be a buyer. I thought that that would be my end goal. At Blanche Macdonald I had access to everything I wanted to learn without having to do those extra classes. What they were offering seemed to touch on everything I wanted to do in the fashion industry. It seemed like the perfect place to go."
Nicola arrived at Fashion School with high expectations and an eagerness to learn. Her time working in menswear had provided an introduction to fashion. Now she was immersed in it.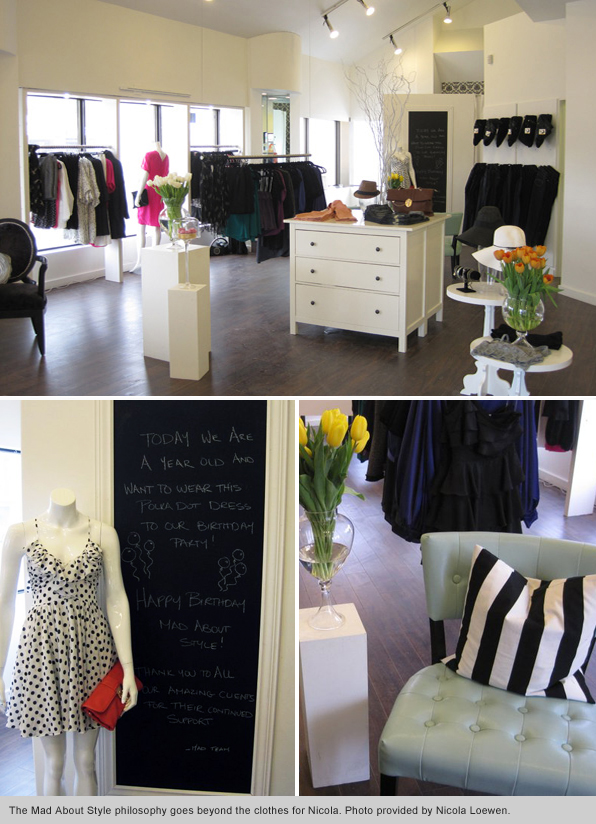 "I was a little overwhelmed at first," she admits. "I didn't know a ton going into Blanche Macdonald. I knew I liked clothing and helping people find pieces that worked for them. There was so much to do and I wanted to excel at every part of the programme. So was a shock at first, but as I learnt more about every designer and every period, it was incredible. Understanding the background behind different things, the designers and where they come from, it became very exciting and addictive.
"Everyone had so much experience in the industry. When Peggy Morrison talks to you you're mesmerised. She has so much information. If I could have half the knowledge she does it would be amazing. When we were learning about fashion elements from the 1800s to now, she would bring in real examples of cloche hats and Audrey Hepburn dresses.
"Donna Baldock's buying class was hard. It's not for the weak. But if you want a job that's potentially huge, that's the one for you. Donna has a huge wealth of knowledge."
After graduation Nicola returned to Winnipeg to be with her fiancé. When an opportunity to take over a store in the trendy River Heights neighbourhood reared its head, Nicola was confident that she had the knowledge to make it work.
"I thought, why not? I'm just going to go for it. I'm 23 years old, and if it doesn't work, I have the rest of my life to make it back. It's what I went to Fashion School for and what I dreamed of doing.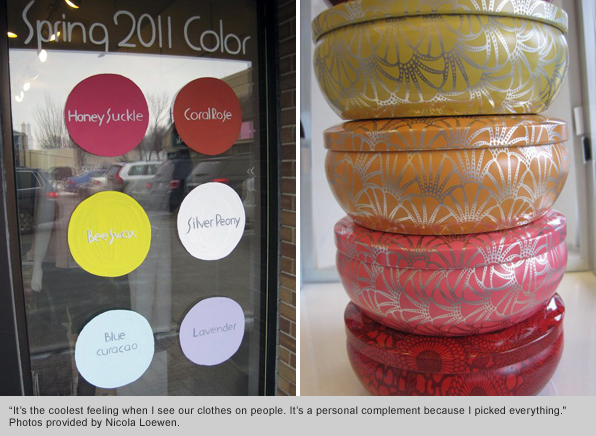 "I felt that the projects we did at Blanche Macdonald were so good and real, I knew I could do it again. My business plan was based on what I'd learnt in the business class there. Before I went on my first buying trip I looked at my buying project and when I was there in Los Angeles I did everything the way Donna had taught us to do. It wasn't like she was pulling it out of the air. She was a buyer. She knew the steps to do it efficiently. Because of fashion elements with Peggy I could name elements of a piece. Things like a peplum. There are things I've learnt along the way but I felt that I walked away from Blanche Macdonald knowing the basics of what I needed to do. I emailed Donna after my first buying trip saying, 'You won't believe what I just did'!"
It wasn't simple. There were tears on that first buying trip and sweat back in River Heights as Nicola painted and installed new racks, LA showroom style, in her new Boutique. It was all proved worthwhile that first week, as the women of Winnipeg lapped up Nicola's style selections and the fun shopping environment she'd created.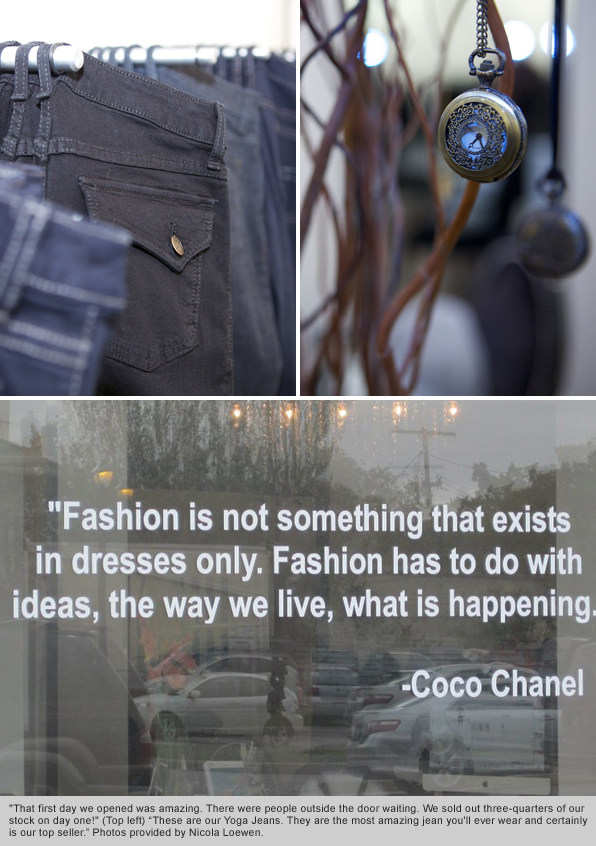 "The things I enjoy the most are the buying and the marketing," explains Nicola. "But also I love dealing with my clients and making sure they leave here feeling amazing. I'm here six days a week. One thing that sets us apart is that we give a personal service. If you come here more than once we'll know your name and your size and what you've got in your closet. We can help you from there.
"For womenswear Winnipeg is a little lacking," she admits. "It's not that on track with what's going on. But that's good for me! We try to bring in pieces that are inspired by what's on the runway. I buy probably ten magazines every month. I'm constantly checking things out and trying to stay current with what's going on. Winnipeg shouldn't be two years behind Vogue magazine."
It won't be long before the rest of North America will be able to share Nicola's eye for fashion. She's currently working on a Mad About Style on-line store on facebook and its own dotcom. She's looking at a long-term expansion into menswear too. That's all in the future though. So far, so very good.
"I wish I could do it all over again," she smiles. "You spend so much time and effort at Blanche Macdonald. If you didn't utilise what they give you, it would feel like a waste. I always wanted to have no regrets and live out my dreams. And I would have regretted not opening this store."