Fashion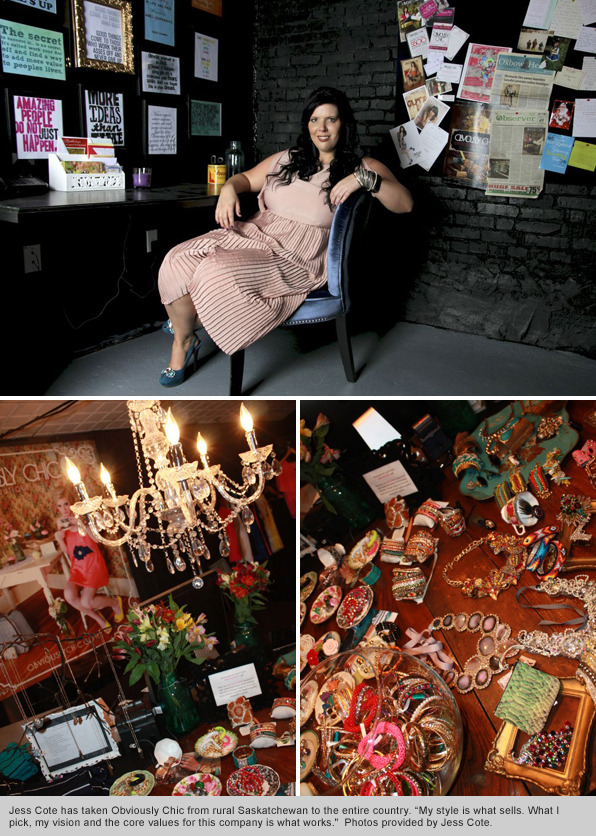 When Jess Cote opened Obviously Chic Boutique two years ago it was the culmination of an adventure that began and ended on the plains of Saskatchewan, taking lengthy detours via Calgary, Toronto and Vancouver on the way.
Now, as the creator and builder of Obviouslychic.com, one of Canada's first on-line fashion boutiques, the Blanche Macdonald Fashion Merchandising graduate has begun a second adventure. One that she's confident has no limits.
"One day I thought, 'I'm sick of making millions of dollars for everyone else. I need to go and make it for myself.' I want to be the number one and won't stop until I do it."
Jess runs her growing on-line empire from the small town of Estevan, Saskatchewan. It's the home of Obviously Chic Boutique, Jess's store that's been a fashion lifeline for women from hundreds of kilometres around. It's also not far from the tiny town where her adventures began.
"I grew up in Lampman, Saskatchewan, population about 400. My high school graduating class was 20 people. It was very, very country. I had no inspiration. Everyone would get married and have kids. You didn't stray much from that. I was always fashionable in high school, but growing up in rural Saskatchewan, I had no concept that fashion could be a career. That was a fantasy."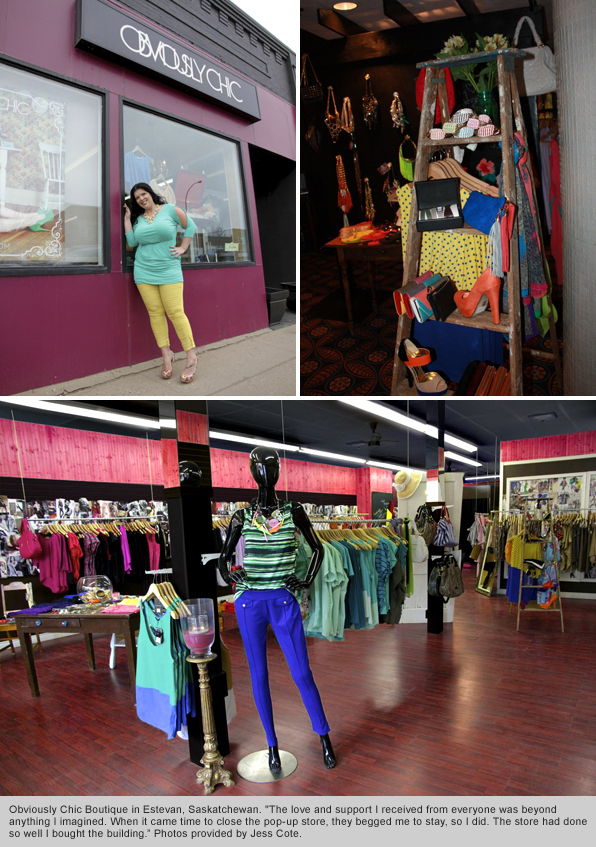 Jess's original career plan was to become a writer. She left Lampman at 17 and was at journalism school in Calgary when she realised she'd been bitten by the fashion bug.
"It was probably just being around other people and realising that a job in fashion was a possibility. I interned at an interior design magazine in Toronto, then returned to Calgary and landed a marketing and PR position with Canadian Rocky Mountain Resorts. During that time to curb my appetite for fashion I freelanced for various publications including Wish Magazine."
"I became Marketing & Public Relations Manager for Canadian Rocky Mountain Resorts and was travelling to media shows in LA and New York. I found I was more passionate about what people were wearing than getting them to come to stay at the resort. One day I typed 'Vancouver Fashion School' into my laptop and found Blanche Macdonald. When I saw the site I thought 'This is fashion!' I read the grad profiles about the careers people were enjoying. I thought, 'This is a school that knows what it's doing.'"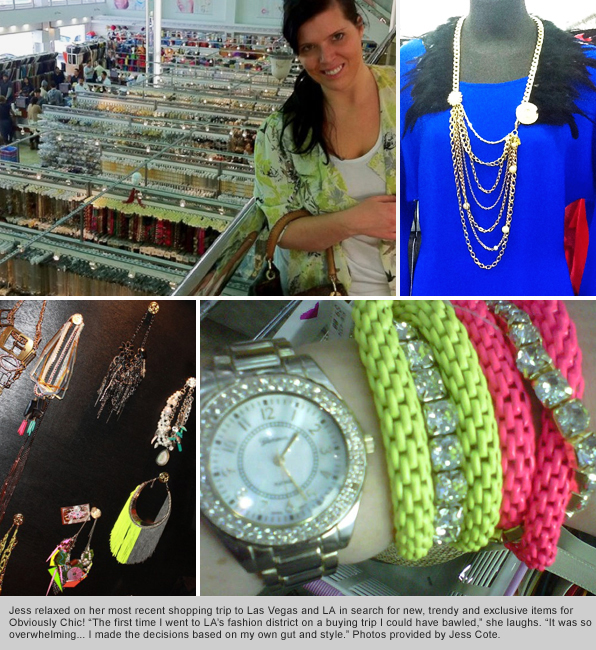 Coming to Blanche Macdonald with a résumé full of experience in PR and marketing, Jess assumed a diploma from Canada's top Fashion School would pave the way for a similar position in the industry. She found much more.
"Going to Blanche Macdonald was the best year of my life," she insists. "I can't say enough great things about the experience. The fashion parts of the program were so inspiring. Peggy Morrison and Donna Baldock and Mel Watts are all inspirational.
"In Calgary I would always say that I wanted to be with people who were like me. Then I went to Blanche Macdonald! I can't express how amazing it felt to be beside people every day who were like you. Blanche Macdonald brought me the knowledge of fashion and the companionship of friends in the industry that helped shape me. Before Fashion School I had no concept of where fashion came from. Now I have a deep-rooted passion and a huge respect for it. Learning that was worth every penny."
A day after graduation Jess landed what she thought was her dream job, taking on the marketing role at Wear Else in Vancouver. That was where she had the epiphany that would change her career and her life.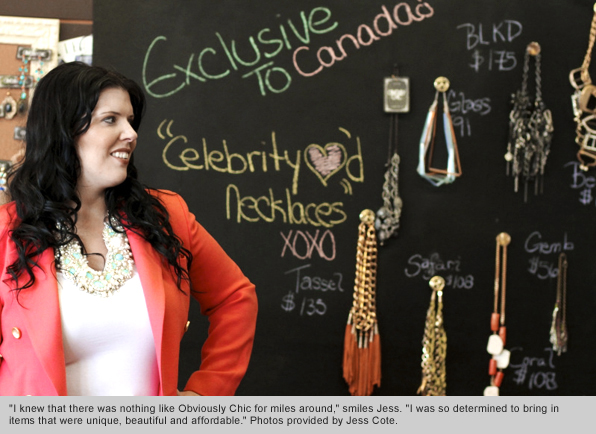 "I decided to go back to Saskatchewan and open a pop-up store for eight weeks twice a year. I quit Wear Else and got a job at a baby store over the summer while I was working on opening up Obviously Chic.
"I opened in Estevan and those eight weeks were a complete blur. Absolute mayhem. The love and support I received from everyone was beyond anything I imagined. When it came time to close the pop-up store, they begged me to stay, so I did. The store had done so well I bought the building."
Obviously Chic had started fast. Jess wasn't going to let it slow down. At the heart of the store's instant success was a concept that's still going strong today.
"I'm going to hand pick items from across the world at prices people can afford. The core of the store is pieces under $150. I want everything to be unique and different. Right now, if I bring six pieces in, three will sell on-line and three will be in the store. If women buy a dress, they know they're not going to show up at a wedding and see five other girls in that same thing. It's the same thing on-line. You can wear something that no one else has. And you don't have to pay a huge price for it."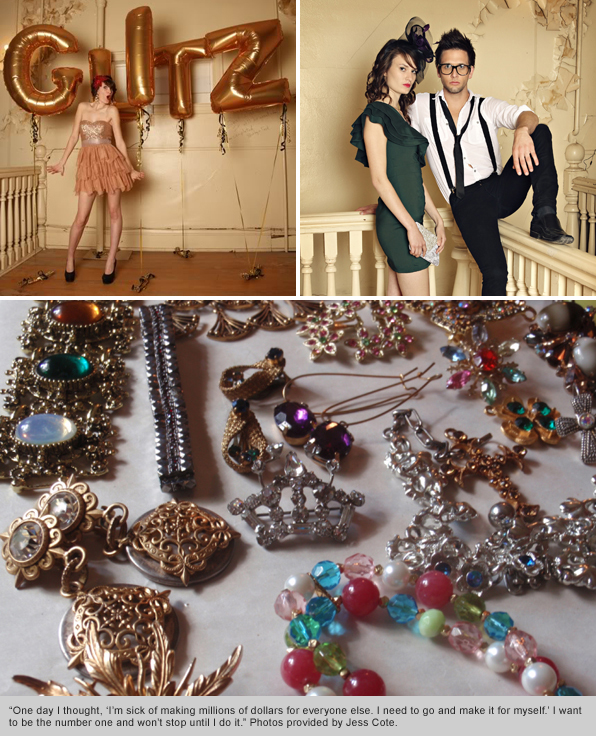 Just because the idea was in place from the beginning, it didn't mean turning it into a reality was easy.
"The first time I went to LA's fashion district on a buying trip I could have bawled," she laughs. "It was so overwhelming. I went on facebook and stared at people's profiles, looking and analysing what people in Saskatchewan were wearing. I was buying for a demographic I hadn't seen for ten years. I made the decisions based on my own gut and style. I knew that there was nothing like Obviously Chic for miles around. I was so determined to bring in items that were unique, beautiful and affordable.
Jess wisely abandoned the idea of closing her store after those crazy eight weeks. Instead, she focussed on expanding the boutique and a reputation that was rapidly winning fans across the province and the country.
"I'm a big social media girl," she continues. "When I launched I didn't do any marketing other than facebook. Before I knew it, people all over Canada were following me and what started in Estevan became a national business. At one point I was shipping 300 parcels a month out of my store just through facebook. I recently did a facebook fan contest to win some Obviously Chic dollars. I had 10,000 visitors to my page in four days. One morning I was getting one new fan a minute."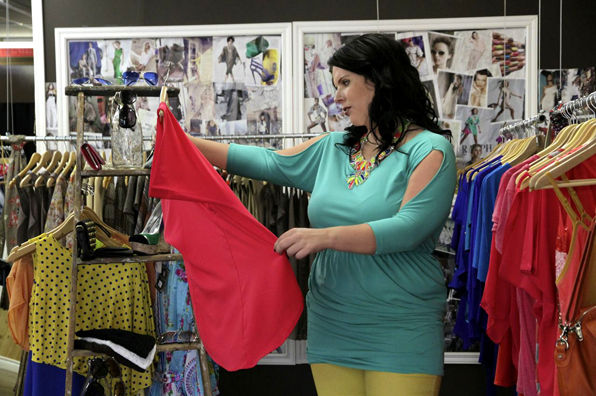 Today Jess juggles her faithful clientele in Estevan and the surrounding areas with her ever-growing following on facebook and the official on-line boutique, www.obviouslychic.com.
"I'll soon be buying separately for the web site and the store," she explains. "The demographics are so different across Canada. The facebook fan page is a living breathing human being to me. I'm on it 24-7. I do not miss a single comment and I respond to every person individually."
Whether it's her local community or fans thousands of kilometres away, Jess understands that her style and business decisions are making a difference in women's lives. Having that kind of responsibility is more than a challenge. It's a pleasure.
"My favourite thing is going on my fan page and reading comments like, 'I got my red shoes and everyone is jealous!' I recently received an email from a girl who wants to work with me. She said she wanted to be around someone like me who can inspire her to be better. I have a tattoo on my neck that says 'Inspire'. That's all I want to do."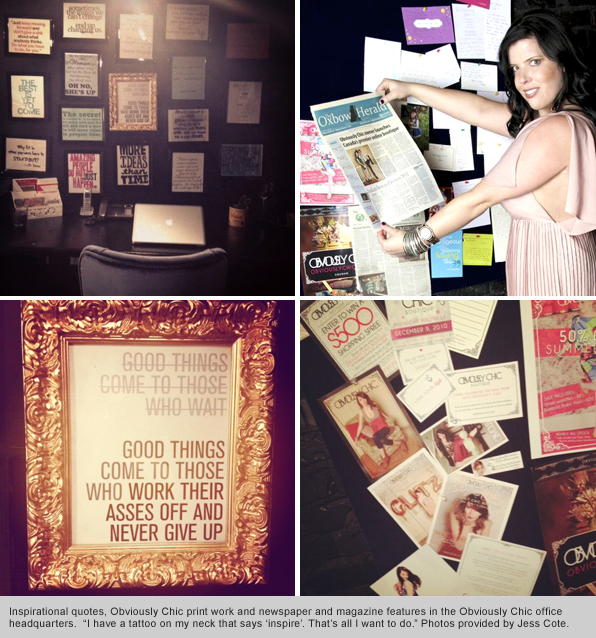 Mission successful. Jess is now in regular demand as a business speaker and social media marketing expert. The young lady who opened a fashion boutique in rural Saskatchewan and has taken it across the country knows that a combination of hard work, self-belief and kindness can make amazing things happen.
"I'm the filter," she smiles. "People told me I couldn't do this. I believed them until I realised that this company is successful because of me. My style is what sells. What I pick, my vision and the core values for this company is what works.
"I remember when the idea to start Obviously Chic came to me. I had no money saved. It seemed so unrealistic. But if you really want something, you can find a way to make it work. In the worst-case scenario, it fails. So what? At least you did it."