Fashion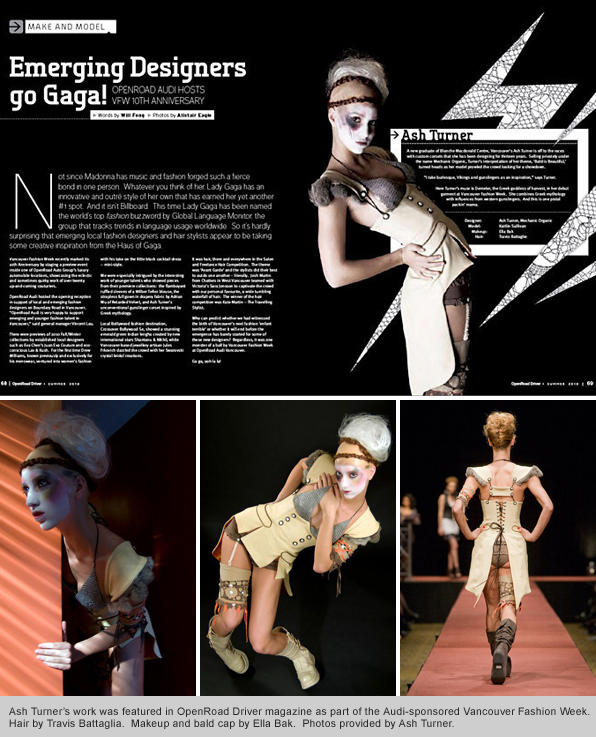 "Every day you are given the unique opportunity to become more than you have been. If you can wake up every morning, say that to yourself and believe it, it'll give you the push to make your life your own, rather than wait for someone else to do it for you. Life is too short to half-ass it."
This is the philosophy that drives Ash Turner, the creator of Vancouver-based performance artist and festival-wear label Mechanic Organic. And it's a philosophy that's produced both success and incredible clothes since Ash graduated from the Fashion Design program at Blanche Macdonald.
"I probably work 16-18 hours most days," she smiles. "But I wouldn't want to be doing anything else. When I came out of Fashion School I went straight into doing custom work for individual clients. I'm pretty good at networking, so I put it out there and people started biting."
Ash is doing much more than custom work now. She's designing and producing collections for Mechanic Organic, retailing the lines at festivals across the Pacific Northwest and putting on club nights and fashion shows with her role at event organisers, Perception Events. It's not the life of the traditional fashion designer. But Ash has never done anything the traditional way.
"I was always a bit quirky," she explains. "My Dad told me that when I was a baby the only thing he could do to get me to sleep was to bounce me up and down to rock and roll. I grew up in Oliver, BC. There are 7,000 people there and most of them are orchard and vineyard owners, so there was nothing interesting to wear. When I was six I designed my first portfolio and started sewing. I moved to Penticton for high school and had my first commission to make a corset for someone when I was 12. I was in sewing class and we reached a point where the teacher said that we could make anything we wanted. Being the little gothy punk girl, I thought, 'I'd love to make a corset'. So I made one, my friend thought it was really cool and asked if I would make her one. It all escalated from there."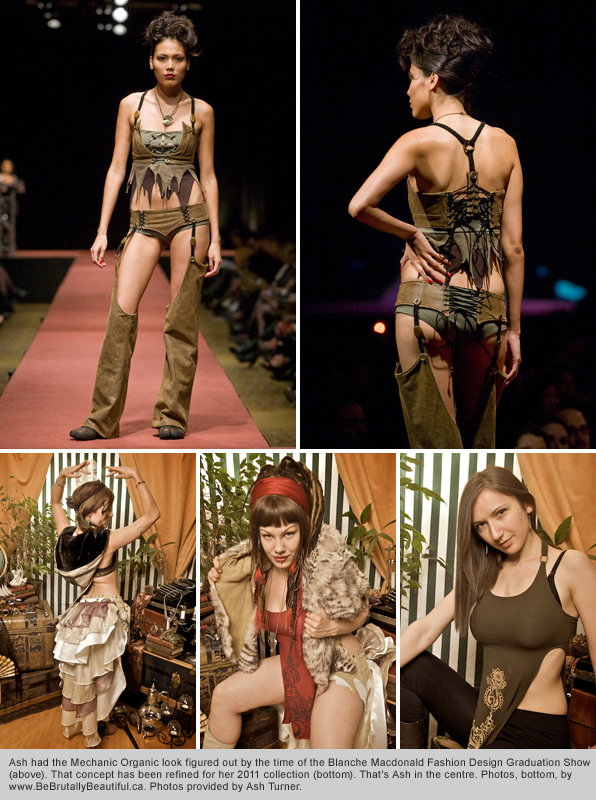 Ash eventually moved to the West Coast where, as she immersed herself in its music community, the realisation dawned that there was a market for the designs ricocheting around her brain.
"I started working with Perception and we'd throw underground nights in the Greater Vancouver Area," she recalls. "I started going to festivals, and realised that I actually could make a living making and selling these weird and bizarre designs I was dreaming up. I knew I wanted to make clothing for a living. It wasn't completely nuts. I could actually do it.
"I was travelling through India when I met all these people from Canada getting stuff made overseas. That proved to me that I could do this. I came back and started looking at fashion schools in Vancouver. Blanche Macdonald was the school that stuck out. It had the program that was geared to what I needed. I wanted to get into school, work my ass off and get out and on with my life. I didn't want to dilly dally around taking classes for four years. I wanted extensive teaching in pattern drafting. I wanted to draw something myself and make it. When I was looking through the program details it was exactly on point with what I needed."
Those expectat­ions were met as Ash was finally able to turn her creative ideas into reality in the efficient manner a professional business demands.
"I was always good at sewing and putting things together, but I had to do so much experimenting and wrecked so many things to figure it out. Then you go to Fashion School and all of a sudden there are all these perfect techniques and there's no more messing about any more. You know exactly what needs to be done and you don't waste your time any more.
"It was hard work but I enjoyed it massively. I had a couple of minor nervous breakdowns but that was actually a great thing. When you're loaded up with work it teaches you what you're capable of. I never knew I could get that much done in that short a period of time."
Because of her work with Perception, plenty of people in Vancouver's underground music scene knew that there was a hot new designer in the city. Ash was growing her business straight after graduation.
"People started biting," she continues. "There are a lot of bizarre artists and freaks out there. You just have to know where to find them. Vancouver is perfect for that. My first year was amazing. I put on a fashion show called Aphrodisia and it highlighted 15 of the West Coast's most successful festival clothing designers. It was amazing. 400 people showed up and tons of business came from that. I'm going to make it an annual event. I hooked up with people to collaborate with and wound up forming a collective, Lock and Ki, with two women from Colorado and Kamloops. I do leather clothing. One of them does leather hats and feathers and the other does metal and silver work. Very different items from different artists that don't even live in the same cities, but somehow they have a certain aesthetic harmony between them all."
If Ash was introduced to the concept of perpetual hard work at Blanche Macdonald, it's a lifestyle she still embraces. This summer's weekends will almost all be spent retailing at music festivals in British Columbia and Northwest USA. During the week, the only certainty is that her days will be both fun and long, juggling production decisions with her business associate in Bali, working on custom jobs in her studio, picking up supplies for new projects and, of course, drinking plenty of coffee. Somehow, Ash still finds the time to be a designer.
"I'm coming up with ideas all the time. I carry a book around with me, and if an idea pops into my head I'll scribble it down as fast as I can. Inspiration is everywhere. It comes from life. I could be talking to a friend. I could be out in nature. Or I'll see something that someone else is wearing and take inspiration from parts of it. It's everywhere."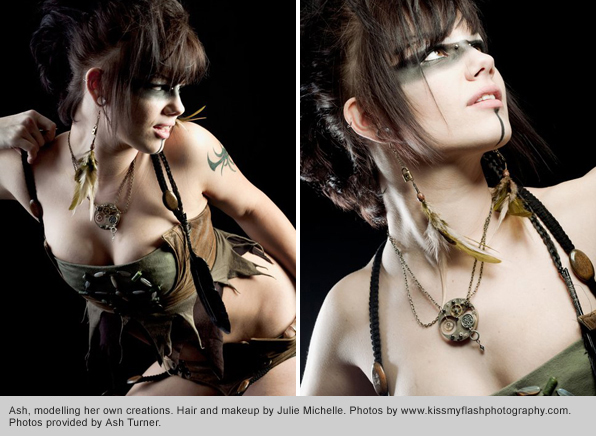 There's another reason why Mechanic Organic is growing so rapidly. Ash's clothes are more than fun and fabulous. They're comfortable and functional.
"The majority of the stuff I make is sizeable from a small to a large, with possible adjustments for every beautiful curve." she explains. "Almost anyone can wear it. People are prancing around festivals for three days going crazy and dancing. They have to be comfortable and fashionable at the same time. It's hard to do that when the sun is beating down on you. You have to combine functionality and the aesthetic."
Mechanic Organic's expansion is exactly what Ash hoped for, and expected, when she started designing. It's all an extension of her personal philosophy. Every day brings new opportunities just begging to be taken.
"It's getting easier as I'm finding more people that can do certain things for me. Now I have a digital artist who does my screen print designs and will be doing the art for the next version of my web site. Soon I'm going over to Bali to track down my own tailors. I'm driven to get my clothes into some stores in San Francisco, because there's a huge market for this kind of stuff down there.
"I want to expand and make it bigger and better than it already is," she insists. "I know I can do it."