Fashion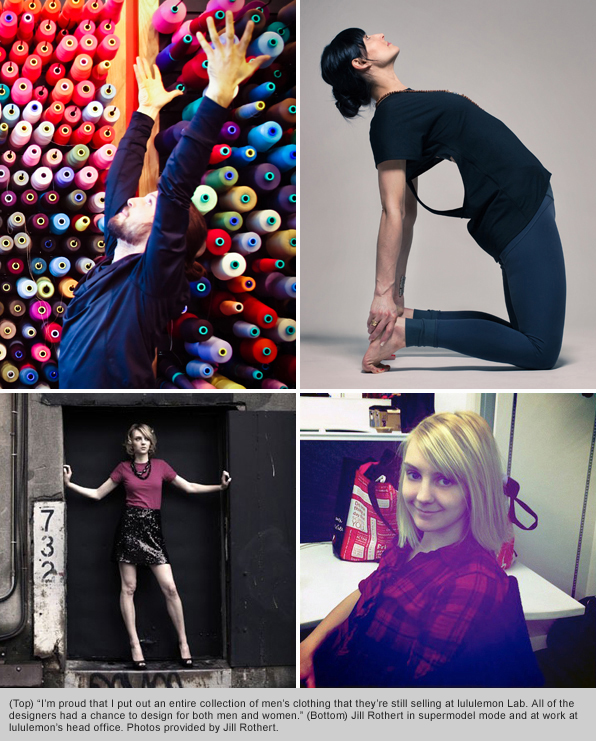 By the time you read this, Jill Rothert could very well be starting the next chapter in her fashion story on the other side of the planet.
"I've been speaking with a recruiter about jobs in Asia," she explains. "He's really interested in what I have to offer. I always wanted to work overseas, even for just a couple of years. I'm up for a position at NeilPryde. It's a windsurfing company in Hong Kong. They're looking to branch into clothing so they are looking to build a design team.
"There were a few other jobs we've been talking about too. Adidas are opening an office in Shanghai and there's a job with Puma in Finland. I'm open to it all."
A journey to Asia would be a big step, but not an unexpected one, for Jill. She sees her design career as a sequence of opportunities waiting to be taken. Whether it's working at the Olympics, Obakki, lululemon or the mysterious world of men's underwear with Naked Boxer Brief, the Blanche Macdonald Fashion Design graduate is going to make a difference with her personal fashion philosophy.
"Fashion isn't just fashion," she insists. "I enjoy designing clothing that is functional and wearable and has a purpose. It needs to do more than just look good."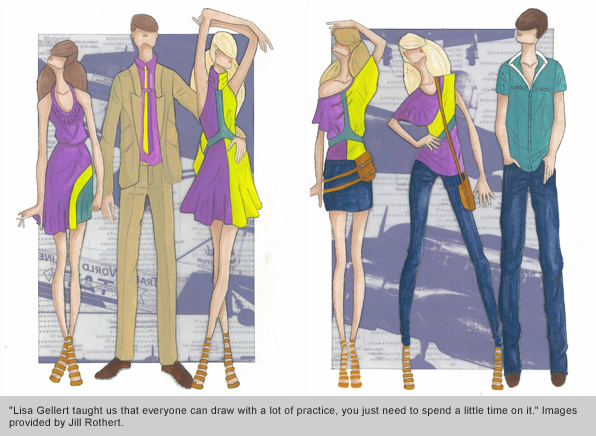 Growing up in the small Alberta town of Didsbury, Jill entered the fashion world at a remarkably early age.
"My mum was a home economics teacher. She taught me how to sew and how to create when I was five. I was always hand sewing and crafting little things. I eventually moved into doing things for myself, making a skirt from a simple pattern when I was 12, altering the pattern a little to make it my own."
Jill discovered a second passion when her family built their own custom home: architecture. After moving to Calgary and taking a drafting program at high school, she studied Architectural Technology at college and had been in the building industry for a year and a half when the urge to create clothes filtered back into her life.
"I started to draw fashion sketches and peg them on my cork board at work. I thought, maybe I want to take a fashion course to see if I can carry this forward?"
That thought turned into a phone call to Blanche Macdonald and a trip to Vancouver.
"I spoke to Jaye Klippenstein and she must have been convincing because she filled me with thoughts that a job in the fashion world could be possible."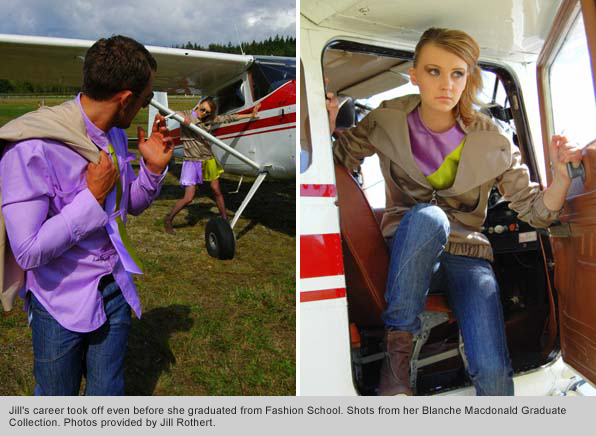 The confidence Jaye planted in Jill was well placed.
"The Fashion Design programme was great. If you know what you're going there for, you'll get a lot out of it. I knew coming in that I wanted to design menswear. I wanted to be different and create a challenge for myself. I knew I could always design clothes for myself at home. That's easy, because I know what I like. I thought that by starting off making clothes for other people, I could focus on them and their needs, in turn creating clothing that could be marketable and sellable. I wanted this to be a career. I wanted to make it in the fashion industry.
"I didn't have a lot of confidence in my sketching and drawing when I started. That confidence grows when you have such an outstanding teacher like Lisa Gellert. She taught us that everyone can draw with a lot of practice, you just need to spend a little time on it. My drawing has consistently evolved since. Pattern making was something I didn't know how to do; starting with a blank sheet of paper to creating a three-dimensional piece of clothing. That was one of my favourite classes. I can make anything now if I put my mind to it." Jill's vision and work ethic were honoured when her work was one of only two menswear collections photographed for the promotion and programme of her year's Graduate Fashion Show.
"I felt proud. It was a reward for all the hard work. It showed that people were noticing. That evening was really exciting. My collection had both men and women's clothes, and when the male models waited at the end of the runway for the female model to join them instead of going one by one, I definitely cried happy tears. I had no idea they were going to come out that way. That was a gift from Peggy Morrison."
Looking to immerse herself in Vancouver's fashion scene, Jill had earned herself an internship at Obakki soon after beginning Fashion School.
"It was definitely an intern job at first," she laughs. "I was putting fabric swatches on their line sheets. I did a lot of ironing, I cleaned out the hanger closet a few times, and I would assist the designers. Doing those types of tasks helps you appreciate how much work is involved and understand where fashion is coming from."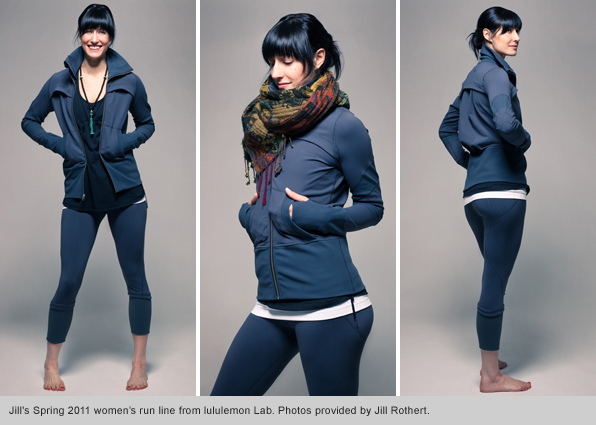 After graduation, a call to Obakki for a reference delivered an unexpected offer.
"Erin Mairs, the production manager, called me back to talk about creating a position for me, Production Associate. I was helping Erin with production, going back and forth between the design studio and the factory.
"Obakki was nice enough to give me the month off during the Olympics. I worked with Yumi Eto and a few classmates from Blanche helping to produce the volunteer outfits for the medal presenters. There was footage of us doing the work shown on the news. I could tell friends to watch the medal presentations and they'd know that I'd had my hands on the volunteers' jackets. Fun times!"
There have always been multiple lines in Jill's fashion life. She'd barely started Fashion School when she began a design role at Naked Boxer Brief.
"My cousin's girlfriend's son was starting a men's unde rwear line and he needed someone to do the patterns. I said, 'I haven't started school yet, but I'll be learning how to do patterns soon.' I was confident I'd be able to do it. The boys took it onto Dragon's Den after a year. They didn't get any investment from the Dragons, but people noticed and other investors came in and turned it into a continent-wide brand. Right now I'm working on under-t-shirts made from a soft micro model on the women's line. The underwear is made from an environmentally certified micro fibre fabric made from distilled water in the Italian Alps. I love that fact.
"Comfort is the most important thing with men's underwear. It has to look and feel good. And must accommodate enough comfortable space for 'things'. Our briefs and boxer briefs are fitted products, so how do you create that space?"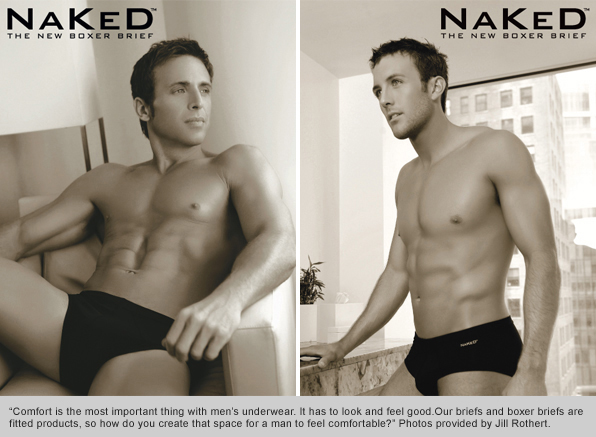 Jill is still bringing comfort and style to men with Naked Boxer Brief. She also spent eight months making men look good on the outside after leaving Obakki and joining the design team at lululemon.
"A teacher's assistant and friend from Blanche Macdonald, Brenda Holmes, recommended me for the men o;s line. I became a Junior Men's Designer at the Lab, the concept store for lululemon. They have designers in the retail space with the sample room beside it. We had the chance to speak to the clients and get their feedback, and we put all those things into a collection.
"I had my own control of time and designed what I wanted. I'm proud that I put out an entire collection of men's clothing that they're still selling. I had the whole men's wall as my own at one time. All of the designers had a chance to design for both men and women. Some of my best work came when I designed for the Spring 2011 women's run line."
Creativity and opportunity are at the heart of everything Jill Rothert does. She's still working as an Architectural Technologist by day, designing clothes whenever and wherever they're needed. If she does head to Asia, it'll be Canada's loss. But then again, she's never been the type of person to choose the easy option.
"The best thing about being a designer? It's being able to create what you want to create. And the challenge of it all. Sometimes that challenge can be daunting, but you'll always get credit for the hard work you do."