Fashion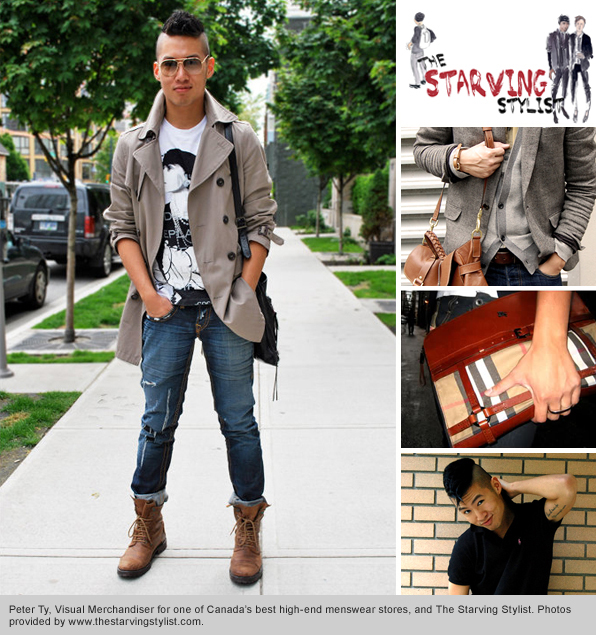 There are two sides to Peter Ty.
By day Peter is a Visual Merchandiser for one of Canada's most prestigious and recognisable high-end menswear stores. As soon as the workday is done though, Peter becomes one of Vancouver's funniest and most fabulous style bloggers, dishing out clothing advice, laying the smackdown on fashion disasters and celebrating the simple joys of looking terrific. Peter Ty is The Starving Stylist.
It's a dual existence with a common base in Vancouver's growing fashion industry. And whether it's the creative challenge that comes with a fresh delivery from one of the world's most famous labels or accentuating his natural sassiness for a particularly potent blog post, they're roles rooted in Peter's first love.
"My sister bought me a pair of Calvin Klein jeans when I was six," recalls the Blanche Macdonald Fashion Merchandising graduate. "She introduced me to fashion, brand names and the idea of quality. I enjoyed it and watched her buying expensive designer things. I got used to it."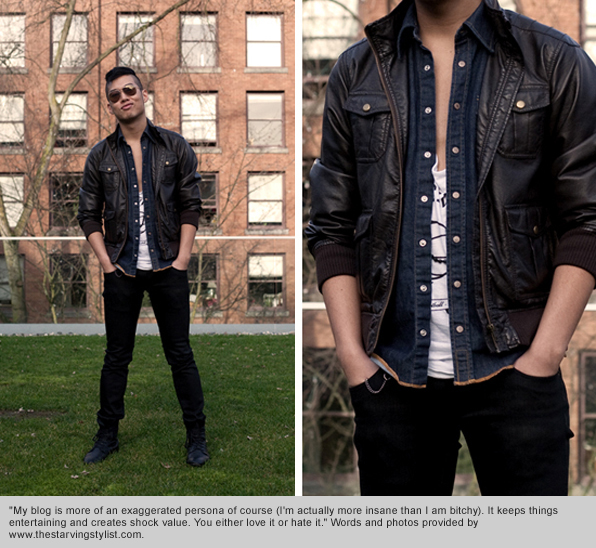 Growing up in Vancouver, Peter and his sister were the first generation of the family to have, let's say, refined tastes.
"It was expensive, that's for sure," he laughs. "Only my sister and I have this taste for expensive things. My Mum definitely doesn't have that attribute. When we've bought her a designer gift she's never used it. She'll pack it up and say, 'I'll save it for the grandchildren.'"
After graduating high school Peter spent a year on a Marketing Management program. But he knew it wasn't for him. Far more rewarding was the retail job he won at high-end Gastown retailer, Leone.
"I liked the clothing and I enjoyed surrounding myself with it," he explains. "It made me realise that I wanted to take a Fashion Merchandising program. I was at a friend's house one day and saw a brochure for Blanche Macdonald. She was planning to go to there. I thought, 'That looks cool'. I was working full time but I came in, spoke to a career director and started the program."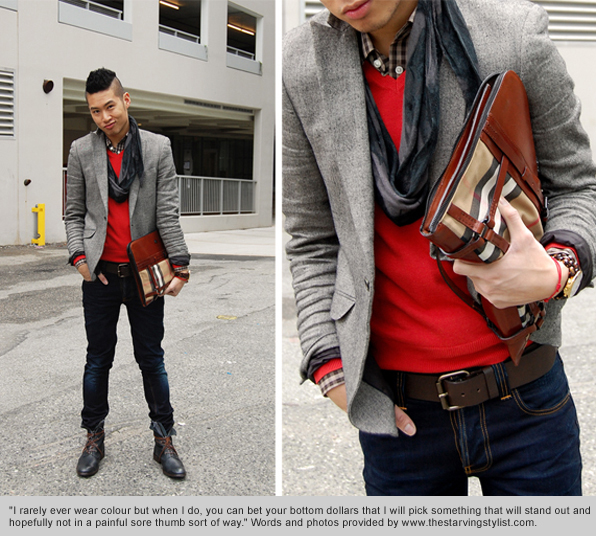 For the first time in his life, Peter became a model student.
"I didn't like high school," he admits. "But I liked a lot of classes at Fashion School. I loved every class that Peggy Morrison taught, like fashion awareness and fashion elements. Those are some of my fondest memories. Donna Baldock's classes in textiles were great too. My appreciation for fashion grew. I enjoyed learning about it. I paid for the program myself so I took it very seriously. I was always on time and I did my homework. I had the goal of working in the industry. Look at me now!"
One downside that comes with being one of Vancouver's most notable bloggers is that thousands of people in the city know Peter and how opinionated his blog can get. His employers know too. Which is why Peter has signed a social media contract promising that he won't mention their name on his blog, facebook, twitter or even stories like this. Let's just say that it is a national luxury menswear retailer and it has some fantastic clothes; clothes that appear at their best once Peter has worked his magic on them.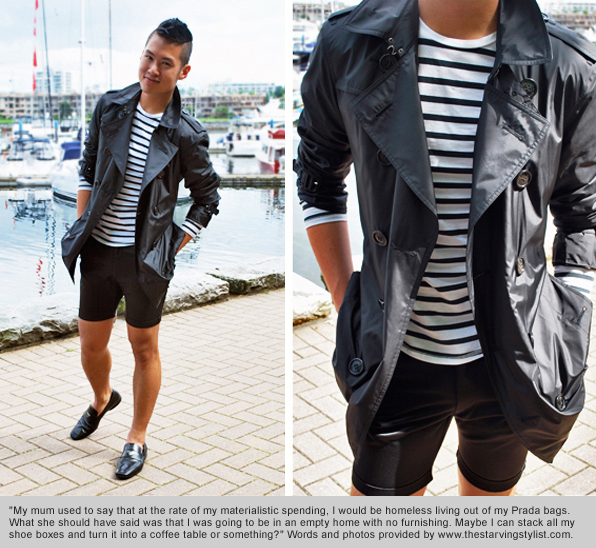 "Visual merchandising is more than just making things look pretty," he explains. "The fun part is styling and putting outfits together: doing a colour story and making the clothes sellable. We have directives from the head office. We follow those, but we also put in a lot of creativity. You need to learn your labels. Dolce and Gabbana should look like Dolce and Gabbana. I wouldn't throw a red t-shirt into a black and white collection unless it was shown in that collection. I work at four different stores with different directives. They all present their clothes differently. They even have different ways of folding them. Luckily, I'm a perfectionist. You have to have a little OCD to be a merchandiser.
"There's a lot of physical work too. Sometimes you'll be working in very uncomfortable conditions or you'll be loading things and getting dirty. You have to be comfortable running around."
Peter has a terrific job, but it's his work as The Starving Stylist that has made him a star of Vancouver's fashion community.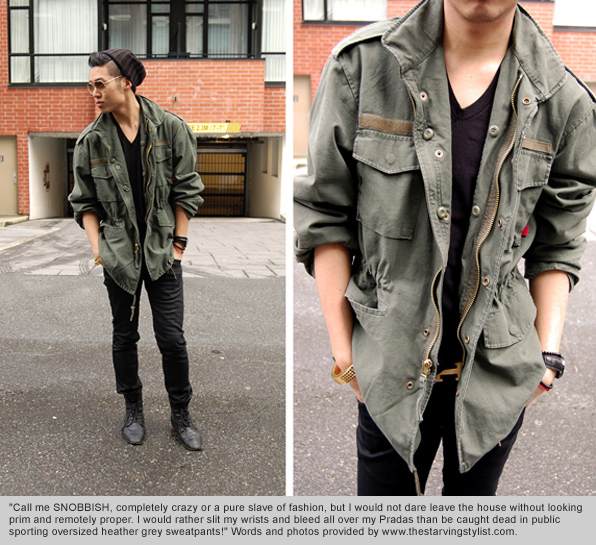 "At Fashion School students and teachers who read my reports commented on how witty and sassy they were. I just said what was on my mind. It was verbal vomit. I liked photoshopping and doing the e-portfolio, and I joked that I should start a blog. One of my friends said, 'Why don't you?' I was like, 'Well maybe I will.'
"I started The Starving Stylist just for fun. It became an on-line diary. Perhaps it was too personal at first. I didn't realise how many readers I'd have later on. The blog has streamlined into what I like to refer to as a personal style blog. I don't consider myself a fashion blogger. I don't critique collections. It's still very judgemental and sarcastic. If you don't understand sarcasm, sorry. But Crocs? Come on!
"I want to be humble and not let it go to my head, but I do get recognised a lot in Vancouver. People tweet stuff like, 'Spotted, The Starving Stylist on Granville Street'. That's crazy and creepy. When I went to New York last summer I was shopping in Soho. Some girl stopped me and was like, 'Do you have a blog? Oh my God, you're The Starving Stylist!' That was scary."
Public recognition is nice, but not as nice as the doors the blog has opened for Peter. The Starving Stylist's seal of approval has become a valuable commodity.
"People know who I am," he continues. "I'm lucky enough to get a lot of invites to events and parties and fashion shows, hoping that I will blog about it. I get invited to shows in New York and Toronto. It's always frustrating when I can't attend these, since I live on the other side of the continent. Someone contacted me through the blog and I got to style a photoshoot for V-Rag, which is a Vancouver gay lifestyle magazine.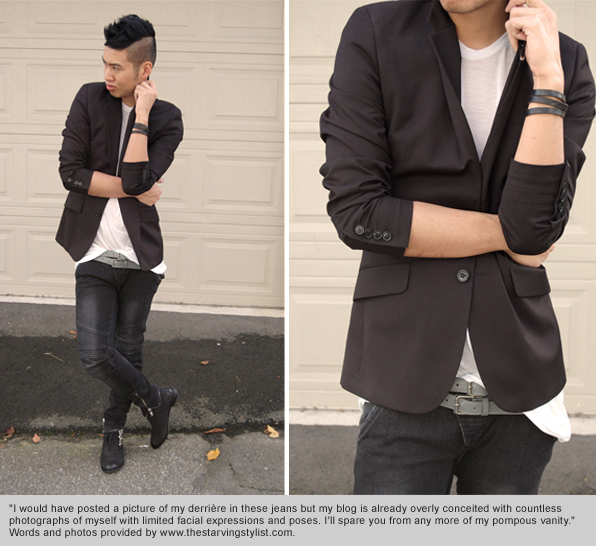 "I want to keep the blog more about my personal style. I'm not going to promote anything that isn't me. I can't stand style blogs where people give advice but can't carry it themselves. Don't tell someone to wear something that you wouldn't wear or doesn't look good."
Peter is smart enough to understand that his voice as The Starving Stylist is an amplified, ultra-confident version of himself. That's the character he's created and he's going to keep it that way. Just don't be surprised, if you ever meet Peter, to find a modest, friendly, down to earth guy who just happens to have a rampant fashion addiction.
"I'm thankful to my readers for their support. They're the reason why I continue to do it. But the best thing about writing the blog is all the free swag! Earlier this year, I participated in a charity campaign, bloggers for Ralph Lauren, and I was sent a wonderful polo shirt and a personalized card from the guys in New York. I get product samples and gift cards from various companies sent to me who want me to cover their products. I got sent these jeans I'm wearing. They're worth $250!
"I guess everyone will be starting blogs now."