Fashion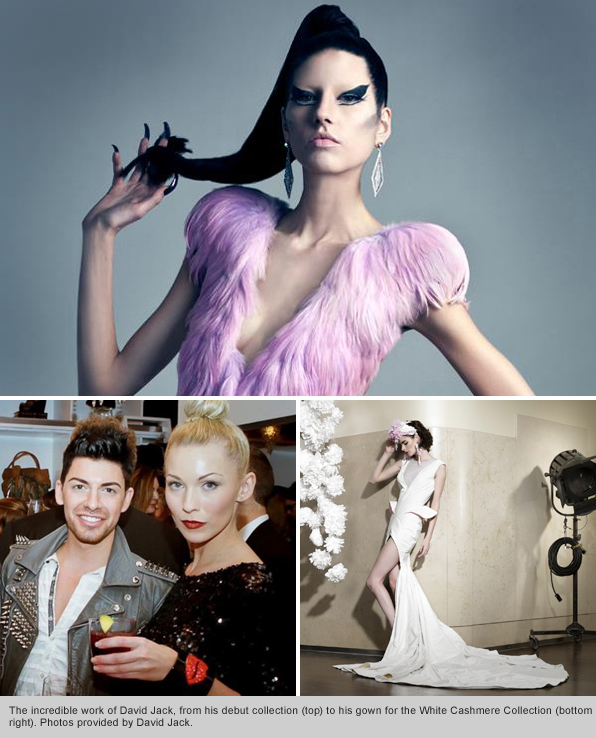 It wasn't fashion that brought David Jack to Vancouver from his original home in London, England. It was fate.
"My family used to come on vacation to BC every year," he explains. "We all fell in love with the idea of moving here permanently and it made perfect sense for me to set myself up in Vancouver."
London's loss was Vancouver's gain. Since graduating from Canada's top Fashion School David has emerged as one of Vancouver's most exciting and extravagant high-end fashion designers. With the benefit of hindsight, this hasn't come as a surprise.
"I've always been interested in fashion," continues David. "My Dad used to take me into Central London and we'd look around all the high-end shops: things like Vivienne Westwood. That's what got me going with fashion. I'd make dreadful things as a kid. I once attempted to make a corset for a girlfriend of mine from some old football shin pads. Needless to say, it wasn't very good. My Mum found it recently. She was like, what the hell is this?"
Relocating to Vancouver invoked a mild case of fashion culture shock, but David soon learned how to locate like-minded individuals. A big part of that was finding a Fashion School that fit his personality and career aims.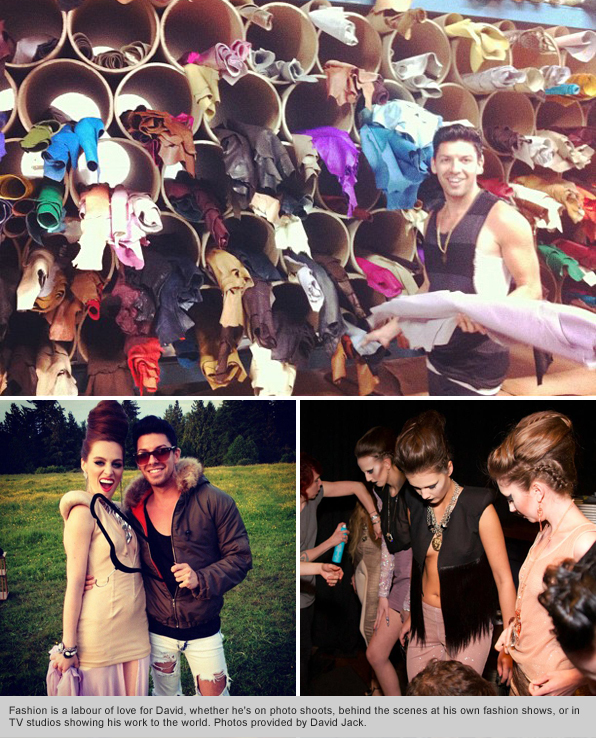 "When I first moved here I was quite punk. I was used to hanging around places like Camden Town. I missed seeing people have their quirky styles. But there are creative people here. You just have to fish them out.
"I did some research on fashion schools, and Blanche Macdonald stood out to me. It seemed like an overall good package. Some places were offering a four-year design course. Blanche Macdonald's program was one year and reasonably priced. Everyone told me that it would be a lot of work and consume my life. But I was ready for that.
"It was hard. I had a roommate at the time and our whole living room was full, wall-to-wall, of projects and paper and fabric for the entire year. I remember the final Fashion Show always seemed like it was months away. Suddenly, our instructor, Brenda Swinglehurst, said, 'We're going to start sewing tomorrow' and everyone jumped out of their seats. I'd picked one of the most difficult garments to make. It had fibreglass wires within its construction. I had a panic but it got done."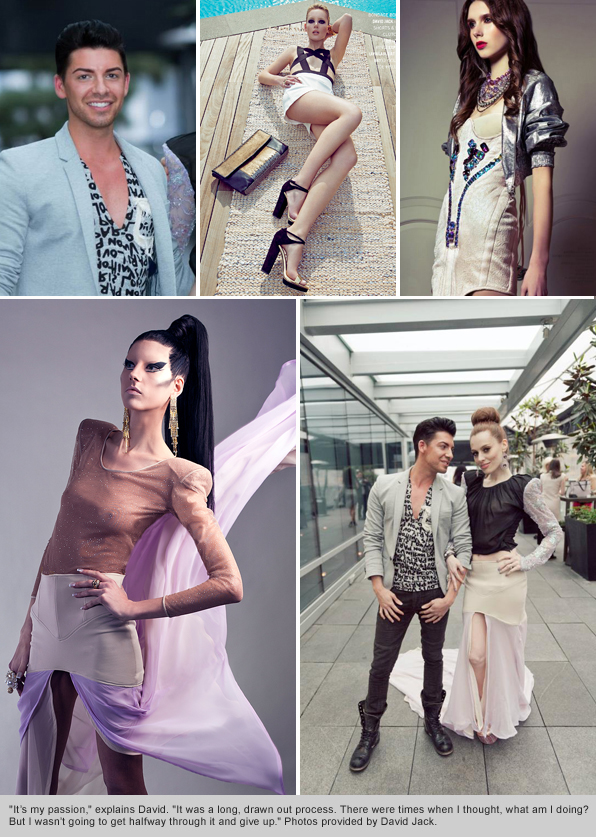 "I knew it would be a struggle," he admits. "I could remember the boutique shops in Camden Town and understood that there's a big difference between that and Vancouver. My designs aren't your conventional Vancouver looks. They're quite outrageous. But I knew, no matter what I was doing, I wouldn't compromise my designs. That's what I wanted to do and I've stuck to my guns. And it's been received really well.
"I did a lot of show pieces for stage performers and drag queens. My first big job after graduating was a big fibre-optic piece for a drag queen called Raye Sunshine for a New Years Eve performance. She was lowered down on strings, someone flicked a switch and the whole dress was lit up. After that I did a spiked leather jacket for Steve Bays of Hot Hot Heat for a music video. I was doing bits and bob, all through word of mouth. People just knew. It was something different that Vancouver wasn't used to. The ball just started rolling."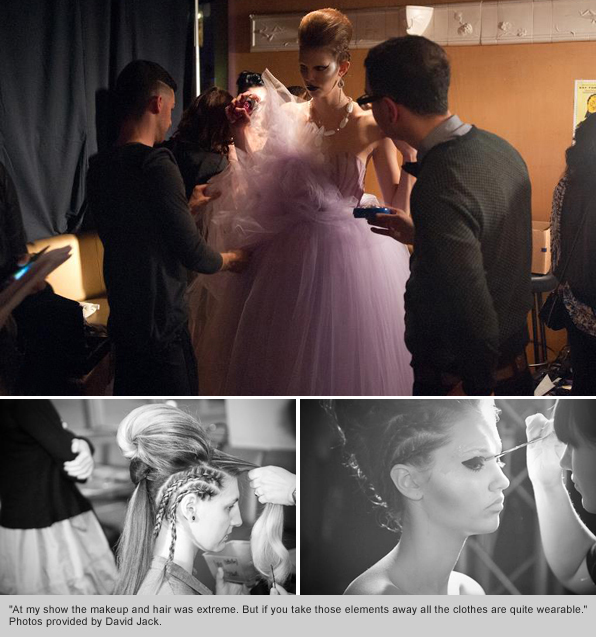 That ball eventually came to rest earlier this year with a rapturously received Debut Collection Show. Two years in the making, it was an evening offering definitive proof that Vancouver is a city excited about defining its own fashion identity. And for David, it was confirmation that all his hard work was time well spent.
"What else was I going to do?" he laughs. "It's what I wanted to do and it's my passion. It was a long, drawn out process. There were times when I thought, what am I doing? But I wasn't going to get halfway through it and give up.
"The idea for the collection was a time so far ahead in the future that the sun has moved closer to Earth and dried it out. The sun has faded all the bright colours. So there are a lot of pastels. For accessories people have to use feathers and old jewels that they find. Women have changed as well. They've become ultra-beings. They're totally self-sufficient, but still feminine.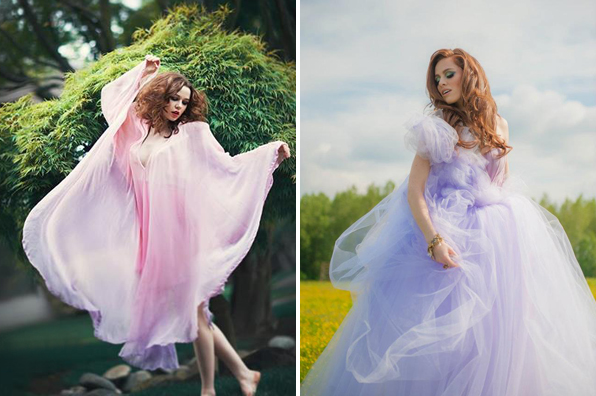 "This had to make a statement of who I am. I knew that being a designer is more sweating over a machine than glamour. I knew it would be hard work. You see designers come out on the runway after their shows and you can see that they're haggard and have been up for nights sewing and putting on buttons. I knew what I was getting into. When you're doing your first collection you want to do everything"
David had announced his arrival on the Vancouver Fashion Scene. He's been busy ever since.
"People were telling me they thought it was insane; like nothing they'd ever seen before. Everybody wanted to borrow stuff for photo shoots. At least two stylists have been coming over per week since then, borrowing garments for shoots.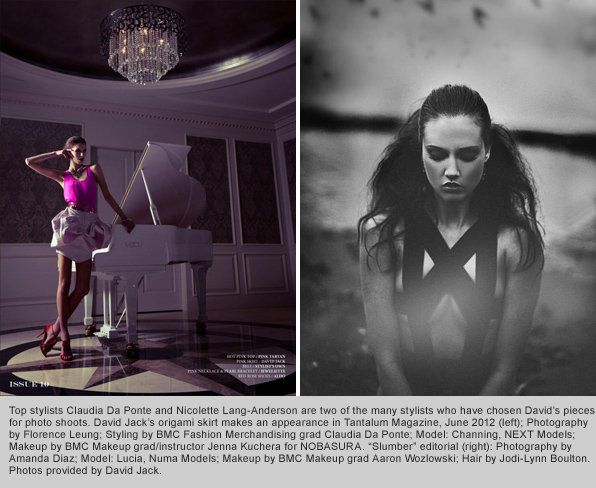 "I haven't stopped doing custom stuff since. I'm working on a dress right now for Jody Claman from the Real Housewives of Vancouver. I made the jacket Josh Ramsay, the singer of Marianas Trench, wore on stage when the band was performing at the Much Music Video Awards. I put LEDs in the sleeves for him. They picked it up that morning, flew it to Toronto and he wore it that same night. I just flew to Toronto for the White Cashmere Collection. That's one of the biggest attended events in the Toronto fashion year and I was lucky enough to be a guest on Breakfast Television and CityLine on Citytv, and Steven and Chris on CBC. It's a fund and awareness raiser for the Canadian Breast Cancer Foundation. They asked 15 designers across Canada to design a couture gown out of Cashmere Bathroom Tissue. Jason Matlo recommended that I do it. I really don't know how these people find me. I like to think there must be stylists around Canada talking about me, which is a real honour."
David understands that his pieces are high fashion for a casual kind of city, but insists that what at first glance can appear outrageous really isn't that far out at all.
"I am pushing the boundaries," he admits, "but it's also about how you wear it. On my website and at the show the makeup and hair was extreme. But if you take those elements away they are quite wearable. That was the idea when I appeared on Urban Rush. I wanted to show how the models could wear the collection if they were going to something like an event or a couture evening out."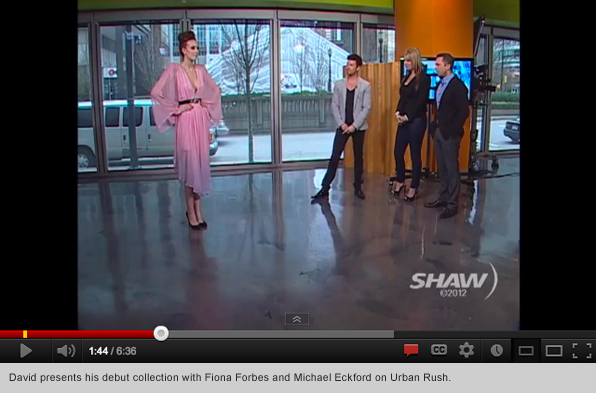 David's second collection is already in the works. The plan is to make it less expensive and easier to wear than Collection One. Within reason, of course.
"Most of my gowns take around a week to construct now. I want to continue the avant-garde garments, but also have some bread and butter pieces that are cheaper and quicker to make. Of course, there will still be a few extravagant pieces that can be bought for stage performances.
"I'm always going to have that," he insists. "I'm never going to lose that flair."