Fashion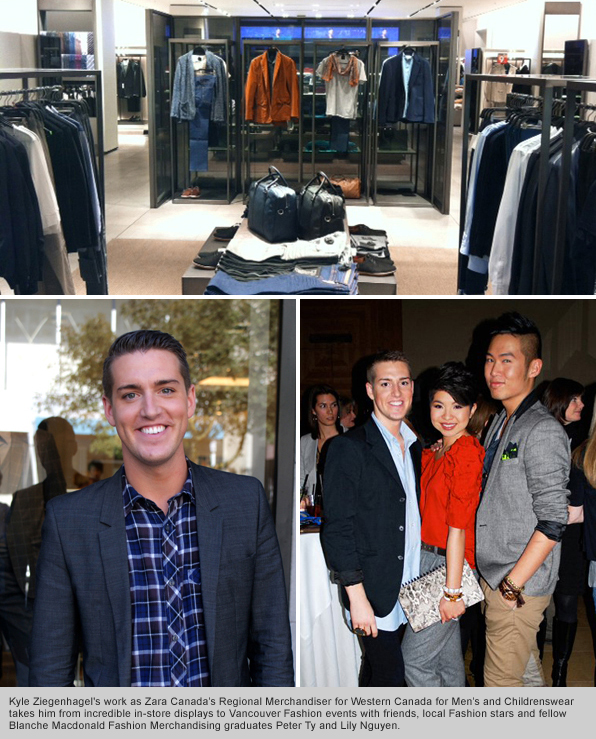 It's hard to pin down Kyle Ziegenhagel. His job as Zara Canada's Regional Merchandiser for Western Canada for Men's and Childrenswear doesn't leave him with too much free time. He'll only be at home in Vancouver for two weeks every month. The rest of the time he could be in Alberta, Toronto, Montreal or even the Zara head office in A Coruña, Spain.
"It's busy," he smiles. "I'm not home very much, but it is fulfilling. Because I look after multiple stores and two departments I'm very rarely in the same store two days in a row. I'm always working with different people, which I like. And I really enjoy that no two days are ever the same.
"It's my job to make sure that the information coming from Spain – whether it be standards or trends of the season or things to focus on – is implemented properly in Western Canada. There needs to be a consistency. You should be able to go to a Zara in Vancouver or Istanbul, and it should be fairly similar. But there's a lot of room for creativity too, because the clientele in London and Tokyo aren't going to be the same, right? My region, Western Canada is actually a bunch of niche markets. Calgary, Vancouver and even Richmond have different types of customers. You need to take the standards and make them work in each individual market."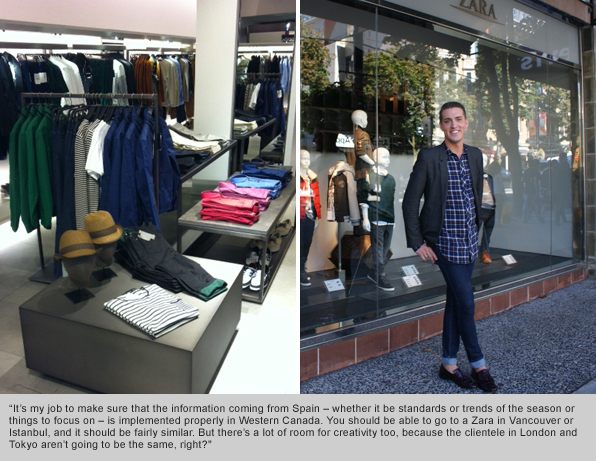 There's a gentle irony in how Kyle's current position takes him to Alberta on a monthly basis. Because that's where he grew up and where his fashion journey began.
"Alberta isn't really a fashion hub," he admits. "It's very rural and kind of laid back. It's not like I felt impelled to become part of the fashion industry, but growing up I always found it fascinating. I wouldn't say I was the best-dressed man in high school but I was always trying things out, trying to be different. Sometimes it was good. Sometimes not so good.
"As I grew older I realized that there were actual career opportunities in fashion. I wanted to pursue a fashion career, so I looked up some schools on the west coast, found Blanche Macdonald and moved to Vancouver. Blanche Macdonald seemed approachable and personable. I knew I wouldn't just be student number whatever."
Kyle arrived at Fashion School without preconceived ideas of where he wanted to take his career. But he knew he wanted to absorb as much information as possible and seek out every opportunity available.
"I was always into styling and fashion show production. And I liked the awareness part of the program. It was so informative. At Fashion School the Career Director and I were very close. I was always in her office volunteering for things and asking what I could do next. I did fashion shoots. I did fashion shows, including the Blanche Macdonald Fashion Design grad show. I did whatever I could do."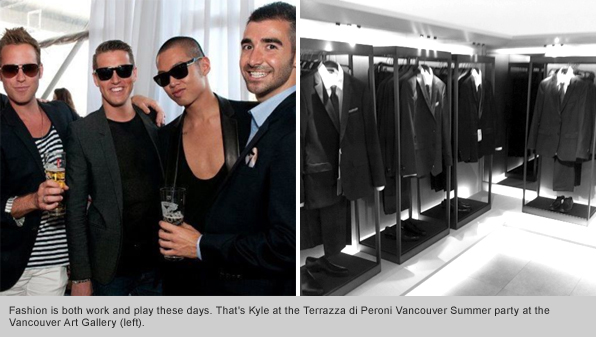 That eagerness to volunteer eventually took Kyle all the way to New York Fashion Week, interning for Atelier Creative Services, the Public Relations firm looking after the brand Ports 1961.
"One of the craziest moments was when I was watching Anna Wintour of Vogue walk to her seat at the Ports show. It was crazy because here was this icon, two feet beside me, who basically controls the fashion world in North America. It's hard to explain, but it was pretty incredible."
Kyle returned to Vancouver unsure of where he wanted to go in the Fashion Industry. The role of in-store merchandiser at Zara on Robson Street seemed like a great starting point.
"As an in-store merchandiser I was receiving product, replacing old product, dressing the mannequins, making the tables and analysing reports to make sure that what we were doing was selling. Because of the knowledge and experience that I had from Fashion School, combined with my work ethic, I was able to move up in the company."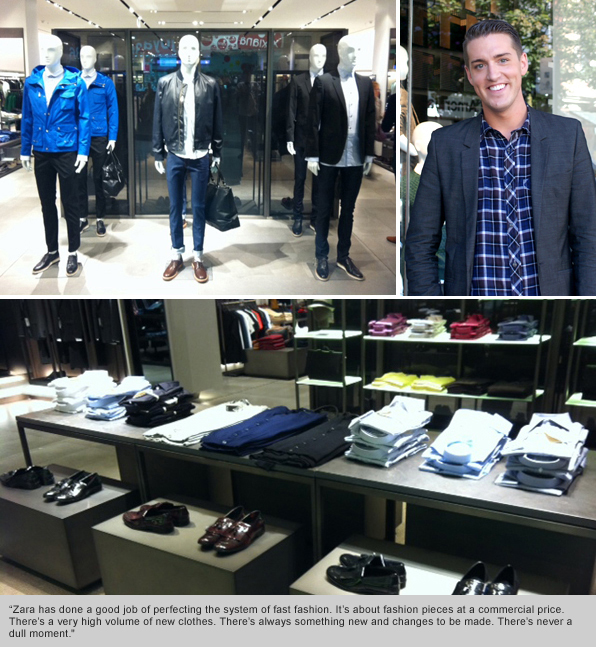 Kyle's hard work was rewarded two and half years ago when the position of Regional Merchandiser became available. He's not slowed down since then, travelling between the seven stores he's responsible for across BC and Alberta, and heading further east for regular visits to Zara's head office.
"Zara has done a good job of perfecting the system of fast fashion," he explains. "It's about fashion pieces at a commercial price. There's a very high volume of new clothes. We get large shipments twice a week. Which is exciting. There's always something new and changes to be made. There are always new things that need to be adjusted and merchandised. There's never a dull moment.
"I'm lucky that I work for a company that's been doing this for many years and has taught me a lot. They're very good at training and we have a lot of tools at our disposal that help the decision making process. But there's a lot of thinking on my feet as well. I really like that moment when I can step back after I do something creative and think, pretty good."
Turning shipments into tempting displays delivers instant gratification, but Kyle's absolute favourite part of his job is inspiring the next wave of aspiring fashionistas. It's also an aspect of his position that frequently takes him back to his fashion education.
"I'm the person who trains the staff and relays the message, so it's important that I'm giving and teaching the proper terms I learned at Fashion School. Like, this is this exact type of jacket or seam. And because of the Textiles classes when we get new pieces in I understand and can explain the features of the garment."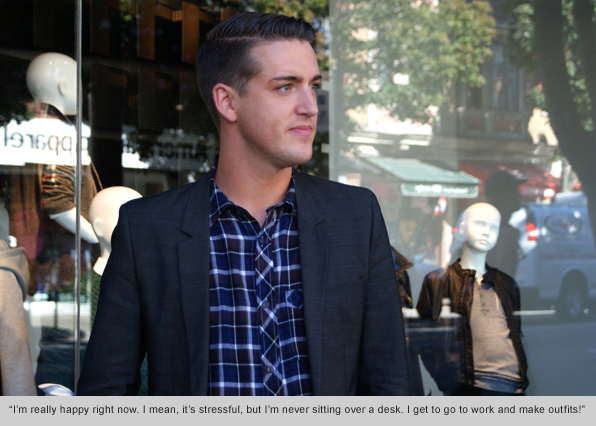 "Training someone is very fulfilling to me: taking someone who has potential, working with them over time and coming back to their store and seeing it look amazing! I love it when I go to a store and they have made it look great on their own. They've been trained so well that they already have a beautiful and commercial store without me having to be there. I've had some great success stories and seen people move into higher positions.
"It's not for everyone. But if you have determination and you're quick on your feet, you can do very well."
Another fulfilling aspect of life with Zara is that Kyle has had the opportunity to travel to North-western Spain, and the company's Head Office in the city of A Coruña.
"I went for the first time in January. I saw how everything was designed, and had meetings explaining what the new directions would be and what the direction of the season would be. I was there for a week, and didn't have a lot of free time. It's still a lot of fun. And I learnt so much!
"I'm really happy right now. I mean, it's stressful, but I'm never sitting over a desk. I get to go to work and make outfits!"