Fashion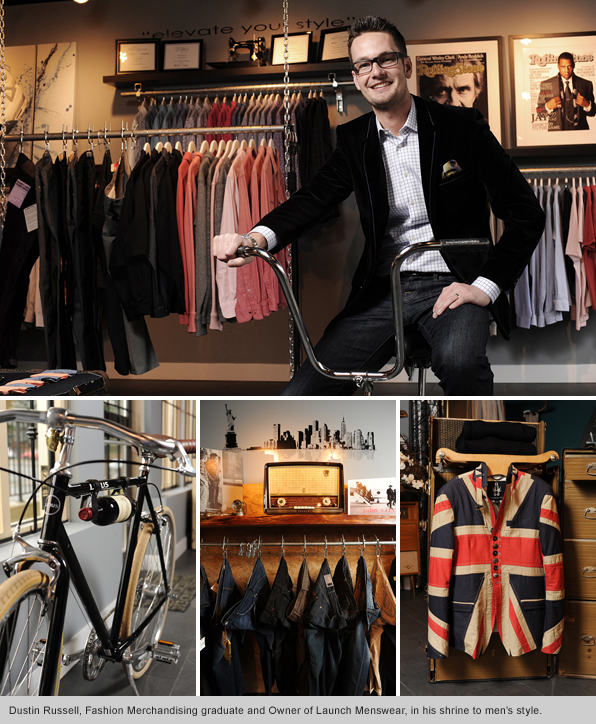 Dustin Russell can still remember what sparked his lifelong interest in fashion. After all, what motivates most men to do anything?
"In my mind, it was a way to attract girls," he smiles. "I liked looking good. I liked the attention that came with looking good. I was never one of those kids that wore sweat pants. I always tried to put something together. My Dad was a suit and tie kind of guy, so it probably came from him. My grandfather was very well dressed too. And it definitely worked with the girls."
Dustin still dresses to impress these days, just not for the girls. He's married with a family, but as the owner of Launch Menswear, an oasis of fashion in British Columbia's Fraser Valley, the men of Abbotsford and the surrounding areas appreciate having their own style icon to look up to.
"I try to position myself as a style consultant," explains Dustin. "I'm not just here to sell somebody clothes. If I talk you into buying something and you take it home and it stays in the closet, that doesn't do me any good. It leaves a bad taste in your mouth if you've been sold on something and never wear it. I get a lot of people in here that want to change their image. They've read my blog or seen the site and know I have experience, so they trust me. I never anticipated that. I thought I'd just be selling clothes."
There are three main reasons why Launch Menswear is thriving (helping Dustin pick up Abbotsford's Eric Vanderham Young Entrepreneur of the Year Award on the way). One, Dustin looks great. Two, there's nothing like Launch for miles in any direction. And three, as a Blanche Macdonald Fashion Merchandising graduate with extensive experience in the heart of London's fashion industry, Dustin knows what he's talking about.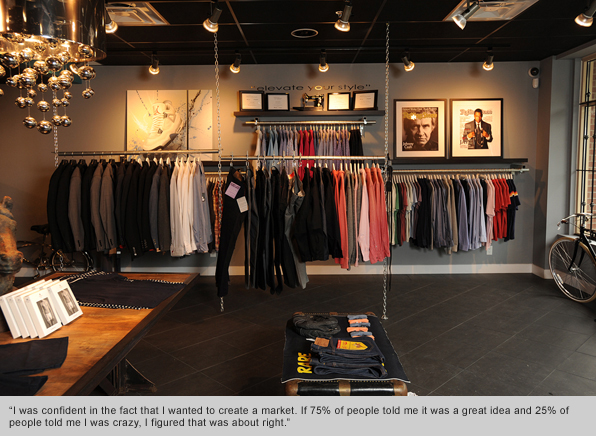 "I knew I could have a career in fashion if I took the right steps," he recalls. "My guidance counsellor at high school suggested I take a fashion program. I looked around, met with the people at Blanche Macdonald and it seemed like a good fit. I liked the way it felt and I could commute from my home in Langley.
"I loved what I got from Fashion School. I'm proud to have gone through the program. I did really well. I took a lot from it. I still use things I learnt at Blanche Macdonald, from the buying and the math side of things to trends and terms that I thought I'd never use again. Today I see things on paper, stuff like terminology for necklines, and I instantly know what it is. It's still very prominent in my mind."
Blanche Macdonald's career placement team set him up with a work experience position in Vancouver after graduation, but Dustin had his sights set further afield.
"Part of me wanted to go to one of the hubs of fashion. I had a contact at Burberry in London, a friend of a friend who was the general manager there. I knew they were opening a new flagship location in Knightsbridge. She couldn't guarantee me a job but said she'd give me an interview. I took a leap of faith, jumped on a plane and went for it. I knew I wanted to experience big city life and I thought London would be a great place to start.
"After my interview they called me an hour later and I had the job. I was part of the merchandising team that started from bare walls. It was fantastic. My role as merchandiser finished, so they offered me the role of assistant manager in the ladieswear department. I served a few of the Spice Girls. I'd help carry Mel B's pushchair up the stairs. On any given day you didn't know who would walk through the door. Roger Moore, James Bond, was a regular. I covered a shift in menswear and Valentino came in. He always wore Burberry cashmere sweaters. He came in, bought the lot and took my business card."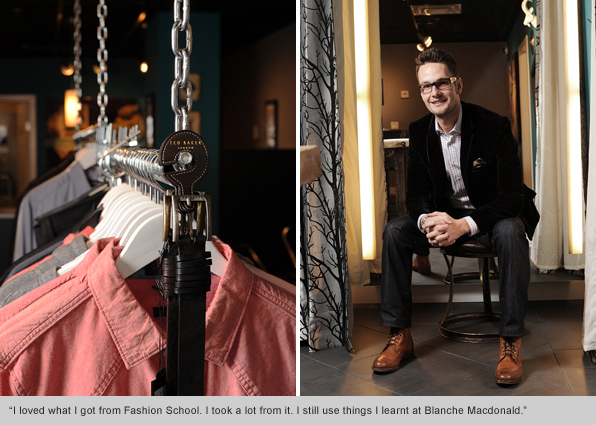 Dustin had become part of the London fashion world. A chance encounter would take him even deeper into its heart.
"I really enjoyed the show Footballers' Wives and I was fascinated by the clothes," he laughs. "I noticed in the credits that it said the Men's Clothing was provided by Ozwald Boateng. I eventually went to his shop on Savile Row and Ozwald happened to be there. I tried a few things on, we had a 15-minute conversation about what I was doing and he offered me a job on the spot. He thought having a Canadian there would be good for tourist business.
"I spent six months with Ozwald. He's a legend and that was a great experience. Gordon Ramsay came in and I didn't know who he was. We set him up with some suits and we talked about Whistler. We did the suits for Bad Boys II. That was pretty cool. We put outfits together for Will Smith and Tom Cruise."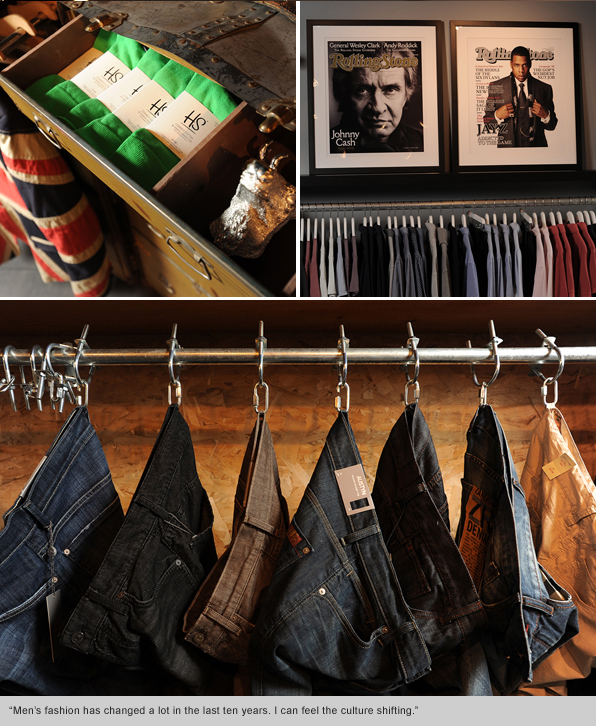 Dustin would have stayed in London had his working visa not expired. Instead, he returned to BC, reunited with the girl he left behind (she's his wife now) and deferred the fashion dream while earning a good wage selling construction equipment.
"The money and the people were great," he admits, "but it wasn't me. My wife said, 'Why don't you try opening a store in Abbotsford?' I was working full time, but every extra minute I had I was researching brands and reading blogs.
"My first buying trip was in Toronto. I went back to my Blanche Macdonald experience and Donna Baldock's buying classes. I pulled out some of my paperwork from her class to reacquaint myself with the jargon. I turned up for that meeting and it went well. I may have bought things that I shouldn't have, but it was great and the beginning of everything."
Dustin understood he was taking a risk. He also had the belief that he could make Launch a success.
"I was confident in the fact that I wanted to create a market. I didn't want to be like everybody else. There's a menswear store up the street that's been in Abbotsford for 27 years. It's never changed. I had to do something different. I wanted people to walk through the door and feel that they're in Downtown Vancouver. I knew that would be going against the grain. If 75% of people told me it was a great idea and 25% of people told me I was crazy, I figured that was about right.
"We had a great opening party. We had 80 people through the door. The local paper and the Abbotsford Heat hockey team came. I sold far more than I expected. We did a little campaign on the radio and it opened up with a bang."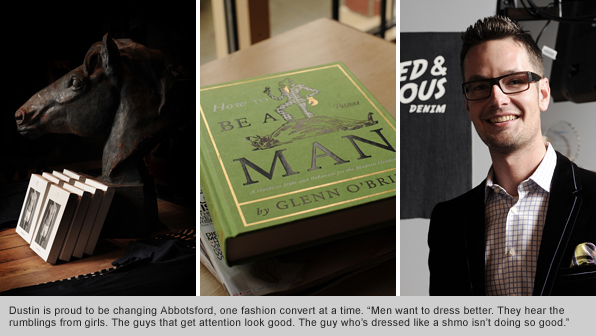 Dustin would be the first to admit that Abbotsford has never been a hub for cutting edge fashion. But he's acutely aware that with his help, there's a noticeable change in the air.
"Men's fashion has changed a lot in the last ten years," he insists. "I can feel the culture shifting. If you pick up any magazine, whether it's a UFC or a fitness magazine, they all have a page on fashion. Men want to dress better. They hear the rumblings from girls. The guys that get attention look good. The guy who's dressed like a shmo isn't doing so good."
Maybe one day Dustin and his family will return to London. If he does, it'll be a sad day for not just the fashion forward men of Abbotsford. He's made a difference, not just to his customers, but to his city.
"I'm committed to the revitalization of what's down here," he explains. "I was the first business in this building. I was willing to take a chance and I've proven a lot of people wrong. Now there's only one space left.
"The highlight for me is customers coming through the door every day, telling me how much they like the store and how much they want it to succeed. I have regular customers that just drop in to say hi. They've made a commitment to shopping here. They tell me about new brands. I've built a little community and everybody feels like they have a part of it. That's what I'm most proud of."