Fashion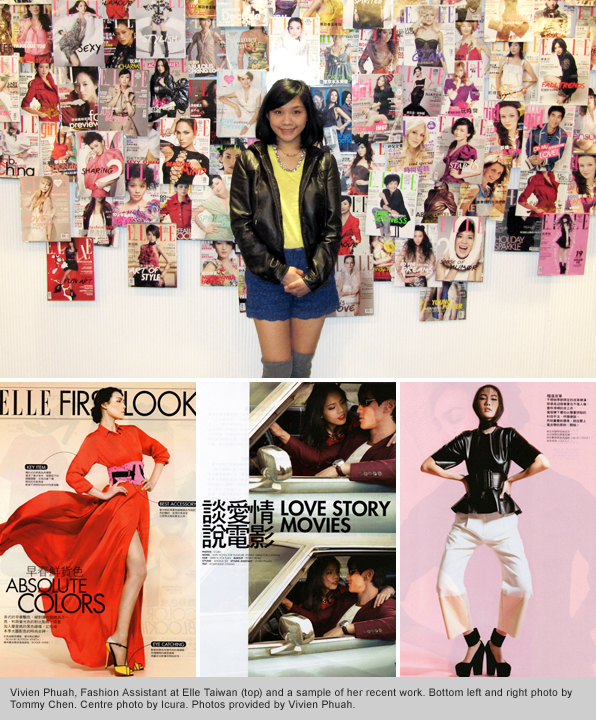 Everyone knows the clichés about life at a fashion magazine, right? Vivien Phuah, Blanche Macdonald Fashion Merchandising graduate and Fashion Assistant at Elle Taiwan, can sort the fact from the fiction.
"It's pretty close to The Devil Wears Prada," she laughs, "but the people I work with are much more understanding. The stress is just as busy. It's a hard job, but it's what I love to do, even when I'm working at midnight trying to finish a shoot. I still get excited about all the clothes I get to work with. I don't get to finalise the clothes for shoots, the fashion director says what's in and what's out, but I do get to style them.
"At the beginning of the month I'm looking at celebrity and runway photos, focusing on trends and what we can write about in upcoming issues. We're looking for reoccurring themes. I'm also selecting store merchandise items and shooting product images for runway to street style editor's picks. I'll make my selections, write about them, and then give it to our fashion director to edit."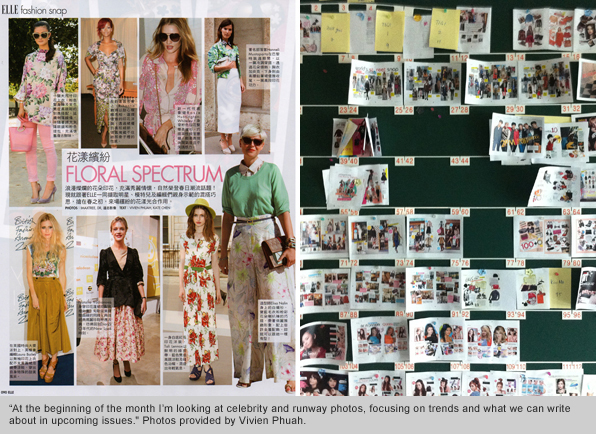 There you have it. Fashion magazine reality is not nearly as venomous as the movies make out. It is, however, just as glamorous.
"For Elle Taiwan's 20th anniversary we had a style awards gala party for all the celebrities, designers and big PR firms in Taiwan. To say congratulations to the magazine, designers including Burberry, Givenchy, Issey Miyake, Gucci, Paul Smith, Salvatore Ferragamo, Christian Dior, Bottega Veneta, and Anya Hindmarch all contributed to the party by giving us customised gifts. We wanted to thank all the designers so we put on a runway show with two looks from each of them. Our fashion director pulled the clothes and let me style them. I'd never styled a high fashion show before. That was a big stepping-stone for me, being backstage, working with the show production team, and not just steaming clothes. Working for Elle Taiwan and that fashion show in particular made me feel like I'd accomplished a lot in two years."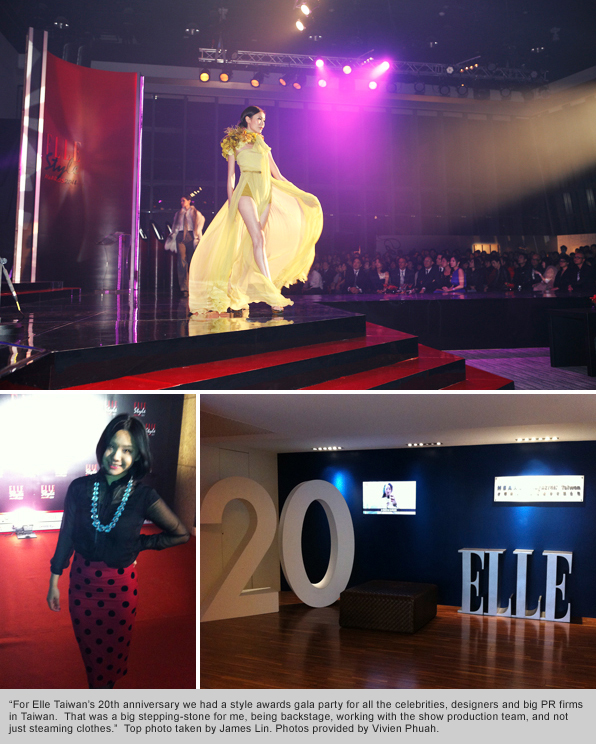 Vivien's accomplishments over the past two years are a testament to her passion, talent and hard work. Back then she was taking tentative steps into the world of fashion. These days, she's taking giant leaps.
"I was definitely a little fashionista at high school," explains the Coquitlam native. "My mum owned a bridalwear company and took part in a lot of the designing. I didn't want anything to do with that but ever since I was a little kid I would always be mixing and matching my clothes, making sure my outfit looked great. 'Mom, does this look ok?'"
Vivien had her first fashion job straight out of high school as a sales assistant at Aritzia. She was hooked from the start.
"When I started at Aritzia I realized how much I liked working in fashion. I love giving opinions and dressing clients. I had a fun time selling clothes and giving people advice on how to wear it. I loved it when customers would say, 'I love your outfit. Is it from here?'"
Vivien moved from Aritzia to Armani and from there on to Club Monaco. She earned her diploma in Finance while she was working, but her colleagues and clients at Club Monaco suggested that there was another educational experience waiting for her.
"I met a lot of Blanche Macdonald students working in the store. I knew I didn't want to work in finance. I'd been doing fashion retailing for so many years, why was I not studying fashion? I was constantly reading fashion magazines and was always thrilled by the inspirations and creativity in the editorial spreads. I was really into fashion history and I knew I could do well in it. I knew Blanche Macdonald had a really good reputation in the industry. Once I was introduced to all the courses there, I was immediately into it."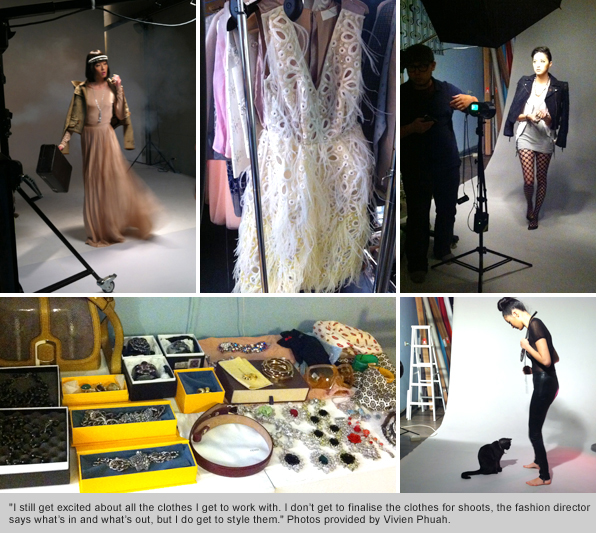 The Fashion School experience turned out even better than Vivien anticipated.
"It was probably one of the best years of my life. I'd never done so well in school, because I've never been so passionate about something. I love fashion history – which is why I always wanted to do fashion editorial. I remember going to find Mel Watts on the second week of school and telling her, 'I don't know what it's called, but I love working in magazines and writing and working on shoots'. She said, 'I guess you want to be a stylist or fashion editor'.
"By the third or fourth week of school I was scouting photographers and models starting to build my portfolio. I met people on-line and through word of mouth. I'd been told because I look really young that people would doubt me and not take me seriously. After a couple of shoots people could see the talents I had and wanted to work with me. I worked backstage at a lot of fashion shoots, dressing models and steaming clothes. It goes a long way. You learn so much through your own and other people's mistakes. I don't think any kind of volunteer experience is a waste. I honestly can't remember how many volunteer jobs I did, but all those experiences helped me become the person at work I am today."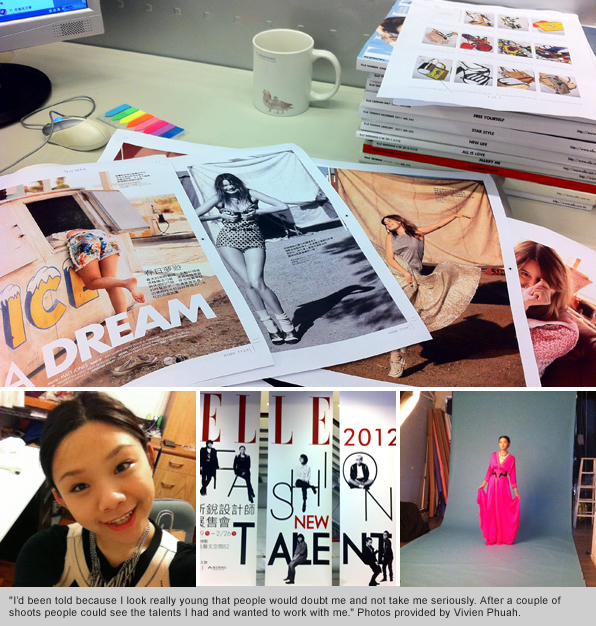 There had always been a stylist inside Vivien. Now that stylist was being moulded by the people she was meeting and the lessons she was learning.
"Fashion Elements was tough, but it was really useful, learning the silhouettes and what fits better on certain types of body, relating to different decades in fashion history. My favourite class was definitely Fashion Awareness with Peggy Morrison. I loved learning about designers and how they came to be themselves and where their inspirations came from. I loved styling with Tyler Udall. He's done so much and was such an inspiration to me. He's still one of my biggest role models and mentors. When I was assisting a stylist called Tanus Lewis I had no idea she was good friends with Tyler, and I didn't know he knew I was assisting her. A couple of hours into the job she said, 'So, you're a student of Tyler? He speaks very highly of you.' He was supporting me without me even asking for it."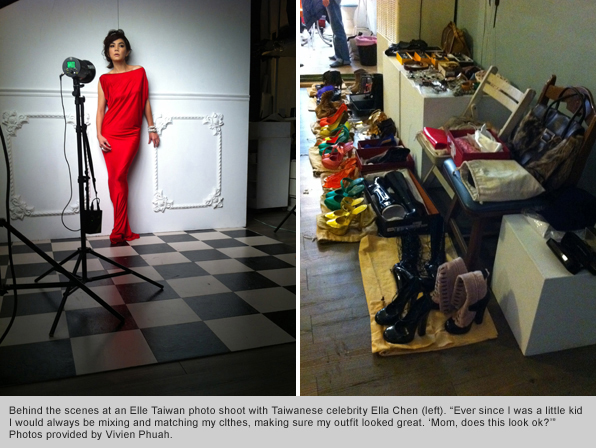 Great grades and a healthy résumé of experience on shoots and shows led to an internship opportunity with a PR firm in London, England. One skype interview later, Vivien was on her way across the Atlantic.
"I loved my time at Blow PR," she beams. "The people I worked with were amazing and it was near Oxford Circus so every day after work I could go shopping or walk anywhere.
"We did PR for a lot of emerging avant garde designers, mostly in Europe.
"A few of the most well known brands we represented included Underground, Bjørg, Aqua, Izzue, Iris Van Herpen, Asher Levine, Ekaterina Kukhareva, and Phillip Armstrong. Many of our designers were worn by Lady Gaga, Rihanna, Paloma Faith, Jessie J, Nicola Roberts, and Katy Perry. I started off doing intern stuff like filing and press clippings. It's England so I had to make tea, not coffee runs. My managers liked me and I was soon writing press releases and helping organizing events with the designers."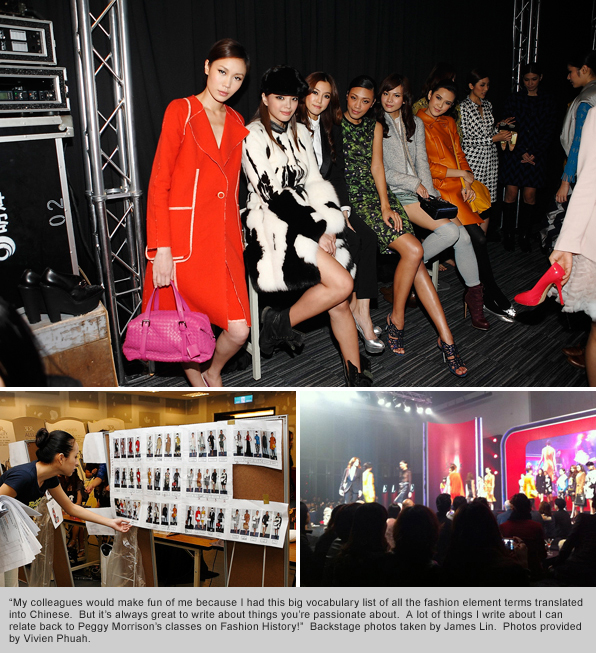 Vivien moved to Taipei unsure of where her next career step would be. With no reason not to start at the top of her wish list, she sent in applications for editorial positions at Taiwan's fashion publications. Elle liked what they saw. The rest is history.
"My colleagues would make fun of me because I had this big vocabulary list of all the fashion element terms translated into Chinese," she laughs. "Chinese has always been my second language, and I grew up writing in English. I had to take everything and translate it into Chinese. But it's always great to write about things you're passionate about. A lot of things I write about I can relate back to Peggy Morrison's classes on Fashion History. I've received great feedback from my director. She recognises my passion and enthusiasm for fashion.
"She told me I'm improving every month," Vivien smiles. "But it's still challenging to write Chinese!"