Fashion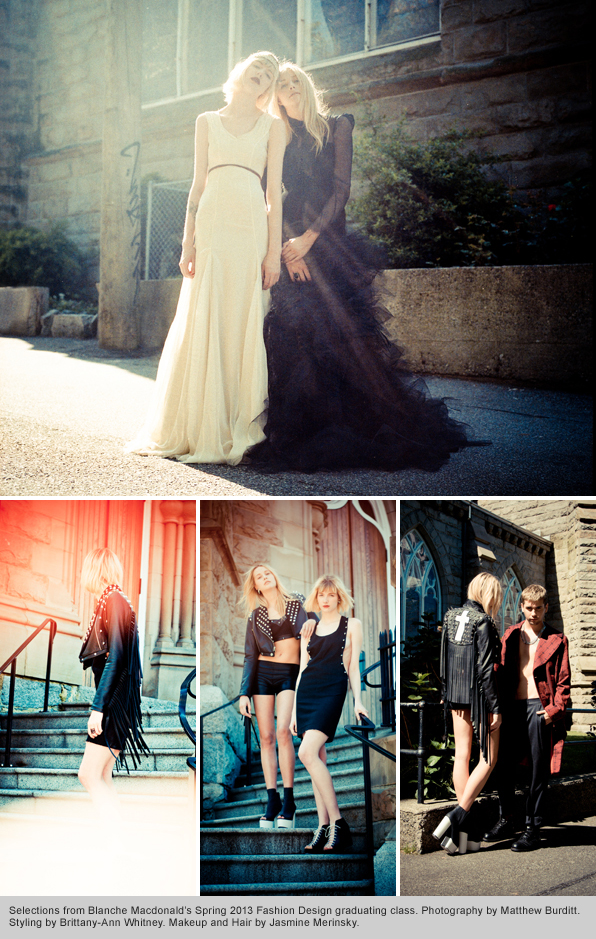 Every year, the Blanche Macdonald Centre looks forward to celebrate the next generation of emerging Fashion talent at their hotly anticipated annual Fashion Design Graduate show. With a strong reputation as being the breeding ground for some of the nation's brightest future Designers and setting Canada's standard for globally-recognized education, the school's Fashion Design program has helped launch thousands of exciting and successful careers in the Fashion industry. Last fall, we transformed our new Atelier campus into a full-fledged runway and presented two stellar fall/winter graduate shows - one to top Industry Professionals and Fashion Media and one just for family and friends. This year, with the usual fresh and optimistic flair, we're proud to celebrate the huge accomplishments of our talented graduates on two separate occassions with both a fall and spring presentation.
"Last week was our spring graduate showcase and it turned out to be a lovely affair. The intimate atmosphere set for these five special women was the perfect start to the summer season. The fifteen looks shown were as diverse as they were detailed; hand beaded lace dresses with Swarovski crystals, fringed and studded leather coat dresses and even in intimate apparel that was hand dyed using crushed berries and beetles were executed with such individual flare. 'Overall Achievement' winner Daniela Reiser was the only designer to feature menswear and the accolades for her year long performance was most certainly deserved. I look forward to seeing where these five talented young women go in the next few years," says Blanche Fashion Director and Creative Consultant, Tyler Udall (whose international credits include Senior Fashion Editor in London for publications such as AnOther Magazine, AnOther Man and Dazed and Confused, Contributing Fashion Editor for L'Officiel and Teen Vogue and Creative Director for the Agency Fred and Associates in New York).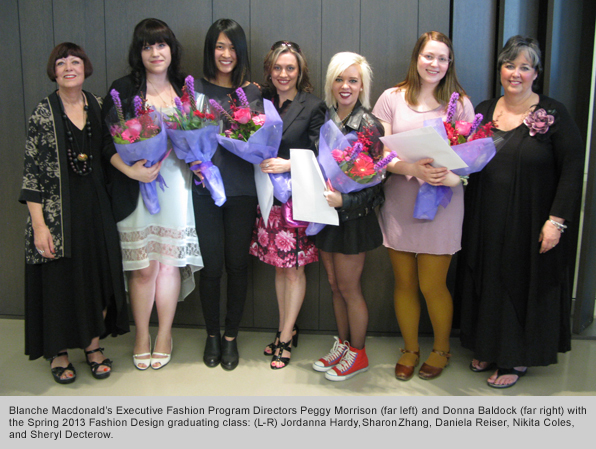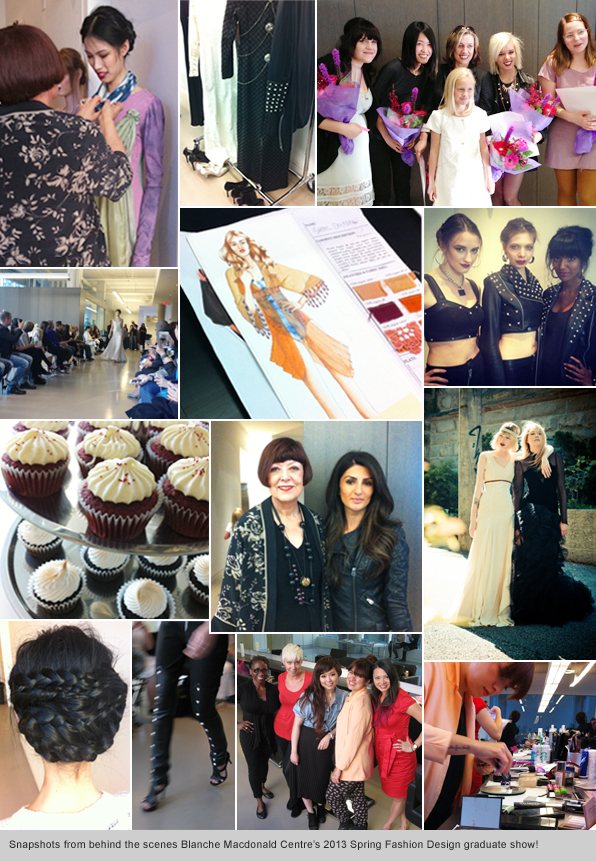 Right next door to the school's Downtown Robson Campus where Fashion Design graduates Sheryl Decterow, Nikita Coles, Jordanna Hardy, Sharon Zhang and Daniela Reiser spent the last year surrounded by immense creativity, knowledge and hard work, spotlights illuminated the Blanche Macdonald Atelier Campus catwalk once again. With cupcakes and wine in hand, and in the company of their closest friends and family, each Design graduate showcased an edited selection of their hard work, unveiling three looks from their debut collection.
One of the stars of the night was graduate Daniela Reiser, whose "Overall Achievement" award win encompasses her outstanding achievement in every subject throughout the school year. Her collection, based on her native Switzerland, was a beautiful interplay between textures and genders. She even designed a miniature replica of her stunning lace gown for her lovely eight-year-old niece, her date for the evening.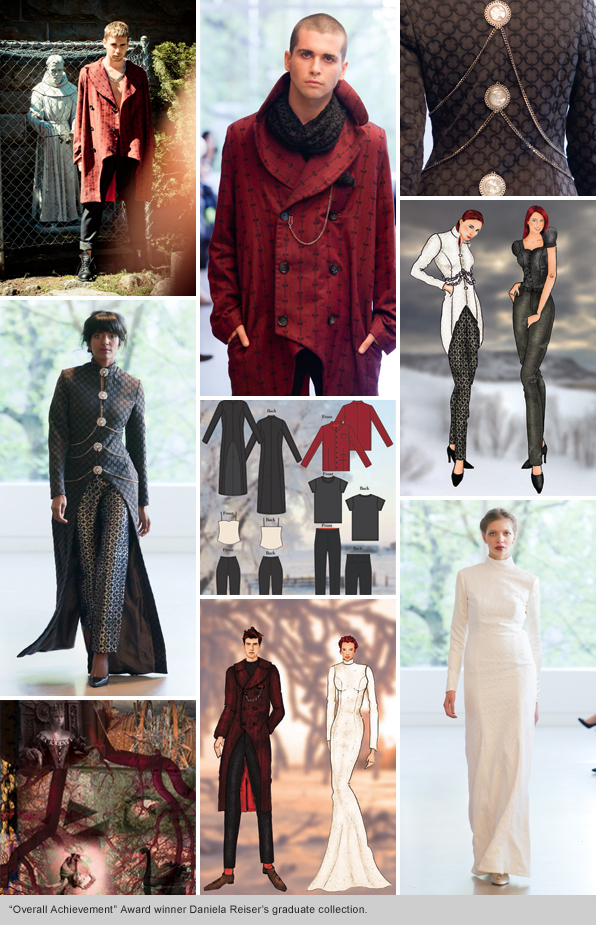 Take one look at Sheryl Decterow's portfolio and you will see how she took home the prize for "Special Achievement in Illustration". Her nature-inspired fall/winter resort lingerie and loungewear collection graced the runway with hand-dyed fabrics and breezy silk layers draped over delicate two-piece and fitted bodysuits. The erratic designs and colours she created through countless hours of hand-dye experimentation was a visual treat for everyone.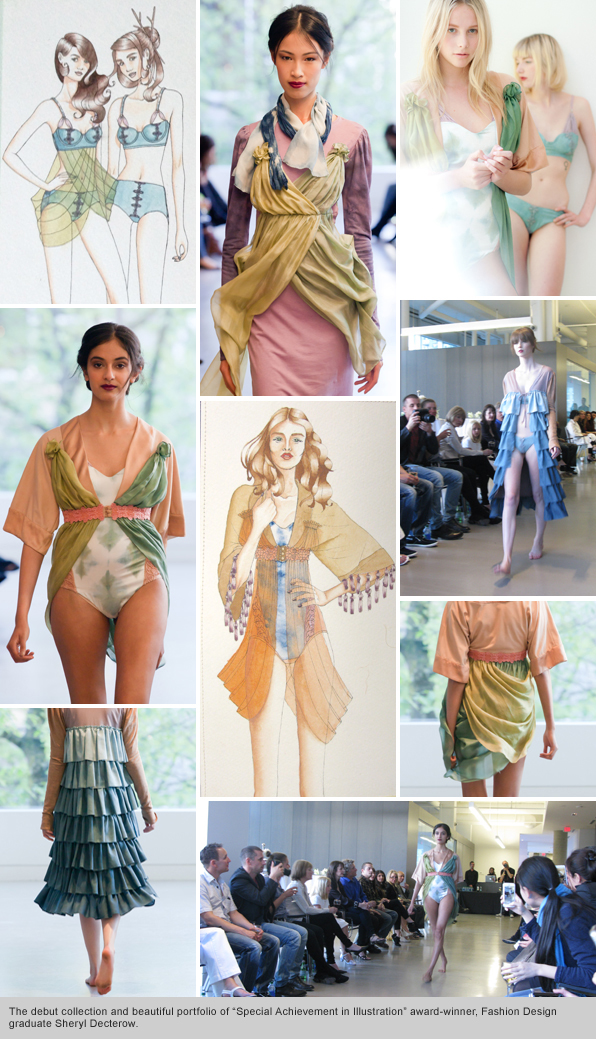 Black leather, dark denim, studs and exposed zippers sum up grad Nikita Coles' collection, "Anarchy". Largely inspired by the 1970's punk revolution, her debut collection showcased her love for cropped, fitted leather jackets embellished with carefully placed hardware, and stretch denim and wet look spandex with leather trim detail. Nikita received the award for "Special Achievement in Garment Construction".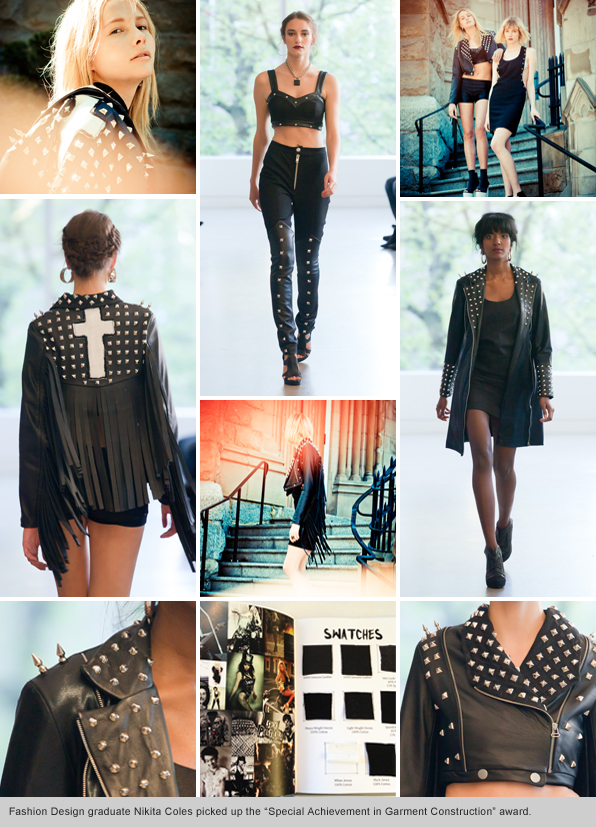 Sharon Zhang's collection, titled "Yuan: a circle. destiny" was a fascinating collection using innovative techniques in garment construction. The circles within circles embedded in dresses and tops were a contemporary twist that we had never seen before.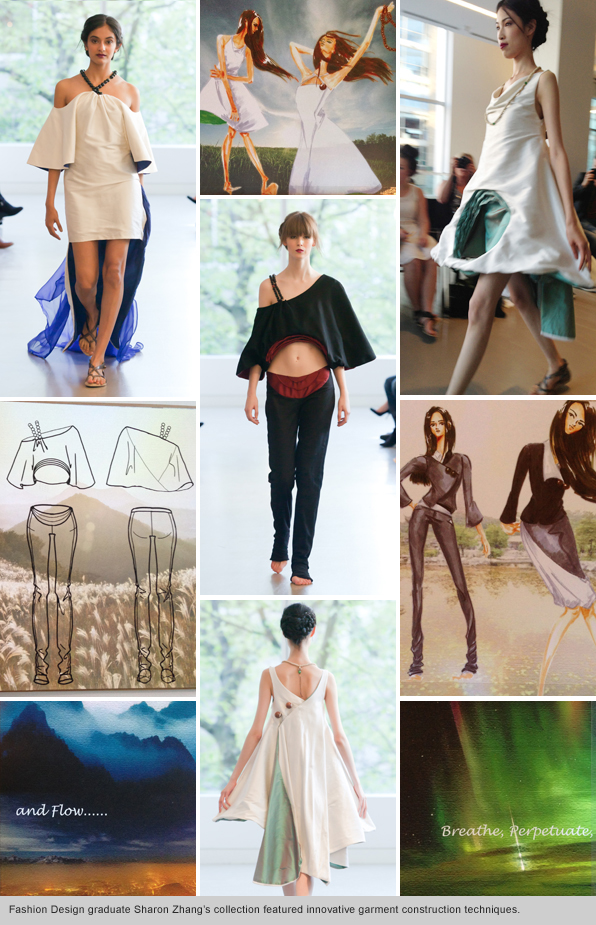 Jordanna Hardy's evening gowns that closed the show had a gothic romanticism to them that made all our hearts flutter. Her ivory silk dress adorned with a customized chain mail gillet had everyone wanting more. Her use of contrasting fabrics and textures really set her apart.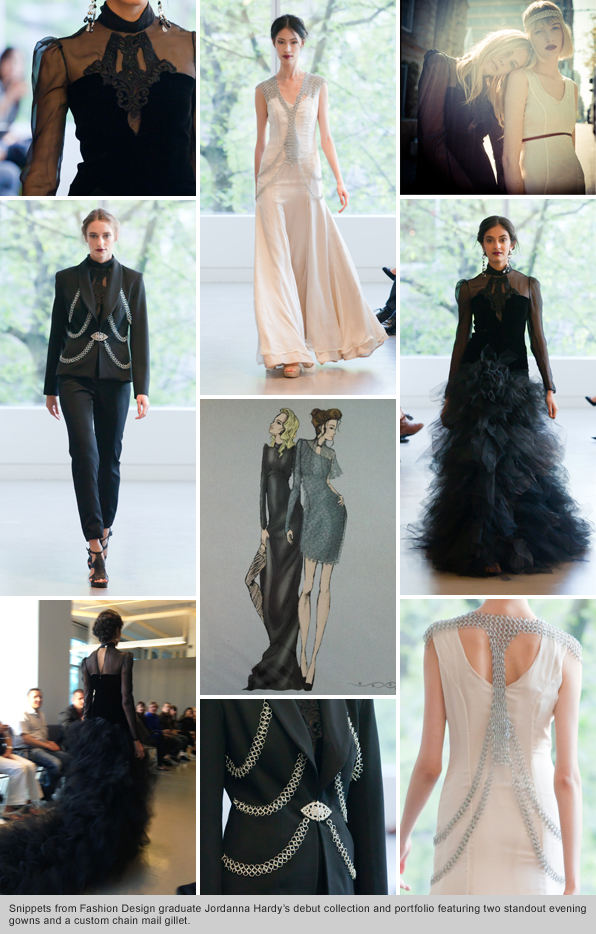 On behalf of the family and friends of the Blanche Macdonald Centre, we send our warmest congratulations to the Spring Fashion Design Graduate class of 2013!!!!
Many thanks go out to the fabulous Blanche Macdonald staff and teams of volunteer graduates and students from the Blanche Macdonald Makeup, Hair and Fashion Schools whose efforts and hard work helped make this event happen seamlessly. Special mentions to Program Director/Show Coordinator Peggy Morrison, Program Director Donna Baldock, Fashion Director Tyler Udall, Fashion Department Career Director Mel Watts, Sewing and Pattern Lab Instructors Brenda Swinglehurst and Jenny Hedberg, and creative catalysts Lisa Gellert and Dana Johnson. Special thanks must also go to Blanche Macdonald Centre's President Lily Lim, Instructors Rose Aiello, Kimberly Law, Emmanuel St. Juste and Wanda Sustersich, Lab Assistant Whitney Phuong, Creative Director Kelly Schmidt, and Host and Q Talent Leader Jaylene McRae.
Full List of Award Winners
Overall Achievement: Daniela Reiser
Special Achievement in Illustration: Sheryl Decterow

Special Achievement in Garment Construction: Nikita Coles