Fashion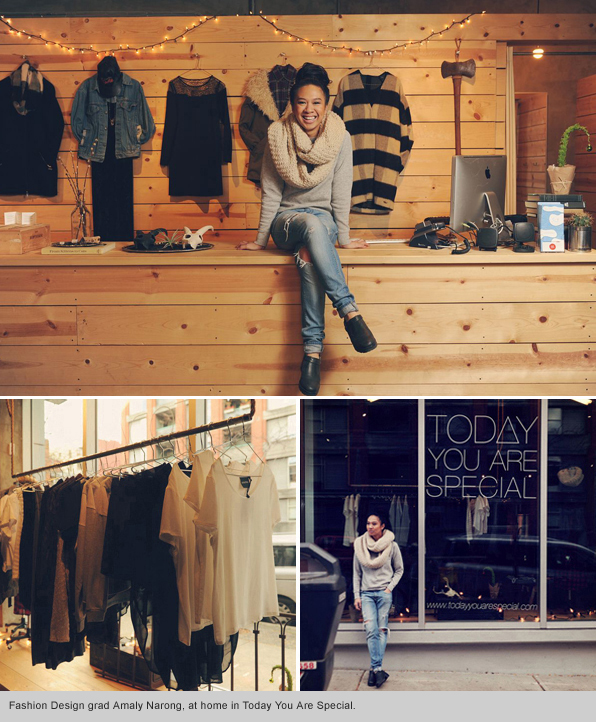 Today You Are Special is more than a name for Amaly Narong, owner of the stunning boutique in Vancouver's fashionable Gastown neighbourhood. It's also a philosophy.
"We like to keep everything in here very modern and current," she explains. "We try to keep things fun and up to trend, hence the name Today You Are Special! When you come in here you should feel like you're special. Not that you're not special every day, but when you come in here you know you're special."
Amaly is pretty special herself. The Fashion Design graduate from Canada's #1 Fashion School has had a journey that's taken her across North America and back again before making her dream project a reality. And it all started in the small, chilly city of Red Deer, Alberta.
"People aren't thinking fashion there," she laughs. "They're thinking agriculture. I always loved and admired fashion. It's the ultimate way to express yourself creatively, based on how you feel each day. In high school I was a morbid teenager and that was evident in what I wore. There were a lot of black clothes and eyeliner! But after I finished high school I got to know myself a little better and my own personal fashion started to evolve. I studied marketing at college in Alberta for a while but the people were so boring. I told myself, 'I'm going to do this fashion thing.'
"I did a lot of research about Fashion Schools in Canada and Blanche Macdonald was the one that jumped out. I came to Vancouver, spoke to the career coordinators, some instructors and really liked the feel of the environment. I could see everyone encouraging creative expression. I didn't have that backing when I grew up so I appreciated that."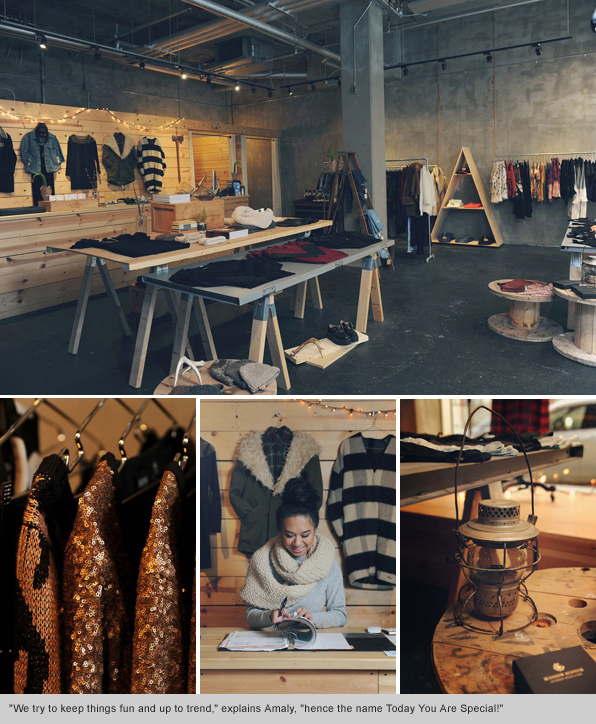 Enrolling on Blanche Macdonald's Fashion Design program, Amaly found that creative environment, and the encouragement at its heart, inspiring.
"Fashion School was hard work but really gratifying. It was only a one-year program, so it was condensed, and I really learned a lot. There was a lot of hands-on work, which I appreciated. I got to meet a whole bunch of like-minded individuals who were moving towards the same goals as me. That was really inspiring. I remember when it was time to graduate I didn't want to leave that creative environment. All my instructors had their own unique personalities. Peggy Morrison was so smart. Lisa Gellert was so eccentric. Brenda Swinglehurst was like my Mom. She was always there for me whenever I needed anything, even when it came to personal things like settling in a new city.
"My graduate collection was nothing like how I am today. I made a tailored blouse and tailored pants with hooped side-pockets on them, and a balloon dress that would wrap around and cinch at the waist. The Graduate Fashion Show was so rewarding. Seeing everything we'd learned executed and up on stage was fun. It made me feel that it was just the tip of the iceberg."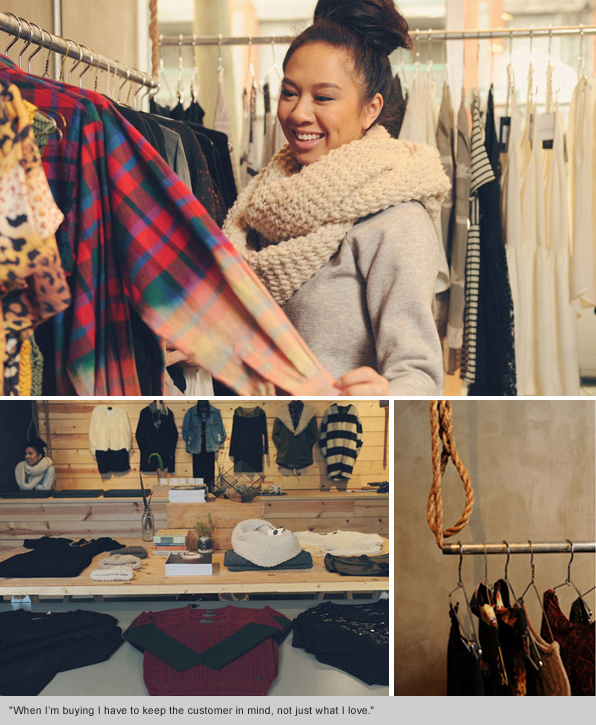 Amaly was ready for more, and soon after graduating she bought a one-way ticket to New York.
"I stayed there for six months trying to get as much experience as I could. I wanted to absorb it all! I arrived in February and knew New York Fashion Week was coming up, so I spewed my résumé to all my favourite designers and followed up by showing up at their studios in person.
"When I was ringing the doorbell at Nanette Lepore nobody answered, even though I could hear a lot of kerfuffle behind the door. When I pushed the door someone pulled it open from the other side and asked who I was. They set up an interview right then over a table covered in pins and needles and I was hired as a paid intern. I was able to do fittings, set up all the looks for the runway at New York Fashion Week and help dress the models. I could see what the designers were doing. I would source fabrics and communicate with production and the factories. I had the skills from Blanche Macdonald and it was great putting them into action in real life. It was a lot of fun. I'll never forget that experience."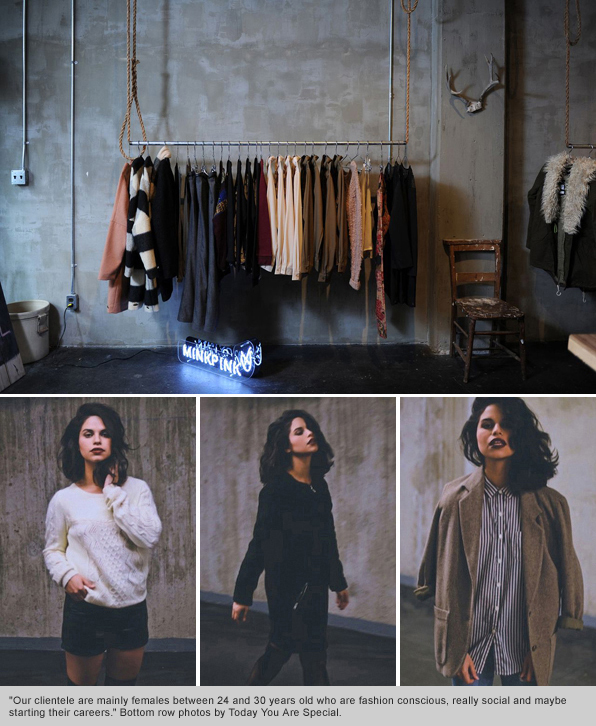 Returning to Canada after six months, Amaly decided that her future lay in her adopted hometown of Vancouver.
"I missed the rain and the people – the network of peers I'd developed. I came back and felt that I was at home again. I worked in the design industry for a while, picking up more knowledge. I worked with Dace Moore and she taught me what it takes to run a studio. It was really inspiring to see a woman do that herself. After that I joined Oak and Fort doing design work for them. Because they had a retail store in Gastown I was able to learn a lot more about the retail side of the business, and I liked that a lot. It was still part of the fashion world but it was more sales orientated. I was with them for their first two years, which was when I decided that I wanted something to call my own. Somewhere I could house all the labels and clothes I love."
The idea for Today You Are Special had been born. The challenge was turning it into reality.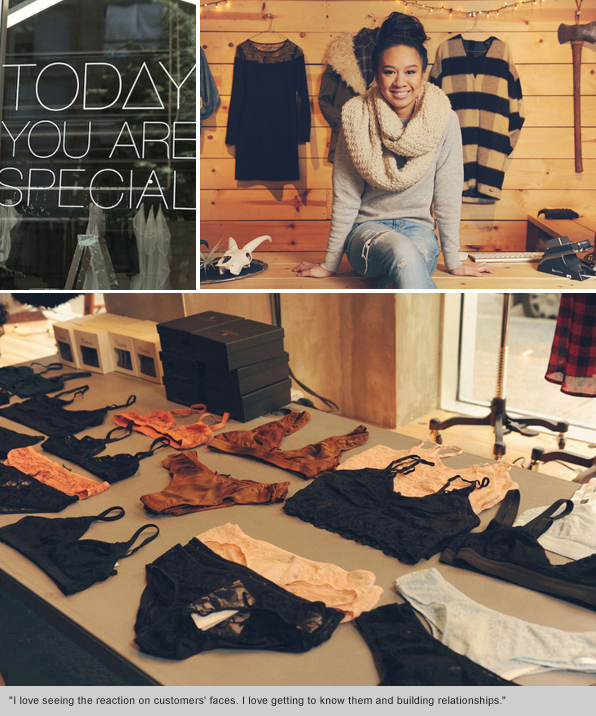 "The first step was putting the vision I had on paper; what I wanted to do and why I was doing it. I reworked it over and over again until I was happy with it. Then I had to figure out the dollar amount I needed to make it happen. After that everything just fell into place. Sometimes it was scary because it was overwhelming. But my connection with my peers from Fashion School helped me get through it."
Those baby steps were a year and a half ago. Since then Today You Are Special has been taking giant strides through Vancouver's fashion scene.
"At first we didn't know what to expect. We were doing a lot of social media and a lot of networking. We wrote a lot of press releases for new lines and we'd hold small, intimate events where we could meet people. I'm still constantly networking and looking for businesses to cross-promote with."
Amaly thought owning and running her own store would be both hard work and a lot of fun. She was right.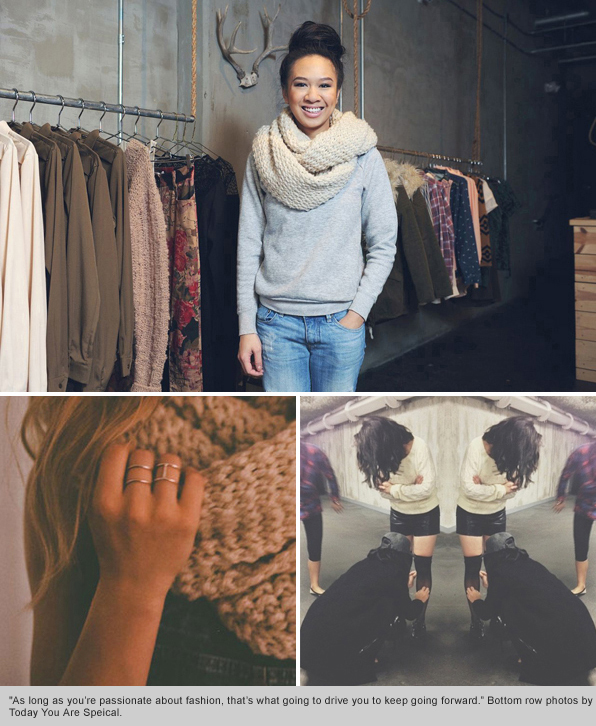 "I love doing the buying. I go to the Coterie and the Magic trade shows in New York and Las Vegas. When I'm buying I have to keep the customer in mind, not just what I love. I wear loud things sometimes. Women in Vancouver sometimes prefer to stick to the basics, so I make sure to buy a blend of both things. Although I always make sure there are things I love.
"Our clientele are mainly females between 24 and 30 years old who are fashion conscious, really social and maybe starting their careers. I work in the store five days a week, so being able to talk to everyone that comes through the door is huge to me. I love seeing the reaction on people's faces. I love getting to know them and building relationships.
"Vancouver is a relaxed city. But just because Vancouver's fashion is relaxed doesn't mean it's bland. It's just cosy. People here are definitely getting more adventurous. It's constantly evolving as Vancouverites are gathering information from other parts of the world."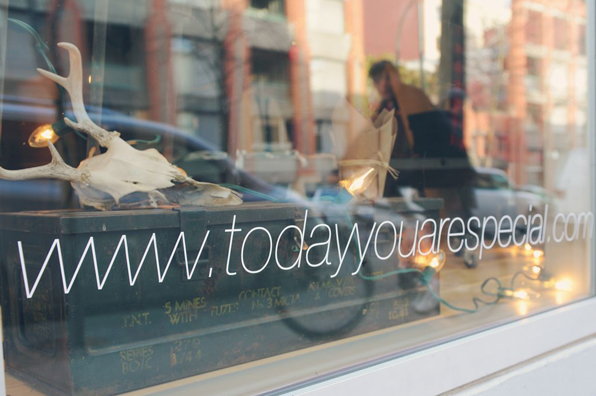 One day in the not-too-distant future, Amaly will probably start designing again; most likely something that'll fit into the relaxed but classic style of Vancouver chic that resonates around Today You Are Special.
"I have long-term goals to have an in-house collection of a line of basics," smiles Amaly. "I want to continue to focus on the store for the moment though. It can be stressful, but I do the best I can. That's what I tell people. As long as you're passionate about fashion, that's what going to drive you to keep going forward."