Fashion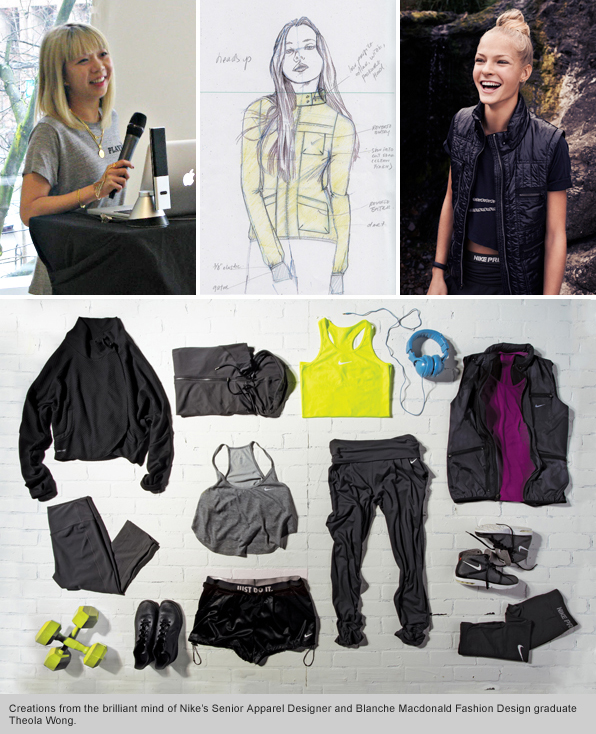 "I knew I was going to be a designer when I was five years old," smiles Nike Senior Apparel Designer and Blanche Macdonald Fashion Design Graduate Theola Wong. "My mother sewed all the time. When I was four I asked her how to use a sewing machine. She taught me how to crochet and gave me a needle and thread instead. I started making crochet clothes for my Barbies when I was five."
Theola's early practice paid off. As a Senior Designer for Nike her creations now reach across the planet. The numbers are staggering. When a new Nike pop-up store in Chicago pocketed an incredible $16 million in its first week, a third of those sales were clothes from Theola's Women's Training line. In a word, wow.
"I can't understand the concept of 100,000 units of anything," she laughs when asked about the global reach of her designs. "But it's not just down to me. I'm supported by our merchandising and branding teams. Even if you're the best product-maker in the world, unless you have someone telling your story you'll never succeed."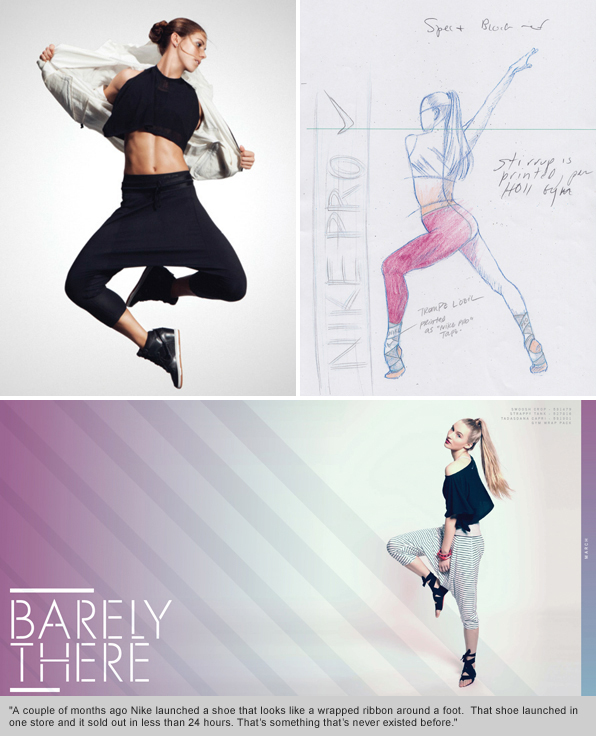 Theola gets plenty of help from the biggest sportswear brand on the planet. But they expect a lot from her in return. Her responsibilities are top tier creations – exclusive, more expensive items that will only be sold in selected boutiques – and Women's Training wear, essentially anything built for the gym, yoga or Pilates. She does receive creative direction from Nike, but her main focus is to stay inspired and keep coming up with amazing ideas.
"I have oodles of creative leeway," she insists. "The Creative Directors give me a sound background with what we're trying to accomplish. But the reality is I'm the one who's getting paid to think outside the box. I don't have any problems expressing ideas. I just have to be as creative as I can be.
"For example, the product I'm working on now – I can't tell you about it because it hasn't come out yet. There's nothing like it in sportswear. It's a true hybrid of pure craft and pure sport. A couple of months ago Nike launched a shoe that looks like a wrapped ribbon around a foot. Our footwear designer, Georgina, was working on that and was running into issues finding the right fabric. I was working on a new technique connecting two fabrics; beautiful, ultra-thin layers of colour that were still very stable. She saw it and knew it was the answer to her footwear problem. That shoe launched in one store and it sold out in less than 24 hours. That's something that's never existed before. The style and design of this was all Georgina's. I just helped with the technology. It's great to be able to collaborate like that.
"Nike's design team is very protected. They give us a lot of room to be creative, and compared to some companies we don't have many other responsibilities outside of designing and creating stuff. I still spend most of my time drawing or sewing. The advantage is that you can really concentrate on your craft."
Creativity isn't a problem for Theola. It comes as naturally to her now as it did when she had the best-dressed Barbies in her hometown of Calgary. Moving to Vancouver marked the official beginning of her fashion education.
"I knew I wanted to go to design school but I didn't want to do a four-year course. When I met with Blanche Macdonald's Program Directors and the Admissions Team they were really friendly and I liked the whole vibe. The Fashion Design course was relatively new at the time but I thought it was a good option for me."
Theola is convinced that the fashion education she received in her single year at Blanche Macdonald prepared her perfectly for the journey ahead.
"I really liked my time as a student. It was hard work, which was good. It's no different to working professionally. There wasn't a transition period for me between my work ethic at school and my work ethic for my job. I still take homework home now. If you're inspired you're inspired, right? And there's stuff that can't be taught in school. You can't know all the ins and outs of the business without being there."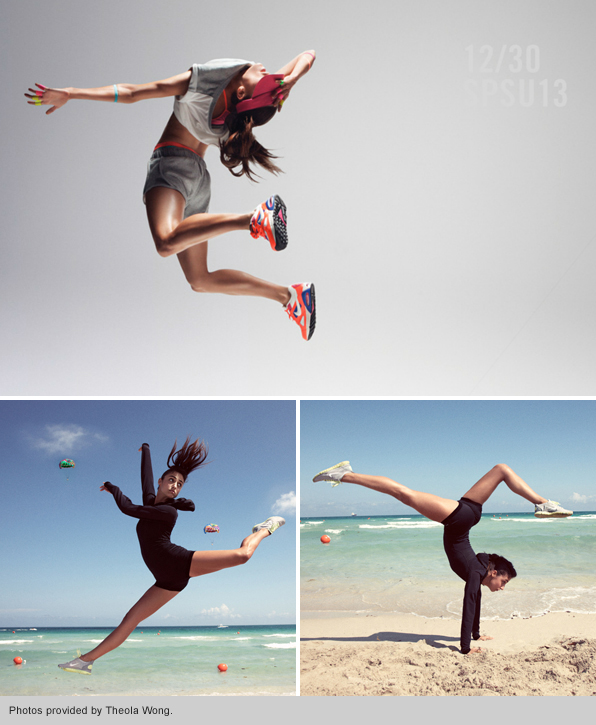 After graduating from Canada's #1 Fashion School Theola was eager to get a foot in the door of the industry. Her first stop was to apply for a job as a secretary at distribution and licensing company International Fashions.
"I don't know what I said or what they saw in me, but they sent me home and told me to come back the next week with my portfolio. I was there as a Design Assistant for less than six months. It wasn't quite the right environment for me, and I went to working with skate and surfwear with labels like United Riders, Option Snowboards and Independent Trucks. I went directly from being an Assistant Designer to being a Junior Designer and since then my career has grown exponentially with each move."
For a designer whose speciality is sportswear, like any star player, it seems appropriate that Theola has moved regularly from team to team.
"My first big brand was Reebok. I ended up splitting a Design Director role there for their Classics Line. That was cool. I left for Adidas on really good terms. Reebok was based in Boston and I wanted to move back to the West Coast. Because the product was so different, there wasn't direct competition. At Adidas I was working with Missy Elliott's line. There was nothing at Reebok like that. When I left Adidas I was freelancing for about two weeks before my friends cornered the boss at Nike and told him to hire me. He called and within a week and a half I was working at Nike. This industry is actually very small – design-wise."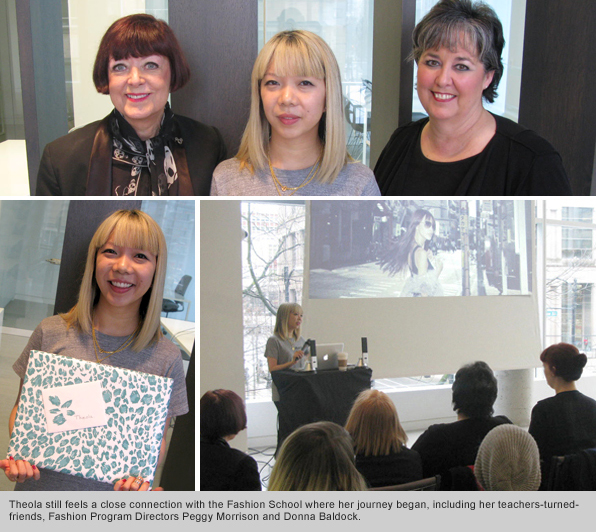 Just like Nike's many superstar endorsees, Theola is a major acquisition. Like them, she has the confidence in her own abilities to understand why she always delivers.
"You need to understand the marriage between art, creativity and what's going to sell. I had to learn that. When I started designing I thought fashion was a big fairy tale where all you did was make nice stuff. I'd get mad at merchandisers when my styles weren't making it to the marketplace.
"Now I've worked in a lot of places I'm able to work on tons of different product. It's all pretty seamless to me. I feel that I could go and work in denim or knits. I'd be confident doing that. I'm open and flexible and I always try to be super-honest. I know where my strengths and weaknesses are. I've never lied in an interview about what I could and couldn't do, and I think people appreciated that."
Creative freedom is its own reward, but there are other bonuses that come with working for some of the world's biggest brands. Reebok, Adidas and Nike all understand the importance of inspiration. Company-sponsored travel, far beyond her regular visits to factories in Asia, is a big part of Theola's life now.
"I was able to go to St Petersburg and Moscow and it was phenomenal. I went to the Bolshoi ballet and saw a woman carrying a bear down the street. I would never have the opportunity if it weren't for these companies. I came from modest means and a pretty humble family. It's definitely opened my eyes to the world."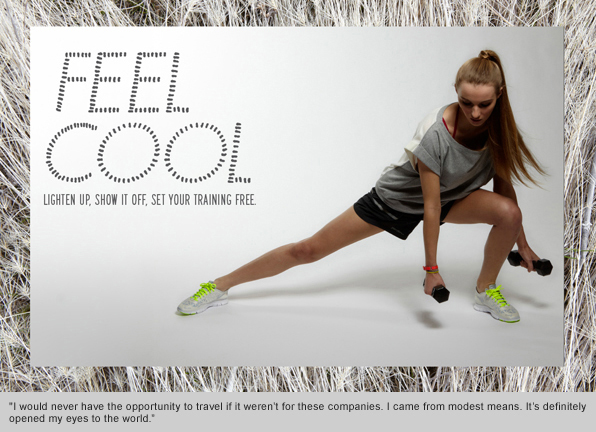 Whether she's experiencing new countries or working with creative partners like Missy Elliott or basketball stars like Allen Iverson and Yao Ming, for Theola her favourite part of the job is still the final product.
"Seeing the end of the process is the best part," she laughs. "You have all these ideas and you can see them becoming tangible, real things. That's the most satisfying part. Seeing them out in the marketplace and on people is really gratifying. I remember the first time I saw one of my designs on someone. I freaked out! I didn't know what to say.
"Two years ago I spoke to a girl who was wearing one of my pieces on a first date. It was a pretty cool piece – an advanced shape track jacket from the Missy Elliott line that had all the bells and whistles. But I'd designed it for the gym, so I was super pleased!"