Fashion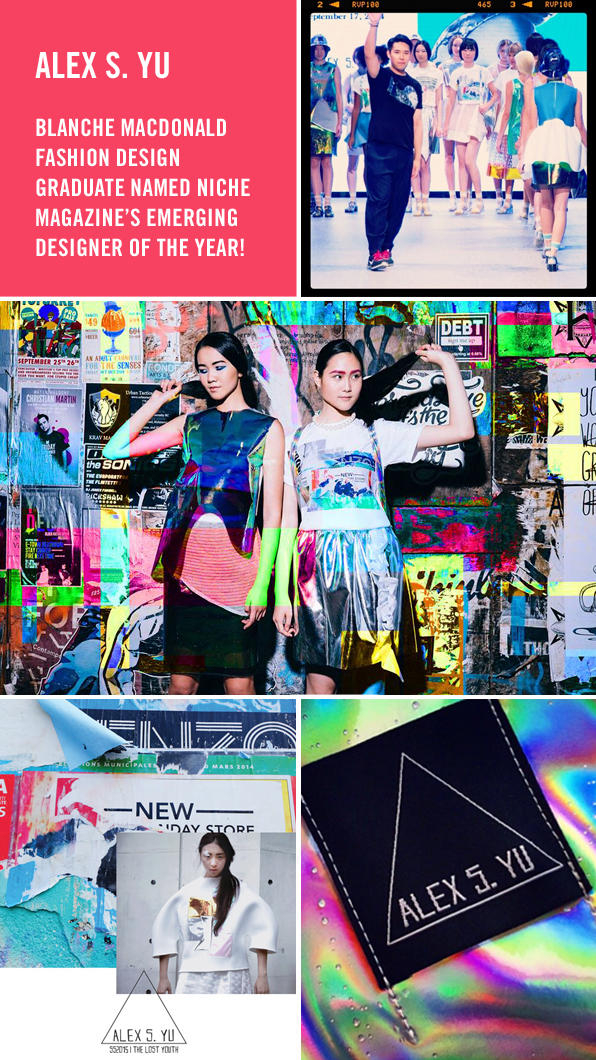 Fragmented fairy tales peppered with nostalgia. Susie Bubble meets Dr Seuss. Throw in a little teenage rebellion for good measure, and you have Fashion sensation Alex Yu. If the name doesn't ring bells yet, commit it to memory. At the rate the Blanche Macdonald Fashion Design graduate's accolades are piling up, he's sure to be a household name in no time. In the most fashion-conscious households, of course.
Alex gradated from Canada's Top Fashion School three years ago. Since then he's continued his studies at the renowned London College of Fashion, won rave reviews from his debut collection at Vancouver Fashion Week, earned features by the likes of British Vogue and Elle Italia and opened a pop up shop that sold out completely. It's crystal clear that Alex is one to watch.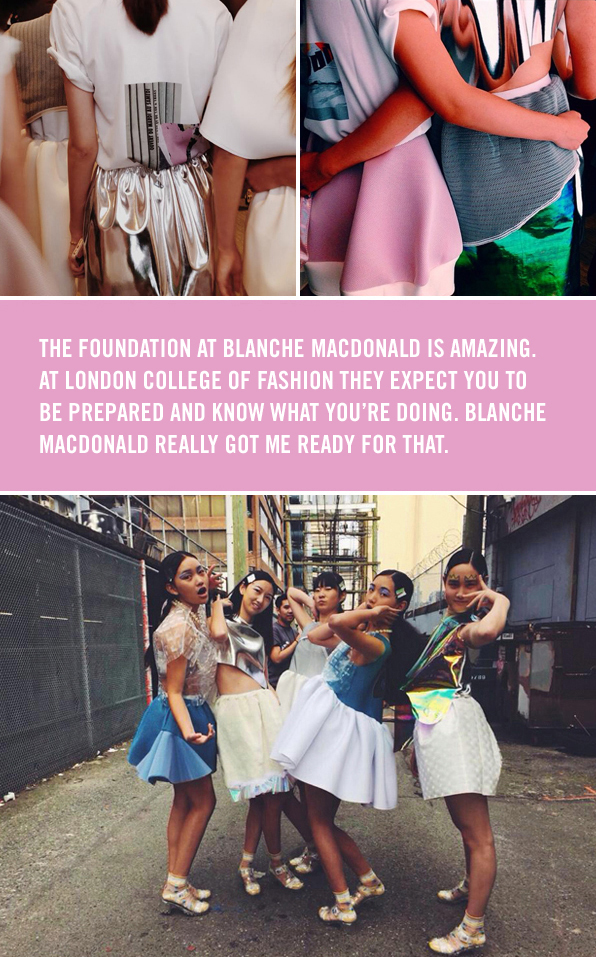 "I actually started out studying computer science, believe it or not," reveals Alex, with a cheeky grin. "I'd always loved fashion, but my family thought it best for me to be a doctor or lawyer or a computer programmer. While I was studying at university I began to sew and draw and even dabbled in marketing. I thought perhaps I could work the business side of fashion."
Those computer science and technical studies weren't entirely in vain. Their influence in his contemporary womenswear rings loud and clear.
"I like to make wearable clothing out of unconventional fabrics and love to experiment," he continues. "Like paper with laminate or materials typically used for life vests. The fabric I want to work with is generally used for non-fashion purposes. Lawn chair fabric for example, is absolutely amazing. I'll mix those with pictures I take in my daily travels and then distort them on my computer."
Computer generated art, misappropriated technical fabrics and twisted narratives from children's stories are reoccurring themes in the ingénue Designer's growing body of work as Alex examines technology and creates boundary-pushing silhouettes.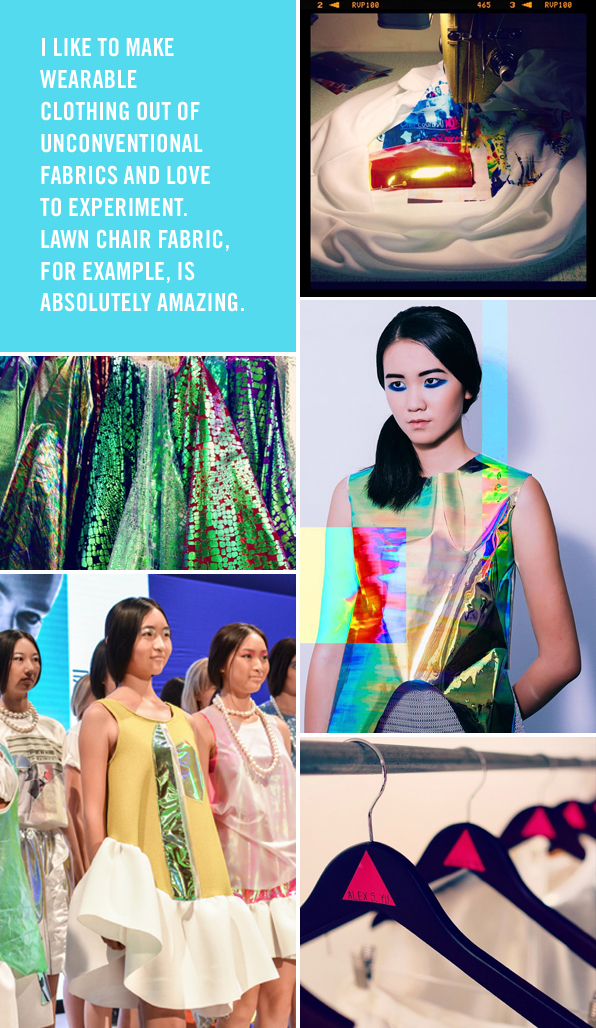 Some designers exploring these areas can produce cold, detached end results. The fact that Alex's clothing translates into something sweet and playful is remarkable. Viewing life through rose-tinted glasses, his effortlessly cool clothing has been interpreted as fresh and new by even seasoned fashion veterans. This is a testament to Alex's discerning eye and ability to gauge what speaks to the millennial.
"My clothing is really geared towards a younger generation, people who aren't afraid to dress up and have fun. Susie Bubble would be probably the best archetype for my customer. I love her! How she supports emerging designers is incredible. A lot of people only care about the huge names in fashion, but Susie is genuinely interested in young designers and their entire process."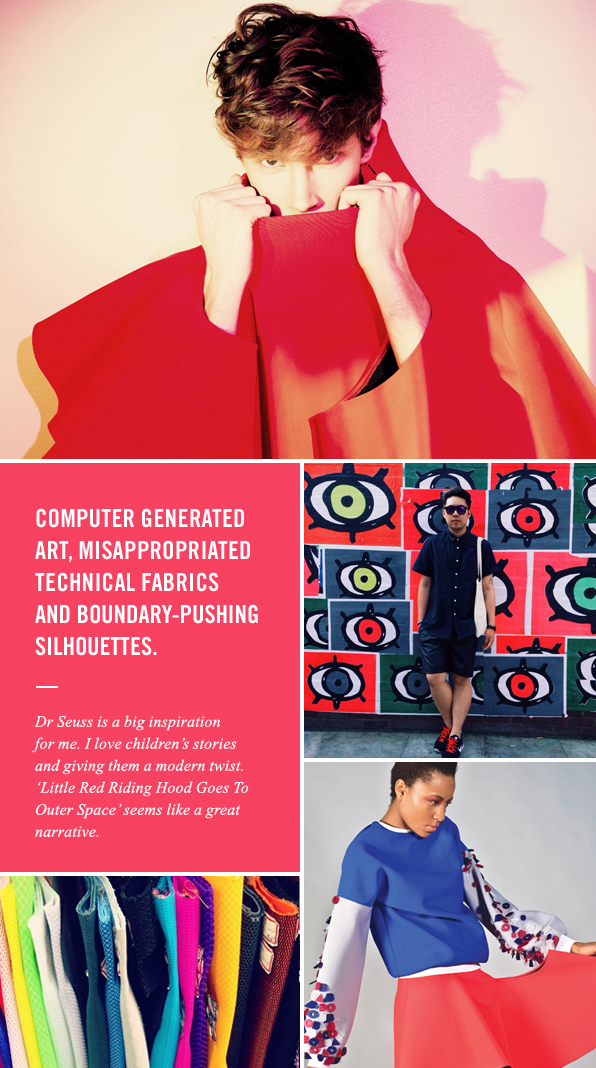 Alex's most recent collection, shown at Vancouver Fashion Week earlier this autumn, highlights the creative wheels turning. As this year's recipient of Niche Magazine's prestigious Emerging Designer Sponsorship, Alex debuted a 16-look collection of contemporary womenswear, reinventing his personal definition of femininity. The emerging designer is building an impressive following for someone so young, confident that his clothes are destined for life beyond the runway.
"I felt it was really important to follow my Fashion Week debut with a pop up shop in Vancouver's Chinatown. It's one thing to see clothing on the runway, but if a potential customer wants to see things up close or feel the garments, they really need to have intimate access to them. That pop up shop ended up being quite successful!"
Alex's modesty is charming, but to describe selling out your first public collection as "successful", would be a grave understatement! It's a phenomenal accomplishment and we tip our hats to our dear Alex.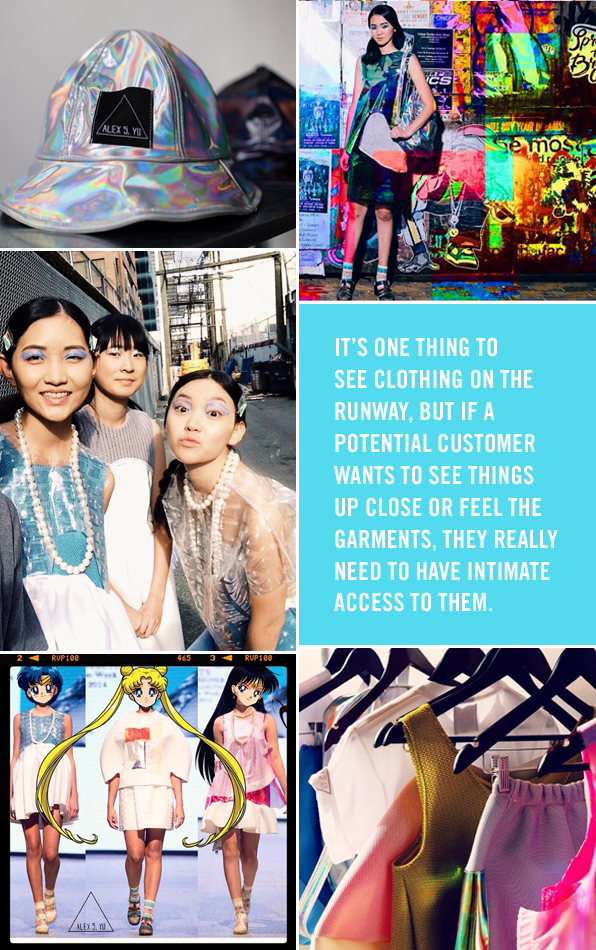 Not that his success has come as a surprise. He's been impressing fashion insiders since he first walked into Blanche Macdonald. Viewing his Fashion Education with the same enthusiasm he now brings to his professional life, Alex credits the sagely wisdom of Illustration Teacher Lisa Gellert and Program Director Peggy Morrison for his academic fervour.
"The foundation at Blanche Macdonald is amazing. Before I started Fashion School I didn't know how to do anything. It was my mission to take in as much as possible. I was so inspired by Lisa. The designers she talked about always got me excited. I remember thinking 'Finally! Someone who knows all about Rei Kawakubo and Yohji Yamamoto!' I had never met someone as fascinated with avant-garde designers as I was.
"Peggy's Fashion Awareness classes were incredible! Hearing all her stories satiated me in a way that was like feeding an addiction. Her and Lisa have piles and piles of reference images from so many incredible designers. I remember the first time I saw Lisa's portfolio of vintage Comme des Garcons images. I was taking pictures of everything!"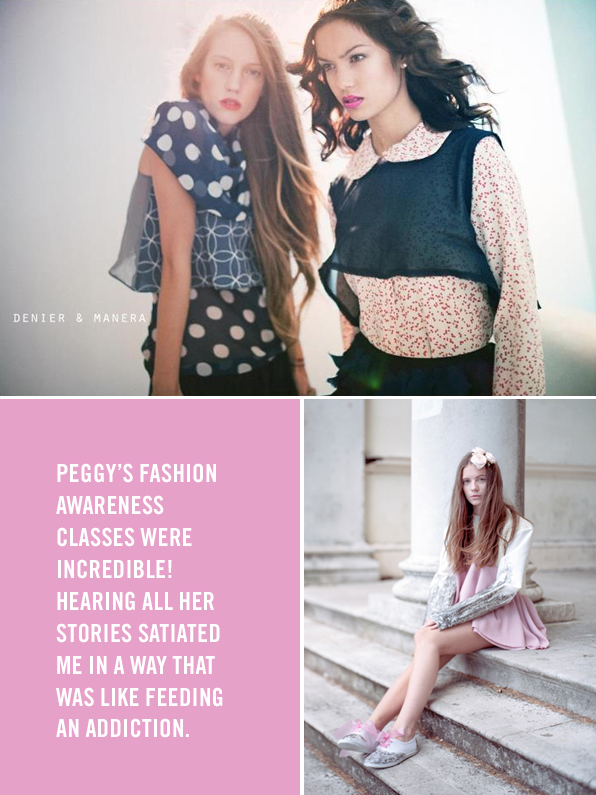 With seeds of wisdom that were planted, watered and grown at Canada's top Fashion School, Alex decided to take his educational journey to one of Europe's style capitals. Not many have what it takes to be accepted to the eminent London College of Fashion's post-graduate program. They're looking for the best of the best. Designers like Alex, essentially.
"At London College of Fashion they expect you to be prepared and know what you're doing," explains Alex. "Blanche Macdonald really got me ready for that. London College of Fashion also puts a huge amount of focus on the research phase of design. Lisa and Peggy definitely put me on the right path."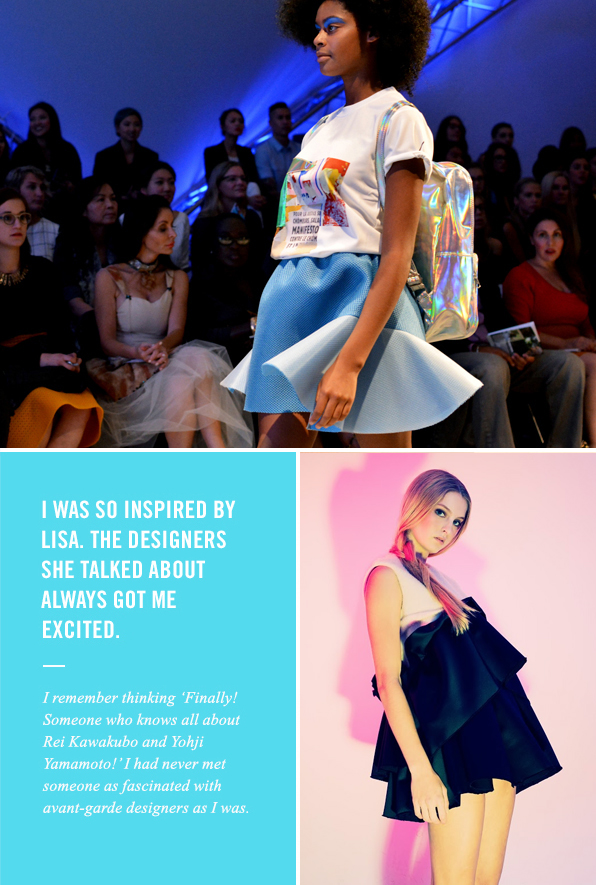 "Our first month in London was purely independent research and we would present images to the tutor once a week. He would give us feedback; new directions to explore and then we would be off on the hunt again! I really learned how to be self-motivated in that environment. But the biggest thing I took away from my time at both Fashion Schools was discovering who I am as a designer and what I want to say with my clothes. Essentially I found the voice and vision for my career."
Primed with a second invitation to Vancouver Fashion Week, Alex has already jumped into next year's work.
"My inspiration for my FW2015 collection is the movie 'Mean Girls'. I am incorporating feelings and inspiration from the movie, mixing it with memories from my very own high school experience here in Vancouver, and coming out with ALEX S. YU's version of 'Mean Girls' in present day.
Dr Seuss is a big inspiration for me. I love children's stories and giving them a modern twist. 'Little Red Riding Hood Goes To Outer Space' seems like a great narrative. I might also play around with some large-scale three-dimensional printing. At the end of the day, it's really about an attitude and having a little fun."
What fun! With a cult following that keeps growing, we can expect to see more "Space Odyssey En Route to Grandma's House" walking the streets of Vancouver (and beyond) soon.
"My goal is to build my own label. Right now I'm starting small and hopefully growing big. Menswear is always in the back of my mind. What can I say? I'd like to make clothes I can wear too."