Fashion

Living the dream is dually exalting and exhausting. And when we reach Jayme Miller, dream-liver and Blanche Macdonald Fashion Marketing emigre, she's happily sprawled at the end of a long day of research, catching a bit of rest in the soft light of her London flat.
"We're researching for the cover story for the next issue of AnOther Magazine. It's really special actually because it's our 15th anniversary – so the 30th issue – and it's all about celebrations and parties and I'm really excited about it. It's cool to be a part of! And it's being shot in Paris," says Jayme, her poised drawl taking on a definitive note of excitement.
"Every day I am working with the people that I look up to so much – there's Jefferson Hack sitting a few seats behind me. It's all in the day-to-day but when I actually think about it, it's not normal."
Jayme's day-to-day is anything but run-of-the-mill. As Assistant to the Fashion Director of AnOther Magazine, she is not only sharing floor space with editorial legends such as Mr. Hack (who co-founded Dazed Magazine at the age of 19, and later AnOther) but is being mentored by world-renowned stylist and Gareth Pugh confidante, the impeccably cool Katie Shillingford.
"It's kind of hard to say what a typical day is because it's really different depending on what we're doing. The past few days have been the same thing – chasing requests, following up on things – which is nice, but then it's nice also to know that next weekend I'll be going to Paris," laughs Jayme (indeed, we think). "It's kind of the best of both worlds."

In the year since Jayme – a Kelowna, BC native at the cusp of an earnest 20 years – completed her Fashion Marketing training and hopped the plane to London, she's been not only exposed to, but completely immersed in worlds that a very select few ever become privy to: fervid and whirring worlds like those pressed into the pages of elite print, or tucked away behind the backdrops of Fashion Week. Her very first London editorial set teemed with legends like photographer Pierre Debusschere, fringe phenom Alex Brownsell, beauty babe Isamaya Ffrench and (of course) Katie Shillingford. And she had her first taste of London Fashion Week for this past SS16 season, tailing this latter editorial master through the realm of runway styling.
"Temperley London was such a good experience. Katie couldn't actually be there for most of the day before the show, as she was doing final prep for Gareth Pugh, so Isabelle (another assistant) and I had to do a lot of the castings and fittings without her. It was quite stressful but a lot of fun too. I got to meet and talk to so many of the amazing models that I always saw in magazines which was really cool. That night we stayed at the studio until three a.m. which seems late, but apparently that was the earliest they had ever finished on the day before the show!
"Temperley was right after Topshop Unique on the show schedule. Three of our girls were walking in Topshop's show which, of course, was late and we had to wait for them to arrive before we could start. When they finally did, the whole show team had to simultaneously do their hair, makeup, nails and dress them. Someone was even feeding one model a brownie at the same time! It was insane.
"People from all over the world come to see these show so there's a lot of pressure, and a lot of etiquette that I didn't know about. I was very comfortable doing editorials but runway was a bit scary for me. Even still, it all went really really well and it was a lot of fun."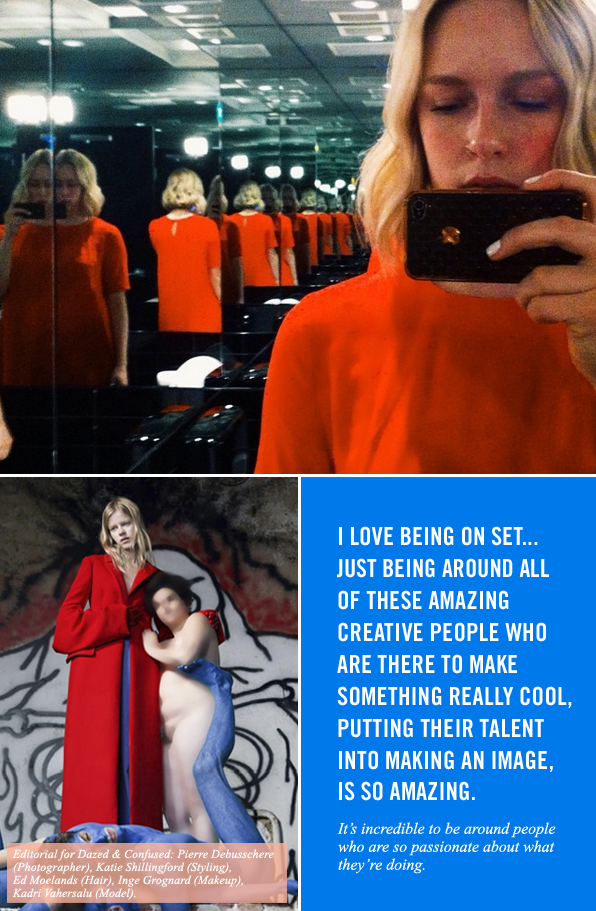 And that's just the thing about these 'fabulous' first rungs of London's Fashion scene – the unrelenting pace that propels this wondrous blitz that "we," the readers of magazines and oglers of shows, celebrate demands a headlong canter of learning and hard work. Jayme admits that it took her some time, when she first arrived, to catch up to London's clip.
"I was so so close to coming home. It was an amazing experience interning at AnOther but it was really tough. And the combination of having no friends, not knowing my way around, that everything was so expensive, different and not understanding all of the accents was difficult. But it was so amazing to work with those people.
"Almost everyone at AnOther now has interned there at some point. It's the same at Dazed. Interning really is so important. That's the way that most people get hired because if they know that you've already been there and know how it works, it makes it that much better because they won't have to show you the ropes."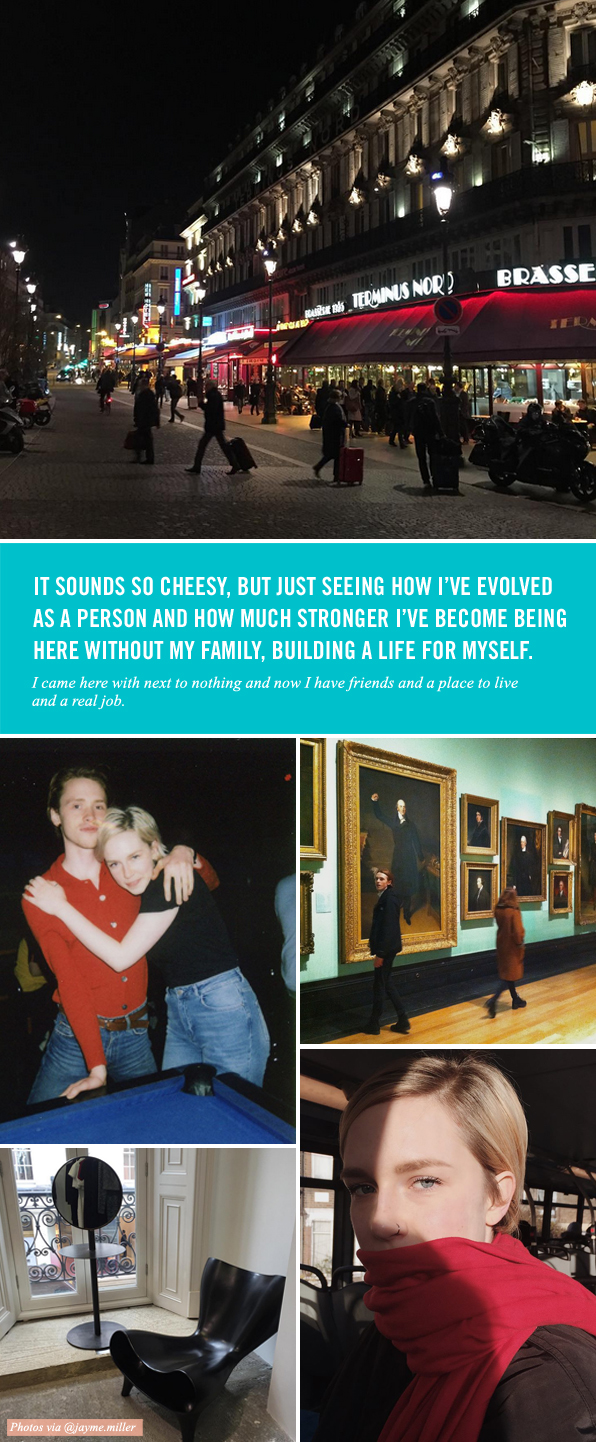 Even through the scrape of starting afresh and alone in a new country, the energy of London swept Jayme off her feet. She excelled in the remainder of her AnOther internship and continued on to an equally momentous stint in the offices of OBE (that's Order of the British Empire) holder, legendary fashion and portrait photographer, Mario Testino.
"The people that work at Mario Testino + are so nice, so talented and I learned a lot. What I did there primarily was image research and a little bit of casting. Mario likes to shoot up-and-coming socialites and celebrities so I would do a lot of research on Instagram finding cool good-looking people doing interesting things. The image research was great; he's very specific about the references and it was really good to learn how to do the research for an aesthetic that didn't naturally come to me, to get out of my comfort zone a bit."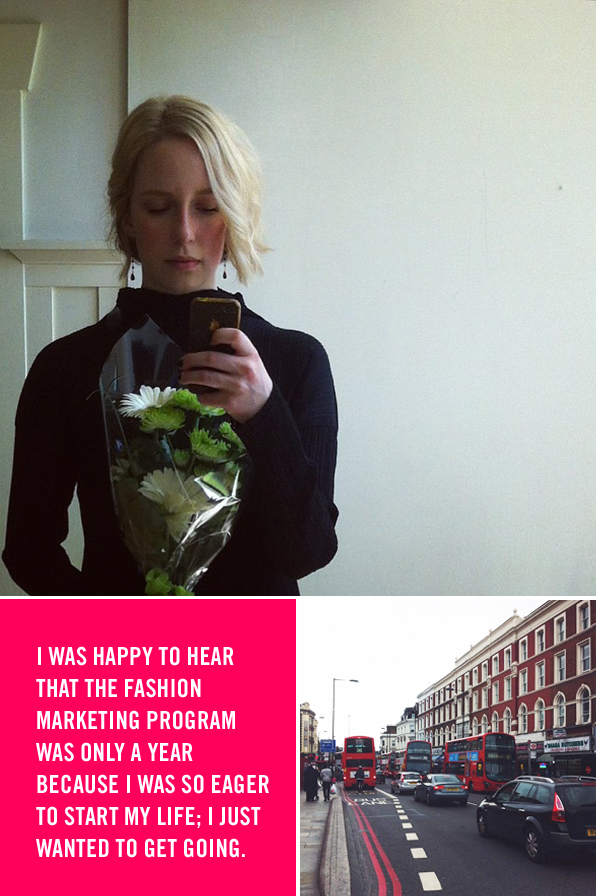 The friends she made at Mario Testino + whisked her about through London's rich ecosystem of galleries and art fairs (day trips to Frieze, and the like) in the off hours and she finally fell love with the city. But it was one day in particular, after this internship had also run its course, that Jayme thinks upon most fondly.
"My happiest moment was when I found out that I was going to be Katie's assistant. She took me and her previous first assistant, Isabelle, out for lunch and said, 'I would love for you to be my next assistant if you would be interested.'"
The answer, of course, was a resounding yes. Fresh out of Fashion school and Jayme had secured a paying job with one of the world's leading stylists. The days that have since ensued are just as dreamy as you might imagine, spent hopping about sets with names she'd fancied and followed for years. And even for Jayme, who had played a prominent part in Vancouver's fashion styling scene, the professional set held much opportunity for excitement and growth.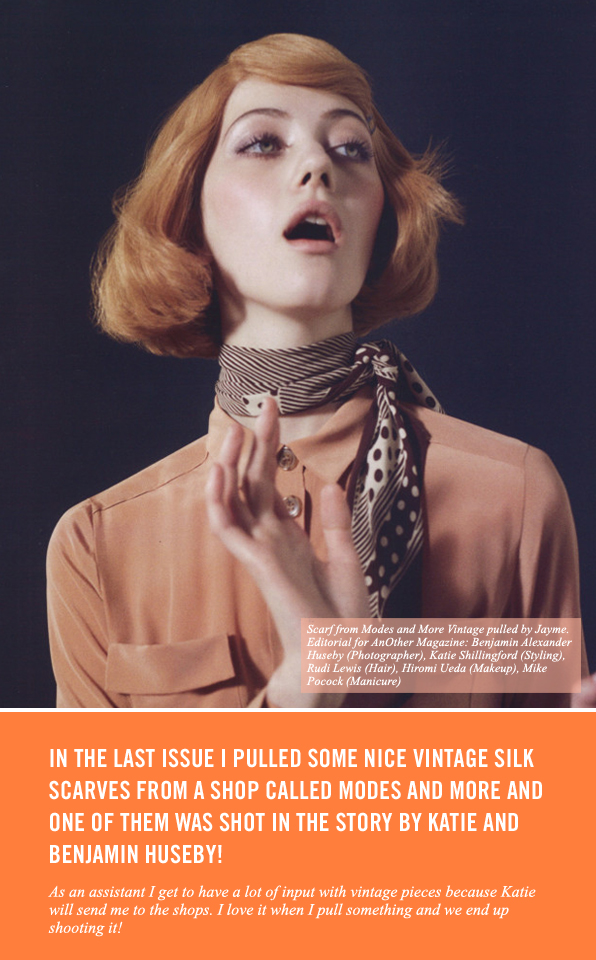 "I love being on set, it's the best part. It sounds so cheesy to say, but just being around all of these amazing creative people who are there to make something really cool, putting their talent into making an image, is so amazing. It's incredible to be around people who are so passionate about what they're doing, and there are so many of them on set. It's important to know who to speak to, who's doing what; there are the producers and the agents, the models and all the assistants, and you think it's just photographer, stylist, makeup artist but then they have three or four assistants and then there might be some interns as well. You have to know who everyone is and how you can help each other."
Jayme is one of a team pulling the reference images that go on to give form to each story (a job that 'necessitates' regular dips into Central Saint Martin's mind-blowing sea of art books), a prepper of shoot details (think casting and liaising with the offices of Valentino) as well as Katie's vintage goods envoy.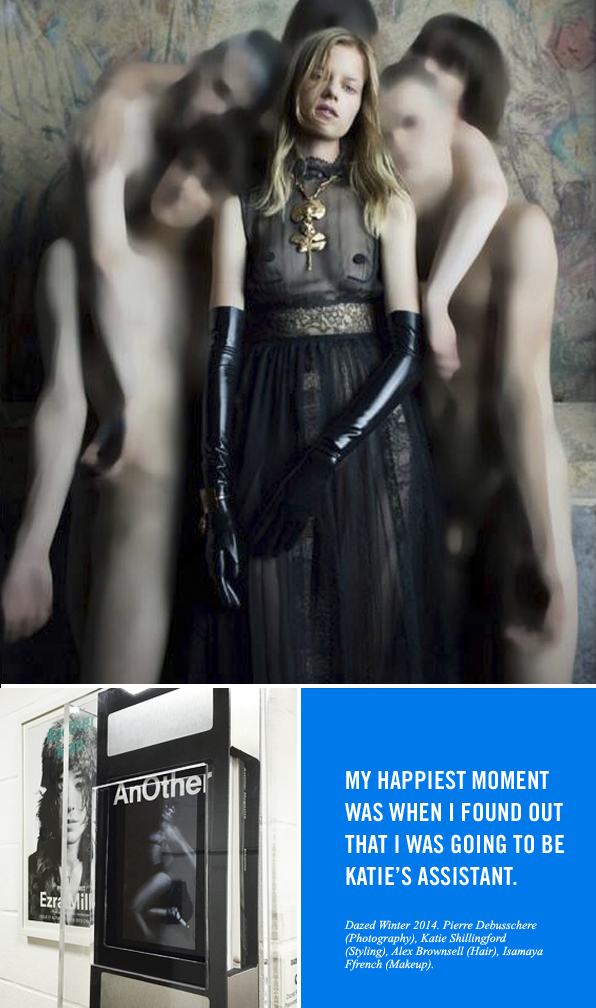 "Katie really loves to use vintage pieces. We have a really strong list of pull spots: common ones like Beyond Retro, and really nice ones like Rellik, where they'll have archive Westwood pieces from the 80s. There are places like The Contemporary Wardrobe where you can rent things as well. I love that part of it. As an assistant I get to have a lot of input with vintage pieces because Katie will send me to the shops. She'll tell me, 'Look for something like this.' I love it when I pull something and we end up shooting it!
"For the shoot with Tilda Swinton, shot by Glen Luchford, in the last issue of AnOther I pulled a vintage white cotton t-shirt from House of Vintage in London. It was one of those nice soft t-shirts that are way overpriced in vintage shops. This one even had stains in the armpits and holes around the collar, but it was perfect for the grungy rocker theme of the shoot and Tilda wore it very prominently in one shot. In the last issue I pulled some nice vintage silk scarves from a shop called Modes and More and one of them was shot in the story by Katie and Benjamin Huseby!"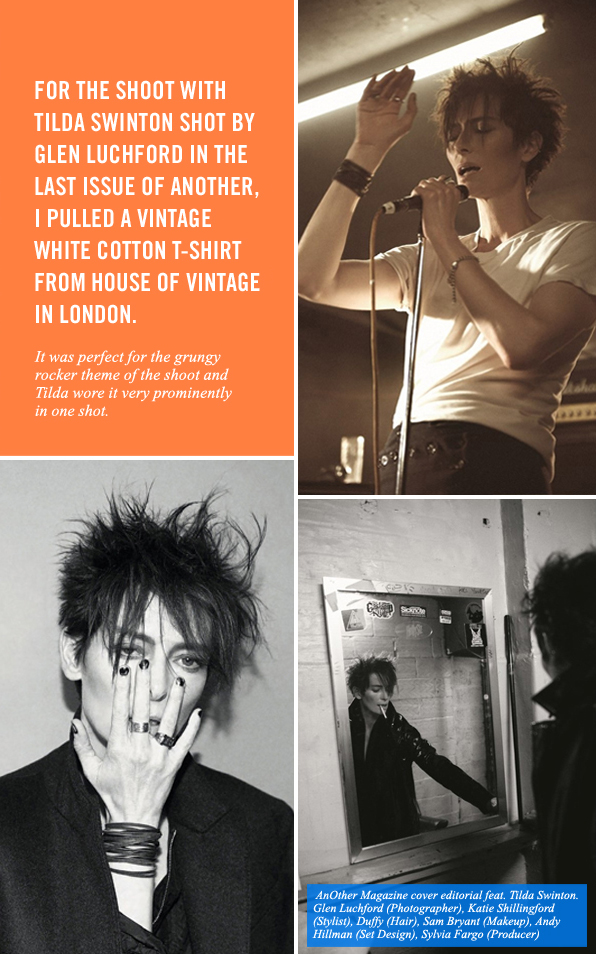 To put it simply, Jayme has come a long way. Prior to Tilda, dusky vintage expeditions and luxuriating in the London scene, Jayme Miller was a young Kelowna tomboy langoring in Arts & Social Sciences studies at UBCO, impatient to get her life started and wondering what to do. She wouldn't guess then that Blanche Macdonald's career team would help secure her the internship of a lifetime - she only needed a firm direction in which to hurtle her will.
"I was just really excited by the tour, I thought it was great. I was happy to hear that the Fashion Marketing program was only a year because I was so eager to start my life; I just wanted to get going."
"I was just really excited by the tour, I thought it was great. I was happy to hear that the Fashion Marketing program was only a year because I was so eager to start my life; I just wanted to get going."
She wasted no time in making moves and great impressions with her instructors.
"Peggy's classes of course, were a favourite! She's a legend. I loved those classes so much. I was so into it that, in my spare time, I would keep on researching everything she spoke about.
"One of the best parts about going to Blanche was the styling I was able to do outside of the classroom; it really got me out of my comfort zone. I was quite shy and quiet and felt really uncomfortable reaching out to people before. Styling really helped me with that. It helped me build my aesthetic, and I would learn stuff every time we shot. Even just knowing of the collaboration between the team and how that works has been helpful for me out here. I relished being able to create images that I loved."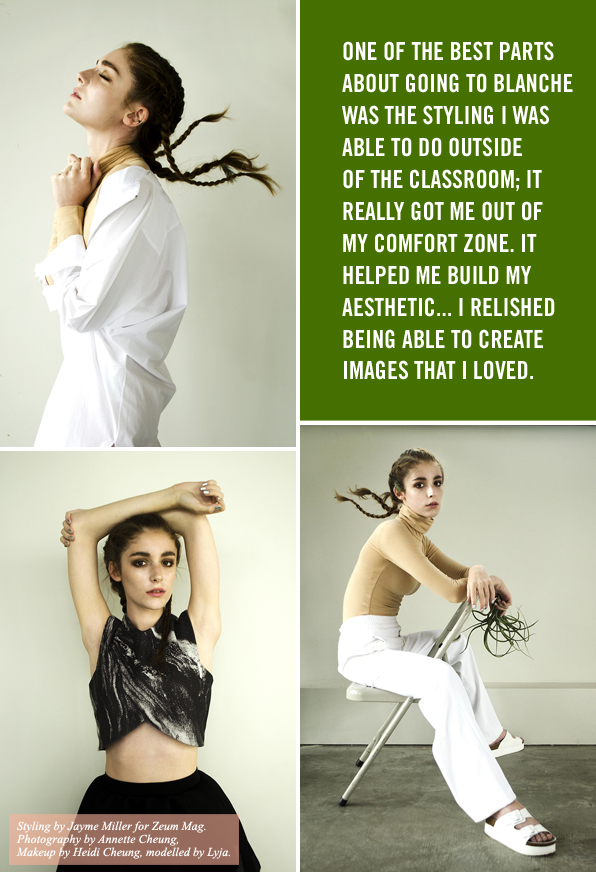 Since Jayme has moved to London, she's decided that perhaps Styling, though she does excel in it, is not the thing for her. There are daydreams of creative direction for down the road but she's really too busy absorbing the wonders brimming over in her current position as Assistant to a truly extraordinary woman, and the learnings to be had in the creation of a new life.
"It sounds so cheesy, but just seeing how I've evolved as a person and how much stronger I've become being here without my family, building a life for myself. I came here with next to nothing and now I have friends and a place to live and a real job.
"I've learned so much. I almost feel like a different person."
And she has a ways to go yet. Under the brilliant sweep of Katie Shillingford's experience, tossed into the interminable flurry of Fashion's core, there can only be more exhaustingly phenomenal experiences on the zenith of Jayme's career, and in the next steps of her ever-expanding world.
"Take a big crazy step. Take a big crazy step and just go for it, or it's never going to happen. So many of my friends at home say, 'Oh it's so cool that you moved to London, I wish I could do that.' Well, you can. Why not? People are worried about missing out on stuff at home but sometimes you just have to go do something crazy, start a new life somewhere. And you can always go back."