Fashion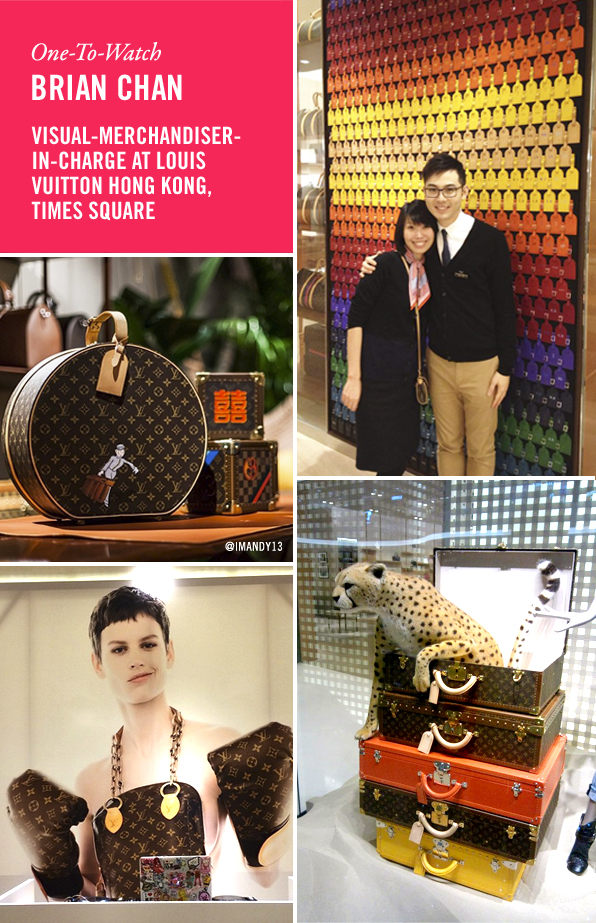 We are on opposite ends of our daylight. As the sun makes its morning spill into the streets of Vancouver, in Hong Kong it is already past one a.m. the next day. Despite the late hour, the voice coming through the speakers is bright – radiating energy. This doesn't come as a surprise from Blanche Macdonald Fashion Merchandising graduate Brian Chan – after all, you would probably be chipper too if work meant spending your day in the smooth gloss of mega-luxury shop Louis Vuitton, in Hong Kong's premiere Times Square shopping district.
"As a Visual-Merchandiser-In-Charge, I conceptualize the store, design the layout and arrange the presentation of the collections. It's definitely fun but with great power, comes great responsibility," says Chan, dropping his voice ominously before cracking into a laugh. "I take a big fashion risk every rotation. Sometimes they're rewarding, and sometimes they're not right-away, but they always teach me something!
"At Louis Vuitton, we do things a little bit differently; I hold many responsibilities within the store. I look at reports every day from all over Hong Kong and we compare the products or the product lines that are doing well, and those that are doing not-so-well at each location. For Visual Merchandising I lead a team of twelve people to do window and store rotations. We use my insights from the reports to decide on a merchandising plan."
Such a position requires a deft maneuvering of a wide array of skill sets. The interplay of hands-on creativity and business is one that Brian thrives in as Visual Merchandiser In-Charge, Client Advisor, and In-Store Trainer at Vuitton, but there is a lot of hard work, as well as a diligent awareness to his everyday.
"Perspective varies with different people, and even if there's a guideline for you to follow it will never work for every single store, in every single moment. You have to truly understand what or who you are dealing with in order to put something together that is an effective business driver. You have to be well-rounded. As a Client Advisor you learn quite a lot about the customers' buying patterns. It definitely helps with making both business and visual decisions!"
The importance of versatility in the diverse industry-meets-artistry of Fashion was instilled in Brian at Canada's Top Fashion School. It was a life-changing decision that came about through unusual beginnings.
"I thought that my parents would want me to study a science, so I just went for it. I chose Geology because of two big reasons: one, that it was the most non-scientific science and two, because it was the least math-involved," laughs Brian.
"I knew that I wouldn't be able to survive six months in the field when I graduated. Still, I stuck to the program and I finished the degree, but I knew that I needed to pursue something that I really liked afterwards. I watched a lot of Fashion Television growing up; mass media really opened up my eyes to something new that was going on in this world. At the time I had a part time position at a boutique, and one of my coworkers had gone to Blanche Macdonald. I looked into the Fashion Merchandising program and decided that that was what I needed to do."
It was a big shift that would go on to bring big, thrilling changes for Brian. Seizing at every volunteer opportunity on offer while he was at school ("Working runways and events... there were so many things that I wouldn't have been able to try had I not gone to Blanche!") it was one internship in particular, secured through Fashion Career Director Mel Watts, that set the wheels turning on what would become an international luxury career – a coveted slot in the Menswear department of Holt Renfrew with Tom Ford.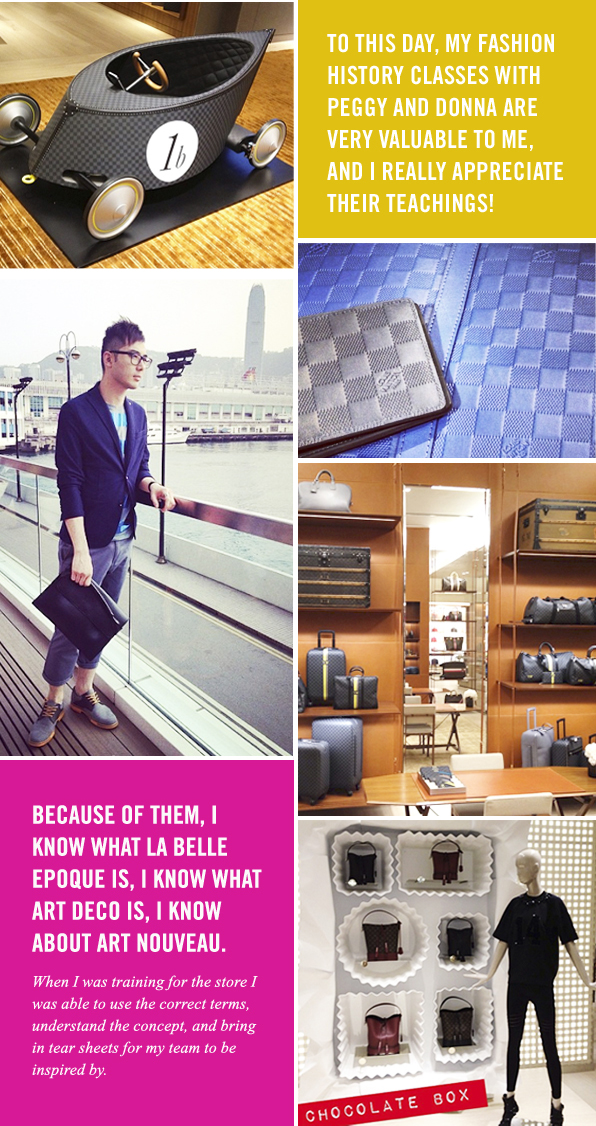 Brian's devotion and passion for the sales floor quickly led him to being hired on as a seasonal employee for Holt Renfrew's Louis Vuitton nook, scaling the ladder to a full-time position within months. His new high calibre setting meant high calibre run-ins.
"Vancouver is Hollywood North and so we had lots of celebrities that would come in. I've helped one very undercover one. You won't usually be able to tell who they are until they come up to pay – they're very low key. We do have stories where we have had to shut down the store for them to shop, though. It does happen!"
In addition to providing ample opportunities for celebrity sightings, Vancouver's luxury retail scene groomed him for the next leap of his career. Brian took initiative and asked for an international transfer; the Louis Vuitton team, recognizing his talents in Visual Merchandising, supported him all the way. Off he soared to China's buzzing core.
"You might think otherwise, but there is not a huge difference between Vancouver and Hong Kong in terms of customer. It's intensified; let's put it that way. In Hong Kong, like in Vancouver, we need to cater to a high percentage of overseas clientele. It means faster service, and attention to their specific needs. Though, Hong Kong's out-of-town Chinese clients do prefer more flashy items; they want obvious Louis Vuitton rather than the subtle Vuitton of Vancouver."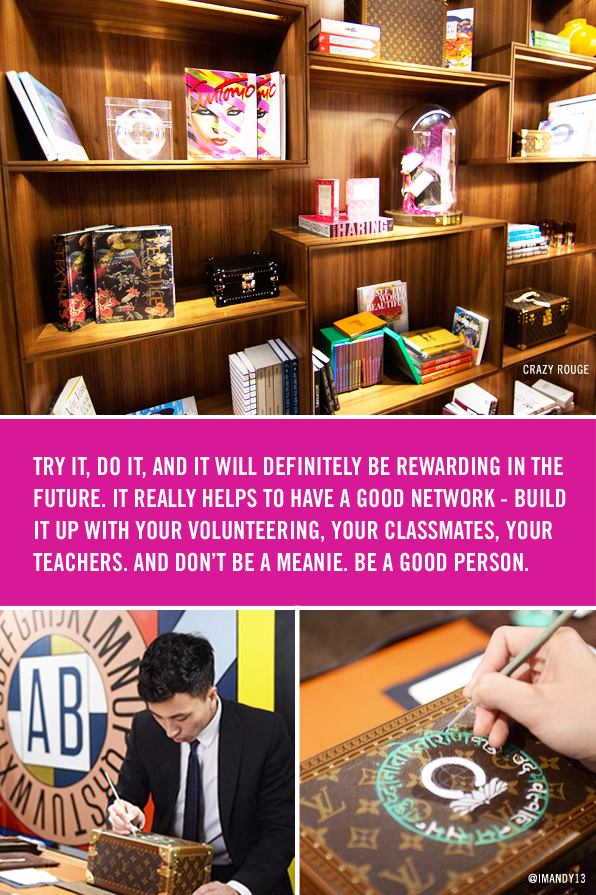 Beyond market profiling, Brian's not much concerned with comparing the two cities; he is head over heels with where he is at, and infinitely grateful for the beginnings that brought him there.
"I am very blessed to have lots of friends and family around. I grew up in Hong Kong, so working here is like coming home. All the same, I still consider myself a Canadian!
"To this day, my Fashion History classes with Peggy and Donna are very valuable to me, and I really appreciate their teachings! Because of them, I know what La Belle Epoque is, I know what Art Deco is, I know about Art Nouveau. When I was training for the store I was able to use the correct terms, understand the concept, and bring in tear sheets for my team to be inspired by. Fashion is always taking inspiration from the eras before us; and this is especially true for Louis Vuitton."
For anyone with monograms and dreams of lush window dressings twinkling in their eyes, Brian urges them to go for Fashion gold.
"Don't be scared. It's always hard to take that first step, especially when you know that that internship or volunteer opportunity isn't necessarily going to pay you. However, it's bringing you a lot of experience, exposure, and expertise. Try it, do it, and it will definitely be rewarding in the future. It really helps to have a good network - build it up with your volunteering, your classmates, your teachers. And don't be a meanie. Be a good person.
"It takes a lot of work, but if you really love luxury brands and retail, then you can make it happen at Louis Vuitton!"