Fashion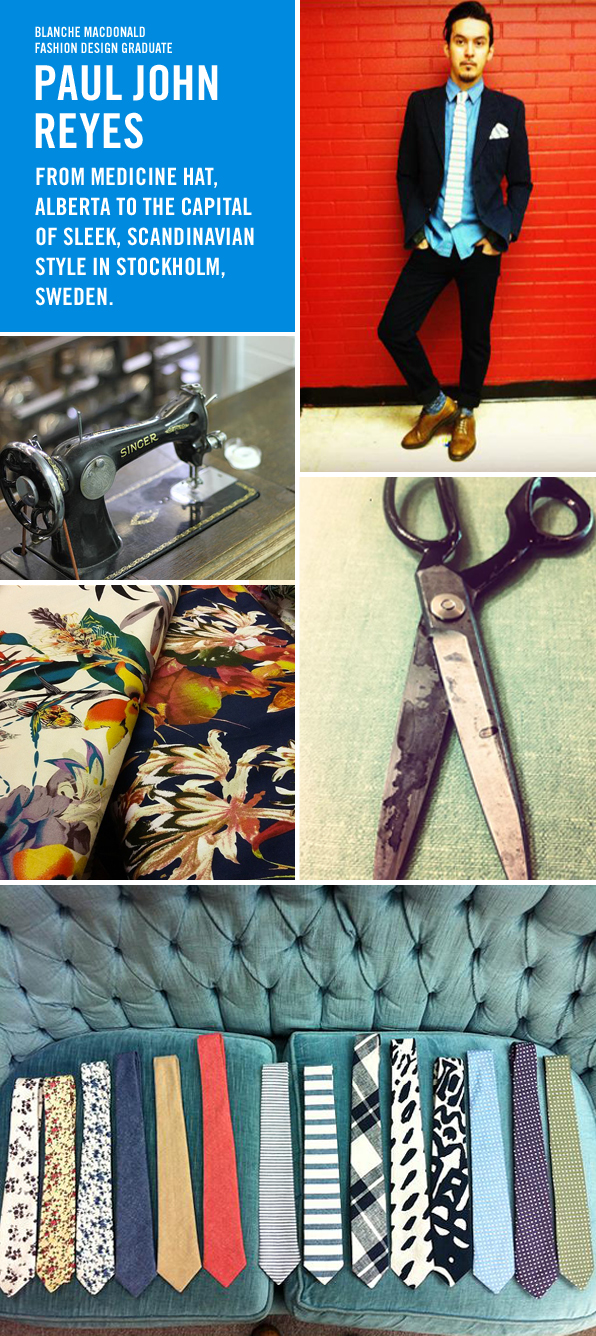 Speaking from his chic apartment in Stockholm, Sweden, Paul John Reyes is living proof of how an eye for style and a taste for hard work can take a young Fashion Design graduate anywhere he or she wants to go.
"I knew I wanted to move to Sweden before I'd even graduated from Fashion School," he explains. "The more we learned about the various Fashion Weeks around the world, the more I started understanding the origins of certain looks. I really liked the Scandinavian culture and style. They're very straightforward with everything in life, especially fashion. They have a functional, minimalistic approach with simple silhouettes. If you're on the subway here 90% of the colour is black and white. I wanted to come to Sweden to be inspired by the culture and style, and to mature myself as a designer."
Inspiration and perspiration go hand in hand. Paul put in the long hours of research and hustled his way to the ultimate Scandinavian fashion experience, negotiating a five-month internship for himself at International lifestyle label J.Lindeberg. That internship has finished now. He's still digesting everything he learned.
"J.Lindeberg wasn't easy to find," laughs Paul. "They don't advertise internships. I had to go deep into the internet to find an email contact. When I finally got in touch with the right person they asked me to send my stuff over, then invited me to do a Skype interview, which eventually led to the internship.
"As a fly on the wall I could observe and learn a lot. I could see how the professionals do it in fashion and business. I was in this creative environment that was really inspiring and got me excited for work every day. I took a lot of knowledge from my time there. If I started my own brand or worked for another company, I'd look at it from an entirely new perspective now. I'm wiser and more mature. I have a far better understanding of how I'll do things when it's my turn."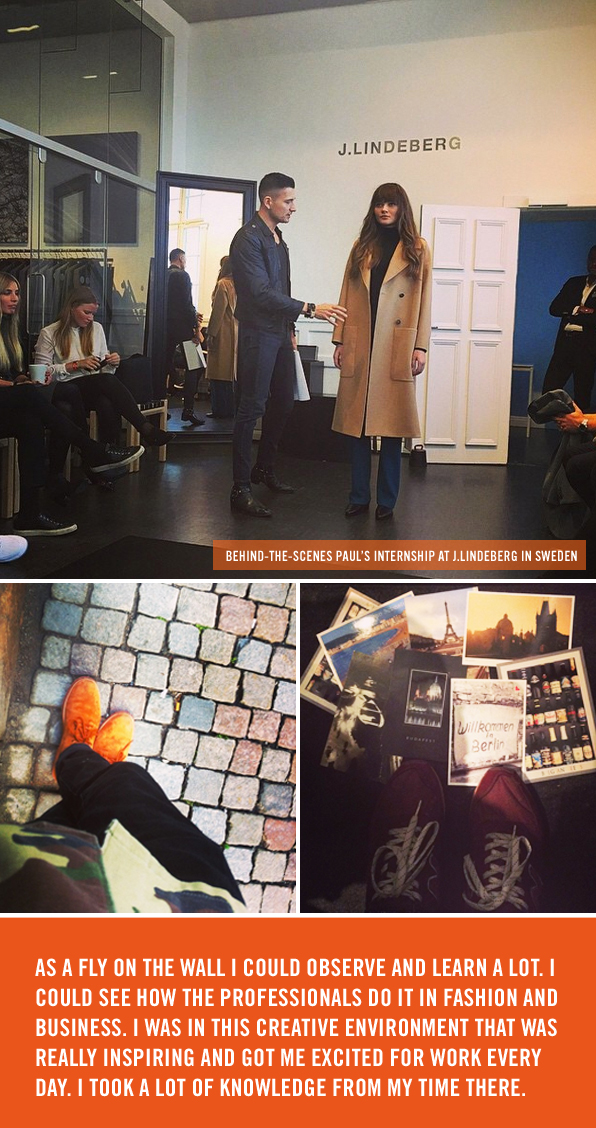 Paul's turn will be arriving soon. He was making waves in the Canadian fashion scene before he flew to Sweden, walking away from the Blanche Macdonald Fashion Design Graduate Show with his class's Award for Collection Interpretation, and dazzling his hometown of Medicine Hat, Alberta with a collection and sold-out show for his label, Knownwealth, co-created with fellow graduate Brockton Lane.
Paul's determination to carve his unique niche in the fashion industry makes sense once you understand his background. Fashion is in his blood.
"My mother is a seamstress. She's been sewing her whole life. Her mother was a seamstress and her father was a tailor. She always loved to design. Her speciality was wedding and prom dresses.
"I thought I had great style in High School, although looking back at old photos I'm not sure if that was the case. I was more of a jock back then. I played soccer and went to Medicine Hat College on a sports scholarship. I didn't realise until my early 20s that fashion was what I wanted to do. When I started serving and bartending in the restaurant industry I had to look good. I'd get my Mom to tailor my shirts and make me ties. Eventually she got tired of doing that and taught me how to do it myself. Then my colleagues started asking me if I could take in their shirts too. Mine were fitted and theirs were baggy and looked like they came from Walmart."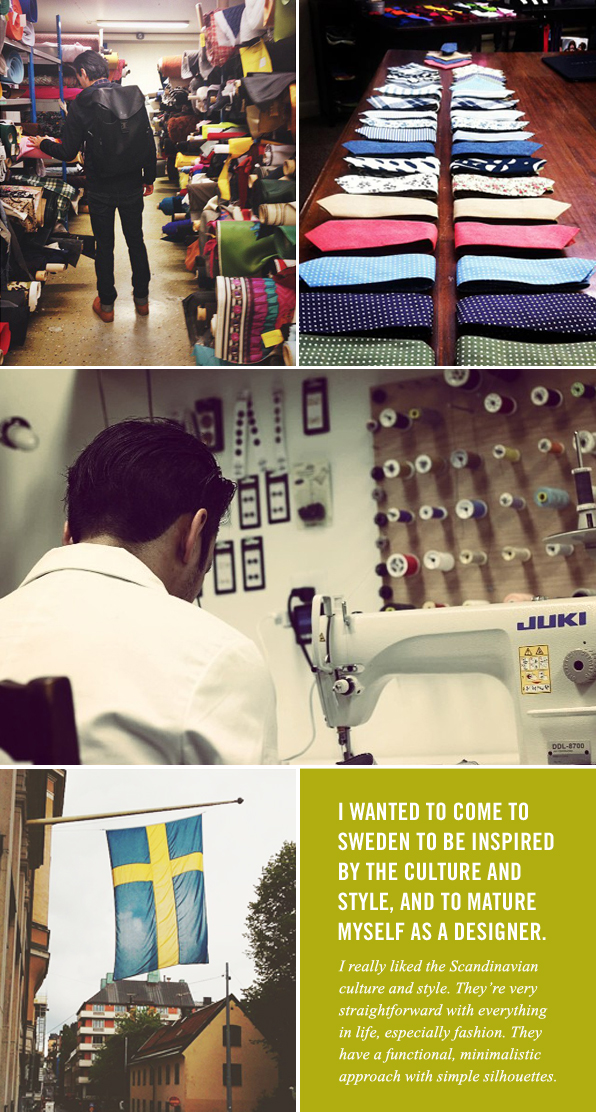 Turning to the one fashion expert he knew, Paul asked his mother how he could turn his tailoring sideline into a career.
"She told me that I should study fashion. Coming from Chile she never had the chance to study her craft. She just picked it up as she went along. I wanted somewhere that had a professional standard. Blanche Macdonald was the place that really stood out."
For a budding designer who would eventually make a home for himself in stylish Stockholm, the journey from Medicine Hat to Vancouver was accompanied by a large slice of culture shock.
"Vancouver seemed huge to me when I arrived!" he laughs. "Everyone suddenly had great style. Everyone always seemed to be doing something. There were so many creative people and outlets."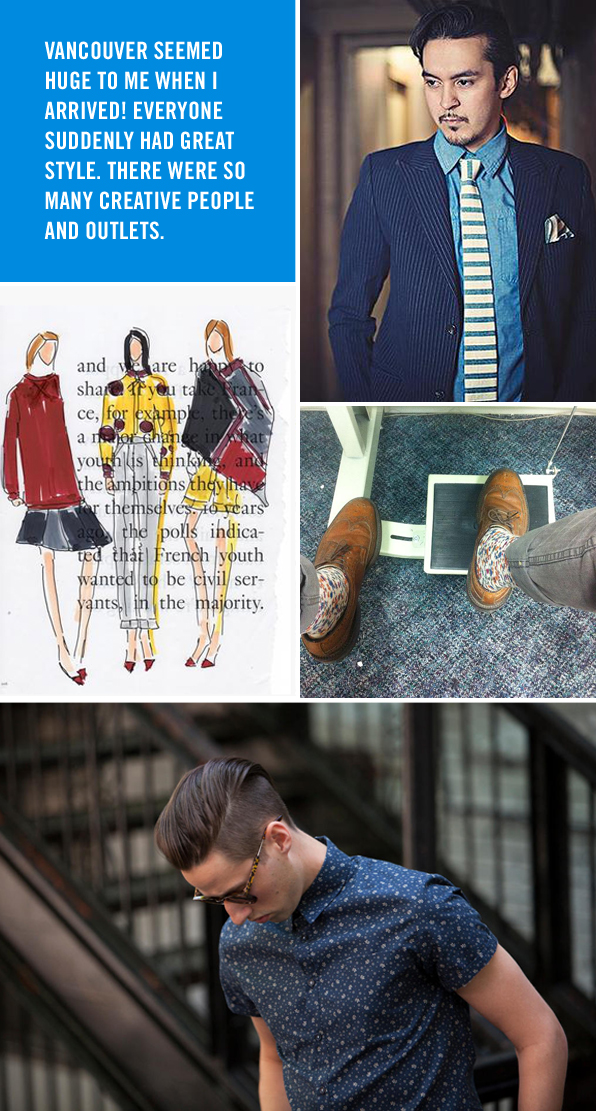 Surrounded by creativity at Fashion School, Paul insists that it was hard work, not innate talent, that took him to the top of the class.
"Because I'm Chilean when I was playing soccer, people would assume that I was naturally good. But compared to some of my friends I wasn't a natural. I had to push for it. Once I found something I wanted, fashion, it was the same. I saw that I could succeed if I worked at it. So many times I had to rip things apart and start over. Design is a process and it can be frustrating. It's very meticulous and takes time and patience.
"Every day at Fashion School was challenging. It was also one of the best decisions I've ever made. I loved the lab work – throwing your earphones on and getting on with it. When you reach that point you feel like a kid in a candy store. You have professional machines, awesome tools, computers and these great resources, including the instructors. You're privileged to use them. I took a little bit of everything from every instructor. Even after I finished school I would often think, 'Peggy Morrison would love this' or 'Lisa Gellert would be critical of this.' I definitely carry their teachings with me."
Suitably inspired, Paul crafted his award-winning graduate collection by deliberately exploring styles and fabrics outside his comfort zone.
"I wanted to do something that was a tribute to my Mom. She loves luxurious, elegant fashion runway style clothing. I wanted to make her proud. And from an aesthetic and marketing perspective, I wanted something that would look good on a runway. It wasn't really my style or identity, but I wanted to challenge myself and create something that would stick out. I ended up winning the Award for Collection Interpretation, so I guess it did!"

Paul's commitment to hard work continued after graduation. Joining forces with fellow graduate Brockton Lane, they returned to Medicine Hat to design and eventually show a collection entirely of their own creation.
"The Knownwealth collection was different to what I'd shown at Fashion School – more my aesthetic. It's chill, ready to wear, minimalist clothing with an edge to it. We showed 18 different looks, with close to 50 actual garments. We sold 350 tickets and grossed $7,000. Unlike Fashion School this was all on us, from buying the fabric to drawing and designing it, sewing it, hiring models and finding a venue. It was all on us. The reason behind the collection and the show wasn't to get picked up by retailers. It was to see what we could do on our own. We wanted to build our portfolios. We wanted the photos and, more importantly, videos. We knew that was what would get us internships."

Paul's work with Knownwealth impressed J.Lindeberg enough for them to offer an internship to the young designer from the opposite side of the world. That's typical of Paul's career. If he wants something, he'll work until it becomes a reality. So when he says that there's a new collection fermenting inside his brain, you'd be crazy to think it won't be gracing a runway and stores sometime soon.
"I want to make a small collection, focussing on getting it manufactured and getting it to retailers. I've always made ties. They were the first things my Mom taught me to sew. I want to start a brand called Mother, which will be ties and accessories, maybe under the overall umbrella of John Paul Reyes. If I can get it into stores in Canada and Sweden I can say I'm an international designer!
"I can't wait to get the creative juices flowing again!"