Fashion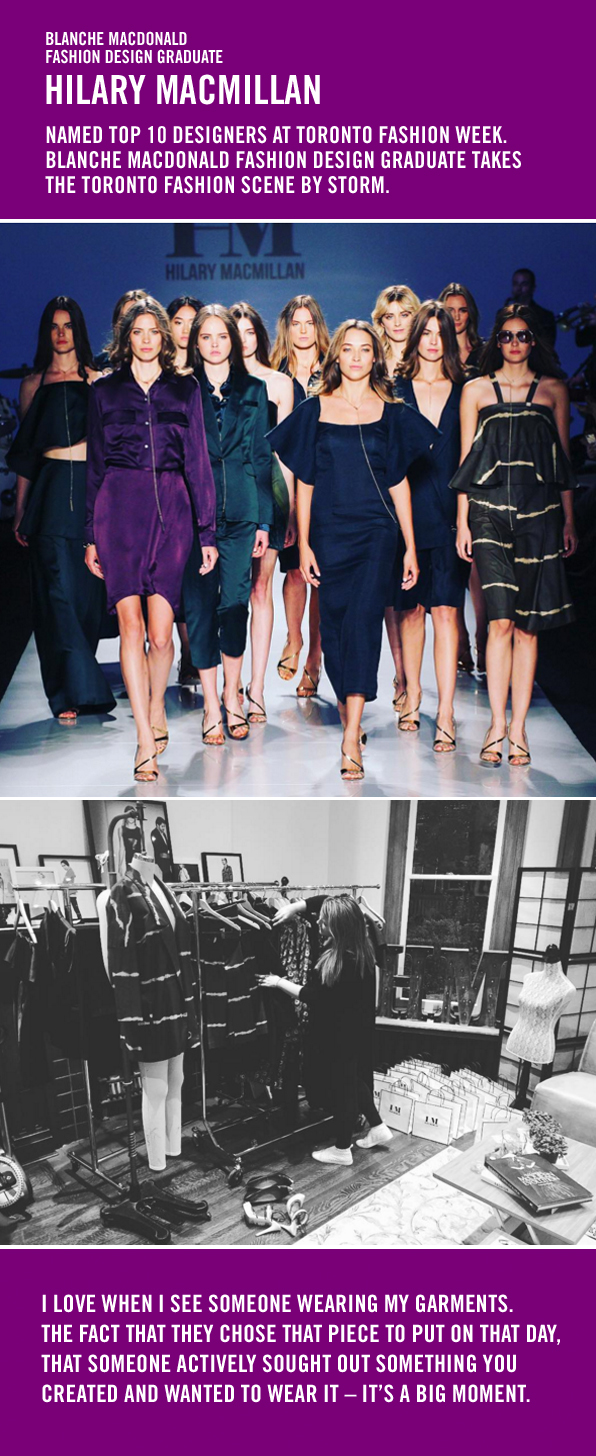 "My mother is an artist, so growing up I was always engaged in some art project. She encouraged me to be creative and to think outside of the box from an early age."
Every designer's story is a little different; for some it takes time for the realization to slowly dawn, but for others, it is an innate sense of purpose. For Blanche Macdonald Fashion Design graduate Hilary MacMillan, it's as though every step along the way was kismet, propelling her to where she is today.
Boston-born and Toronto-raised, it was an Undergraduate Degree at the University of British Columbia in Political Science and Economics that originally brought Hilary to Vancouver. However, it was during this time that she decided to change direction, recognizing that her life-long love affair with fashion could in fact become her career.
Her creative journey started at the Blanche Macdonald Centre, when she made the life-altering decision to scrap law school and pursue her unshakable passion for art and design. With a clear artistic vision and a passion to create for the modern urban women she was surrounded by, Hilary's namesake label has been turning heads since its inception in 2012. Fast forward to present day, Hilary has just established a new stockist in Morocco, allows celebrities to pull her garments for Toronto International Film Festival and is showing both Fall and Spring collections at Toronto Fashion Week. We've come to conclusion, this was always her calling.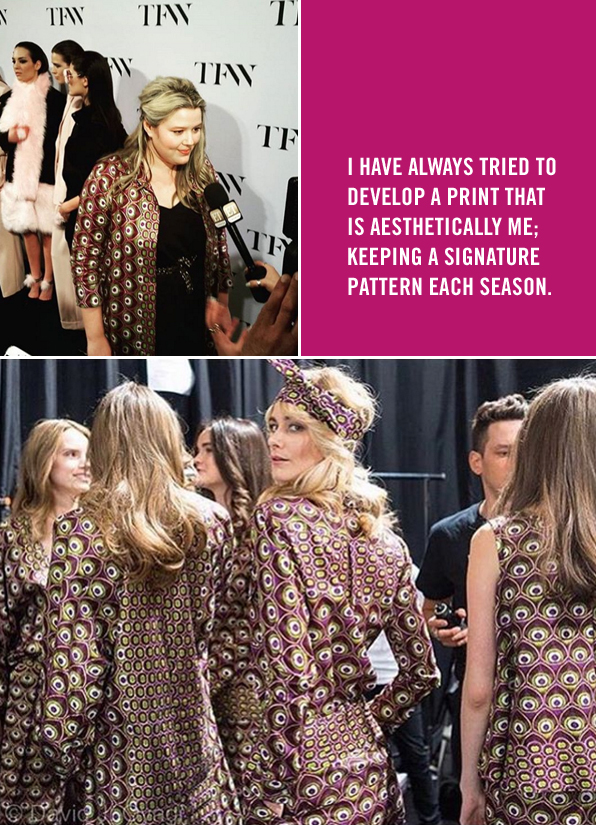 Following her graduation, Hilary moved back to Toronto to help her sister with her independent jewelry store, ELLE Hardware in the chic and artistic neighbourhood of Queen Street West. Toronto, often referred to as Canada's Fashion epicenter, is fueled by a collaborative creative energy. This vibrant and rich arts scene is home for Hilary, and using the skill set and training she took away from her time in Vancouver at Canada's Top Fashion Design School, her strength and aptitude for design was able to take flight. Maybe it was the ever-inspiring and creative climate of the neighbourhood, or just a yearning to create, but it was during this time that Hilary designed her first independent capsule collection.
"I had designed a capsule collection and I was able to sell it at ELLE Hardware. I was so fortunate to have this outlet to see how customers responded to my garments and reacted to each piece. From there, I started wholesaling to other boutiques and attending trade shows to gain contacts within the industry."
Armed with insider knowledge on her garments appeal, Hilary was ready to take the next big leap.
"I did a couple more collections like this and then I started to show at Toronto Fashion Week. This propelled my designs further into the Industry. People were beginning to recognize my brand and who I was. It was a very exciting time."

Hilary pulls inspiration from a myriad of places: her Scottish heritage, her love of realist art, the Canadian landscape, and the history of fashion itself. Reflecting back on her time at Blanche Macdonald, it is evident that her education continues to be an inspiration for her collections.
"I loved Fashion History and learning about past designers and design history. I've always been really inspired by past decades and I still think back to that whenever I'm producing a new collection. It's all in the details: epaulettes, military, corsetry. I carry this knowledge forward as it is still a huge inspiration for me."
During her time at Blanche Macdonald, Hilary also took advantage of the myriad of opportunities, knowing they would be a critical step forward for her career.
"During my time at school, I interned with Vancouver-based designer Erin Templeton and volunteered as a dresser as much I could, gaining the inner workings of behind the scenes of a Fashion Show. Most of the Instructors at Blanche Macdonald are working in the industry and they are there to help set you up for success. A standout instructor for me was Jenny Hedberg. She had her own design company and gave us real insight into the skills we would need to make it."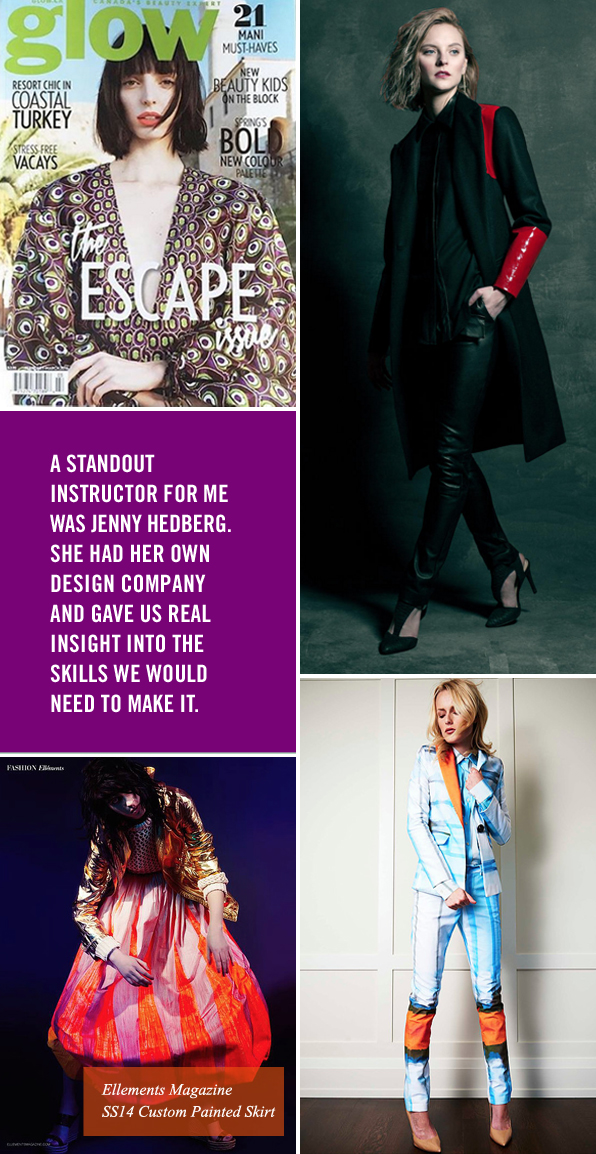 Hilary has built a career around creativity and passion, which only becomes more evident with each new collection she designs. Though each collection sees Hilary's creativity and passion soar even higher, Hilary still has a clear memory of her most momentous collection.
"My most memorable collection to date would be Fall/Winter 2014. This is when I started developing my own prints. My mother is a realist painter and so she designed this beautiful pheasant which we produced as repeat pattern on fabric. Since then, I have always tried to develop a print that is aesthetically me; keeping a signature pattern each season."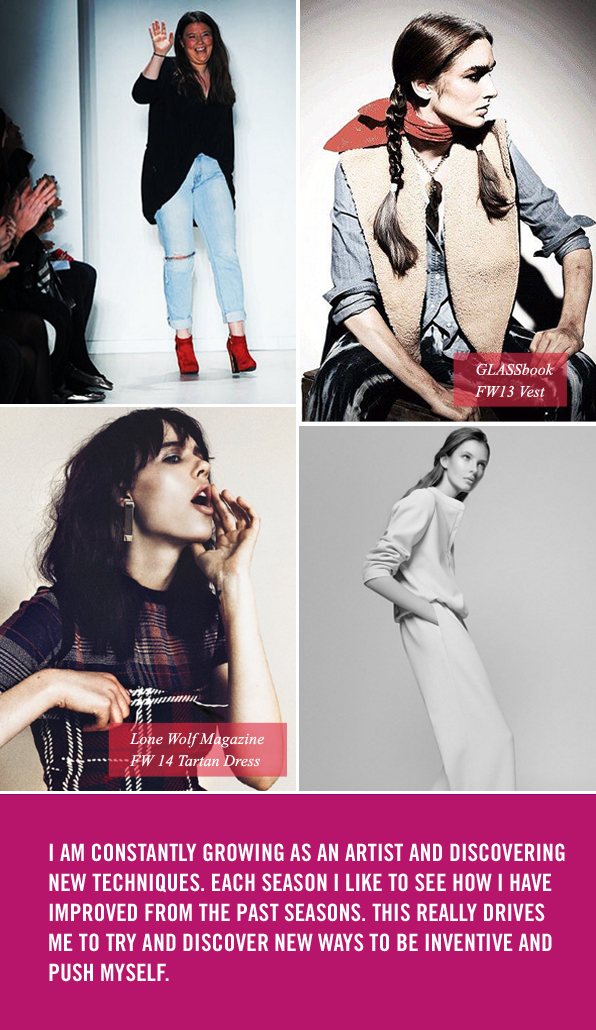 Designing and incorporating a custom print for each season increases both the power and complexity of Hilary's collections, serving to illustrate just how much Hilary's design abilities have grown.
"I am constantly growing as an artist and discovering new techniques. Each season I like to see how I have improved from the past seasons. This really drives me to try and discover new ways to be inventive and push myself."
Hilary's Fall/Winter 2016 collection earned high praise at Toronto Fashion Week this past March. Her collection was to date, one of the most-raved reviewed shows of the season. Off the runway, it was the most talked about collection on Twitter, and her garments were spotted on the likes of Kim Cattrall and the cover of Glow Magazine. Bloggers, journalists and fashion fervours alike flocked to get a sneak peek of this cutting-edge collection.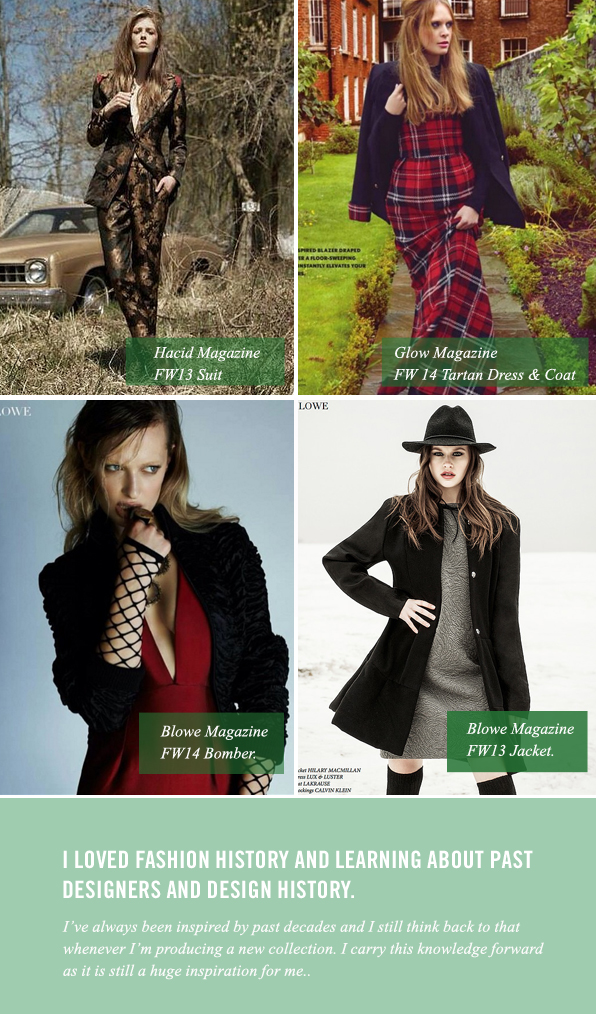 Innovation, ambition, and talent: Hilary is the embodiment of these qualities, and the prime example of what comes when you pursue what you love.
"I love when I see someone wearing my garments. The fact that they chose that piece to put on that day, that someone actively sought out something you created and wanted to wear it – it's a big moment."
We know for Hilary, there will be many more big moments to come.