Fashion

Think working as a wardrobe stylist means a never-ending stream of free clothes and cutting edge looks? For Blanche Macdonald Fashion Marketing graduate and Cross-Canadian stylist Jessica Clark the reality is a little different.
"As a stylist people think you're always working with high fashion. But on commercial jobs I need to make people look real. That's what my job is a lot of the time. My clients are trying to sell a product, so I'm trying to meet the creative vision of the ad agencies and art directors. How can I make this actor or model look like they own this product? How can I make them look like the target market?"
Jessica is adept at answering those questions. Regularly travelling across Canada, from her native Alberta to Vancouver to Toronto and beyond, she's styled for household name brands like Revlon, Maison Simons, Honda, Adidas, Kate Spade, Vince Camuto, Poppy Barley and American Crew. Her portfolio is understandably full of high end looks for magazines, designers and modelling agencies, but Jessica is acutely aware that being a successful stylist requires more than surfing the wave of the latest trends.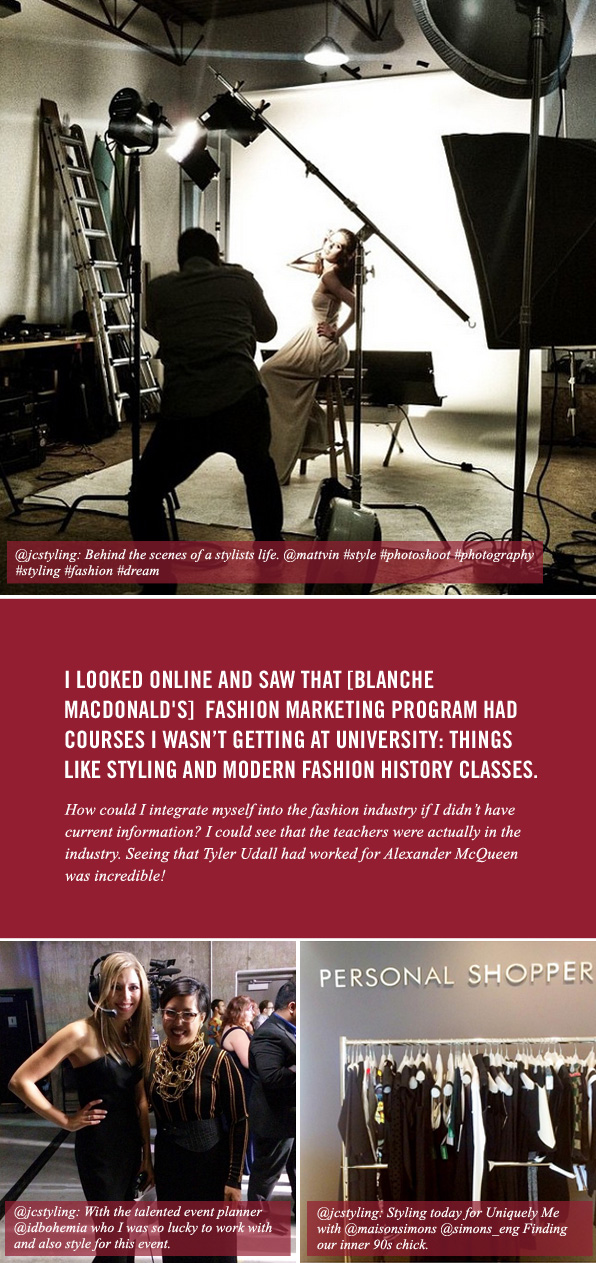 "I was recently flown to Toronto to work on an ad for an agricultural supply company," she continues. "It doesn't sound glamorous but it was an amazing campaign. A young farmer is proudly looking over the fields thinking 'This is all going to be mine some day.' If you're working on a farm, you're probably not going to be wearing an expensive jacket. I needed to make the clothing look like it had been worn for decades. The images are telling the story, so those images need to be believable. For a job like that I make mood boards so everybody is on the same page. We're a team, so I'm in constant communication with the clients and photographers. I want to be sure what I'm providing is what the clients want. And if they don't like my first choice, I have five other outfits on hand ready to go."
Professionalism comes naturally to Jessica. Her father is a commercial photographer and he provided the teenage Jessica with an introduction to the world of advertising, opening doors as she began a brief modelling career. It was on one of those modelling gigs where Jessica had her first encounter with the world of professional styling.
"Stylists weren't common growing up in Alberta, so when this guy started putting my belt on backwards, telling me to put my dress on backwards and throwing another dress over the top I thought it was so weird, even though I understand what he was doing now. I asked him what he did, and he said he was a stylist. I thought, that sounds like a fun job. I like putting outfits together."

The seed had been planted but would have to wait for germination. Soccer, snowboarding and an enlightening backpacking trip around South America came first, before Jessica began studying for a degree at the University of Alberta.
"I was sitting in the library at University and a girl said to me, 'You'd be really good in fashion. You're always dressed up.' It was true. I'd never come to school in sweat pants."
There were fashion elements to the Human Ecology Program Jessica had begun, but it wasn't the thorough fashion education she was searching for. It was time for fate to step in.
"A friend of mine was going to Blanche Macdonald. She told me about the school, I looked online and saw that the Fashion Marketing program had courses I wasn't getting at university: things like styling and modern fashion history classes. How could I integrate myself into the fashion industry if I didn't have current information? I could see that the teachers were actually in the industry. Seeing that Tyler Udall had worked for Alexander McQueen was incredible!"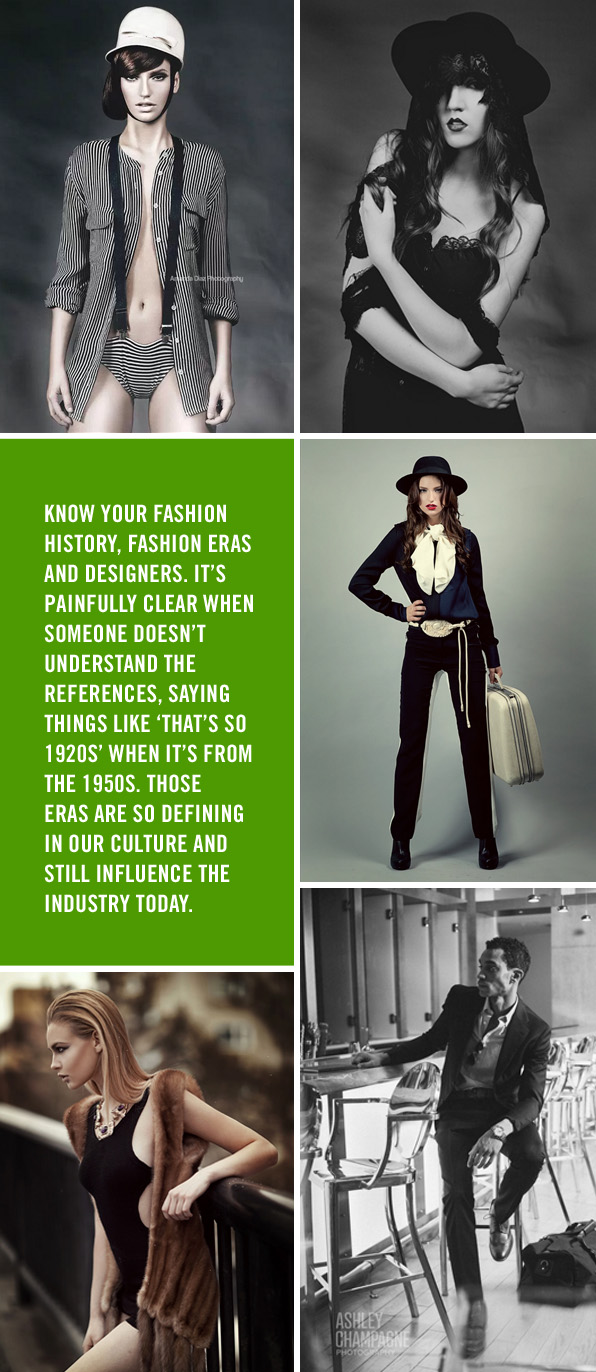 Knowing that she'd return to University once she'd completed her program, Jessica headed to Vancouver eager to maximize her time at Fashion School.
"I could relate to what my teachers were saying because it was so current. I loved Tyler's styling class and Peggy Morrison's fashion awareness class; the way Peggy could compare something from the 1920s to something on trend today. We had all these inspirational people teaching and telling us about what they'd done. I became immersed in the program and wanted to get involved in everything I could. I was going to Fashion School. I was working at a restaurant. I was blogging about fashion. And I volunteered at every fashion show Career Director Mel Watts could get me into. When I started the program I told her, 'I want to be your number one girl. I want to be at everything!'
"At the same time the documentary, The September Issue, had just come out. Grace Coddington and the way she spoke were so inspiring. That's when I knew I needed to become a Creative Director and a stylist. There's so much more to fashion than just putting clothes on. It can tell a story, I wanted to tell those stories too."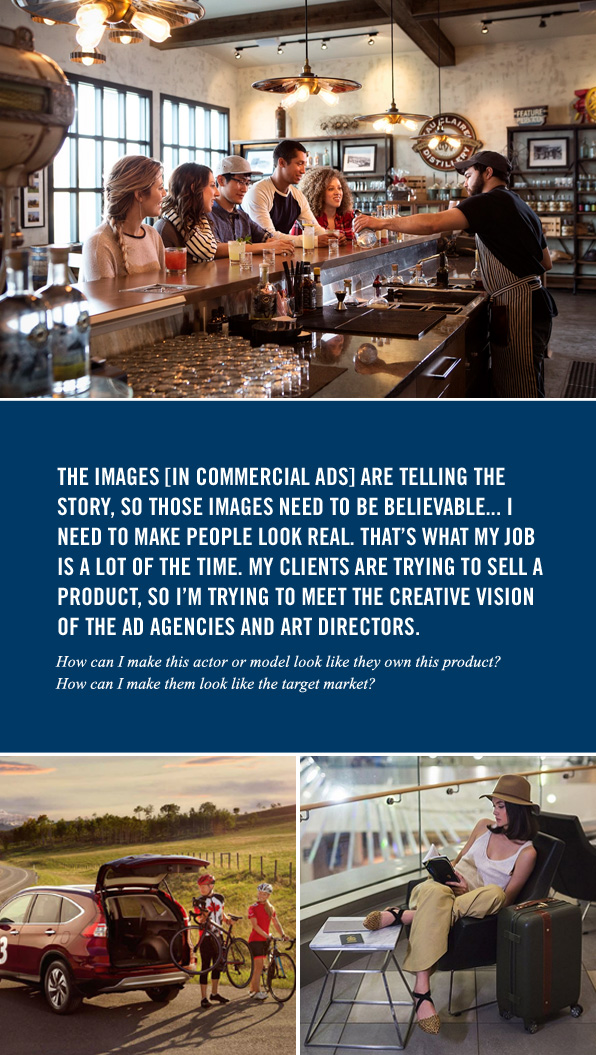 Jessica was willing to put in the hours, charming her way into a string of internships at fashion magazine The Lab, the marketing department at Holt Renfrew, the e-commerce department at Aritzia, and with pro stylist Yvadney Davis.
"Mel posted that a stylist was looking for an assistant. I was the last candidate Yvadney interviewed and she hired me on the spot. I think she could see my excitement and passion. I was so eager to be a part of everything the fashion industry could hold. She could tell I'd do everything I could to get the job done.
"Yvadney taught me to think outside the box and not always play it safe. It's easy to look at a mannequin and think, 'That will look good together on a model.' But it's ok to push the boundaries and go a little weird. Unconventional ideas are what leave an impression."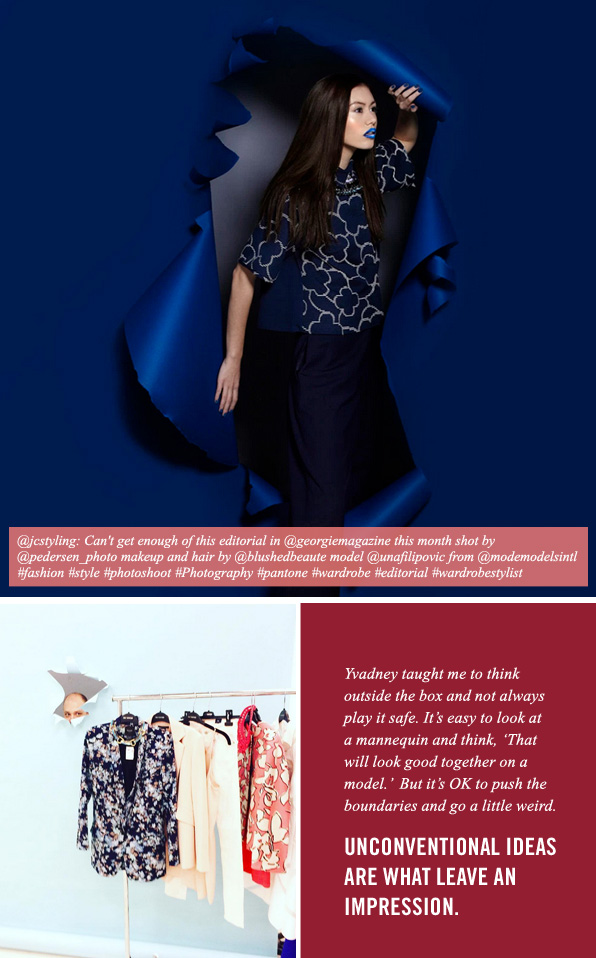 Jessica moved back to Edmonton, completed her degree and launched her styling career. She'd had the inspiration. Now came the time for perspiration.
"I connected with the modelling agencies and ad agencies in Edmonton and began building those connections. I found a niche market in the city, as there was hardly anyone working there as a stylist. I did trade for print photos to build my portfolio and soon jobs started coming my way. Two years ago I started working with Roth and Ramberg, who are successful commercial photographers across Western Canada. They've given me so many opportunities.
"Revlon came into Edmonton for a trade show and needed a stylist to style their models. I was responsible for styling 18 models over two days. One of their team found me just by googling 'Edmonton Wardrobe Stylist.' That was two years ago and now I'm their national wardrobe stylist. I fly all over Canada when they need someone to style their models."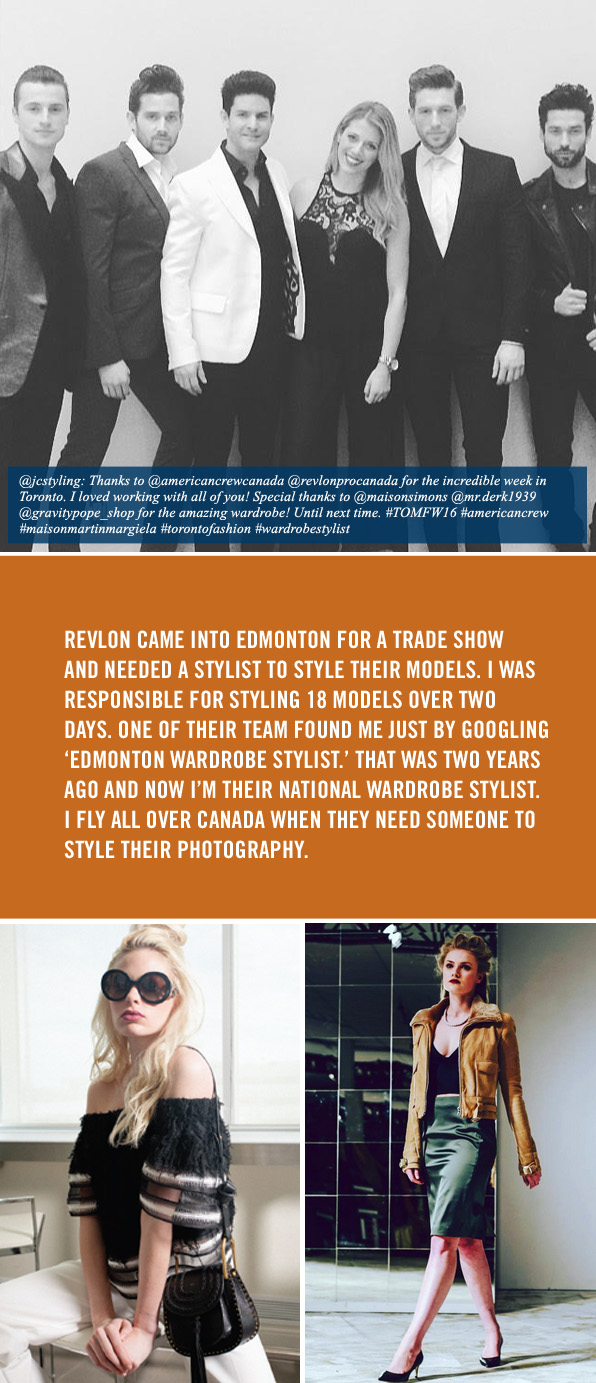 Turning a passion into a career has been a labour of love for Jessica. But even though she still adores fashion, she insists that it's the people and the creativity that gets her excited for the future and pumped for work every day.
"The exciting thing is hearing concepts from people who are so passionate. It's always cool to meet other creatives – photographers, makeup artists and designers – who are passionate about their work and art.
"I'm planning on returning to Vancouver and would love to move into costuming in the TV and film world along with my commercial and fashion work. I already styled a short film called Glory River that was shown at the Toronto International Film Festival and was bought by Telus Optik."
Let's be honest. Jessica has a dream job; flying around Canada, working with blue chip brands, and telling stories with clothes. It's an achievable dream too. As long as you're prepared to learn and work.
"Know your fashion history, fashion eras and designers," stresses Jessica. "It's painfully clear when someone doesn't understand the references, saying things like 'That's so 1920s' when it's from the 1950s. Those eras are so defining in our culture and still influence the industry today.
"Treat everyone with respect and stay humble, including volunteers or assistants on set. You never know who is going to end up being your boss some day. Always present yourself well too. If you're not put together how can you put anyone else together? You're coming to style people, so you should have style!"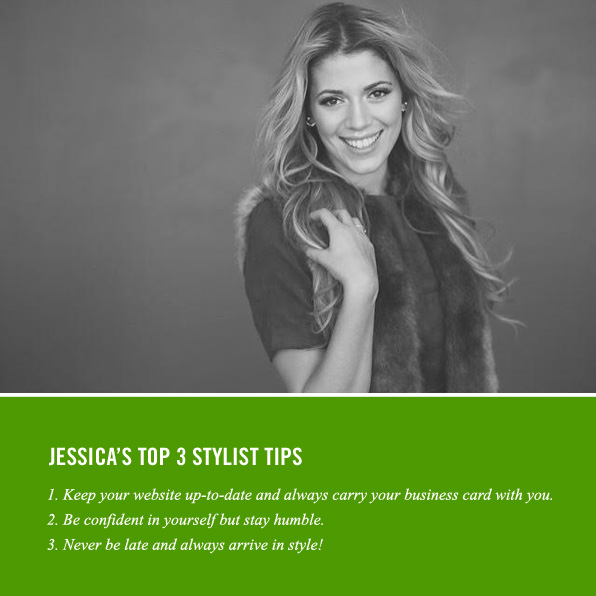 Website: www.jessicaclark.me
Instagram: @JCStyling
Twitter: @JCStyling