Fashion
With their unique fashion voices, these Blanche Macdonald Global Fashion Marketing graduates are taking the industry by storm. Articulating their story to the world, our grads have navigated their way through fashion's ever-evolving terrain, bridging the gap between knowledge and success: from luxury retail brands and glossy magazine offices, to prestigious PR firms and leading buying agencies. Our grads are 'serging' ahead of the trend, climbing the ranks of local and international scenes, one fashion forward trend at a time. Meet these burgeoning fashion mavens that have become part of this thrilling community in our Fashion Fervour storytelling!

Set your mind to it and it may happen. Do it with heart and it's guaranteed. Blanche Macdonald Global Fashion Marketing graduate Amanda Watt has approached her burgeoning career with this doctrine, hustling (with heart) on her way to become Marketing Coordinator at Vancouver's coveted luxury retail department store, Holt Renfrew. From setting up large scale events featuring the most buzz-worthy designers and mega-names in the industry, to coordinating intimate fêtes, prepping hundreds of swag bags and sourcing for what's to come next, she's always on her toes, ready to tackle the next big fashion moment. Meet Amanda Watt, gracious, accomplished and fanatical for Fashion.


Blanche Macdonald: What was your favourite part of our Fashion Marketing program?
Amanda Watt: All of it! It was such a truly amazing experience that I will always treasure. I remember being so inspired by [Blanche Macdonald Fashion Program Director and Instructor] Peggy Morrison's passion that no matter what she was teaching I loved it; her stories and Show and Tell were something that I would have never imagined I would be fortunate enough to be a part of. I truly believe that I would not be where I am today if it was not for Blanche Macdonald and the opportunities and goals it helped me realize.

BMC: How did the Blanche Macdonald Career Department help you in pursuing these goals?
AW: Honestly, if it wasn't for the guidance of [Blanche Macdonald Career Director] Mel Watts while I was in school, I would never have had the opportunity to intern with Holt Renfrew, and if it wasn't for that, who knows where I would be today! I truly believe that my internship was the first and most crucial step in starting my career in fashion. I fortunately still get to see Mel from time to time. I really should stop into the campus more than I do, though!
I have been lucky enough to now be heavily involved with the internship program here at Holts. It is an incredible way to get your foot in the door! The Internship Program is something that I hold very close to my heart and I have had the opportunity to meet some extraordinary Blanche students along the way.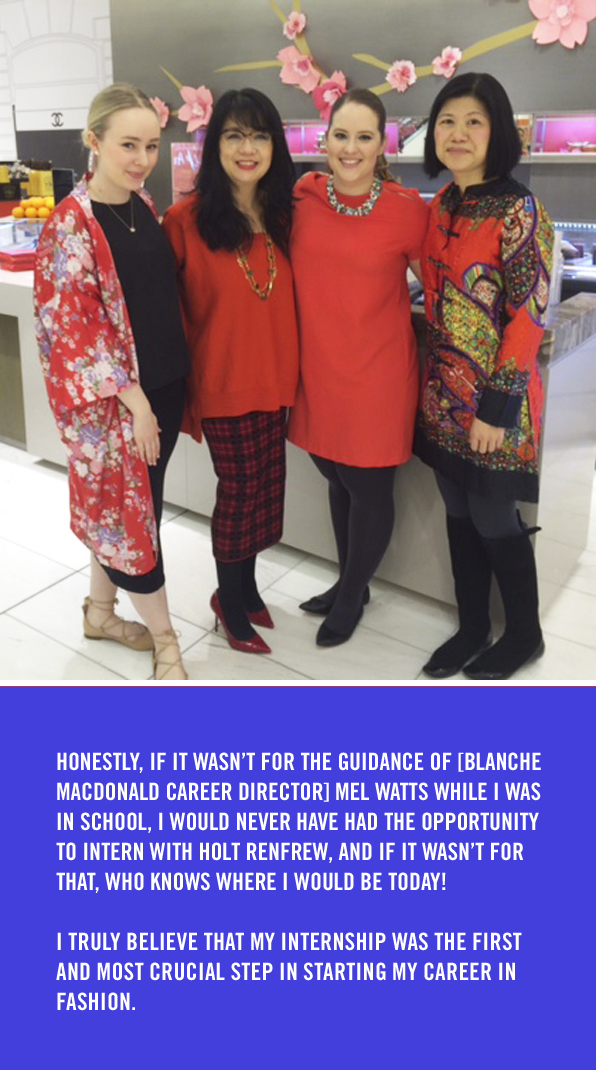 BMC: What does a typical work day as a Marketing Coordinator look like for you?
AW: One of the things I love so much about my job is that it's very hard to answer that question.The majority of my days are planning and organizing! I start off my day with checking emails and voicemails, I then send a daily email to all the staff to give them a snapshot of what is happening that week. From there, I never know where the day may take me! There is always something different happening. From setting up for large scale events to coordinating small intimate ones, preparing hundreds of swag bags to sourcing for events, there is never a dull moment!


BMC: Can you share a memorable event that you worked on?
AW: One of the most memorable events for me to-date was working on the Charlotte Tilbury Personal Appearance and Beauty Counter Launch. It was such a huge deal to be bringing her to Vancouver and it was an event that we worked on for months! The day of her actual appearance was so fun, we had British Guards, models all decked out in her signature makeup looks wearing beautiful silk robes, and paparazzi! She (not surprisingly!) drew out a huge crowd and it's always exciting to be able to connect the public with designers and creators of this calibre.


BMC: Can you tell us a little about the incredible designers you've met during your time at Holts?
AW: I've been so fortunate to meet several designers, all of which were so unique in their own ways.
Marcelo Burlon was a huge highlight for me! He did a personal appearance in the store and then we had an after party at the LUMAS Gallery in Gastown. At one point he took over the DJ booth and didn't stop until the party ended!
I also met the Smythe designers, who were both so gracious and kind. My most star-struck moment, however, was when we had a book signing for internationally-renowned Model, Coco Rocha. I had to help her get to the bathroom before she went out on stage and she was just so elegant and so beautiful that for the first time in my Holts career I was really in this dreamlike moment.



BMC: If you were given 20 minutes every day to shop, which department would you sneak away to?
AW: That is such a hard question! I would say Shoes. I love them all. Seriously. I'm also frequently in the cosmetics department. I have a cosmetics background and worked in cosmetic retail for a long time before I came to Blanche to start the fashion chapter of my career. You'll often find me downstairs trying out the newest eyeshadow pallette from Tom Ford, or checking out the latest Creed scent – there's always so much innovation and excitement in cosmetics, not to mention technology that would blow your mind. Right now I'm anxiously awaiting all the summer collections because I love anything shimmery, and the best highlighters come in with the summer product!


BMC: How would you describe your personal style?
AW: It is constantly evolving. I feel like my style has really started to mature and reflect the point that I am at in my career and my life. I will always gravitate towards colour and pattern though, that hasn't changed at all! Oh, and my love for costume jewellery is deeply rooted.


BMC: If you were reincarnated into any designer, who would it be and why?
AW: Gabrielle Chanel. She was such a pioneer for women and I don't feel that she is credited enough for that. She pushed the boundaries of fashion and beauty and it is one of the things I've always really admired the most about her. She was way ahead of her time designing for the modern empowered woman.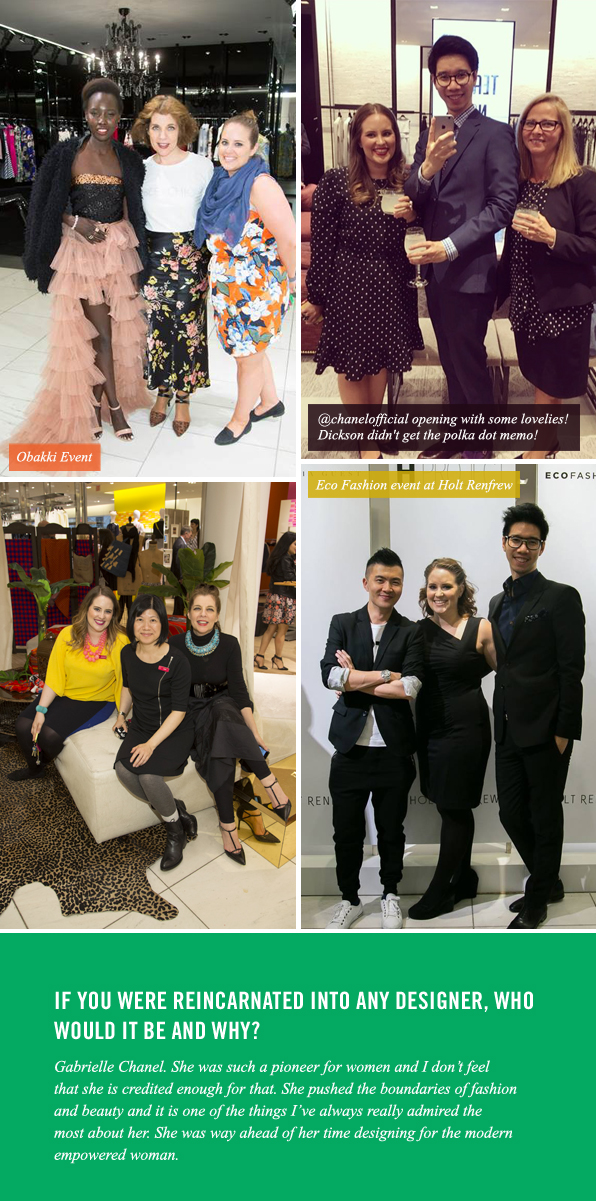 BMC: What fashion decade would you go back to if you had a time machine?
AW: I've always wished I could live through the 1920's to the 1980's at 28 years old so I could experience it all, but if I had to choose, I would go back to the early 1950's. I LOVE the feminine silhouette of The New Look by Dior. I also love the idea of dressing up to go everywhere. Everyone was so glamorous no matter if you were off to a gala or to the grocery store.

BMC: What advice would you have for someone who is just graduating?
AW: The question that I'm asked the most from other students and new graduates is how did I do it? And my answer is always the same: I worked really hard. My advice to anyone getting into the fashion industry is that it is small and your reputation is very important. Find a company that you are interested in and get in at any position that you can, then work your butt off. Opportunities and doors will open from there, but only if you work for it. Also find a mentor, someone you have to look up to and learn from is really beneficial. I couldn't be more grateful for the opportunities that I have been presented with. But with that being said, it was not without hard work and sacrifice. If you set your mind and heart to it, you will achieve it!