Grad Success
Makeup Artistry Graduate
Make Up For Ever and NOBASURA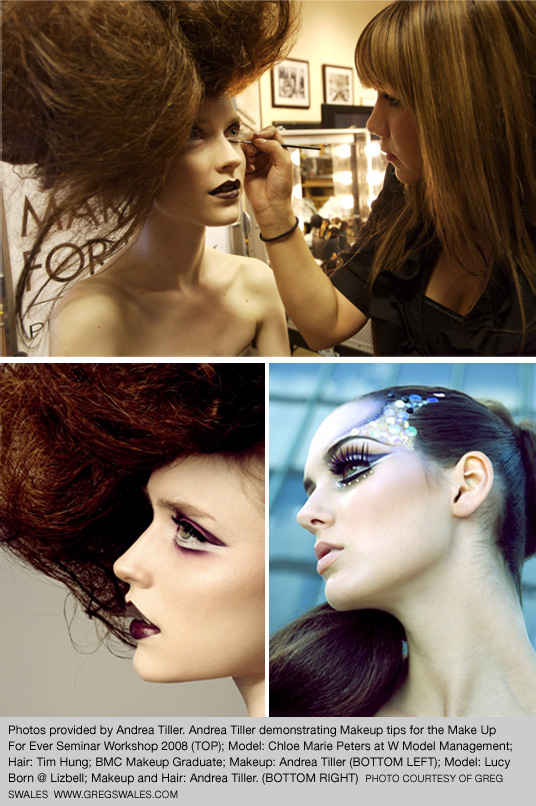 Growing up, Andrea Tiller knew that she had a flair for the arts and fashion. As a student in Blanche Macdonald's Global Makeup Artistry Program, Andrea excelled in various makeup competitions; she was awarded first place for her flawless application at the "Make Up For Ever" Island Competition. She then decided to continue expanding her career path with the international "Make Up For Ever" company. With numerous experiences and editorials, Andrea is represented by NOBASURA, one of the most prestigious artist management agencies in North America. She has grown to be an in-demand makeup+hair artist for fashion shows, print advertising, editorial work and special events. Andrea works extensively in Bridal Makeup and Personal Cosmetic Shopping. She is quickly building a reputation as one of Vancouver's most exciting new artists and is a top choice for clients.
BMC: What were some of the challenges in your path to establishing your reputation as one of Vancouver's most exciting new talents?
AT: Being an artist is a challenging way to make a living, especially in Vancouver; therefore I really had to concentrate on getting the right team together (in my case photographer and wardrobe stylist...with lots of trial and error...but every experience being something that I learnt from) and put my work out there where it could be seen by the RIGHT people in the industry. I also did tons of volunteer gigs where I met different contacts and was introduced to new opportunities. I had and still have a MySpace page, model mayhem profile and now have my official website: www.andreatillermakeup.com. These tools really helped me promote my art and kept the contacts that I wanted to have always updated with my latest work. This allowed me to meet one of my biggest supporters and mentors, Jon Hennessey, who is also a Blanche Macdonald Makeup graduate and is the creative director and owner of the agency I am signed with: NOBASURA which translates to "no garbage" in Spanish. We have a tight roster of artists that are amazing people and that are top-tier in the fashion and entertainment industry. Check out the site: www.NOBASURA.com

BMC: Tell me about Miss Latina and Miss Universe Canada?
AT: For Miss Universe Canada, I just helped out with some of the promo shots for contestants from Vancouver; however, Miss Latina Canada 2009 was a ton of fun. I got flown to Toronto for a week by a client of mine to be her personal makeup and hair artist for that pageant. I am also of Latin descent so it was an amazing time to get reconnected with my roots and help my client take home the crown. The pageant that I was doing the makeup and hair for turned out in the end as the 2nd runner up and winning the title of Miss Photogenic. It's great because most of my clients end up being lifetime friends, so it didn't even feel like a business trip.

BMC: What was your most memorable editorial gig?
AT: As I mentioned before, all my experiences are memorable, but I really love it when there are exotic animals on set from chinchillas to lion head rabbits. I remember doing a shoot where I had to work around 6 snakes (one was the albino python that Britney Spears had for her "Slave for You" music awards performance). I am still scheduled to shoot with a cheetah and a crocodile, cant wait! I also love, love, love working on fashion shows. I work well under pressure when it comes to makeup. On most of my jobs 90% of the time I always go into it not having a clue about what I am going to do, most of it is always "free-styling" and those are the jobs that you always end up coming out of thinking, "Did I just do that? Sweet!".

BMC: With such a busy schedule have there been any interesting opportunities you had to decline due to a conflict in your schedule?
AT: Of course! I had the chance to work New York Fashion Week this September, but my schedule didn't allow it until next year. I've had the opportunity to travel to different places but under the circumstances and schedule conflicts the only places I've travelled to so far for work include Toronto and various cities within BC. Every job is unforgettable to me. It doesn't even feel like a job. I am quite blessed and fortunate that I make a living painting faces and meeting great people along the way.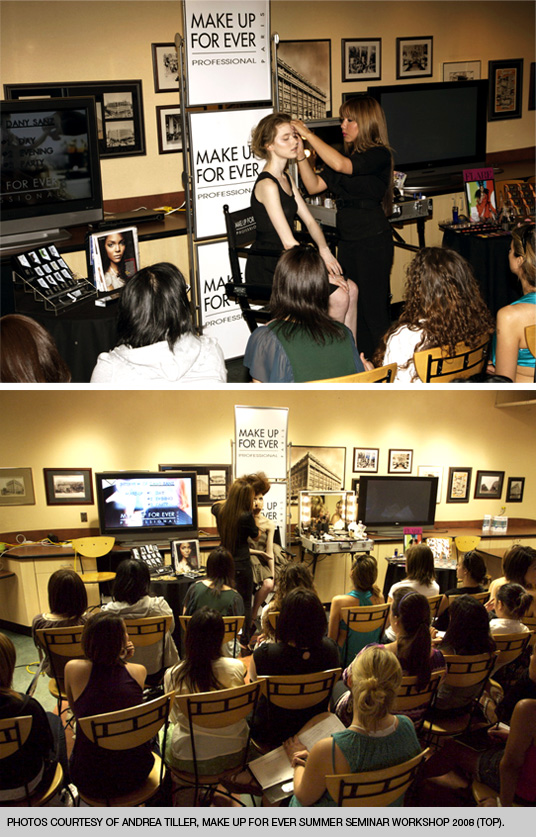 BMC: What is life like working at an International Makeup Company like Make Up For Ever?
AT: I've been associated with "Make Up For Ever" since I was in fundamentals at the Blanche Macdonald Centre. I won their Vancouver Island competition a week or so after I started school and stuck with them ever since.
Every artist has their right fit in regards to cosmetic companies. I feel that MUFE represents me as an artist to the T...their products are amazing, top quality and their proactive professional attitude towards the industry speaks volumes. I work at The Make Up For Ever counter at The Bay Downtown Vancouver with a small team of really talented artists that breathe and live this industry. This company allows me to do what I do best without any boundaries. At the counter we do beautiful bridal makeup to extreme Cirque du Soleil style. It's all about the art and what feels right to you, not about the newest colors and collection that just came out. I am also fortunate enough to be able to teach master classes/ seminars on a regular basis to students and other fellow professionals. I usually focus on high end fashion and photography makeup.

BMC: How was your experience at the Blanche Macdonald Centre's Makeup School?
AT: My experience at Blanche Macdonald was essential. If it wasn't for Blanche I would have never had the confidence to pursue this industry full throttle and being able to live my dream job. I would have never met the wonderful contacts and most of them were my teachers that still support me in many ways up to this day. I hope to one day share my knowledge with the students there too.

BMC: What would you tell future students that are attending the Blanche Macdonald Centre's Makeup School?
AT: I have a few but important words of advice for future students that plan to attend Blanche: give it 150% when you're a student and graduate because it not an easy industry to break into, network network and network....don't expect things to come to you. Dream big and aim high but work hard everyday for it, be consistent!

You'll have the time of your life at Blanche. I'll never forget my classmates and the experiences I encountered there.