Grad Success
Makeup Artistry Graduate & Faculty Member
International Makeup Artist, Commercial Characters, Chameleon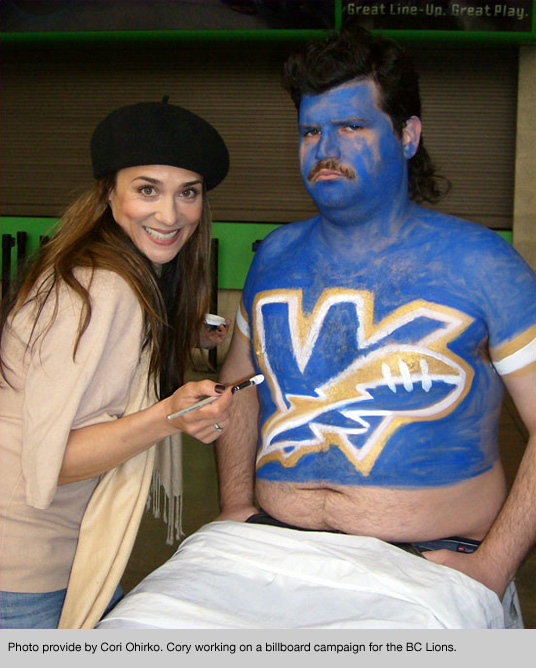 Cori Ohirko, Blanche Macdonald Makeup School graduate and faculty member, has established an international career as a top makeup artist. Her TV commercial credits exceed 100 and include clients as diverse as AT&T, CIBC, Bayer, Hershey's, JC Penny, Mercedes Benz, Microsoft and McDonalds.
BMC: You are an international makeup artist and a world traveler who works around the globe, could you tell us about some of your most memorable projects - in Canada, Europe?
CO: With my commercial angle, any job that has me incorporating special effects or glamour of some type is always great. Jobs that stick out in my mind are intense and give an opportunity to shine... they make me proud of my department, my assistants and myself.
Recently I worked some 19 hour days on a Bodog gambling campaign. That job involved a five hour full chest tattoo application and the laying of hair into a back Mohawk. Kokanee was another demanding campaign with lots of glam, wigs and campy, fun characters.
Toy commercials that have me recreate animated characters are challenging and exciting. For example, on Who's It, a toy commercial job, we had to recreate 15 cartoon characters with six actors using wigs, lace hair pieces, prosthetic noses and brow lash applications. It was all about their faces on green screen. Radioshack's Jimmy Neutron campaign commercial had me create four identical wigs that were sleek, standing straight up in an animated style. (I built them while I had come down with the flu - that part was horrid, bringing me to tears.)
Other memorable jobs include those that are simply big and fun, such as the two weeks of working on Microsoft's commercial in Berlin - it was a juicy big budget taking us all over the city. It had many international talents collaborating. Or the Cape Town job, calling us away from winter in Germany into 36 degree summer weather.
Mostly, makeup and hair projects are extra fun and memorable when they push your boundaries and skills. They are extra rewarding when, after long hours of hard work creating the art piece, you witness its great impact on the rest of the project. That moment is incredibly satisfying.

BMC: What is it like working in Europe, is there a huge difference from working in Canada?
CO: It is interesting and engaging, but very much the same when it comes down to it.

From a department responsibility perspective, if you know your job and are attentive, you can succeed. If I would get nervous approaching a foreign set I would say to myself: 'I may not know the language, but I know makeup'... and then the job becomes the calm focus again.

Having said that, we are blessed to train and work in the predominantly spoken language in film. On the Microsoft job in Berlin, we had Production from LA, the Director from London and talent cast from Germany, France as well as the UK - it was truly an international mix and everyone bridged communication in English.

You can easily identify the various departments no matter where you are. The electrics, camera department, arties and pretties all seem to have the same vibe no matter what country they are in.

The catering and kraft services are different though...we are spoiled here! I have seen a German kraftie table that was basically beverages, some cookies and a pack of smokes.

Working in a foreign country will typically be challenging for a person as you are working in an unfamiliar environment with people you don't know. When on location in Berlin for Microsoft, I was away from my family and friends and the feelings of disconnection were definitely there. Fortunately for me, the first AD and the line producer were individuals that I had worked with previously in Vancouver, so it was like a little piece of my world was brought into that world. And of course after two weeks, I made many new friends.

BMC: What are some of the projects you have been working on most recently?
CO: Besides the ever steady flow of various toy commercials that I have been working on (a staple in Vancouver's commercial scene), I have worked for Boden Clothing out of the UK, PowerWise with David Suzuki and Audi for Germany. As one who believes in diversification I have just worked a five month contract with Lancôme, managing their team of promotional makeup artists for their special events.
BMC: What was it like working for Lancôme as a leader of one of their promotional makeup artist teams?
CO: It was great to get in touch with the corporate world again, especially working with such a strong cosmetic line I love to use. It utilized past experience and leadership skills as well as introduced me to new training and techniques. This experience allowed me a broadening of my career base and I know it will enhance my future goals. As well, it gave me the opportunity to meet and work with many new people.

BMC: Besides commercials and print, are there any other projects you work on?
CO: I freelance in Fashion Shows, Weddings, some non-union TV, as well as fulfill contracts with Blanche Macdonald Teaching, and with corporations such as Lancôme and Chanel, managing demos and working special events.

During the 2005-06 national political campaign, I tended to the Prime Minister at the time, Paul Martin. This was an interesting security experience working with our country's leader. I was running along with the G-men hopping out of vehicles, dodging the press, entering the CBC building.


BMC: Who are some of the most unforgettable faces on which you have worked?
CO: Nelly Furtado... she is absolutely beautiful. Elvis Costello, an 80s hero. Charles Barkley, a mountain of a man, with an edgy humour. And the visage of a big white pony I dressed in hair extensions as we transformed it into a unicorn.

BMC: How is working on commercials unique in terms of timelines, production, client needs and so forth?
CO: Often, your role as a makeup artist is to help fulfill the vision of others. Within the realm of commercials, a client, creative agency and director come together to determine the look on the final piece of film. Their needs all have to be met, and they all have to be happy, so you filter their requests while you do your job. You are also there to support your actor, so you must factor in their happiness. Communication is vital.

In commercials it is obvious, time is money, therefore the pace is always vigorous and charged with energy. Production value and expectations are high as everyone hustles to get the shot list checked off. Divisions between departments are not so marked therefore there is a lot of team work making things happen.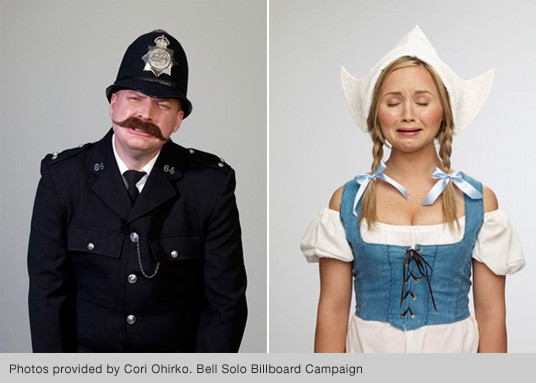 BMC: What are some of the products you use and recommend for working on commercials, and for what purposes?
CO: I believe that the complexion of the client is most important. To achieve that beautiful, flawless face, foundation, concealer and finishing powder are crucial. I am a notorious blender. Laura Mercier and Bobbi Brown are my favorite lines for foundations. For concealer, I love Lancôme Effacernes. It is so longlasting and great to use. As for finishing compact powder, I use Visiora.

For lipstick and eye shadow, I draw upon many brands, textures and colours to complete my kit.

BMC: I heard you are a portrait painter. How do your painting skills come into play with your makeup application?
CO: Utilizing my background in painting, I can really connect the two together. Using similar methods that I use in painting realistic portrait, I can apply it to Makeup Artistry - enhancing the dimensions of the face.

BMC: What do you think of the Blanche Macdonald Centre's Global Makeup Artistry Diploma Program?
CO: It is so thorough! Students that put together their talent and drive with the learning and support offered at Blanche Macdonald will succeed. I can't imagine what speed my career would have achieved if I had someone like Jen Daerendinger, the Makeup Career Director, lighting a fire under me!

BMC: You keep coming back to Vancouver - what do you love about the city?
CO: Well, I am 100% Canadian. Born and raised here. Most of my family, friends and colleagues are here. Though I experienced and enjoyed time living in Germany as well as extensive travel all over this beautiful planet, these journeys re-affirmed for me that Vancouver is the most amazing place to call home - especially having a career in this industry. Vancouver is one of the top destinations for film in North America.

BMC: What are some pointers you would give as a professional makeup artist?
CO: Where would I start really, but what comes to mind is that there are no half jobs... when you do it, always do it to the best of your ability.

BMC: What would you tell future students coming to the Blanche Macdonald Centre?
CO: You have chosen a very exciting career opportunity... but you have to want it and work on it.

BMC: Last but not least, tell us what you love about Blanche Macdonald?
CO: I love the productive energy that each instructor brings. At Blanche Macdonald Centre, there is a strong network of Makeup Artist/Instructors that are working actively in the industry. There is a great community there. The instructor is bringing back their current experience to share and teach about in the class. Overall, it gives out a healthy, lively faculty that is always up-to-date with the current happenings in the industry. It's like it has a special energy that it gives out, creating a strong community network among the artist whether it is an instructor or a student.