Grad Success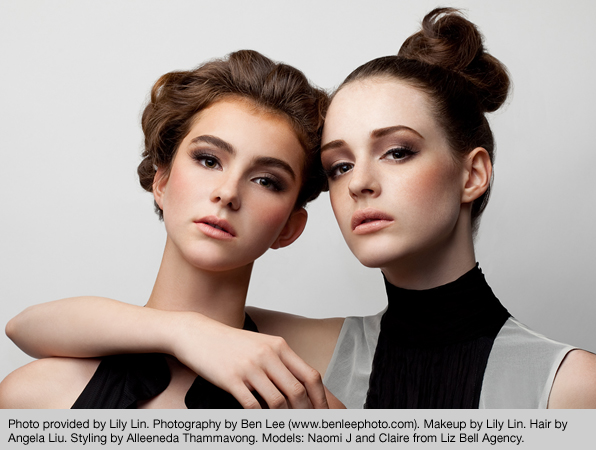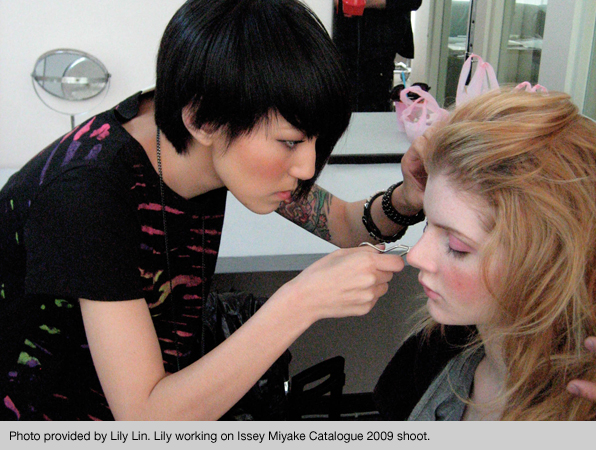 Lily Lin is as modest as they come. Ask about her successes as one of Taiwan's top makeup artists, and she barely mentions that she's worked with model/actress superstars like Jaline Yeh, Andréa Chen and Elana Tsai, and fashion lines including Issey Miyake.
Lily doesn't feel the need to proclaim her triumphs to the world. Instead, the Blanche Macdonald Makeup grad has the quiet confidence that comes from knowing she's taken bold steps to create an amazing career for herself. A year out of Canada's top makeup school and eager to immerse herself in the fashion industry, Lily decided to move back to her native Taiwan after thirteen happy years living and studying in Vancouver.
"I felt that there was more opportunity for me in fashion in Taiwan," she explains during one of her regular visits to Vancouver. "That's why I moved back. There's a big fashion industry and lots of fashion magazines there."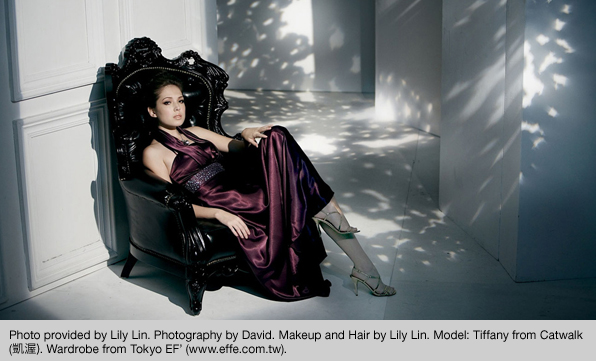 It's only natural to chase opportunity, but not everyone would be hungry enough to uproot across the world for it. Especially when it meant leaving friends and family behind.
"I didn't have family in Taipei," Lily continues. "I moved back by myself. I wasn't scared. There was no language barrier. I'd lived there for ten years when I was growing up. It still took me almost a year to get used to Taipei again. It's much busier and fast-paced than Vancouver. I'd cry down the phone to my mum occasionally. But I got used to it eventually."
That perseverance paid off. Now Lily is one of Taiwan's busiest makeup artists, a regular for fashion magazines like Choc, Cool and WQueen, and catalogues for Beso, Issey Miyake and many more. She's worked on many of Taiwan's top models, and stars including Tiffany Hsu and singer Jin Tai. It's the culmination of a love of fashion and makeup that began before she first walked through Blanche Macdonald's doors in winter 2005.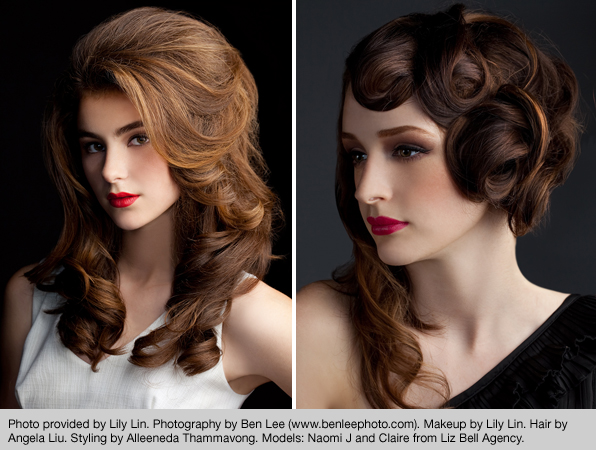 "Makeup was the only thing I planned to do," she recalls. "Growing up I was always playing with my mum's makeup. And I really liked fashion makeup.
"I'd heard such good reviews about Blanche Macdonald. I had friends who had been here and they really enjoyed the program."
Lily began makeup school with high expectations. Once she began, her eyes were truly opened.
"Studying at Blanche Macdonald delivered more than I expected, definitely. I didn't really know what kind of makeup I wanted to do after I graduated and the variety of courses on the program really helped me make my decision. I always knew that I liked fashion, but all the other courses were interesting too.
"The instructors were great. They all work in the industry, and it's good to know they're still in that field. They had so many good stories to share. Knowing what they went through, and what we're going to go through, was really interesting.
"I still keep in touch with friends I made at Blanche Macdonald on facebook. And my career director, Jennifer Daerendinger!"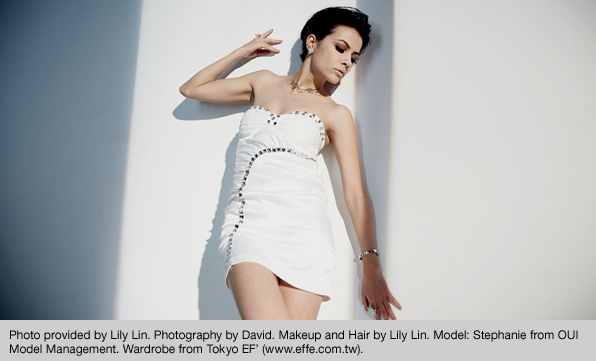 Lily's modesty can almost come across as shyness, but she wasn't bashful about grabbing the opportunities presented by Blanche Macdonald's career development team.
"I did a lot of volunteer work at Blanche Macdonald – short films, commercials and fashion shows. I was still in school when I began an internship for Lola Cosmetics. It was so fun! I worked on counters and we did plenty of fashion shows – Lola sponsor a lot of them in Vancouver. I was often backstage, which was kind of cool. And it felt good to be part of a team.
"People trust anyone sent from Blanche Macdonald. On every volunteer job we were treated like professionals. I did a wider variety of work at school than I've done since I graduated."
That's because since her arrival from Vancouver Lily has made herself a vital component in Taiwan's thriving fashion industry. Once she was able to prove she had the skills and personality to succeed, it wasn't long before she was in almost constant demand.
"I started working for MAC a month or two after I arrived, on the counter at Taipei's flagship store. They put me there because they get a lot of professionals and tourists, and I speak English!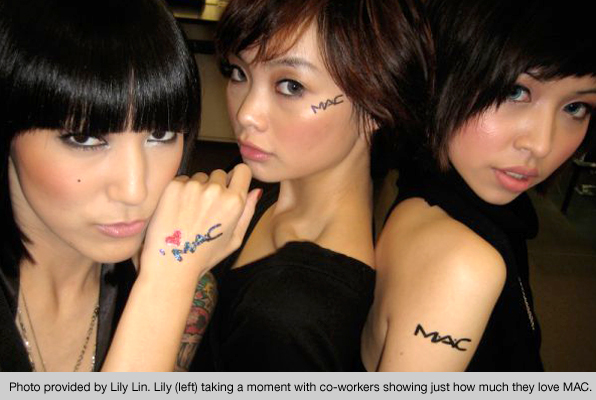 "At the same time I was sending out resumes to magazines and on-line jobs. There's a lot of on-line catalogue work in Taiwan. I met up with an old friend who worked on a magazine called Choc. It's a teenage magazine, kind of like Teen Vogue. They started calling me up when they needed a makeup artist. I knew the opportunities were there because they were calling me for jobs all the time. I stopped working for MAC after six months so I could do more photo shoots.
"That was two years ago. At first it was hard. But every job you have, you're meeting new people and are networking more. I eventually made more connections. Now I'm working for magazines and on-line shops' catalogues. I still do fashion shows too, but it's mostly print work. Runway is fun. I just did two shows for a fashion program at a university. Six models in two hours, so you have to be fast. I'm a slow worker, which is why I like photo shoots more.
"When magazines find a good makeup artist, they stick with them. Now I usually work on shoots three days a week for magazines and brochures. I like to make my own schedule. I'm my own boss!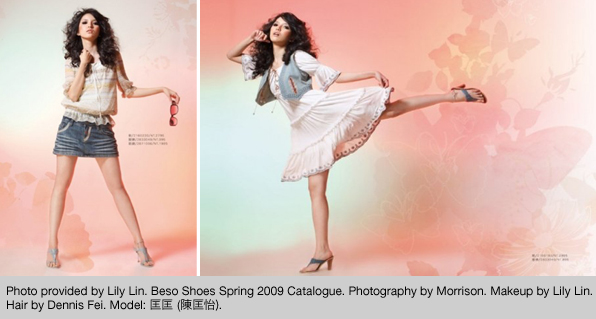 "My favourite thing is waiting to see my work appear in print, but Taiwan is still a quite conservative country. There aren't too many crazy cool makeups for magazine shoots – yet! I don't get to be really avant-garde too often. I do my creative stuff on my own time with other hair stylists and photographers for our own portfolios."
Lily is happy to give a chunk of credit to the school where she learnt, not just the techniques, but also the mindset to be a successful makeup artist.
"Blanche Macdonald really builds good foundations in the techniques, but it also taught me to be professional. If you're good with the photographer and the models you get more jobs. They will refer you if you get on. I try to keep quiet on jobs. I think people like that.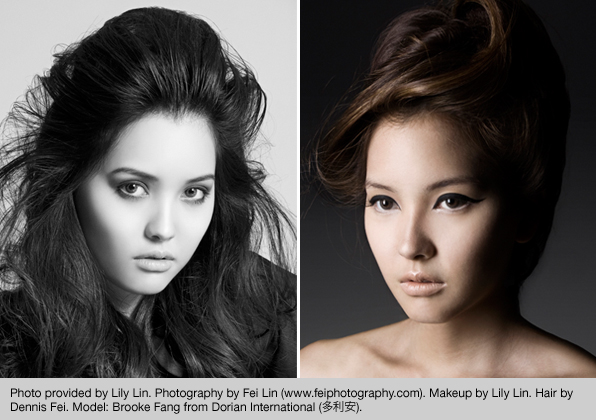 "Also, I don't know if it's just in Taiwan, but sometimes makeup artists aren't that, well, sanitary. My instructors at Blanche Macdonald taught us to always be very clean. I've been called a very clean makeup artist by the models in Taiwan. I'm the only one who uses disposable mascara wands!"
Lily's a makeup star in Taiwan, but the advice she delivers to Blanche Macdonald students present and future applies to anyone anywhere.
"Absorb everything! And keep an open mind. You learn so much at Blanche Macdonald. You won't find out what you want to do until you graduate. Don't think that you definitely want to get into fashion or special effects. Eventually, you'll find what you love!"