Grad Success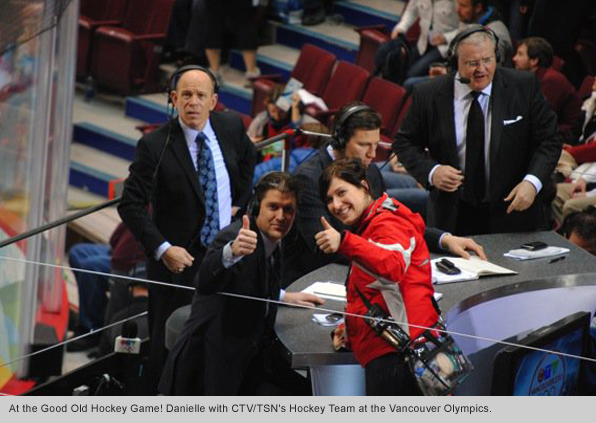 Danielle Aslin is used to hard work. We're meeting the TV and film makeup artist at 10am on a rainy Vancouver Saturday and she's been up all night, working in Britannia Bay, north of North Vancouver, on the set of The CW series The Secret Circle. Naturally, she's a little tired. And that's absolutely fine.
"The day before I started the TV and film class at Blanche Macdonald I found a Craigslist ad asking for help on a movie set," she recalls. "I thought, it's on a weekend, so I can do that. The key makeup artist on set turned out to be Pearl Louie, who's really high up in the union. She was doing this little stunt film called Chemical Evil and a documentary on it at the same time.
"That day I stood outside in the pouring rain for 17 hours, and when I left I remember thinking, 'This is awesome! This is what I'm going to do!'"
You'll see the name Danielle Fowler in the IMDB credits of Chemical Evil, and TV shows like Hellcats and Nickelodeon series The Troop. She's making the transition to Aslin, her married name, but her dedication to her craft, and the pleasure she gets from the work, hasn't changed at all.
"Being on that first set was incredible. All the things I got to see and do. I didn't realise what film was really like. Filming never happened where I grew up in Alberta. I didn't know this career even existed. This could be my job? I was blown away! I still feel like I would do this for free."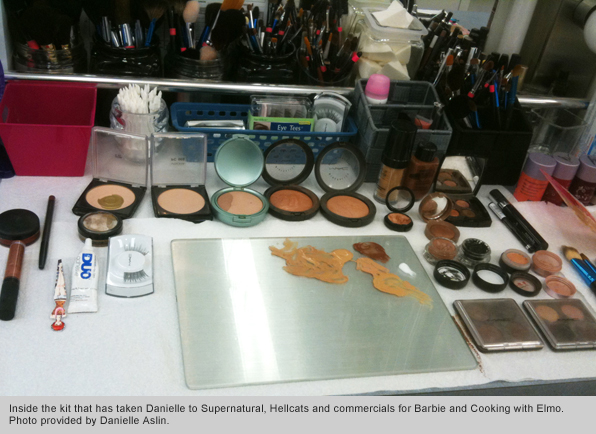 As a youngster in Spruce Grove, Alberta, Danielle grew up around makeup. She just didn't appreciate its full potential.
"My mom was a makeup artist," she explains. "She was the cosmetics manager at Sears. She was doing makeup my whole life, so it was always around. I was never interested in it until I got a little older and finished high school. Then I really started liking it. When I was out of high school I was always doing it on friends. I even did a couple of weddings."
Danielle was three years into an English degree when she realised that she wanted to make makeup her career. Her parents understood and encouraged Danielle to find the best makeup school available. After asking around Spruce Grove and nearby Edmonton, the terrific reviews she was hearing about Blanche Macdonald made it a simple choice.
"Once I got to Vancouver I loved it. I thought the city was wonderful and the program was amazing. I went into every class with a really open mind, and I think I excelled in all of them. It was a great experience. I had some of the best teachers, like Jon Hennessey for fashion and Naomi Hirano for special makeup effects. It was a really awesome experience. I was finally studying something that I was passionate about.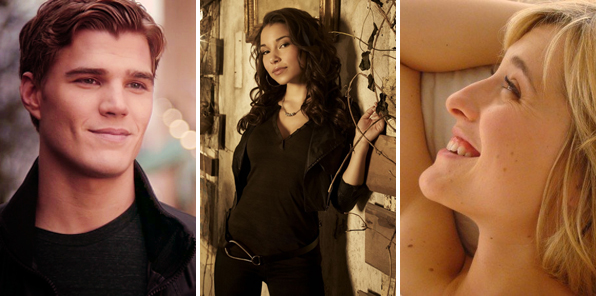 "I learnt a lot about my performance expectations and how to excel in those areas. It was very different to university, for sure. When I studied fashion with Jon, I thought that was what I wanted to do. But once I was doing TV and film, I knew. I loved the dirt and the scrapes!"
Blanche Macdonald provided more than a makeup education for Danielle. It also provided opportunities with fellow Blanche Macdonald graduates.
"I worked on a show with Julia Bors when I was at Makeup School, helping fit bald caps. We worked all night, wrapped at 7am, and I had to go to class that same day. But I still work with people I met on that set.
"I would stand next to Naomi Hirano's desk and say things like, 'If I was your assistant what would you think?' She'd say things like, 'Well, your station is a little messy,' so I would keep it super clean. After I graduated I kept going back to Naomi, and eventually she took me to set with her as her assistant. Karen Esprez and Jen Powell have been amazing to me my entire career. Any time I wasn't sure what to do, having mentors like them was priceless. I don't know what I'd have done without them."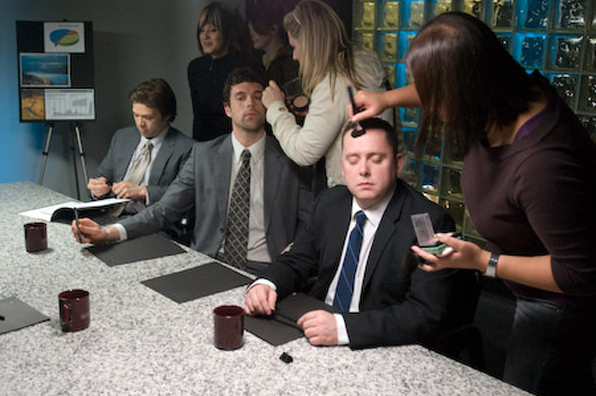 Once Danielle had her foot in the door, her skills, creativity and personality allowed her to kick it open.
"I did the first season of The Troop with Julia Bors and got to do so many special makeup effects. I got hired because Julia knew I had experience and training in effects. That was a great show for me. Most of the effects were cuts and scratches, but there were a lot of monsters and I made a couple of prosthetics for the show too. I made a throat piece for one actor. We had to do a frozen person once. We had teeth sent in that weren't what we needed, so I had to file them down so they looked and fit right.
"That's probably my favourite part of the job. Looking at something and thinking, I have no idea how this is going to work. And then, when it's done, you're like, wow, that worked really well. There's always collaboration. It's all about working with your team and trusting them.
"Your training gives you the basics, with different ways of looking at things and different ways to think on your feet. The thing I liked about Blanche Macdonald was that instructors would show you their way and then help you develop your own way. That gave you the basis to tailor your skills when you're on set and need to be creative."
As Danielle's reputation grew, the calls from bigger shows started rolling in. And TV shows don't get much bigger than The CW's cheerleading comedy-drama Hellcats.
"Patricia Murray [also a Blanche Macdonald grad] called and said, 'I have this show – I want to interview you for an assistant position'. So, I grabbed my portfolio and went to see her. By the end of the meeting I was convinced that I should be working on Hellcats.

"That show was huge! We did full glamour every day – sparkles and competition makeup. All the characters are cheerleaders and dancers, so we had to makeup the actual actors and their dance doubles, and sometimes their acrobatic doubles. There was a lot of continuity!"
The Troop and Hellcats are just two of Danielle's favourite shows. She was part of Naomi Hirano's makeup team on Whispers and Lies with Melissa Joan Hart, forming a friendship with the actress. Have you seen the episode of Supernatural where a diseased woman's skin rips off in a supermarket? That was one famous makeup Danielle's assisted on. At the other end of the makeup spectrum, she was the makeup artist on commercials for Polly Pocket, Barbie, and the adorable Cooking with Elmo. And it was her talent that made analysts like Bob McKenzie, James Duthie and Darren Pang camera-ready for TSN's Olympic and World Junior Hockey coverage. She also returned to the makeup school where it all started.
"I taught prosthetics at Blanche Macdonald for a while. As an instructor, you have to understand that your students will surpass you. I've taken all this time to learn what I know. Then I show them, so they're already at my level. For them and me, as long as you're open to learning, the opportunities are endless."
There's a saying that if you love what you do, you'll never work a day in your life. That's true for Danielle. Which is fortunate, because TV and film makeup takes up most of her life these days.
"I'm probably working between 70 and 95 hours a week now," she smiles. "And I love it. It's instant gratification. You do your art and get to see it being used – something beautiful that you've helped create. A few weeks later you see it on TV and it's like, 'Wow!'"