Grad Success
With thousands of artists, stylists and designers soaring into our halls from around the world each year, our classrooms have become dynamic global communities under the unitedly diverse banner of our Blanche World – a United Nations of creativity! In a glorious celebration of culture, our International students import a vibrant collection of new customs, insights and inspiration that colour our world in exciting new ways. The leap from their home countries to our corner of Canada comes with big change, courage and incredible journeys. Speaking in the international language of passion, we sit down with our global talent to talk the dreams that brought them here, the challenges they overcame, and all about the power of being an artistic representative in a new country. Meet the burgeoning stars that have joined us from around the globe in our UN storytelling!

"Fashion Design is my passion. I never get tired of what I do. It's hard to put in words, but I never imagined I would love fashion and design the way I do. It's just the right thing for me."
Though Anahita Monzavi graduated from Canada's Top Fashion School in the spring of 2015, she was immersed in the world of Fashion Design well before that. Originally from Esfahan, Iran, Anahita worked for over eight years in fashion before moving to Canada, with five of those years spent running a showroom and designing custom evening and bridal gowns for a myriad of A-list clients. With an inherent knack for design, Anahita is proof that talent and fate so often fall hand-in-hand. When she walked through our doors on her first day at Blanche Macdonald, we knew she was exactly where she was meant to be.
"When I first came to Canada," she says, "I spent a lot of time researching and talking to people about which school I should go to. I already had experience so I didn't want to go back to Fashion Design school for four years. My friends and family who are from Vancouver said that I must go to Blanche Macdonald, that it was the best school. After that I did not look anywhere else."

After spending a mere two years in Vancouver, Anahita has gone from excelling as a student to shining as a mentor and instructor for budding designers. She's been impressing the fashion community since she first enrolled at Blanche Macdonald, so her accomplishments have come as no surprise. Investing the same attentiveness in fashion instruction as she does with her professional career, Anahita credits the mentorship of Senior Pattern Making and Construction Instructor Brenda Swinglehurst as well as Program Directors Peggy Morrison and Donna Baldock for her academic successes.
"Studying here [at Blanche Macdonald] was the best decision I ever made," Anahita says. "I loved every minute of it and appreciated all of my teachers so much. I'd have to say that Pattern Drafting and Garment Construction with Brenda were two of my favourite classes. I also loved Fashion Awareness with Peggy and Fashion History with Donna. I wanted to absorb everything they had to say."
Anahita's graduate collection was an absolute knock-out. She was awarded the Special Award for Innovative Use of Materials, and for good reason. With a discerning eye and an explorative nature, Anahita constructed a crimson corset made entirely from blown glass. This difficult, labour-intensive technique resulted in a truly extraordinary garment that erased the boundaries between visual and wearable art.

"I was originally inspired by stained glass windows," Anahita explains. "The shapes and colours of the window really caught my eye. I knew it would be very hard task to create customize pieces of glass to use in my collection, but I had always wanted to do something different and challenging. I decided to take on the project. I attended glass fusing, glass blowing and glass flaming [courses] in order to learn how to make my elements. As this was a new idea and making these pieces was very hard with the fragility of the glass, nobody was really able to help me in certain areas of construction. So, I had to do it myself. The hardest part was making the mold for each piece and making holes in the bustier for the laces. Making that bustier and then being able to drill the holes for the laces successfully – after almost 15 tries – was my best moment. I stayed strong and tried over and over again till I finally made it." Looking back at this process now, Anahita recognizes it as one of her proudest moments.
Other looks in her graduate collection included a strapless suede romper with hand-blown glass cups and a brocade satin cutaway coat with hand-embroidered, beaded, fused-fabric lining. To say it left the audience speechless would be an understatement.
Following graduation, Anahita went back to her design roots, creating a formal wear capsule collection of ten pieces. She went on to dream up a more casual label tailored to the west coast way of life, opening a studio space on East Cordova in Vancouver's artistic Railtown District.
"I've recently started my own contemporary womenswear label, 'Aiki District', with my design and business partner, [former Blanche Macdonald Fashion Instructor] Maneli Nourbakhsh," Anahita says. "'Aiki District' is a Japanese name meaning 'all the souls unifying with nature and harmony.' It is about positive energies and positive attitudes."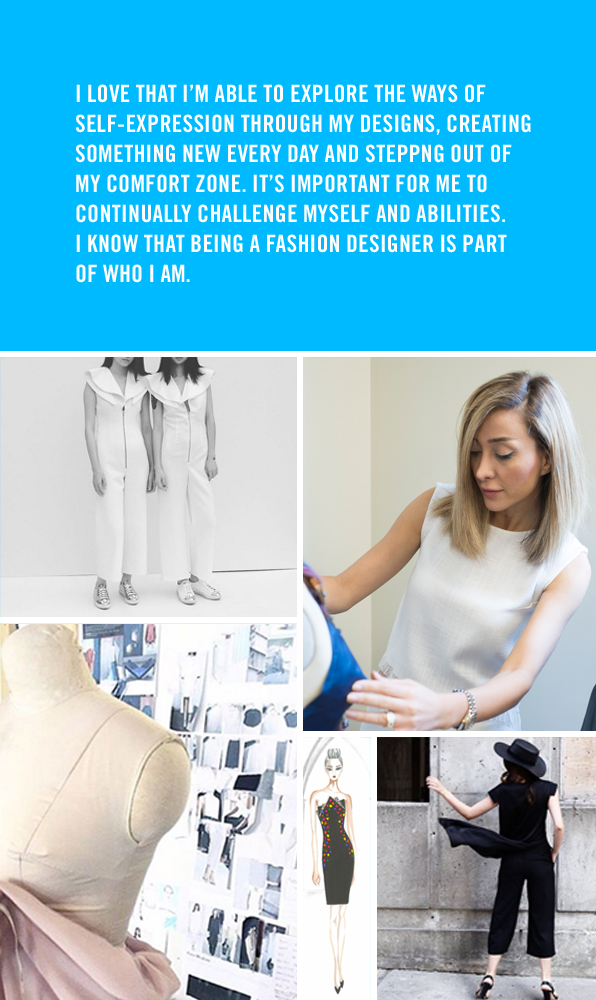 Additionally, Anahita has returned to Blanche Macdonald to educate new groups of blossoming fashion designers. Her mentors have now become her collaborators.
"After I started working here [Blanche Macdonald] I felt so connected with all the people in the fashion industry," she reveals. "I feel so lucky that I work here. I really love the environment and the people. The skills that I have learnt are because of this school. [My instructors] showed me new, easier, better ways. Because of that I've been able to build on the knowledge I had acquired in Iran."
Anahita's commitment to her craft is compelling and self-evident. Reflecting on her success so far, she describes why she's living and working the career of her dreams. "I love that I'm able to explore ways of self-expression through my designs, creating something new every day and stepping out of my comfort zone. It's important for me to be continually challenging myself and my abilities. I know that being a Fashion Designer is a part of who I am."
We look forward to following Anahita's career as it progresses and evolves in leaps and bounds. We have such admiration for her, and are so happy the feeling is mutual!
Take it from Anahita: "I always tell my husband, coming to Blanche Macdonald was the best decision I ever made!"