Grad Success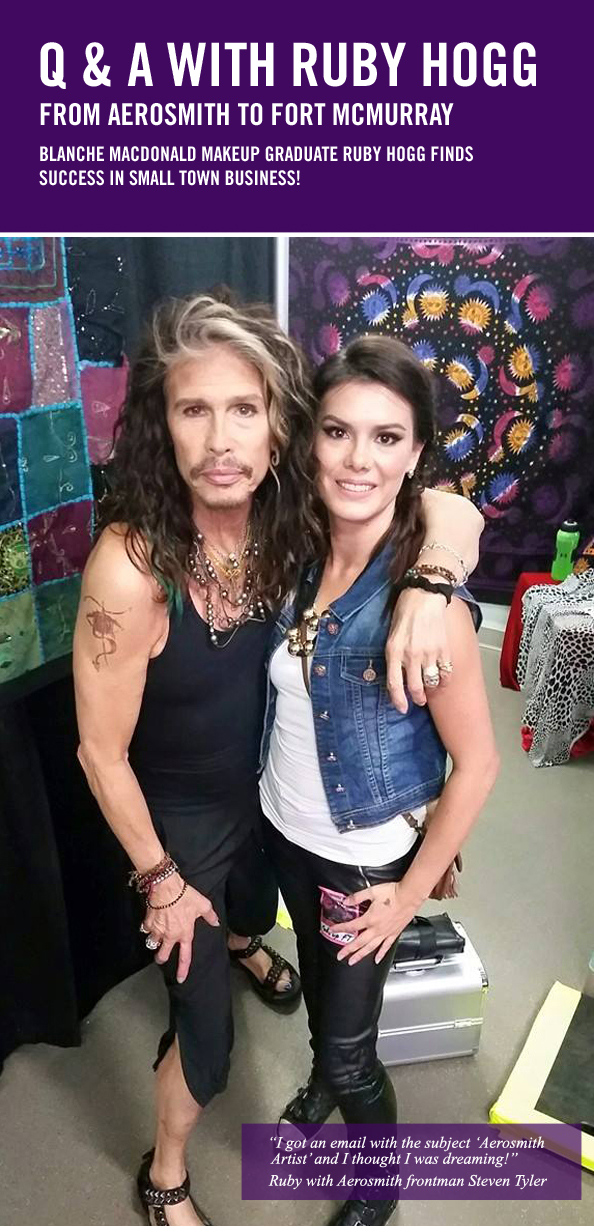 Nestled amidst the boreal forest in Northern Alberta is the industrious, tight-knit community of Fort McMurray. While it may sound an unlikely place to find success as a makeup artist, Blanche Macdonald graduate Ruby Hogg has done just that, cultivating and an outstanding career and flourishing as one of the province's top makeup artists. In the three short years since she graduated from the Freelance Makeup program, Ruby has established both local and national clientele, achieving celebrity status within her community and traveling all over Canada to do makeup for brides and films alike. She attended a workshop in L.A. with the famous Scott Barnes, and her growing reputation landed her on set with National Geographic. She achieved all this while starting her own successful makeup business, Colour Me Famous, and becoming a new mom.
Ruby now lives in Valemount, B.C. with her family, but it's clear that her establishment in Fort McMurray was instrumental to her success. Humble, hard working and eternally grateful, Ruby is proof that the unexpected and unknown can be transformed into monumental career cornerstones by an expansive view of life, beauty, and business and an enduringly creative eye.
BMC: First thing's first: We heard you've done makeup for Steven Tyler locally in Fort McMurray. How did that come about?
Ruby Hogg: Aerosmith was doing a Canadian tour and Fort McMurray happened to be on the route. Their management team inquired with the venue about a makeup artist. I'd worked on some of the staff for other events and they knew my reputation, so they referred me! I was actually on vacation and asleep when I got an email with the subject "Aerosmith Makeup Artist" and thought I was dreaming.
I thought I'd be so nervous walking into his dressing room, but I felt completely at home. Steven Tyler was a very welcoming person. His makeup artist made it easy for me by sending a list of his favourite products to use – he's a huge MAC fan. The only difficult thing was figuring out something to wear myself!
BMC: Let's go back in time. What made you want to become a makeup artist in the first place?
RH: Initially I was interested in International Development for the longest time. I had always had a passion for brightening people's lives. When I found out I was going to have my daughter, I realized it would be difficult to balance that type of career with our lifestyle. I'd always loved makeup so I decided to pursue it as a career instead.
BMC: When you decided to go to makeup school, what made you choose to study at Blanche Macdonald?
RH: I did lots of research on schools across Canada and the United States. In the end, I chose Blanche Macdonald [because] its reputation preceded it and it had such positive reviews. All the recent grads I talked to were such successes in their fields. When I was put into contact with Admissions, everyone was so friendly and welcoming and the schedule fit so perfectly with my family lifestyle. The location wasn't a drawback either!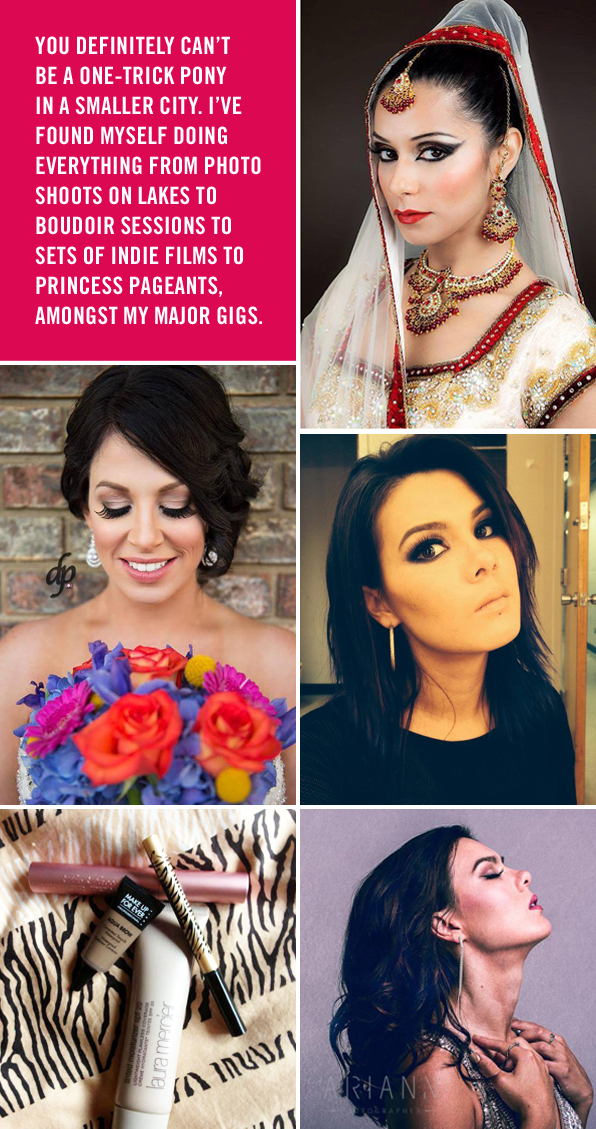 BMC: You ended up in Fort McMurray after graduation and started a very successful makeup business, Colour Me Famous. What kinds of opportunities and drawbacks were there in that type of location?
RH: I find that the industry's based on a lot of word-of-mouth, and from the beginning I chose to have my work speak for itself. You definitely can't be a one-trick pony in a smaller city, though. I've found myself doing everything from photo shoots on lakes to boudoir sessions to indie films to princess pageants [as] major gigs.
The lack of makeup selection in Fort McMurray is a major hurdle – usually you'd have to plan a trip to Edmonton or Calgary if you wanted to buy certain things. Other than that, I'd definitely consider the location to be a strong factor in the speed of my success; of course work ethic, talent, and presence are huge factors in success as well! But I'd lived in Fort McMurray before I went to Blanche Macdonald and I knew there was a need for more makeup artists there.
One of the things I really appreciate about the industry there is that the beauty sector is small and personal. All of the makeup artists know each other fairly well and became friends, which allows us to share our workloads. That is so helpful. Plus, it makes all of us stronger entrepreneurs!
BMC: Let's talk about another major gig you landed while in Fort McMurray – a documentary with Bill Nye and National Geographic! How did the people in New York find out about you?
RH: The production company working for National Geographic was actually quite worried they wouldn't be able to find a makeup artist so far north. They inquired with a few local videographers and even called the municipality to see if they had any recommendations and my name was put up by all of them – unbeknownst to me! I was actually mid-move when I got the call...They wanted me for the next week, but thanks to the help of some great friends, I was able to take the job. I cannot stress how important flexibility is in this industry. Bill Nye was super easy to work with; it was one of the least stressful environments to work in.
BMC: How did you set your self apart from other makeup artists, and what kinds of tips on standing out in a smaller city would you give to a new graduate of the Freelance Makeup program?
RH: I started my company almost immediately after graduation and the first thing I did when I got into town was to get in contact with a local publication. We worked together a few times and the publisher helped me meet more and more people. I found that social gatherings and events really helped me build a brand and get my face out there. I really tried to be diligent when meeting new people because one of the best ways I created connections was attending local events and fashion shows. If you put yourself out there, you open yourself up to so many new opportunities. But I also had a strong foundation to start my makeup business with once I graduated from Blanche Macdonald.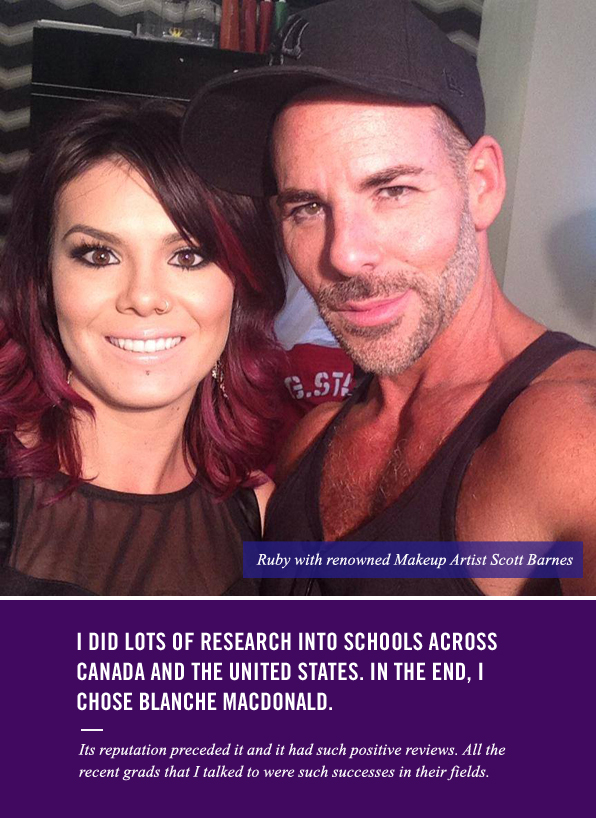 BMC: Color Me Famous's catchphrase, "Working to instill confidence in women everywhere," is positive and uplifting. Before you were a makeup artist, your interest in international development led you to spend time in refugee camps and schools in Africa. It's clear that you've bridged your passion for brightening people's lives with your makeup business. How do you do it?
RH: I'm a huge believer in fate and karma. I think that whatever good things you put into the world ultimately come back. I'm also very dedicated to anything I commit to and I have a fantastic support team; [they] are the reason I'm where I am today.
I realized there are so many different ways to bring happiness into people's lives. I love being able to highlight my clients' natural beauty and make them feel like a superstar – hence my company motto, "Working to instill confidence in women everywhere."
After several successful years in Fort McMurray, my business became overwhelmingly busy. I made the move back to Valemount, British Columbia to find more balance between my work and family life and to focus solely on weddings and the occasional film job. My goals right now are to continue improving my craft and enjoying the opportunities I continue to be blessed with!